Digard or No Digard: That Is the OGC Nice Question
OGC Nice, the club that INEOS chief Jim Ratcliffe actually owns, is at something of a crossroads. This season, like many of late, has been one of extreme highs and lows for the club from the tranquil Côte d'Azur. The Aiglon club personifies the stigma associated with a Jekyll and Hyde operation in oh-so-many ways.
There were times this season their young rookie manager Didier Digard and his merry men were swashbuckling through all who resisted them on the pitch. The inexperienced Digard was thrust into the limelight of the Ligue 1 stage in early January following the sacking of Lucien Favre following a truly horrid run of results and a humiliating cup exit to lower league minnows. The Swiss manager paid the ultimate price following the shock defeat against third-tier-dwellers Le Puy Foot 43.
Just days later, the Digard era started with a bang, a 6-1 shellacking of Montpellier and the run of results that followed proved this was no flash in the pan Nice performance. The victory over Montpellier was just Nice's sixth victory from 18 games in Ligue 1, their trio of former Premier League starters rolled back the years and looked rejuvenated under the watchful eye of Digard. Ross Barkley, Nicolas Pepe and Aaron Ramsey finally all caught fire at the same time and ran riot, was it down to the incoming Digard or relief to see the back of the outgoing Favre? Perhaps a combination of both…
Digard quickly turned the Aiglons into a functional and efficient machine getting a tune out of players who appeared to be spent forces under the tutelage of Favre. The former Le Havre player raised the eyebrows of fashionistas sporting the cut of a man who was intent on success. There were no designer suits, instead stood a confident-looking 36-year-old technician clad in a hoodie and tracksuit. As Coco Chanel once famously said, "simplicity is the keynote of all true elegance".
Said to be a bridge between the players and former manager Favre, Digard had been managing the club's reserves prior to seizing his opportunity as the main man. His Nice side hit a barnstorming run of form between January and April, they rose up the table like a phoenix, and it was enough to convince the club's hierarchy and Digard was anointed interim manager until the end of the season.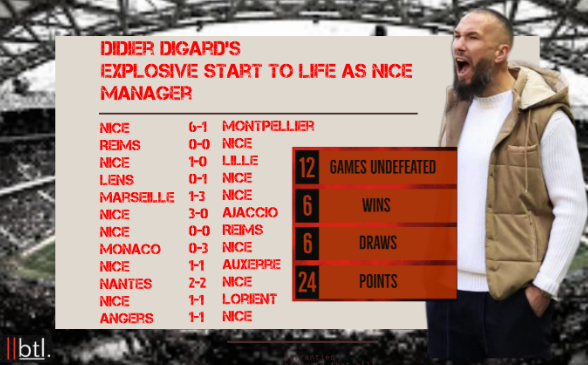 Akin to Will Still, Digard does not possess the official qualifications required to be a Ligue 1 manager. The former club captain from 2010 to 2015, who hopes to complete his managerial courses soon, brought stability to a club often starved of it. Becoming a father at just 16 meant Digard had to grow up fast, and he seems to be both manager and big brother to his inherited playing squad. 
Like the city of Nice, Digard has Spanish influences in his footballing ethos and education, when his playing days came to an end with Nice, he embarked on a La Liga voyage. Stints with Betis, Sevilla and Osasuna all shaped Digard before a serious knee injury forced him to hang up his boots. In Spain, the mentor and teachings that engraved the deepest influences on the native from Gisors was Quique Setién, the now Villarreal manager who is the footballing sensei for young Digard.
The Basque manager mainly deployed 4-3-3 and 4-2-3-1 formations during his time with Real Betis in the 2017/18 campaign. Setién a keen chess player in his spare time has an astute level of tactical acumen with a penchant for playing three at the back.
A good manager is a chemist; Setién is an alchemist, his ill-fated time at Barcelona is the only stain on an impeccable CV. Digard chose his role models wisely. At the end of February, noisy neighbours Monaco were crushed 3-0, Digard's name was suddenly propelled across the headlines as a managerial talent to watch. Little did we all know that win was going to be the last for quite some time for a club infused with financial resources most in France can only dream about having.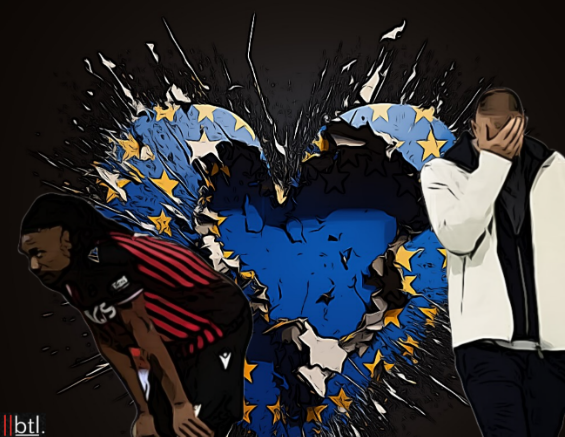 Seven Ligue 1 games came and went between March and April, no wins secured and a minuscule four points from stalemates was all the club had to show for their efforts. A Europa Conference League exit at the end of April at the hands of Swizz club Basel was the cherry on the cake for the Digard burgeoning era that is now under a more critical eye by fans. Perhaps somewhere in the shadows, Favre was smiling as his fellow Swiss compatriots knocked out his former employers.
As the Euro dream ended, boos echoed around a near-empty stadium shrouded in despair and disappointment. The new manager bounce had been reduced to a snail's pace and Digard's application to be the long-term Nice manager came under review through a microscope of scrutiny. This unique opportunity for Digard was always going to be tough, given his relative inexperience in the managerial hot seat and the precarious position Nice found themselves. 
He managed to bring stability to a club that is forever plundered into chaos and flux, the 'Galtier Affair' is just one of many storylines and by-lines that disrupt the footballing harmony at a club that has largely underachieved in many ways since Jim Ratcliffe and his billions rolled into town with imposing plans promising grandeur.
Nice are ruthless in their ambitious recruitment both on and off the pitch, RC Lens' sporting director Florent Ghisolfi was headhunted following his unheralded ability to turn water into wine at a club with scant resources. Lens' rise to prominence came under the guidance of the transfer expert, having ascended from Ligue 2 to the cusp of Champions League football in just a few years.
Terem Moffi, one of the hottest goal-getters in Ligue 1 over the last few seasons was also tempted by the Nice project, as the south-coast club beat off Premier League suitors to sign the Nigerian from Lorient in the January transfer window. Nice paid a loan fee of €2.5 million with a €22.5 million (plus €5 million bonus) obligation to buy Moffi, whilst also ensuring Lorient a 15% cut of any future sale, yet another display of the financial might at the Rivera club's disposal.
Terem Moffi est prêté par le @FCLorient avec option d'achat obligatoire.

Lire le communiqué 👉 https://t.co/0ST6ZygrKQ#OGCNice #Moffi pic.twitter.com/vU0mpeOZEJ

— OGC Nice (@ogcnice) January 31, 2023
If Digard is to silence his doubters, the end of the season run-in is his final audition, and the fact Nice are now languishing in the lagoon of midtable will make his task even harder. Since falling to Basel in extra time, Nice have lost 2-1 to Clermont Foot, beaten Troyes 1-0, beaten Rennes 2-1, and lost 2-0 to Strasbourg. After being held to a goalless draw at home to Toulouse, Nice currently find themselves ninth in the table and will be visiting Montpellier before closing out their season by hosting Lyon.
The club need to get this next appointment spot-on if they are to ever make hay from the INEOS riches, their sugar daddy Jim Ratcliffe may well be the owner of his boyhood club Manchester United in the coming weeks. For lovers of Aiglons, they will be hoping the French club does not become a passing afterthought in Ratcliffe's mind's eye.
Lyon with a young and promising squad seem to be laying foundations to mount a challenge again, Lens absorb player departures and backroom staff like the Borg and Marseille just never go away, where Nice will find themselves in the established order of Ligue 1 is a mystery to unfold.   
The certain uncertainty is equal parts thrilling and unnerving, depending on where you stand, the best stories in life are the ones where those involved don't get the girl, the happy ending or even immediate acclaim. Will Digard get his girl? Results will tell and the jury is watching both from the boardroom and stands…
By: Liam Scahill / @LiamScahill
Featured Image: @GabFoligno / FEP / Icon Sport