Greg Vanney and Toronto FC: The Gregfather's Legacy
Greg Vanney leaves Toronto FC as the club's most victorious and longest-serving coach. Rocco Fasano explores the American's legacy over the course of 7 seasons that started with a losing record but decorated with silverware throughout.
"I'm a builder. I like to build things and I like projects and I like big things," an emotional Greg Vanney told reporters in his final press conference as Toronto FC coach. "And this club is in a really, really good place. There's not a lot of building to do. It is an incredible club that is positioned, from where we started to where we are, to be great".
These parting words hint at Greg Vanney's motivation for a decision that shocked many Toronto FC fans. A week earlier, the Reds had just lost their playoff quarterfinal match in what they had hoped would be a long ride. It wasn't.
Greg Vanney joined the Toronto outfit in 2014, inheriting a 9-9-6 record and finishing the season with a 2-6-2 record. The ninth coach in franchise history, he was the only one who took the club to the MLS playoffs, in his first full season (2015).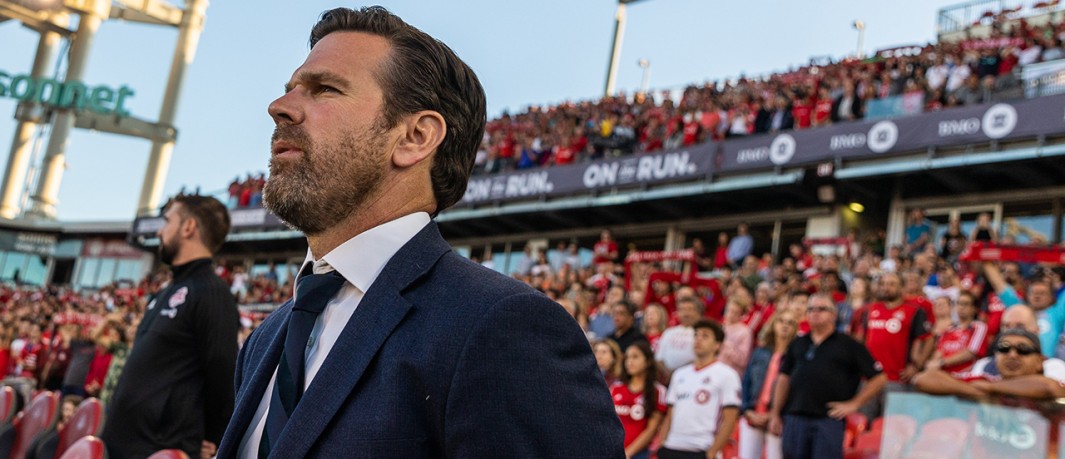 Photo: USA Today Sports Images
In 2016, Vanney's "builder" label showed as he led TFC to a Canadian Championship and took them all the way to the MLS Cup final, but they lost to the Seattle Sounders 5-4 on penalties after a goalless draw.
"I do need to catch my breath, I do need to regroup a bit. But anyone who knows me knows I don't sit still very well so it won't be a long thing. But at the same time, I do know that this has been an exhausting year emotionally". In fact, Vanney is reported to be on the brink of re-joining the LA Galaxy – this time as their head coach – a team that he plied his trade with as a player.
In 2017, Vanney led the Reds to a historic treble-winning the Supporters Shield (first place in the regular season), the Canadian Championship, and the MLS Cup – all lifted by TFC captain Michael Bradley. 
The captain had kind words for the departing coach: "Thank you for the trust and support and being there with me every step of the way. I'll miss you and your commitment and knowing that you were spending every waking moment trying to push us forward."
The 2018 season saw the beginning of TFC's decline from the league's best, but very much remained in the MLS' Olympus, missing out on North American glory by a hair, with a CONCACAF Champions League final lost on penalties to Club Deportivo Guadalajara.
"My objective when I arrived here was to leave the club in a better place than I picked it up", said Vanney. It can very well be said that he has accomplished his mission.
By: Rocco Fasano
Featured Image: @GabFoligno / Icon Sportswire via Getty Images