The Evolution of Filippo Inzaghi's Coaching Career
There is an old saying that great footballers don't make great coaches. Regardless of how talented a player can be, it does not necessarily mean that he can seamlessly make the transition into coaching and train a new generation of footballers. Former Italy international Filippo Inzaghi is no different. After an illustrious playing career in the 1990s and 2000s, he has not achieved that sort of success as a coach yet. 
His younger brother Simone worked his way up at Lazio from the youth team, and has been in charge of the senior squad since 2016, winning some trophies during his tenure so far. Although he has had to move to different clubs throughout his eight years as coach, 'Super Pippo' is eventually working his way up as a coach and improving on his methods as well as philosophy.
Inzaghi is back in Serie A for his third stint in the division, this time with Benevento after an incredible promotion campaign in 2019/20.
AC Milan (2014/15)
Inzaghi had joined AC Milan as a player from Juventus in 2001 and went on to win two Serie A titles as well as two Champions Leagues. He retired as a player in 2012 and immediately started coaching the youth teams.
During his time with the Allievi Nazionali and the Primavera teams, 'Super Pippo' tried a number of different formations. The Rossoneri finished third in the Campionato Primavera Girone B in 2013/14 but they were knocked out in the first round of the final phase. For the 2014/15 season, he was promoted to the senior coaching role and replaced former teammate Clarence Seedorf.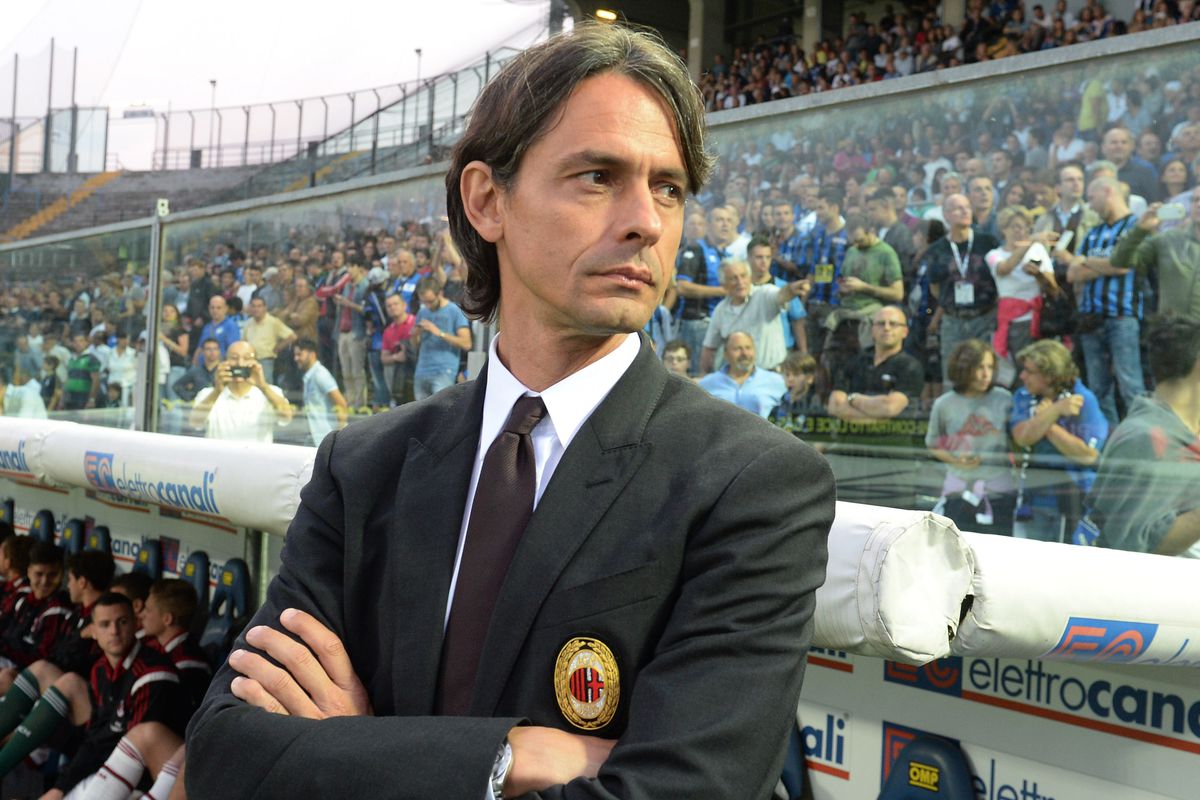 Photo: Dino Panato via Getty Images
Inzaghi settled with the 4-3-3 formation, using French winger Jérémy Ménez as a false nine and Keisuke Honda as a false right-winger. Initially the results were promising for Milan, winning four and drawing two of its first seven Serie A matches.
Unfortunately, consistency was a major issue throughout the season and the team lacked a clear identity. Despite winning three out of their last four matches, the Rossoneri finished 10th at the end of the season and 'Pippo' was sacked.
Venezia (2016/17 to 2017/18)
Inzaghi still had a year left on his contract at AC Milan and sat the season out. He then made the drop to Lega Pro (now Serie C) and took charge of Venezia. Italian-American lawyer Joe Tacopina was the president at the time and the aim was to rise up the divisions. 
The Lagunari dominated Lega Pro Girone B under "Super Pippo", finishing on top of the table with 80 points in 38 matches, 10 points ahead of nearest rivals Parma. They also triumphed in the Coppa Italia Serie C, defeating Matera 3-2 on aggregate. 
'Pippo' implemented the 4-3-3 formation but he would also play a 4-4-2 occasionally and he had versatile players. For instance, Davide Marsura was a left-winger in the 4-3-3 but could play as a left midfielder in a 4-4-2 while Stefano Moreo could play as a center-forward or right-winger. 
For the 2017/18 campaign in Serie B, he started with the 4-3-3 and then switched to the 3-4-3 before settling on the 3-5-2. Venezia finished fifth on the table after 42 rounds and defeated Perugia 3-0 in the qualifying round of the Serie B play-offs but it lost 2-1 on aggregate to Palermo in the semi-finals.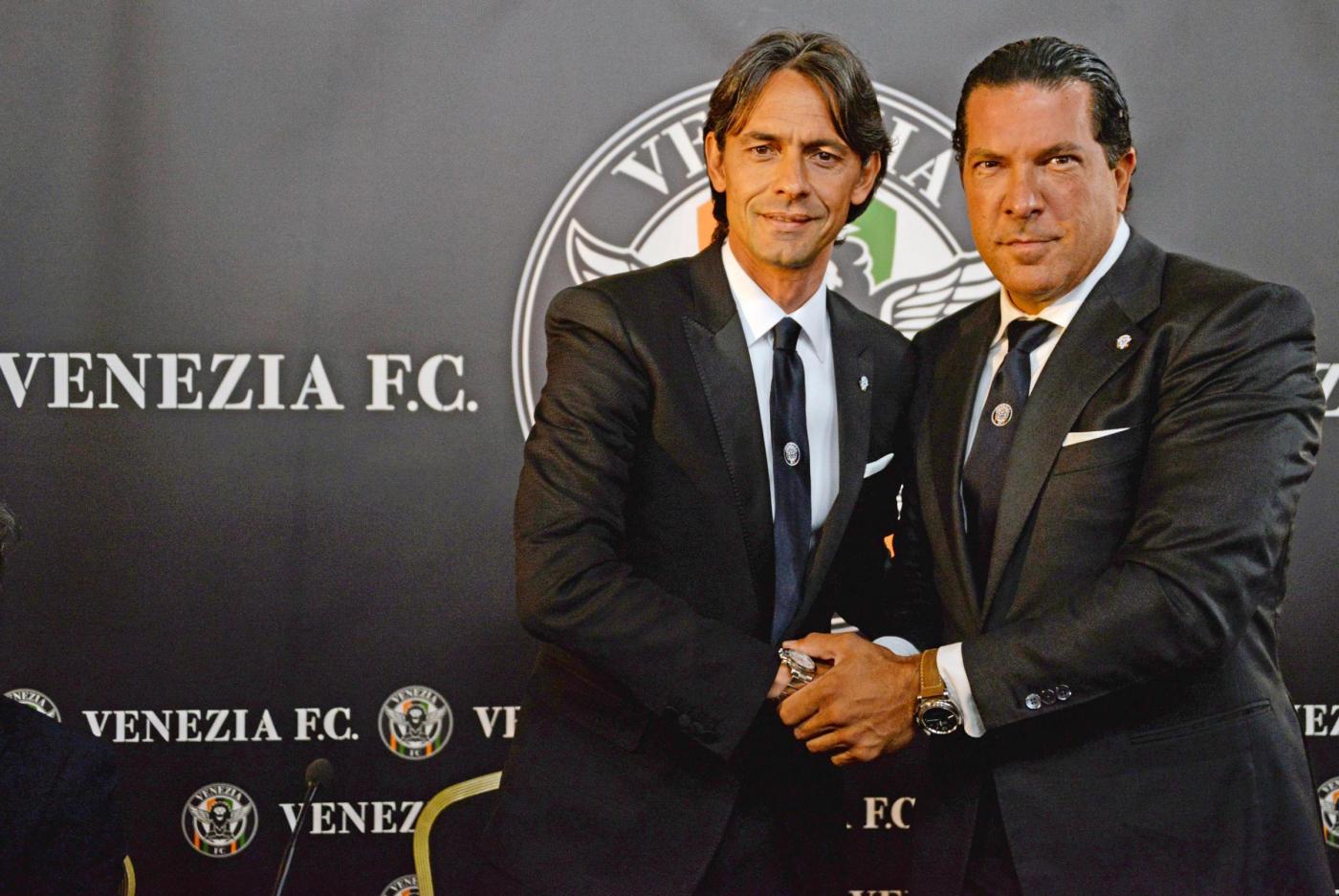 Photo: LaPresse
The Lagunari had the 10th best attack with just 56 goals but they had the third-best defence with 42 goals conceded. Emil Audero was a revelation in goal while Leo Štulac provided solidarity in midfield.
Bologna (2018/19)
His performances at Venezia drew the attention of Bologna and Inzaghi was brought in to replace another AC Milan great in Roberto Donadoni as Felsinei coach.
It was a Serie A return to forget for Inzaghi. The Rossoblu were a defensive team that focused on physicality and was devoid of creativity. His 3-5-2 formation was essentially an 8-0-2 as his players were often parked in their own half and struggled to launch lethal counter-attacks.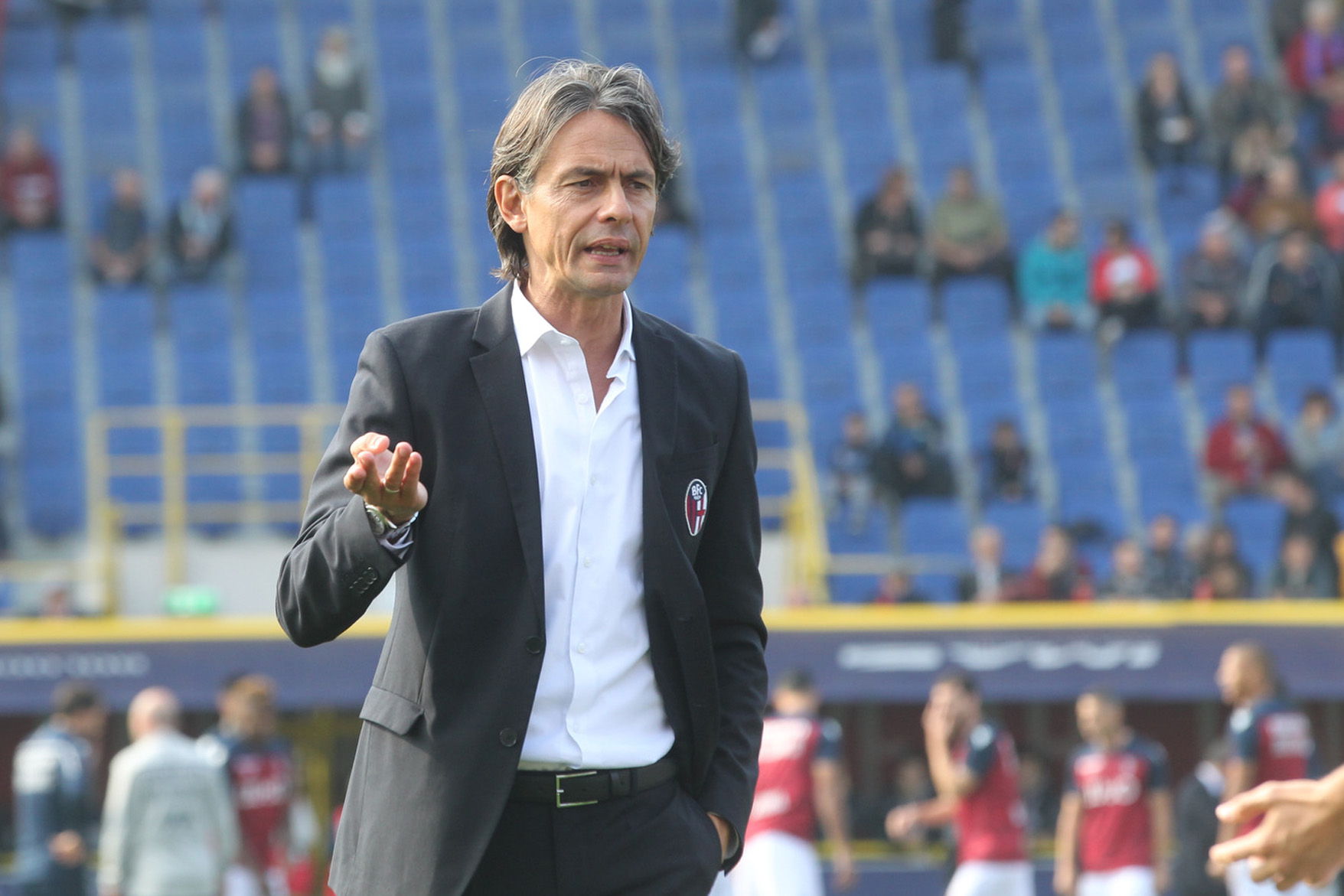 Photo: Giorgio Benvenuti
Right-winger Riccardo Orsolini was sparingly used and played out of position as a right central midfielder; 'Pippo' tried to fit defensive midfielders Ádám Nagy, Mattias Svanberg, and Erick Pulgar into the same midfield with no success; and Paraguayan target-man Federico Santander was largely ineffective up front. 
A 4-0 defeat at home to Frosinone prompted Bologna president Joey Saputo into sacking Inzaghi, leaving the Felsinei in 18th place in Serie A with 14 points after 21 matches. 
Benevento (2019/20 – )
After a dismal time at Bologna, Inzaghi made the drop down to Serie B and was hired by southern Italian club Benevento. It proved to be a masterstroke as the Stregoni dominated the Cadetti.
The southern Italian club comfortably finished on top of Serie B at the end of the 2019/20 season with 86 points and it finished ahead of second-place Crotone by a record 18 points. The Sanniti also won 26 out of 38 league matches, equaling the record of Ascoli set in the 1977/78 edition.
Early in the season, Inzaghi implemented the 4-4-2 formation but he eventually switched to the 4-3-2-1, which he still uses with Benevento on its return to Serie A for 2020/21. His Sanniti side were very balanced, boasted the best attack with 67 goals scored, and had the best defense with just 27 goals conceded.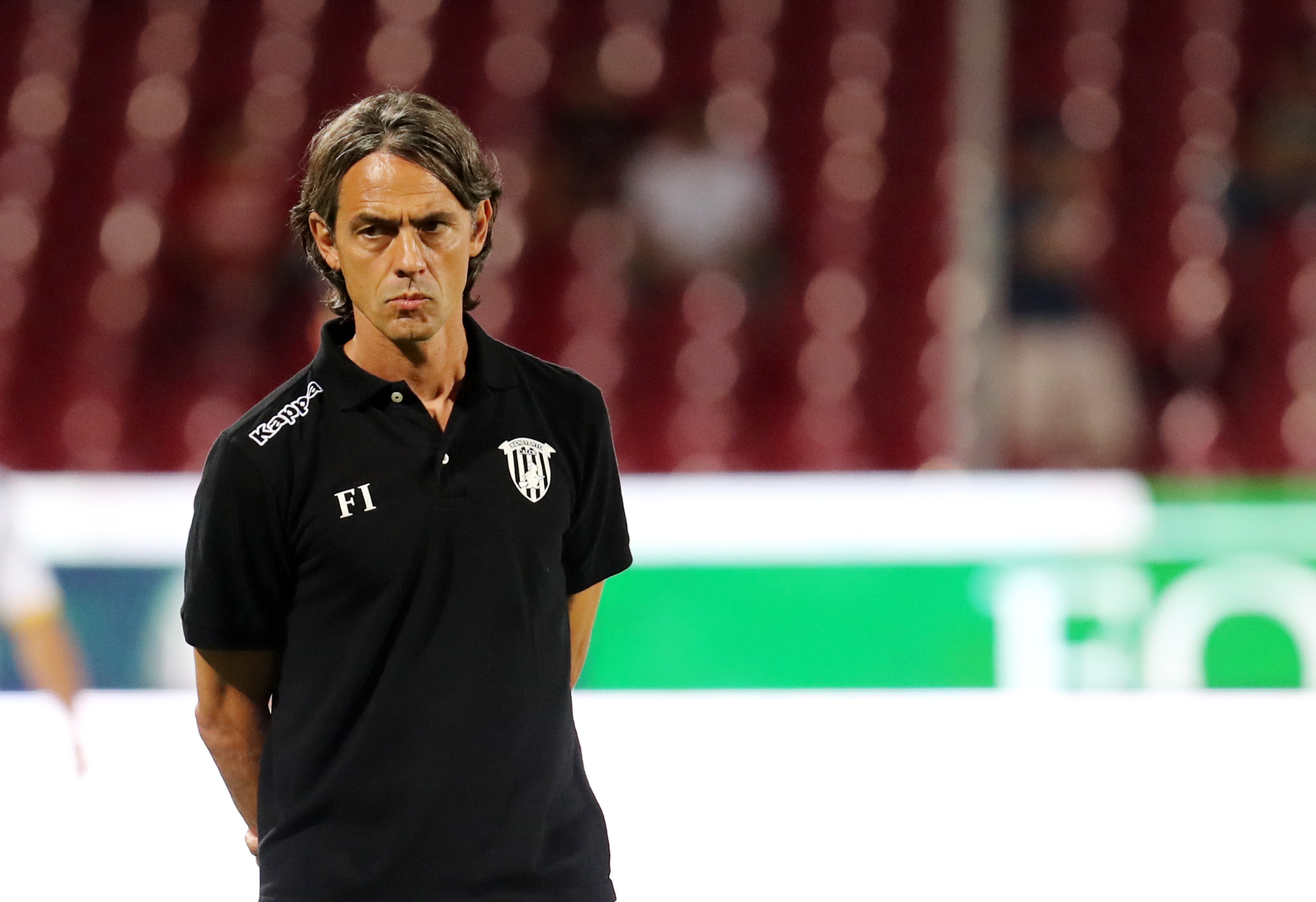 Photo: Francesco Pecoraro/Getty Images
The Stregoni have made several notable signings such as Kamil Glik in defence, Bryan Dabo and Artur Ioniță in midfield, and Gianluca Caprari as well as Gianluca Lapadula in attack to help them sustain the fight against relegation.
Inzaghi often has a trio of dynamic midfielders with Ioniță, Përparim Hetemaj, and Pasquale Schiattarella, who provide energy, competence on the ball, and the will to track back. Gianluca Lapadula leads the attack while the likes of Roberto Insigne and Gianluca Caprari provide creativity from behind.
If Benevento's 3-2 victory against Sampdoria in its first game for 2020/21 is anything to go by, the Stregoni can count on their defense for goals, with center-back Luca Caldirola scoring twice and full-back Gaetano Letizia scored the winner. Letizia also scored the equalizer in the 1-1 draw against Juventus in Week 9.
Benevento is equal 13th with Udinese and Spezia with 10 points after nine rounds and they are four points above the relegation zone.
By: Vito Doria
Featured Image: @GabFoligno / DeFodi Images – Getty Images