The Journey of Ariel Holan: What to Expect From the Candidate for the Atlanta United Job
Atlanta United currently find themselves at a crossroads. The franchise's first two years of existence, characterised by investment in young South American talent and a free flowing, high pressing and devastating brand of football culminating in a 2018 MLS Cup win, set an impossibly high standard to follow in the near future.
As Gerardo "Tata" Martino, the mastermind of the expansion team's success, accepted a job offer from the Mexican national team, Frank de Boer was handed the unenviable task of keeping the side competing at the very top and challenging for the CONCACAF Champions League.
Alas, it was not to be: losing key players like Miguel Almirón and Héctor Villalba cost him dearly, as a Conference final defeat to Toronto FC and an abysmal presentation at the jarringly named MLS Is Back Tournament warranted his dismissal from the job.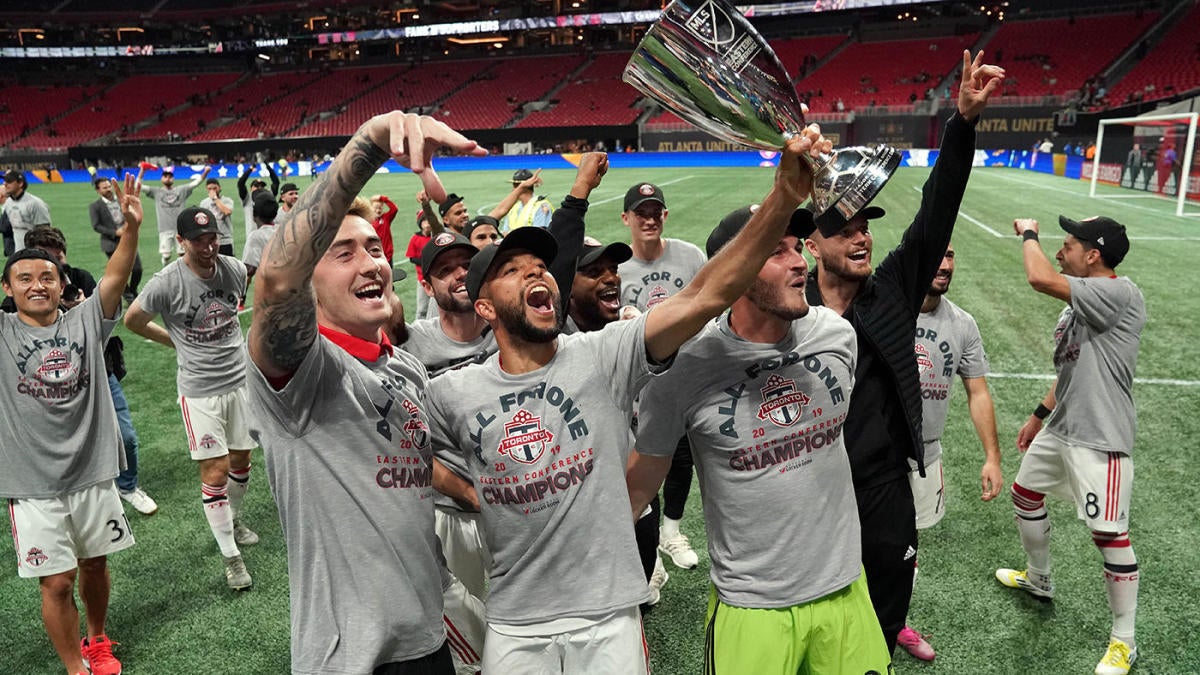 Photo: John David Mercer
The concerns surrounding de Boer were not focused solely on results though. The Atlanta faithful had become particularly attached to the style of play Martino had imposed, bulldozing rival defenses by hitting on the counter and making intelligent runs, using the sheer energy of Almirón and Darlington Nagbe, the trickery of Villalba and Esequiel Barco and Josef Martínez's sharp eye for a goal.
Upon the Dutchman's arrival, however, this approach was left behind in favour of a much more patient one, trying to open up defences with breaking passes and keeping hold of the ball until those spaces showed up.
This did not sit well with supporters and eventually exposed a certain lethargy when his team tried to launch attacks, while also failing to track back their opponents, as shown in de Boer's final game, a disappointing 1-0 loss to Columbus Crew.
As such, the Five Stripes' next appointment will have to be carefully assessed while considering they still count largely on the base of the 2018 champions in their squad. Lately they have majorly relied on Pity Martínez's cutting passes to create chances, while they remain seriously vulnerable off the ball.
According to CBS Sports' Roger Gonzalez, one of the main candidates for the position is Ariel Holan, a name foreign to most outside South America. As an avid follower of Argentine football, and an Argentine myself, I will attempt to explain exactly who Holan is, what he has achieved over the years and whether he would be a good fit for Atlanta United.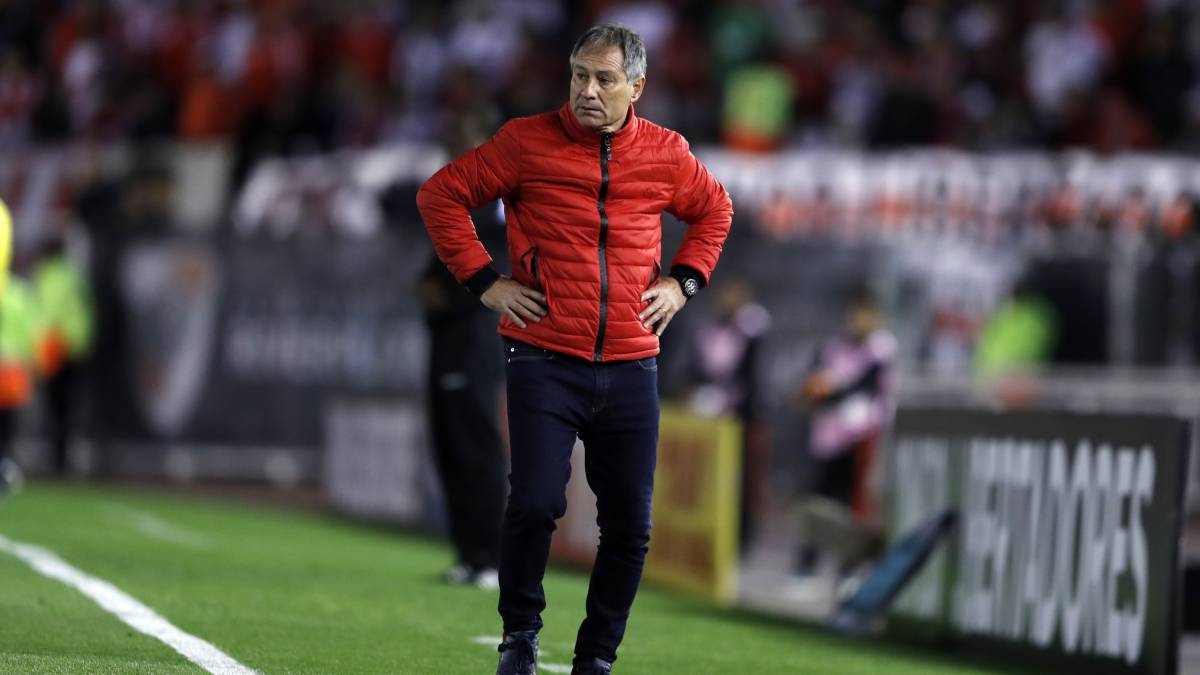 Photo: Gustavo Ortiz / Diario AS
The first thing that sticks like a sore thumb when looking at Holan's resumé is the fact that long before he had started working in football he carved a lengthy career as a field hockey coach. His journey took him from the youth teams of Club Alemán de Lomas de Zamora, aged 22, all the way to a bronze medal at the 2003 Pan American Games with Uruguay, eventually dictating soccer clinics in Pennsylvania and Atlantic City.
Around this time he met the former World Cup winner with Argentina Jorge Burruchaga, who was then taking his first steps in management with newly promoted side Arsenal de Sarandí, and offered Holan to join his backroom staff.
During their partnership (later continued through Estudiantes, Independiente and Banfield), Holan pioneered the use of drones and GPS in training, a practice that has become commonplace in world football in the past decade but was then unheard of in Argentina. Eventually however, he parted ways with Burru in less than amicable terms after a second stint with Arsenal in 2010.
It did not take long before he secured a new job though, taking charge of Argentinos Juniors' youth sides in early 2011, although his next gig would leave him a much bigger mark. Following River Plate's shock relegation from the top tier of Argentine football in June of that year, midfielder Matías Almeyda immediately retired to take charge of a distraught, directionless team.
Holan was one of the first recruits to his staff. He was joined by physio Alejandro Kohan, with whom Holan would form a professional relationship that lasted for almost a decade.
Photo: CDF.cl
Under Almeyda's watch, River secured promotion back to the big time on the final day of his first season, but El Pelado could not last much longer at the helm, being dismissed by chairman Daniel Passarella in November 2012.
Holan and Kohan would both follow Almeyda to his next job, dropping back to the second tier to help promote and later establish Banfield back into the first division. Nonetheless, in June 2015 Holan was finally offered the chance to step into first team management with another recently promoted side, Defensa y Justicia, once again accompanied by Kohan.
Upon his arrival, Holan sought to have an instant impact at the tiny Florencio Varela club. In a league whose relegation system is based on the points average concerning the past three seasons, ruthless to recently promoted teams, Holan set out to drastically improve the technical side of the squad.
Having arrived midway through the 2015 season, he managed to steer El Halcón ("the Falcons") away from relegation threat by finishing 21st out of 30 teams in his first six months in charge. By his second semester at the club though, the squad setup changed dramatically. He replaced experienced veterans of the league with loan signings from the Big 5, such as Boca's Lisandro Magallán, River's Guido Rodríguez and Alexander Barboza and San Lorenzo's Tomás Cardona.
The advanced training methods he had introduced a decade earlier were now front and centre in the local press too, with several pundits and colleagues mocking his use of drones and questioning his pedigree as a football man.
It would not take Holan long to prove them wrong. His side exhibited a ruthless, energetic and transition-based brand of football that was far from common for a team in the bottom half of the table. Powered by the resurgence of former River and San Lorenzo flop Fabián Bordagaray and sturdy defensive performances from Barboza and Rodríguez, Defensa eventually soared to fifth place in their 15-team zone (yes, there were constant format changes to the Argentine league since it was first expanded to 30 teams in 2015).
Photo: Defensa Pasión
This ensued qualification to the Copa Sudamericana, South America's second biggest continental tournament, for the first time in the club's history and only three years into their stay at the top tier of Argentine football.
The Florencio Varela team would eventually make history in that competition by toppling the mighty Sao Paulo, managed by goalkeeping legend Rogério Ceni, in their first ever knockout tie. Nevertheless, Holan would not be in charge by then, accepting in December 2016 a position at South American powerhouse Independiente.
The Avellaneda team were a shadow of their former, glorious selves in 2016. Two and a half years removed from their own exit from second tier purgatory, they had just sacked club legend Gabriel Milito after displaying a slow, ineffective and fragile brand of football that left them languishing in mid-table with a squad that raised questions on commitment.
In fact, even before Holan's arrival was announced, he courted controversy after a WhatsApp voice note of his leaked. In the voice note, he explained what changes he would carry out in the squad and how he thought Independiente could get back their sense of belonging. Although this did little to thwart Holan's chance to join his boyhood club, he was already frowned upon by a section of the fans as an inexperienced outsider.
Holan did not mess around upon his arrival to the Estadio Libertadores de América. He showed the exit door to several mainstays such as Hernán Pellerano, Jorge Ortíz, Diego Vera and captain Víctor Cuesta. Instead, he trusted youth products such as adventurous fullback Fabricio Bustos, ball-playing centre back Alan Franco and a 16-year-old Esequiel Barco, as well as signing experienced heads like Walter Erviti and Emmanuel Gigliotti.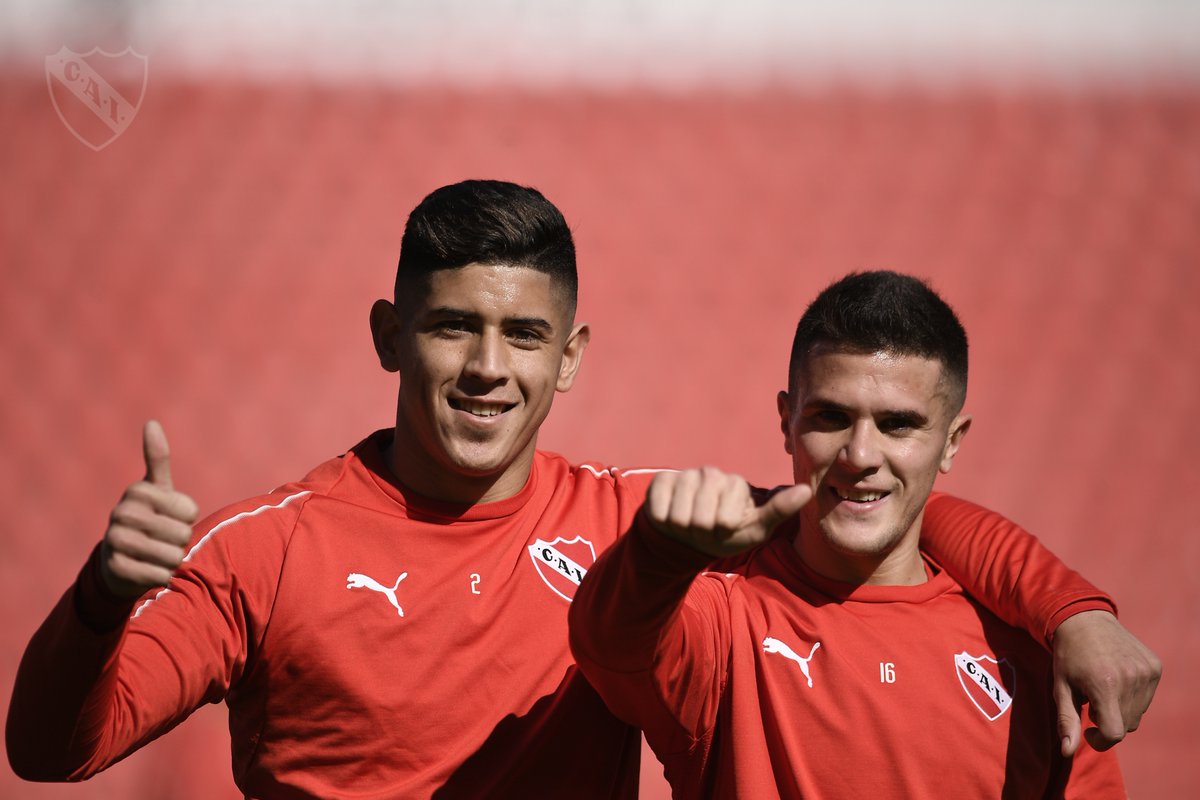 Photo: Independiente
The impact was immediate; during the second half of the 2016/17 season, they came mightily close to challenging Boca to the title, but eventually fell short of a Libertadores spot with a final day home draw to Lanús.
Independiente were not far from reaching their final form though. Aided by the signings of internationals Gastón Silva, Jonás Gutiérrez and Fernando Amorebieta, as well as midfielder Nicolás Domingo, Holan finally solved Independiente's main problem, a lack of effectiveness. He fixed it by giving Barco, Maxi Meza and Martín Benítez freedom to interchange positions in the final third, with Domingo carrying the ball from the back, to devastating effect.
An inspired run of form saw El Rojo reach the final of the Copa Sudamericana against Reinaldo Rueda's Flamengo, where Holan masterminded a 3-2 aggregate win over two legs that showcased the pinnacle of his work, culminating in a first continental title in seven years for the club.
For most clubs, that would be an ideal lynchpin on which a successful long-term project could be built. For Independiente and Holan though, this was to become the start of a downward spiral.
The first omen was felt only a week after the famous win at the Maracaná, when fans woke up with the shocking news that Holan resigned as manager of El Rojo. Although he initially cited security reasons for his departure, it only lasted three days after he negotiated a three-year contract and more power over transfers.
This was translated in unprecedented spending in January 2018, twice breaking Independiente's transfer record on mostly players from abroad, with limited success. Eventually, despite a positive first Libertadores outing in seven years, reaching the quarterfinals before losing to eventual winners River in controversial fashion, Independiente failed to secure a place in the following year's edition, faltering again at the final hurdle.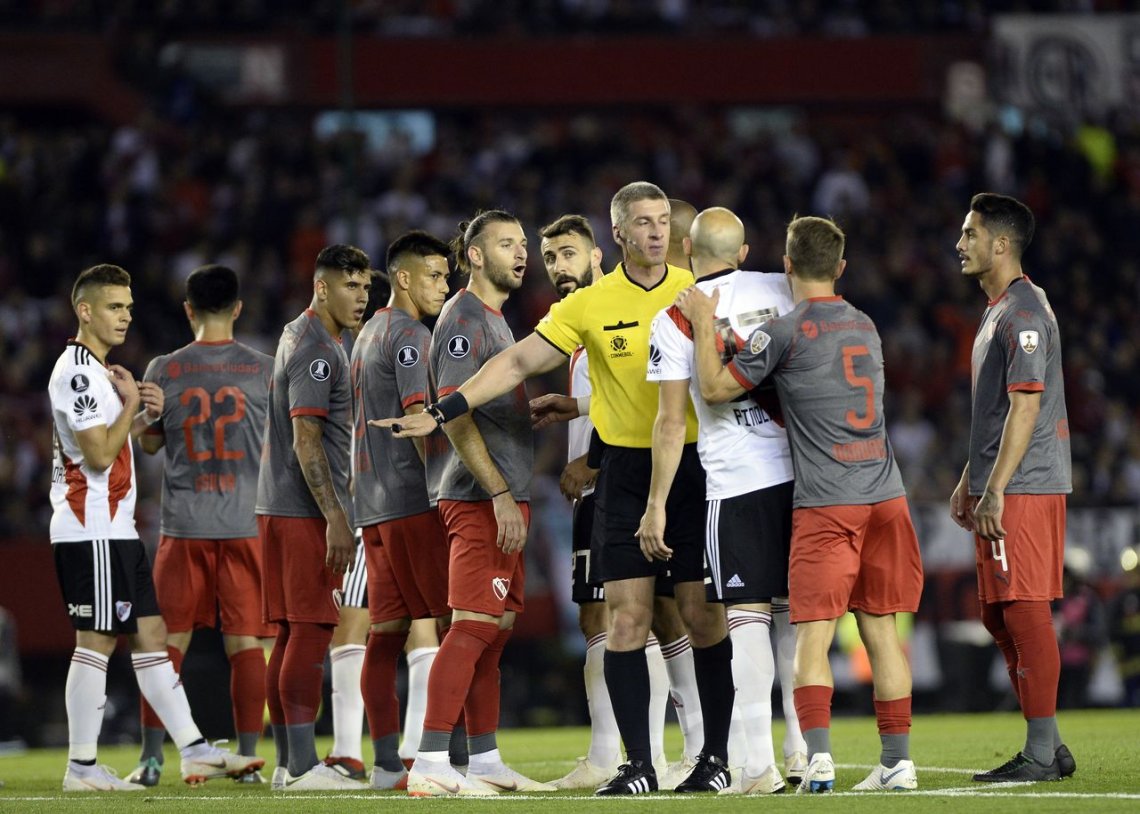 Photo: José Brusco / Diario Popular
Around this time began a worrying trend that would follow Holan for years. Former signings Erviti, Amorebieta, Gutiérrez and Gigliotti, all of whom had acrimonious exits from the club, began to voice their discontent with the way Holan handled their departure, accusing him of two-facedness and disrespect.
Meanwhile, Holan kept upping the ante, smashing the club's transfer record once again with América winger Cecilio Domínguez. However, a significant dip in form, which left the team in 7th, and the erosion of the energy and dynamism shown during his first year, led to Holan being finally sacked by Independiente in May 2019.
Dwindling form and ineffective signings can only go as far to explain Ariel Holan's deteriorating relationship with El Rojo. Halfway through his tenure, the team abandoned the high-octane, relentless style that yielded the Sudamericana team, favouring a calmer, possession-based approach, a move that angered the club's notoriously impatient fanbase.
More importantly, when Holan renewed his stay in Avellaneda he bitterly fell out with sidekick Alejandro Kohan, who left to work with Hernán Crespo, deeply impacting the squad. The fact that more former players such as Pellerano, Cuesta and Ortíz kept speaking out against him did not help either.
So, what can MLS expect from the current Universidad Católica manager? Ariel Holan is a meticulous, stat-based tactician who demands maximum effort from his players and control over transfers, which can be a double-edged sword given his chequered history in terms of player management. He has both launched international careers and shunned important players.
He could adapt to Atlanta's Tata style or depart from it. But undoubtedly, he would be a force to be reckoned with, a personality MLS is lacking in its dugouts. It will be difficult to drag him out from Chile, where he has only been since January, but it might be worth the risk. Atlanta just need to know what this risk implies.
By: Santiago Bauzá
Featured Image: @GabFoligno