What Torino Fans Can Expect from Marco Giampaolo
Longevity in coaching jobs is a rarity in the modern game and opportunities at the most powerful or historically significant clubs need to be taken otherwise those employment opportunities might not resurface.
Unfortunately for Marco Giampaolo, his brief stint at AC Milan in the early stages of the 2019/20 season was nothing short of a disaster, failing to implement his attacking philosophy at the Italian giants and he was sacked after seven Serie A games in charge.
The 53-year-old is back in coaching, this time at Torino, who finished 16th in the Italian league a season after it had earned qualification for the Europa League, and he has joined a club that has usually been accustomed to mid-table finishes or fighting for Europe in recent years.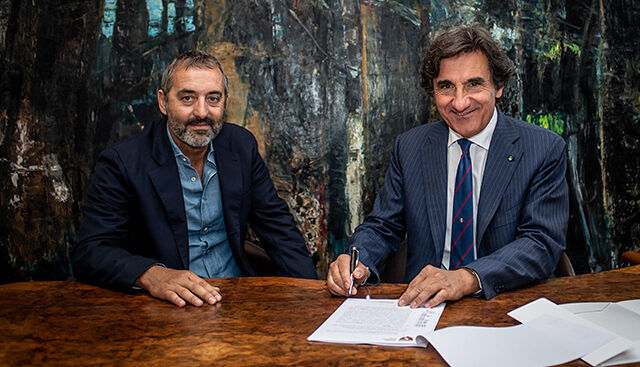 Photo: Claudio Furlan/LaPresse
Giampaolo will be a welcome change from his predecessors. Since the Granata returned to Serie A in the 2012/13, they have had coaches with varying approaches to the game.
Gian Piero Ventura implemented a counter-attacking style, Sinisa Mihajlovic created a workmanlike side that could score a lot of goals but conceded plenty, and Walter Mazzarri had a cautious approach to the game, prioritizing defensive solidarity above everything else.
Expect Giampaolo to stick to his principles and he will encourage Torino to play attacking football. Recent examples like his Empoli and Sampdoria sides demonstrated that they could be a challenge for any opponent on any given day and the football played was often aesthetically pleasing.
The Swiss-born tactician has a strong preference for the 4-3-1-2 formation based on his previous jobs. He will demand his full-backs to push forward, have a fantasista play behind the strikers, and encourage all his players to display comfort on the ball.
Implementing a certain philosophy can be a painstaking exercise and Granata sporting director Davide Vagnati will need to find natural full-backs for Giampaolo due to the current side containing wing-backs suited to the 3-5-2 formation and its variants as well as technically gifted midfielders that would suit the Swiss-born tactician's methods.
Torino has already been linked with players that Giampaolo has coached previously. Arsenal defensive midfielder Lucas Torreira, Roma striker Patrik Schick, AC Milan midfielder Rade Krunić as well as Sampdoria players Bartosz Bereszyński, Gastón Ramírez, and Gianluca Caprari have been linked with Toro.
The Piedmontese club will have to fight off the likes of Atletico Madrid and Fiorentina for Torreira; Schick will cost at least €25 million, a figure that would likely dissuade the Granata; Bereszyński could be sold to an English Premier League club; and Ramírez might sign a contract extension with the Blucerchiati.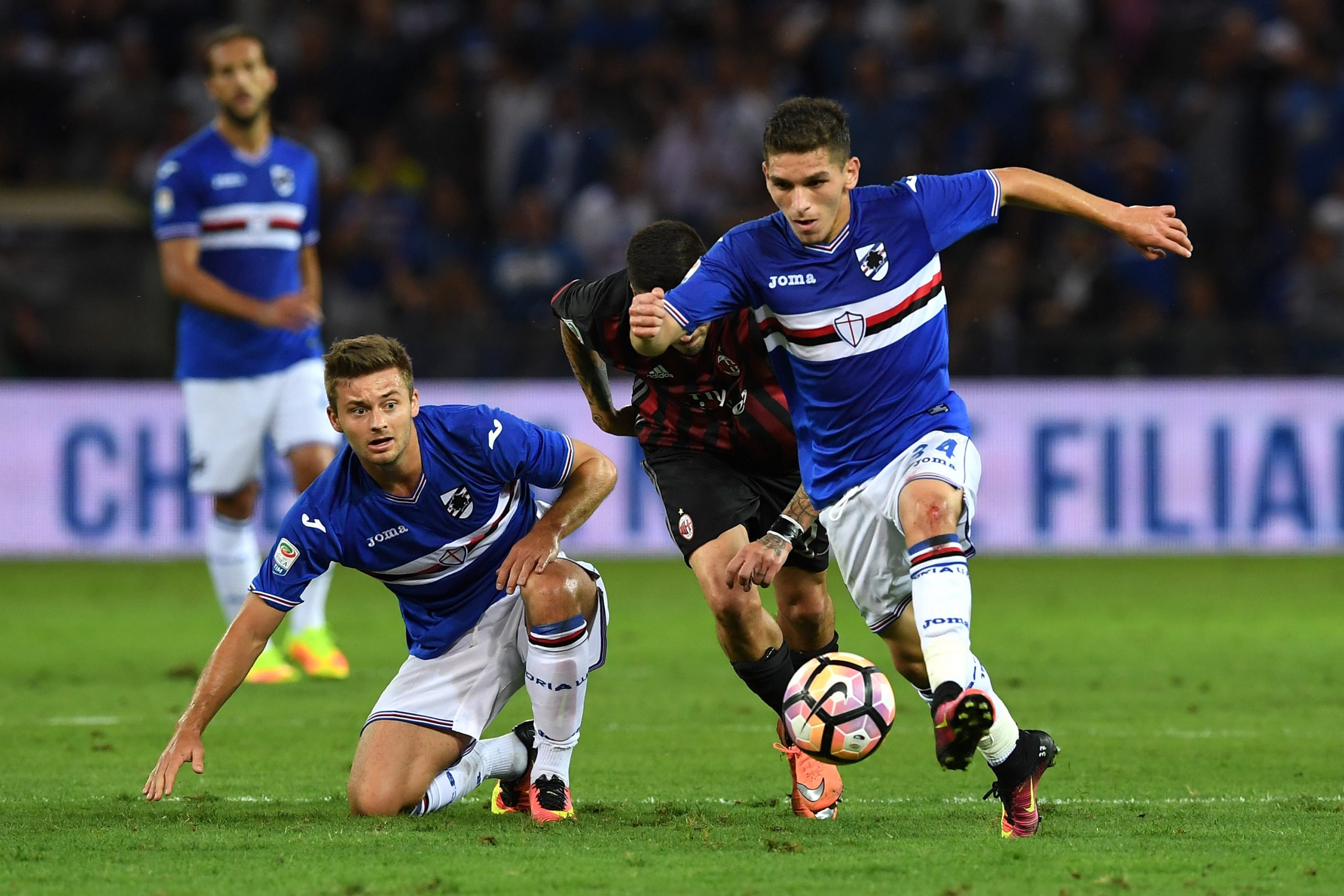 Photo: Valerio Pennicino / Getty Images
A deal for Caprari might be possible and Krunić has also been linked to German club Freiburg but Torino could match the reported €6 million that AC Milan want for the Bosnian midfielder.
Giampaolo voiced his desire to have these players so he can implement his philosophy in a quicker time.
"I understand the difficulties, there are roles that could have priorities," he said in his press conference on August 19. "If we manage to get to players I know, I can borrow some time. If we fail, the work will take longer. The lack of time leads me to players that I have already had and who are strong."
So far, Vagnati has been able to sign a couple of players who have played under Giampaolo previously. Torino has purchased Swiss left-back Ricardo Rodriguez from AC Milan for €3 million and Polish box-to-box midfielder Karol Linetty will join for €7.5 million plus €1.5 million in bonuses. There are reports that Argentine veteran Lucas Biglia could sign on a free transfer from AC Milan on a one-year contract as well.
One of the defects in Giampaolo's coaching – at least from the outside looking in – is that he does not develop great work relationships with his players and other colleagues.
His star striker at Sampdoria, Fabio Quagliarella talked about Antonio Conte – who coached him at Juventus – as well as Giampaolo in an interview with DAZN in September 2019 and talked about the Abruzzo native's focus on preparation but limited rapport with players away from the main training sessions.
"Giampaolo, as a person, is much more introverted, more closed," Quagliarella said. "In three seasons here at Samp, we had spoken 5-6 times, and in fact it was I who was going to talk to him. He always told me that everything was perfect. Then in the way of working, Conte and Giampaolo are similar, in the sense that they leave nothing to chance, and they control all the details."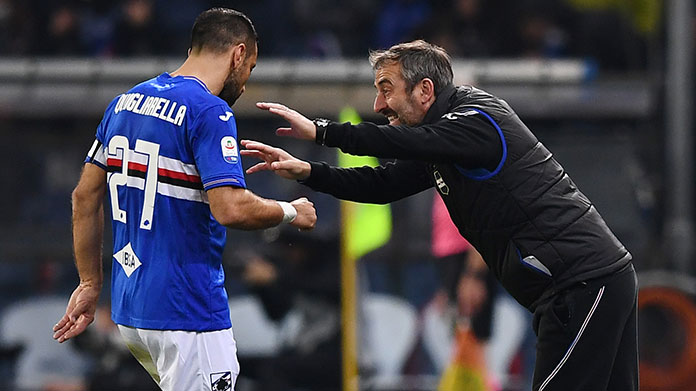 Photo: imagephotoagency.it
It also seems that Giampaolo needs to thrive in the right environment for him. At AC Milan, he had to deal with talented but inconsistent players, and he struggled to fit them into roles that suited them regardless if he had used his preferred 4-3-1-2 or tested other formations.
The 53-year-old needs to avoid having his coaching career spiral down again. After being sacked by Cesena in the early rounds of the 2011/12 Serie A campaign, he had a brief stint at Serie B club Brescia in 2013 where he went AWOL and eventually resigned, and he needed a stint with Cremonese in the 2014/15 Lega Pro season to get his career back on track.
Empoli made a brave move to replace Maurizio Sarri with him for the 2015/16 season but the risk paid dividends as the Tuscans comfortably finished mid-table in Serie A. Giampaolo found his level at Empoli, and then at Sampdoria, which eventually spoke fondly of his time with Il Doria.
"They were three intense, formative years, where I had the chance to work in the construction of an idea, a footballing thought," he told Calciomercato in June 2019. "The club put me in the ideal conditions to train and I was lucky enough to be a coach of important players, who even today are in the best clubs in Italy and Europe. It was educational, all in an environment where you can work really well."
Torino president Urbano Cairo is not exactly the most patient man in Italian football, but if he gives Giampaolo the ambience to let him impose his ideas on the squad and there are early signs of potential, the Granata players can thrive under the former Samp and AC Milan coach.
Andrea Belotti scored a career-high 26 goals in the 2016/17 Serie A season. With the attacking philosophy of Giampaolo and now at 26 years of age, when he should be at his peak, the Torino captain should be able to beat that tally.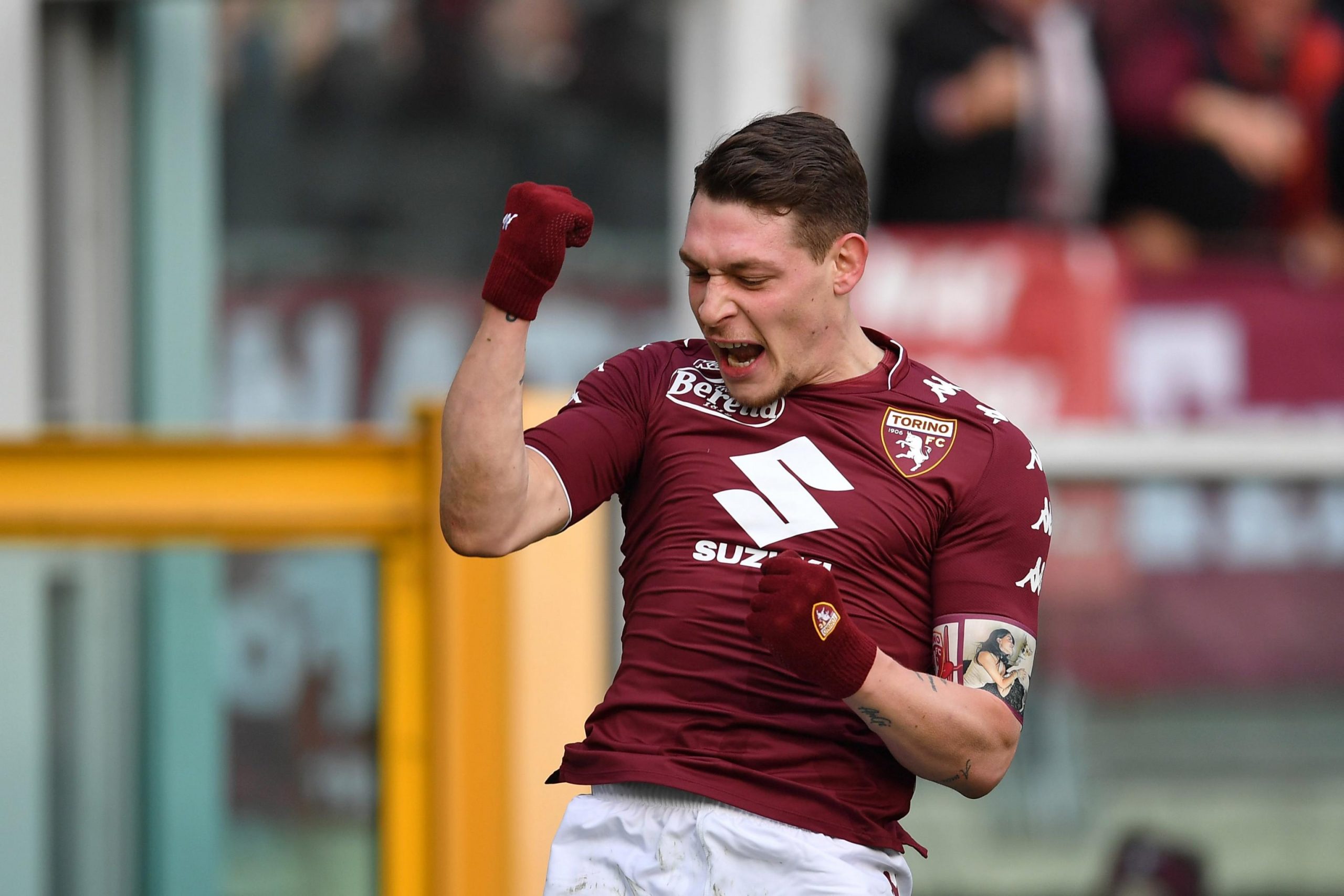 Photo: Valerio Pennicino/Getty Images
Versatile forward Simone Verdi was acquired from Napoli in the summer of 2019 on a loan deal worth €3 million and an obligation to be bought for €20 million. He struggled for most of the 2019/20 season but he had good performances towards the end of the campaign.
Although he has played as a winger in some of his previous clubs, it is very likely that he will operate as the trequartista in Giampaolo's team and he will be a fundamental part of Torino's creative play.
If the likes of Torreira and Biglia don't arrive, Serbian midfielder Saša Lukić has the attributes to play as a regista in Giampaolo's midfield. He probably isn't a mercurial player that would play behind the striker but he has the technique and intelligence to dictate play from deep.
After a short but tumultuous time with AC Milan, Giampaolo needs to find a place where he can work in tranquility and also do things his way. Based on the resources at Torino and the players that could arrive, he might be able to produce another team capable of dazzling Serie A. 
By: Vito Doria
Featured Image: @GabFoligno / Nicolò Campo / Getty Images