Toronto FC Crash out of MLS Playoffs at First Round
Toronto FC was defeated in its first game of the 2020 MLS Playoffs. One of the tournament favourites bowed out early at the hands of a capable Nashville SC who advances in the competition thanks to an overtime goal by super-sub Daniel Armando Ríos, who became Nashville's first ever MLS player after joining from Chivas in November 2018.
The Reds took on Nashville SC in its "home" field of Pratt and Whitney Stadium in East Hartford, Connecticut as the favourite to advance to the Eastern Conference semifinal.  Strong of a successful regular season that saw the Reds missing the Supporters Shield by a handful of points, Toronto FC was hopeful to make a splash in the MLS Playoffs.  
The two sides lined up mirroring one another's tactical formation, a 4-2-3-1.
Line-Ups
Toronto FC (4-2-3-1): Westberg; Auro, Gonzalez, Mavinga, Lareya; Bradley, Osorio; Piatti, Pozuelo, De León; Altidore.
Nashville SC (4-2-3-1): Willis, Johnston, Zimmerman, Romney, Lovitz; McCarty, Anunga; Leal, Mukhtar, Muyl; Cadiz
Toronto FC coach Greg Vanney, played the best eleven available to him, including Jozy Altidore, despite his questionable health in 2020.The match got off to a trying start for TFC, under a bad sign: on 13 minutes, Jhonder Cádiz put the away side ahead with a header, but was ruled offside. The Tennessee side would score not one but two more goals just to see them ruled out by the linesman, or the Virtual Assistant Referee.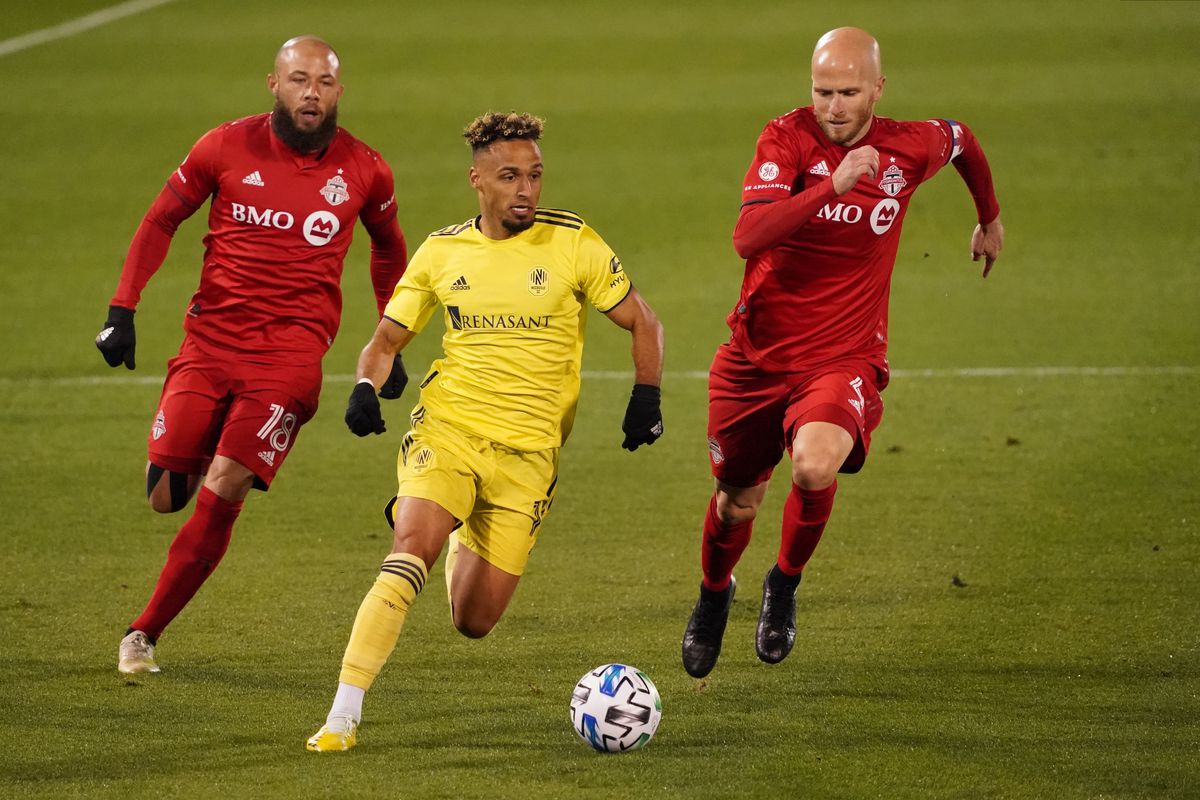 Photo: David Butler II-USA TODAY Sports
TFC tried to leverage its technical superiority with Nick DeLeon whose shot was saved by Joe Willis in the 26th minute and with a scramble in front of Nashville's goal as a result of a ball that the attacking midfielder squared into SC's box.
That was all that TFC could muster in a game that featured a more willing away side led by Cádiz, Hany Mukhtar, and Alex Muyl who missed great scoring chances in the 38th, 72nd, and 75th minute, respectively. Reds fans felt their heart jump into their throats when at the 90th minute Quentin Westberg was forced to miraculously jump on a loose ball before Mukhtar can end it in regulation.
But TFC would not hold on for long. A timid attempt in the 96th minute thanks to a Piatti-Pozuelo combination that sent Laryea wide in Nashville's box, but his low cross was too far for Akinola to reach. Mukhtar's dream goal (chipping Westberg) was the third and last goal to be annulled by VAR, as Nashville finally broke the deadlock in the 108th minute. Westberg could not all of Mukhtar's hard shot, and Ríos was there to slot in the ball in an open goal. 1-0 for Nashville.
Following the away side's goal, Toronto FC attempted to siege Nashville's goal but to no avail. Nashville run out winners on the night, deserving of a win for having gone toe-to-toe with one of the MLS' favourite teams to win the MLS Cup. Fortune, the saying goes, aids the audacious. 
Notable Quotes
"I think our guys put an incredible shift in over the course of the body of work of the regular season. In the end, pushing, things caught up with us a little bit. Some of what you would call our top players, our guys that are difference-makers, our guys who are important to us in getting results in big games were in an out with injuries, starting to come back in the tail end of the season and I felt like we lacked a little bit of fitness, we lacked a little bit of sharpness, a little bit of continuity at times tonight. 

That might have been part of why we were a little bit slow in some of our actions and didn't connect as fast as we normally would or would like to, maybe some of that fluid combination play just wasn't as sharp, so I think we hit the tail end." ~ Greg Vanney, Toronto FC Coach

"By and large we had decent control of the game, but we weren't able to really put them on their heels consistently enough. We weren't able to really create situations of wave after wave of really being dangerous.

Look, they're defensively a good team, a team that understands who they are and what they're about and they don't give away a ton of goals and they don't give away a ton of chances" ~ Michael Bradley, Toronto FC Midfielder and Captain
Final Score: Toronto FC 0, Nashville SC 1
Goal: Rios (108′)
By: Rocco Fasano / @CatenaccioNA
Photo: Juan Castro / Ira L. Black – Corbis / Getty Images