Toronto FC revs up for 2020 MLS Cup Playoffs
Missing the Supporters Shield by only three points, Toronto FC revs up for the 2020 playoffs, with its eyes on a second MLS Cup. Rocco Fasano reviews the season that was and considers what TFC fans can expect from this playoff run.
March 7, 2020 was only 8 months ago, but it seems like a different dimension. As journalists and fellow writers crowded BMO Field's press box for Toronto FC's home opener, familiar eyes catch one another. A nod, a quick greeting, or a handshake follows. The chatter is about a promising season, curiosity about new players and a passing mention of the epidemic (not a pandemic yet) that had moved its epicenter from Wuhan to Northern Italy and had called for the postponement of matches in the Italian top flight.
"That could be us in a week's time" I remarked to legendary Canadian goalkeeper and broadcaster Dick Howard. A little over a week later, Major League Soccer suspended league play indefinitely.
Lockdown ensued, following the state of emergency announced by governments. As the infection rates slowed, we learned to "live with the virus", and a bubble was formed in Florida where a summer tournament was to decide the eventual champion.
Toronto FC's summer tournament wasn't quite the Hobbesian "nasty, brutish and short", but it was much shorter than Reds fans expected. A win featuring a 4-3 goal-fest against bitter rivals Montreal Impact gave fans much hope, and despite winning their group an upsetting and surprising defeat at the hands of New York City FC ended the Reds tournament in an untimely fashion.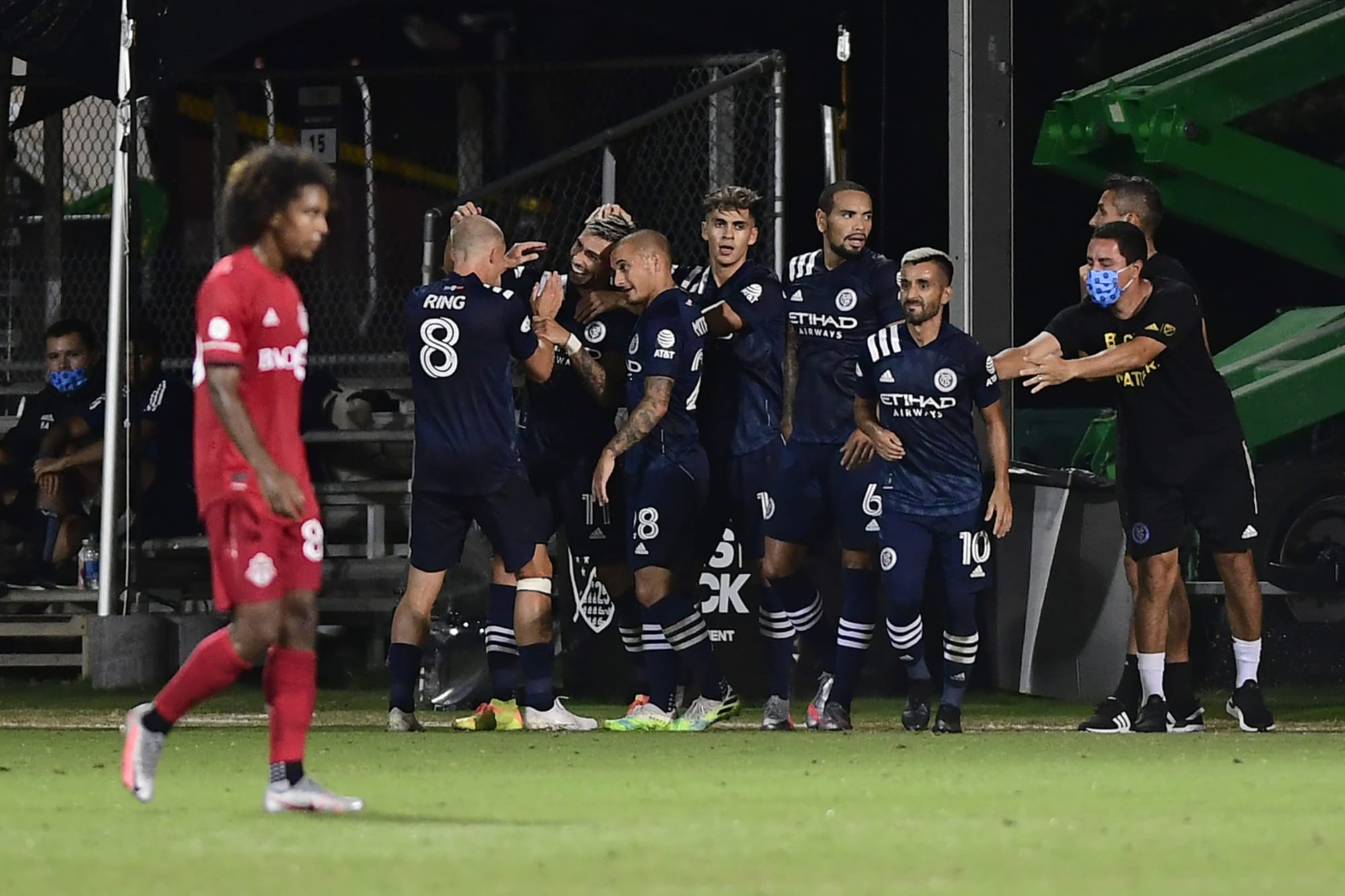 Photo: Getty Images
The Canadian Campaign
The Canadian Championship was an opportunity for TFC to lick its wounds and reset. Following a new format, tailored to the very particular moment in Canada and the world, three Canadian MLS sides – the Montreal Impact, Toronto FC, and the Vancouver Whitecaps – were placed in a mini-group whose winner would qualify for the Canadian Championship final, with the added bonus that points earned in the Canadian Championship would go toward MLS standings. The other Canadian Championship finalist would emerge from another tournament which featured teams from the newly-formed Canadian Premier League.
Toronto FC got off to a thundering start. A 3-0 win against the Whitecaps saw the investment in Pablo Piatti pay off in spades. Three days later the two sides met again at BMO Field and the result was the same, but by a much smaller margin: 1-0 to the Reds, with hometown hero Ritchie Laryea getting on the scoresheet. 
In the head-to-head against Montreal the two rivals exchanged 1-0 away victories. The defeat at BMO field featured a two-touch penalty gone wrong for TFC, in which Alejandro Pozuelo (the Reds' foremost player) made a spectacle of himself. 
Toronto's path in the Canadian Championship worsened as they lost 3-2 in Vancouver despite having equalized the match after having suffering a two goal deficit. In order to qualify for the Canadian Championship final Toronto needed to defeat Montreal and hope for some help from Vancouver in their final matches against the Impact.
The key match, on September 9, in Montreal saw the Reds take a lead with Piatti on 32 minutes. In the second half, however, the Impact draws the match against the run of play. At that point, TFC's Canadian Championship chances looked ephemeral. In what may turned out to be the highlight of this odd season, Jozy Altidore, despite ongoing injuries and against odds pulls out some 90th minute magic and puts the Reds ahead at the death, shushing Impact fans once again.
Montreal, on the other hand, still has a card to play: all that's needed are two wins in Vancouver with a goal differential of +4 between the two of them. On September 13, things are looking up: Montreal defeats the hosts 4-2. Reds fans, watching interested from afar are not hopeful. Then, surprisingly, Vancouver defeats Montreal 3-1, in an effort to put away points towards it MLS campaign. Toronto is through to the final, where they will face Forge FC.
Regular Season
"Back to regular programming", the best Toronto FC seen in 2020 was perhaps its "core". The Reds find their stride in the middle of its season: a stutter start against DC United (2-2 draw) is followed by a formidable string of wins against New York City FC (1-0), Columbus Crew (3-1), Philadelphia Union (2-1), New England Revolution (1-0) and FC Cincinnati (1-0). 
Toronto FC's five-game winning streak features usual suspects like Pozuelo, Altidore, and Piatti, often getting on the scoresheet, but also with younger players who are coming into their own such as Laryea. A special mention goes to the brightest, most refreshing new TFC player of 2020: Ayo Akinola. The Canadian-American player, aged 20, has time and again proven to be such a protagonist that TFC fans have forgotten about Altidore's ongoing injuries that have kept him from providing his usual contribution.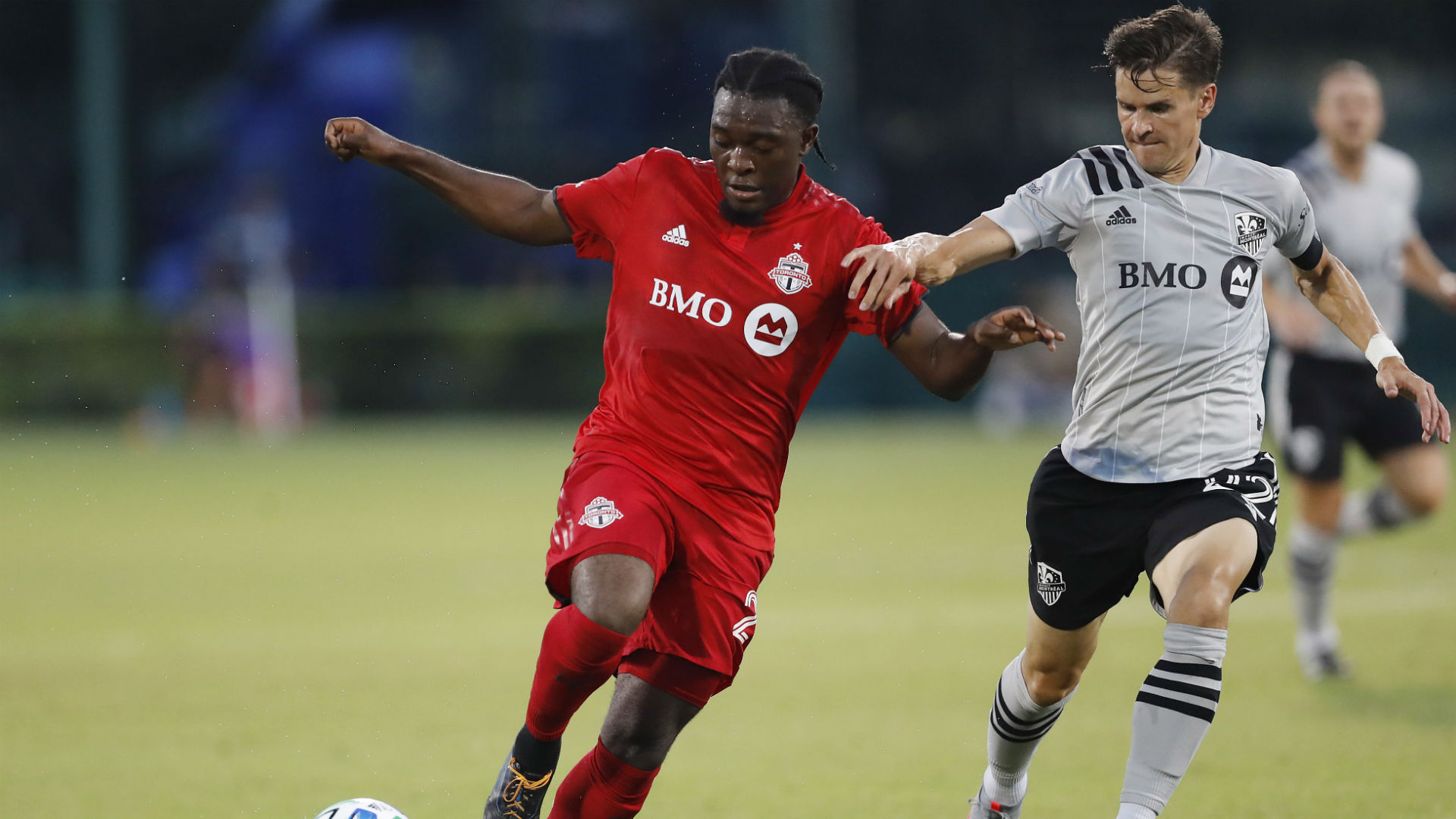 Photo: Getty Images
Inexplicably, TFC's pursuit for the Supporters Shield comes to a crashing end right after the MLS reverses its original decision not to assign it. The Philadelphia Union makes a statement, defeating the Reds decisively, 5-0, who follow that loss with another two against both New York sides (City and Red Bulls) which sandwich a small win over Inter Miami.
Ready To Launch: 2020 Playoffs
Strong of their second place finish the Reds are yet to know who they will play on November 24. According to league rules they are seeded into the quarterfinals where they will face one between Nashville SC, New England Revolution or yes, you guessed it, Montreal Impact.
The Reds will see the return of one of their designated players, Altidore, whose season is not over but his level of fitness remains to be seen. In the meantime, they have gotten back captain Michael Bradley. According to odds-maker fivethirtyeight.com the Reds have a 40% chance of making the Eastern Conference final, and a 18% chance of winning it all, along with other favourites among which the Philadelphia Union, Sporting Kansas City, and the Seattle Sounders.
Toronto FC may be lacking the fitness of some of its individuals but with a break in play the Reds are sharpening their tools in order to be ready for a final run in what will be a crucial part of the season. The objective? To win Canadian Championship final and to give their fans the MLS Playoff run of their dreams.
By: Rocco Fasano
Featured Image: @GabFoligno / ESPN / Reuters