Tactical Analysis: Leicester's Calculated Pressing against Sevilla
Earlier this week, Craig Shakespeare was appointed as permanent manager of Leicester City Football Club following the controversial sacking of Premier League winner Claudio Ranieri. Despite seemingly everyone's love for the Italian boss, it cannot be argued that Leicester's performances in recent weeks have improved since his departure. In the last 16 of the UEFA Champions League, Leicester faced Jorge Sampaoli's Sevilla, in the attempt of overturning a slight, yet seemingly insurmountable 2-1 deficit. Chilean boss Sampaoli's Andalusian side looked to improve on their recently dwindling form, aiming to bed to put any questions over whether or not they can retain the intensity they possessed for much of the season so far.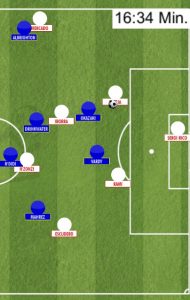 Danish goalkeeper Kasper Schmeichel played in net for the Foxes. He had in front of him a back four of Danny Simpson, Wes Morgan, Robert Huth and Christian Fuchs. A midfield four of Riyad Mahrez, Wilfred N'Didi, Danny Drinkwater and Marc Albrighton was selected. Making up the frontline of Leicester's flat 4-4-2 was Jamie Vardy and Shinji Okazaki.
Sergio Rico played as Sevilla's GK. Shifting from the commonly used back three to four, Sevilla had Gabriel Mercado, Nico Pareja, Adil Rami and Sergi Escudero as their backline. Steven N'Zonzi and Vicente Iborra operated as a double-pivot in front of the backline, with Samir Nasri in front of them as a 10. Pablo Sarabia and Vitolo were either side of him, with Frenchman Wissam Ben Yedder leading the line.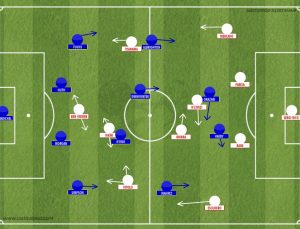 Trigger-Based Pressing
Renowned last term for their defensive, deep block, difficult-to-penetrate tactics, Leicester appear to have adopted a slightly different approach this time. Playing more 'positively', we have seen a defensive scheme consisting of less pragmatic zonal positioning and at time very high and intense pressing. Against Sevilla, such an approach seemed to make up the base of their defensive model.
Pressing from their 4-4-2, Leicester based the direction and timing of their pressing runs on sets of triggers. These triggers were largely opposition-based, depending on the actions of Sevilla in possession. These triggers were nothing unorthodox, and are commonly seen throughout matches at many levels of football, though they had a massive impact on the rhythm of Sevilla's possessional game.
One trigger was passes towards Sevilla's full-backs when they were positioned on the wing. As the ball threatened to move out to the fullbacks here, Leicester players local to this area would begin to make small shifting movements to the probable receiver. The winger would begin their squeeze on the full-back, the near striker would block the ball-near centre-back, and the ball-near central midfield would block Sevilla's near pivot, usually N'Zonzi. As the pass was actually made and the fullback received, these movements would increase in intensity and be emphasised. The winger would press right onto the full-back as quickly as possible, attempting to steal the ball if possible. The striker would begin to squeeze the full-back from his direction as well, whilst maintaining his block on the centre-back. The ball-near CM would shift slightly closer yet again, maintaining his focus on preventing passes to Sevilla's ball-near CM too. If not vertically stretched by Sevilla's winger, Leicester's near FB would push up as well, to be positioned closer to his pressing winger.
The second trigger Leicester utilised for their intense pressing was also wing-orientated. This was their counterpressing. Immediately after losing the ball, Leicester's reaction was to counterpress, ideally in three's or even four's, though depending on ball-local compactness. Leicester's counterpressing was not solely with the aim of winning the ball back immediately within the counterpress, but also to funnel Sevilla's counter-attacks towards the wings. By doing so, Leicester were able to disrupt the rhythm of Sevilla's counters by forcing them to take a longer route round the outside. Vitolo is a powerful dribbler, often penetrating from outside-to-in, but he struggled in doing so, as he was often forced to move inside to receive, then back outside to go around the block. By forcing Sevilla wide, Leicester also attempted to isolate the midfield from Nasri and Ben Yedder, whose fluidity in their movements centrally during counters was key to opening spaces for cutting through on the final action.
Initially setting up to defend in a deep, zonal 4-4-2, Leicester seemingly allowed Sevilla simple passes out to the wings and to the pivot in front of their block, where they would look to prevent vertical penetration or efficient progression. This was a slight trap however, as when Leicester spotted one particular situation within the backline, another trigger was clicked. When the ball-carrying centre-back looked to be an overly great distance from a supporting player, particularly a pivot, Leicester's first two lines would quickly react in order to fully isolate this CB. The same-side striker would press intensely onto the CB, his partner would squeeze into the other CB. The near-winger would push slightly closer to the FB, leaving him open, but being prepared to press and follow the wide pressing scheme should the ball be moved wide. The ball-near CM would push up and man-mark Sevilla's pivot most likely to be receiving in this situation.
Looking to take advantage of Sevilla's distance issues, which can often leave their backline isolated, Leicester effectively timed their pressing in order to allow them to have defensive access at key moments.
Left Orientation of Play
As we have so commonly seen since the signing of Samir Nasri and his introduction to Sevilla's left halfspace, we have seen a focus on Sevilla's left, with a great deal of their play being focused on patterns from that side.
In the earlier phases of their possession, Sevilla would look right away at building through the left flank. The first or second pass would often be to Escudero on the left wing. As this pass was made, N'Zonzi could be expected to position himself closer, normally in the halfspace, in order to provide connections with other areas of the field from the wing. By passing out wide initially, Sevilla attempted to bait the touchline press of Leicester, forcing them to shift over in numbers and temporarily lose control of other areas. In deeper areas, Sevilla struggled to effectively escape and exploit the press. Escudero often became trapped due to only usually having N'Zonzi local, and chipped, hopeful balls were often forced. Higher up though, we saw more success of the left orientated play. Playing passes out wide, still usually to Escudero, Sevilla would look to create numerical, qualitative and spatial superiority on the left wing and half space. This was achieved in a number of ways, the role of Steven N'Zonzi however, was arguably the most important.
In possession, N'Zonzi would adopt the LCM role. His role from the left halfspace would be key in supporting Escudero, and providing connections from the wing to the rest of the field. Usually, he would be positioned deeper than the ball, in order to provide an option for recycling, drawing players out of spaces and exploiting them with a vertical pass back into this zone.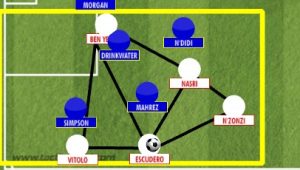 N'Zonzi's role in possession was vital, the connections he provided so key in creating solutions allowing Sevilla to escape difficult situations, even turning them into strong ones in an instant through his positional superiority
Conclusion
Amazingly qualifying for the quarter-finals of the Champions League, Craig Shakespeare's Leicester will be confident they can beat anyone in the next round.
Their intensity in their pressing scheme was very impressive, and the fact they were able to so strongly disrupt the usually clean flow of Sampaoli's side should give them hope in the next round. Failing to establish much rhythm in their structure was a major problem for Sevilla, and when they established this, the lack of penetration and stretches of Leicester's backline saw a lack of goal threat.
In the next round, tougher tests are yet to await the Foxes, whose amazing journey continues. Next month, Leicester will be facing off against a once-underdog who have now turned themselves into a European giant in Atlético de Madrid.
Photo Credit: Getty
By: @Boxtoboxcb