The Significance of Raphaël Varane and Samuel Umtiti's Roles in France's World Cup Wins
In the 94th minute, deep into added time of France's encounter with Belgium in the World Cup semi-final, poised 1-0 to France, Kevin de Bruyne launched yet another high ball towards Romelu Lukaku, and the heart of the French defence. Raphaël Varane leaped high into the air and headed the ball clear…for one second. Toby Alderweireld relaunched another cross, and yet again, Varane towered above the 6″4 Manchester United striker. This time, he cleared expertly into the control of teammate Antoine Griezmann. As Griezmann dribbled away to spark a counter-attack, Samuel Umtiti pounded Varane on the back in an act of both machismo and relief. The pair knew it; Griezmann would dribble the ball to safety to see out the game, and that would be it…France had made it to the World Cup Final. The relief as Umtiti slapped Varane on the back was of the same relief that this centre-back pairing provided their nation all throughout this tournament. The pair had been rocks (albeit extremely mobile rocks) at the heart of the French defence across the matches that brought them here.
Though Varane and Umtiti were certainly not alone in playing crucial roles in France's success, the centre-backs were undoubtedly two essential pieces to the gameplan and success of Didier Deschamps' team.
General Defensive Duties
Playing as centre-backs, defensive duties and challenges are obviously a key aspect of Raphaël Varane and Samuel Umtiti's game's. Throughout the World Cup, France faced some high-quality attacking teams, and as a team, France's defensive unit performed excellently. Benjamin Pavard and Lucas Hernández had admirable tournaments alongside them in the back four, whilst Kanté was exceptional as the 6, in addition to other players who performed well in the defensive phase. In addition to this, Deschamps' deep block generally functioned very well, despite being perceived as overly pragmatic by many. In short, Varane and Umtiti had their jobs alleviated by both the system and the players around them.
With France utilising a deep block the majority of the time, Varane and Umtiti generally didn't have large distances to cover when the opponent had possession, and they rarely deviated from the centre. Due to France players holding their positions in the defensive shape when the opposition had possession, there weren't spaces left open by players vacating their positions to press. Furthering Varane/Umtiti's lack of requirement to leave the centre of defence was the role of N'Golo Kanté in front of them. Diminutive in height, yet not power, the Chelsea midfielder was given an intense role as the defensive midfielder due to his extraordinary physical qualities allowing him to do so. Kanté was tasked with covering the full horizontal space in front of the defence across both half-spaces and the centre. By closing down opponents and covering this space as required, Kanté was able to deny opponents space between the lines/in front of the defence, whilst allowing the back four to defend the backline and beyond. This allowed Varane and Umtiti to focus their efforts on containing imposing, clinical strikers such as Suárez, Lukaku and Mandžukić. When, or if these strikers dropped in front of the backline however, Kanté displayed intelligence in the use of his cover shadow to defend against both the 10 and dropping 9.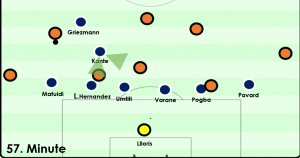 By remaining in their central positions in the backline, Varane and Umtiti could use dominating defensive and physical qualities to carry out typical duties at the heart of the defence. Both being pretty aggressive defenders, they would often be on the front foot and intercept flat passes to striker's feet, or reach a leg around and tackle them if they were able to receive and attempt to hold up. If the opposition resorted to high balls to a big striker, they would impose their physicality (insanely high leaps from Varane, strength in the aerial duel for Umtiti) to dominate these aerial threats. If a quality dribbler such as the likes of Messi or Hazard were able to breach the midfield line and attack towards the centre, Varane and Umtiti again found themselves in situations they excel in and were able to dominate by using their outstanding physical qualities by engaging in 1v1s.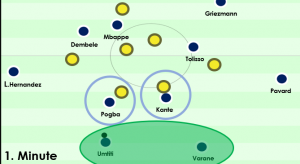 Although overall Varane and Umtiti, plus the supporting roles of their teammates, were largely able to perform excellently in terms of remaining in the centre for defending, there were some exceptions.
In the very early stages of the match versus Argentina, Lionel Messi often drifted from a starting position as false 9, out to the right (France's left) half-space. Rather than allowing Kanté to pick Messi up, Umtiti initially followed Messi far wider than was typical to his role throughout the tournament. When Messi received, or threatened to receive, in a wider right half-space position, Umtiti often followed, vacating his left centre-back position temporarily. Though France did not encounter any major issues from this, due to Pavón (Argentina's right-winger) and Enzo Pérez (Argentina's right 8) not running into and attacking the vacated space, there was certainly potential there for exploitation should Argentina have attempted to do so. Though difficult to pinpoint for definite, there were a couple of reasons why Umtiti may have chosen to follow Messi and leave his central position in the process;
1) With Messi playing from the central forward position as a false 9, Umtiti perhaps felt an onus to take up a man-marking job on the opposition 'striker.'
2) Umtiti perhaps didn't feel comfortable/safe leaving one of the world's best players free for even a split second in the 'pass-over' moment to Kanté/Hernández as he left the last line to drop slightly deeper/wider.
As previously mentioned, Argentina were unable to exploit the gap left by Umtiti vacating the left centre-back position in the first 10/15 minutes. However, France (whether it was Deschamps himself or simply the players is unknown) identified this potential threat and adjusted accordingly. Matuidi defended far deeper in the left half-space, and ensured he was on hand to pick up Messi as he dropped off Umtiti. If Matuidi was pressing higher situationally, Kanté would leave his central 6 position to mark/close down Messi, and Pogba would then move inside to cover the centre whilst Kanté wasn't present.
Against Belgium, there were a few examples of Varane/Umtiti leaving their positions in the centre of the backline. With Kevin de Bruyne occupying Kanté by constantly searching for space between the lines, Hazard was able to find himself free in pockets of space more often. From the left half-space, he preferred to drive directly at the centre of the defence with De Bruyne occupying Kanté. With Hazard being extremely dangerous in these situations, it was necessary for Varane/Umtiti to leave the line and press him to prevent/block shots and key passes. This saw one of the two leaving the line to press Hazard a few times throughout the match. This wasn't overly dangerous, though, as one could block/tackle Hazard whilst the other kept tabs on Lukaku.
Build-Up
As well as having very important, yet heavily supported and not overly complex roles in typical defensive situations within their shape, Varane and Umtiti's roles in the build-up phase could be described similarly. Playing from a build-up structure which varied depending on the opposition's pressing scheme, Varane-Umtiti were present in solid, not overly sophisticated or complex roles at the base of France's build-up.
Before looking at and delving deeper into the actions from Raphaël Varane and Samuel Umtiti during build-up, it is important to have an understanding of France's collective structures during build-up, and how the centre-halves fit into this;
The two common deep build-up shapes we saw from France throughout the tournament were 3-2 and 2-2 structures.
-The 3-2 structure was mostly used against teams who could be deemed threatening in their high/mid pressing, or against teams who had three men in their frontline. In order to establish the 3-2 structure, Varane-Umtiti would push slightly wider (not extremely wide onto the wings though) whilst Kanté would drop from the 6 position to the centre of the backline. Pogba-Matuidi would occupy deep central-midfield positions, looking to escape the cover shadow and manipulate the opposition's frontline. Pavard-Hernández mostly pushed into high, wide positions, though were sometimes slightly deeper (on the same vertical line as Pogba-Matuidi).
-Deployed against teams who had two men in their frontline and played in a deep/mid block, the 2-2 structure was another build-up structure utilised by Deschamps. This saw the full-backs push forward, leaving Varane-Umtiti as the only two players in the backline, positioned quite narrow in either half-space. Kanté-Pogba occupied the opposition's two central forwards, leaving the centre-halves free.
In France's build-up, it is evident that although Varane and Umtiti have demanding roles, they are supported and protected by teammates close to them. From their positions, the pairing typically shifted the ball to the likes of Kanté and Pogba, who have fantastic build-up capabilities, particularly in the form of press-resistance and ball-carrying – key qualities for progressing from the deep positions in which they take the ball in. Although the two French centre-backs generally pushed the build-up onus onto their midfielders, there were scenes where the impressive passing and orientation skills of the Real Madrid and Barcelona defenders were displayed. In the case of the situation appearing stable, and the passing lane being clearly open, the centre-backs were happy to attempt laser passes through the lines. Second striker Antoine Griezmann, who dropped deep often, was frequently the target here. These passes were not extremely commonplace though, and only attempted when it seemed absolutely safe to do so.
In the 2-2 structure, we sometimes saw more 'ambitious' actions from Varane and Umtiti. When Kanté-Pogba occupied the opposition's frontline pressers, this left France's centre-backs free, not having to worry about being pressed. In these situations, we often seen Varane or Umtiti making diagonal dribbles towards the wings, left free in deep positions with Pavard-Hernández pushing up. From here, they were able to pick a pass from a more advanced position, and had greater access to the near-wing. If teammates were blocked, France could restart circulation, albeit from a higher position due to territory being gained with the centre-half's progressive dribble.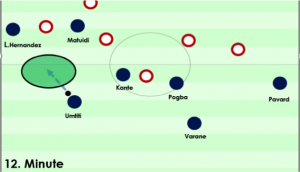 Above is an example of the aforementioned. Whilst Kanté-Pogba occupy Croatia's main frontline presser, and Hernández has pushed up, taking the winger back with him, deep in the left half-space/wing is free. Umtiti is free to dribble diagonally forward into this space, and attempt a long, high diagonal to the other wing from a better position.
Defensive Transition
Having such monstrous, physically dominant players such as Varane, Umtiti, Kanté and Pogba in the XI, it is extremely easy to set-up a successful rest-defence. Funnily enough, Didier Deschamps would probably agree, as he had seen his France team control opposition counter-attacks with absolute ease and sheer dominance. The deepest (outfield) players and last line of the rest-defence was Varane and Umtiti.
Again, before stating the individual defensive actions of France's defence, an overview of the actions of teammates individually and collectively is required. France's rest-defence was focused around just three players; Varane, Umtiti and Kanté. Though this seems pretty light, it is absolutely fine when considering the superhuman abilities of all three to cover large spaces. Paul Pogba, despite his potentially useful qualities, did not usually feature directly in the rest-defence; he was positioned higher up from where he would counter-press the opposition ball-carrier during counter-attacks, looking to impose his physical dominance to win the ball.
During opposition counter-attacks, Kanté had a very important role in protecting Varane-Umtiti, and allowing them to remain in their positions in the backline. With his outstanding reactions and physical attributes, N'Golo Kanté is perhaps the best ball-winning midfielder in the world. These attributes were put to use in front of Varane-Umtiti with the diminutive Chelsea midfielder reacting to turnovers by pressing the opposition ball-carrier and looking to nullify or delay opposition counter-attacks. With Kanté pressing to cover the space in front of the defence, Varane-Umtiti did not have to leave the backline, meaning they were free to remain in position and engage in aerial battles or footraces, which their speed allows them to dominate even the quickest of attackers. Though possessing such pace is a wonderful asset for both Varane and Umtiti to have, sometimes they can be lacklustre with their positioning, an (increasingly) important attribute in a two man backline with no-one to cover, and become over-reliant on their pace to bail them out.
https://twitter.com/boxtoboxcb/status/1020442991465574400
https://twitter.com/boxtoboxcb/status/1020442991465574400
Nonetheless, it is difficult to question such quick defenders for deciding to back themselves in footraces.
Deep Defending – In and Around the Box
Functioning in a deep/mid block defensive system with two 6-foot plus centre-backs, it is unsurprising that France did their fair share of deep defending in and around their own box. As they defended deep, the bulk of aerial duels and last ditch tackles were mostly made by Varane and Umtiti.
With the outstanding attributes of Varane and Umtiti in situations of deep defending around the box, it is understandable that they maintained a focus on retaining their central defence positions, as this best placed them to deal with these situations. In opposition crossing situations, significant measures and strategies were in place to allow Varane and Umtiti to maintain their central defence positions. When there was an opponent on the wing, France's near-full-back was the first port of call to press. He would shift right out to press the ball-carrier, looking to delay or reduce the quality of, or most ideally prevent the cross. As this happened, France's near-8 would drop and cover the open half-space behind the full-back. This meant they could track any late front post runners, with the near-CB being able to retain his position to defend balls into the centre, rather than being dragged away by a runner.
Playing round-after-round of close, competitive one-legged ties in a knockout tournament, it is unsurprising that alongside the panic, drama, chaos and long-balls that come with these games, Varane and Umtiti did their fair share of last ditch clearances and general defending late in a few games. In the closing minutes of numerous matches throughout the tournament, the defensive contributions of Varane and Umtiti in clearing the typical late, long-balls of an opponent chasing the game could be labelled priceless.
Attacking Set Pieces
An imperative, very interesting and well researched aspect of the 2018 World Cup was the high number of set piece goals. A massive 42% (valid as of 9th July) of goals at the World Cup came from set pieces. This was no different for the winners, France, whose offensive set pieces were vital in their victorious tournament. Being a major part of France's  triumph, bringing a number of simply priceless goals for the team, it became clear that France had a structured set-up for attacking corners/certain types of crossing free-kicks. Being two of the best in a team full of outstanding aerial threats, Varane and Umtiti both had defined roles as France attacked from set-pieces. Both saw tremendous success from attacking corners, with Umtiti winning France the semi-final and Varane winning a penalty in the final, from these situations.
Although it is difficult to label one zone as 'more dangerous' from set pieces to another as it varies from team-to-team and situation-to-situation, the front and back posts and around the centre of the six-yard box/penalty spot are probably the zones mostly commonly attacked and focused on from teams attacking at corners. These three zones were also prioritised by France. Though these movements were subject to change, the following was the most common pattern; Samuel Umtiti would attack the front post area, Raphaël Varane ran from slightly deeper towards the centre of the six-yard box, whilst Giroud lurked around the back post. Most commonly, Griezmann would aim his corners to the front post, with a whip on the ball, allowing the front post attackers to flick the ball towards goal with a powerful turn of the neck. France saw great success from these situations, which is highlighted in the video above.
Conclusion
As France put away a number of strong opponent's, who were strong on both individual and team-tactical levels, they put in a number of commanding performances which were difficult to question as winners. These commanding performances were exemplified their two centre-backs: Raphaël Varane and Samuel Umtiti.
The dominance in the performances from the Real Madrid and Barca men were absolutely essential in all phases of the game for France. Their strength and control of defensive situations were vital at the heart of a functional French defensive unit. The support, anticipation and readiness to dominate situations in transition, and whilst the team attacked were a wonderful base to possess.
Throughout the 2018 World Cup, France had a pairing of two of the best centre-backs in the world, and how better for them to display it than helping guide their nation to global victory on the biggest stage.
By: Ross Eaton
Photo: AFP