Analyzing Arturo Vidal's Performance vs. Liverpool
Going into the first leg against Liverpool, the biggest question for Barcelona manager Ernesto Valverde laid in midfield: Arthur Melo or Arturo Vidal. While the Brazilian has seamlessly transitioned to life in Catalonia after his summer move from Grêmio, the Chilean has been a force of nature for Antonio Conte's Juventus, Pep Guardiola's Bayern Munich, and a Chile team that won two Copa Américas. As Valverde prepared for a Liverpool that had not drawn a match since March 7, much less lost one, he opted for the proven, experienced Vidal in the line-up, and his bet paid off.
Switching the Play
While Liverpool attempted to limit time and space on the ball for attacking threats like Lionel Messi, they allowed less creative players such as Vidal more time on the ball. He made them pay with pinpoint cross-field passes, finding Jordi Alba high up the left flank, who then attempted to find Luis Suárez with a through ball.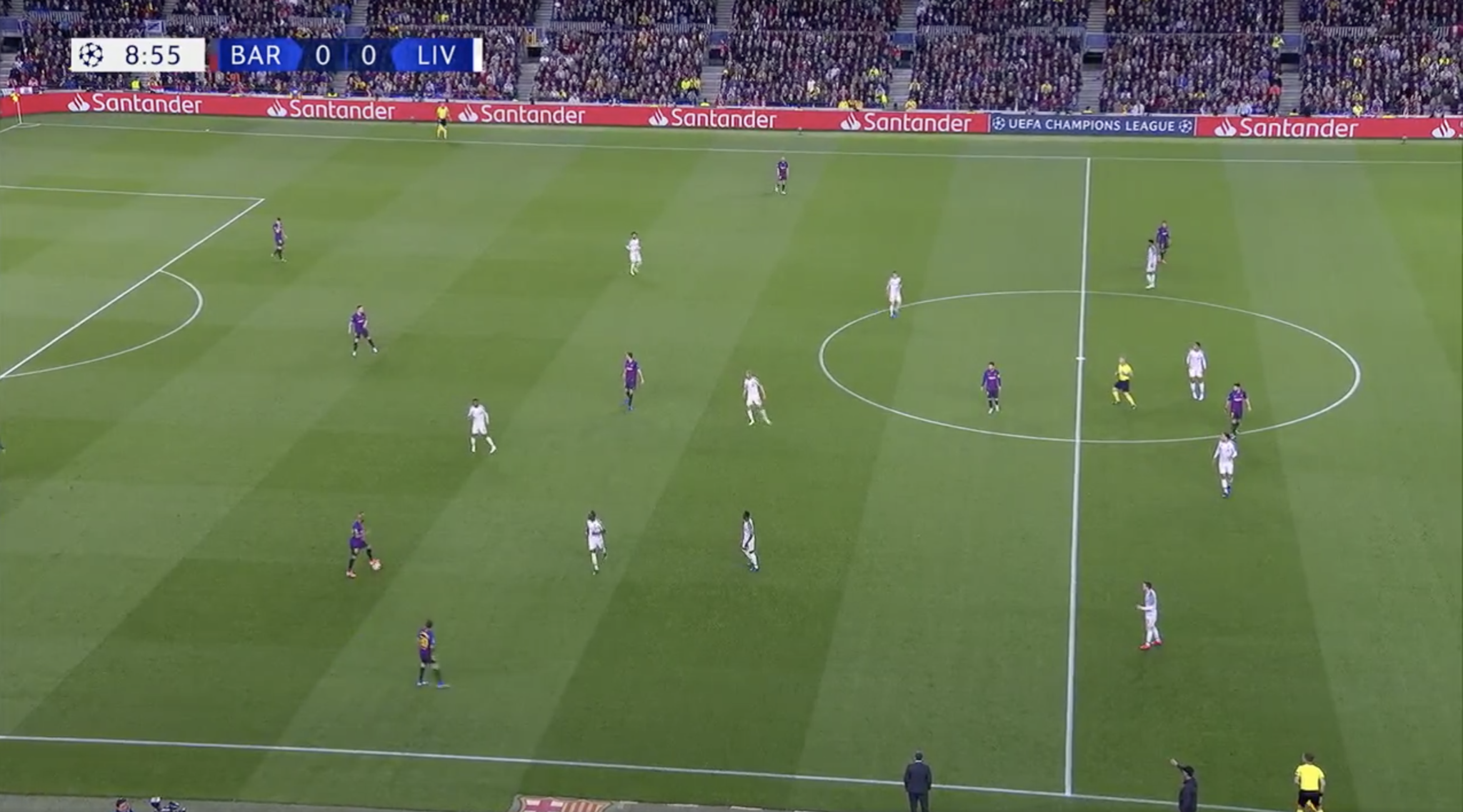 Prior to the opening goal, Vidal shuffles away from James Milner to give Sergio Busquets a quick passing option. The Chilean promptly dishes it off to Sergi Roberto, and the pressing triumvirate of Milner, Sadio Mané, and Andrew Robertson collapse onto the new man with possession, thereby giving Vidal time and space to receive and play the perfect pass. He takes two touches, one to receive, and one to set up his pass, before playing a pinpoint cross-field pass into Philippe Coutinho. Coutinho takes advantage of Joe Gomez's narrow positioning to drag him out of position, before playing it to Alba. Alba picks out Suárez with a lovely final ball and El Pistolero makes no mistake with the finish.
Pressing
Barcelona's 4-3-3 on the ball shifted to a 4-4-2 off the ball, with Vidal positioning himself as a right-sided midfielder to help prevent overloads against Sergi Roberto. What's more, he pressed Robertson and ensured that he didn't have enough time and space to roam forward and advance the attack. He often forced the Scottish left back into a back pass, or a hurried, misplaced pass.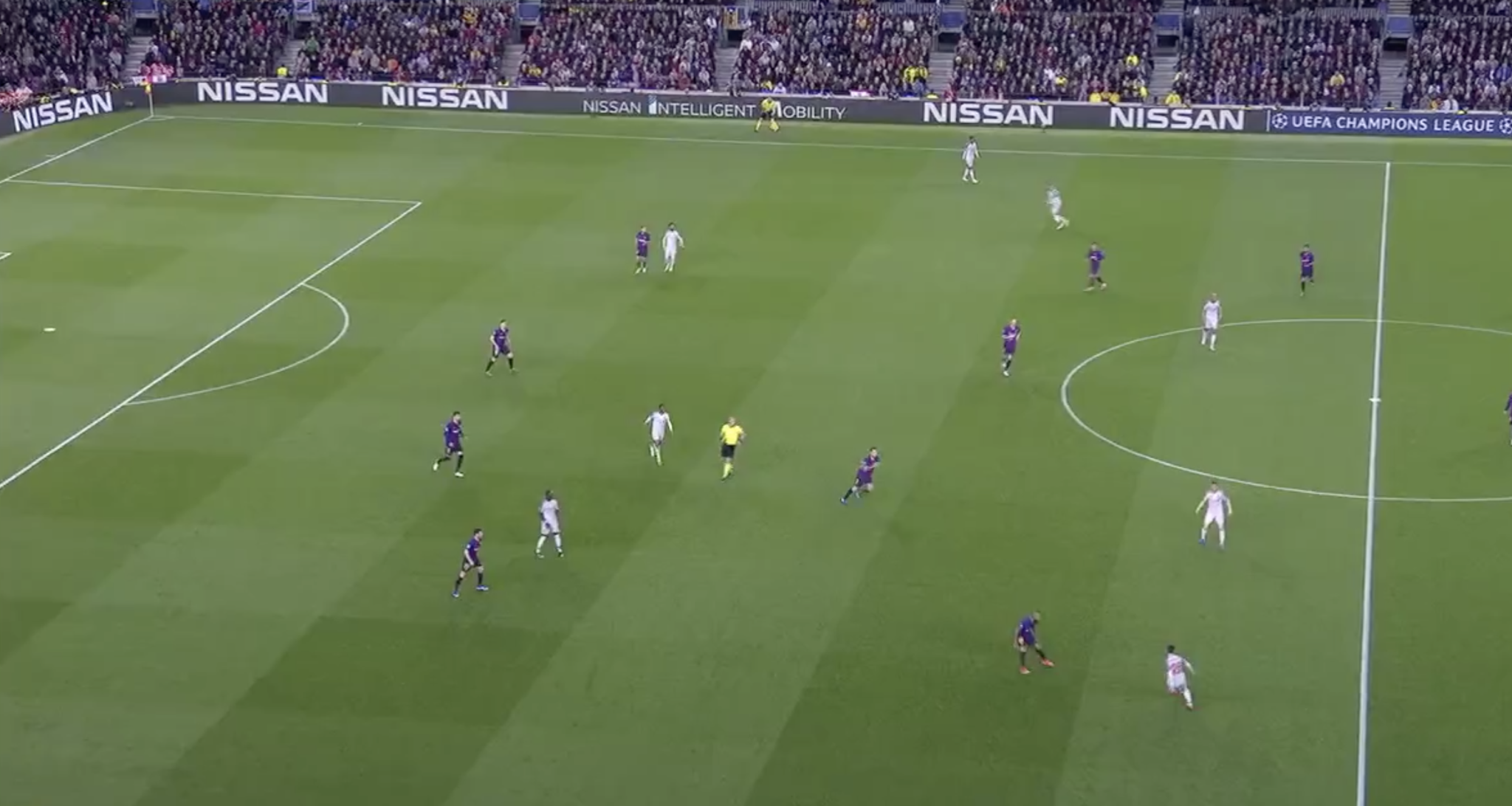 Similar to Paulinho's role last season, Vidal tended to act as a destroying midfielder high up the pitch, venturing centrally to win possession and keep the momentum in Barcelona's favor, while also preventing dangerous counter-attacks from Liverpool.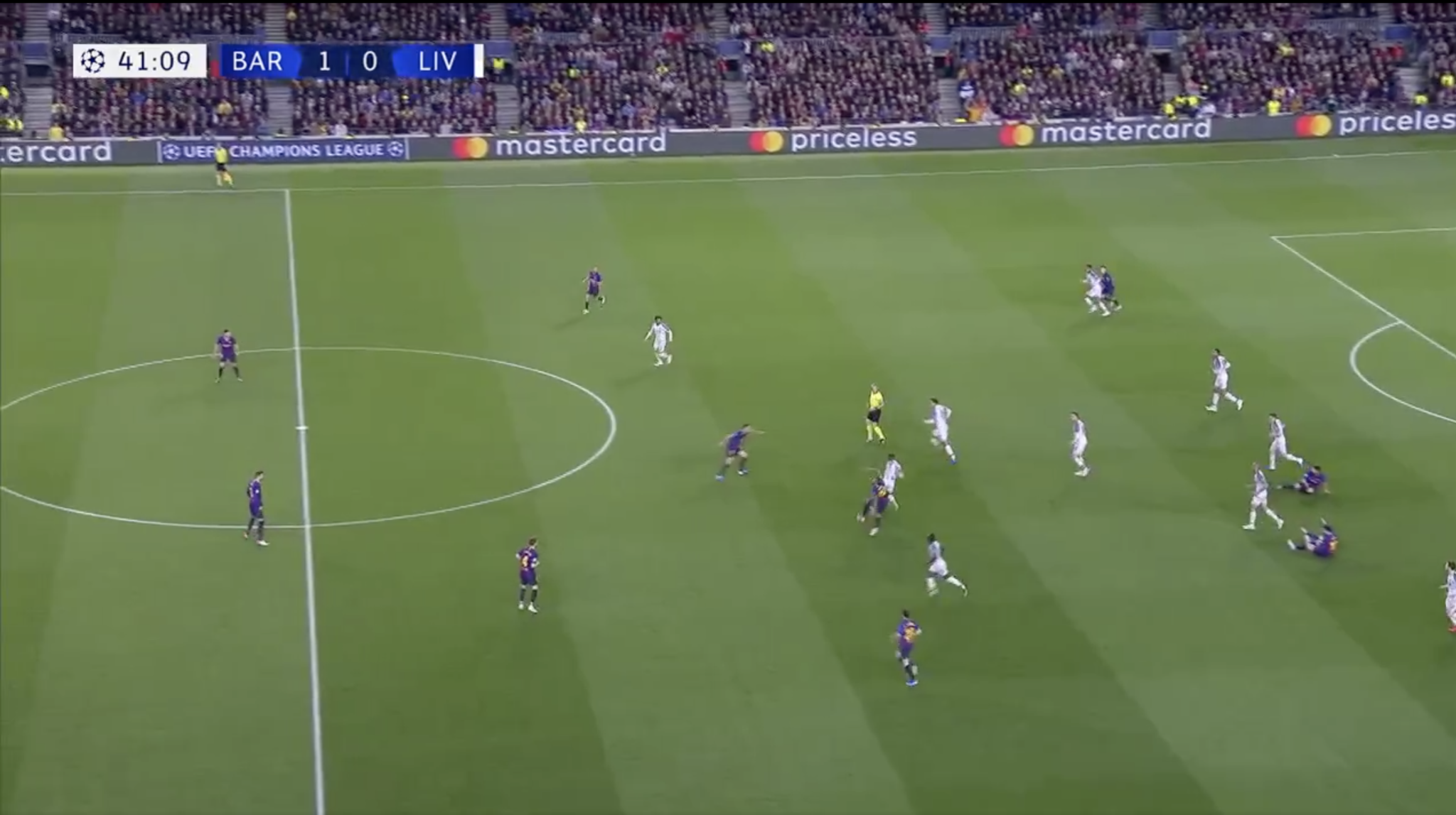 Anticipation
Part of what made Valverde choose Vidal over Arthur was his experience, and he repaid his trust by extinguishing potentially dangerous attacks with excellent reading of the game and anticipation. Here, he acts as a the right central midfielder in a 4-3-3, staying inwards to prevent the passing option to Mané. However, once he notices that Mané is going to play a one-touch layoff pass back to Fabinho, he immediately starts sprinting backwards towards Robertson, who's already making a run in behind. Vidal intercepts the pass with a Zidane-esque kick to clear it momentarily.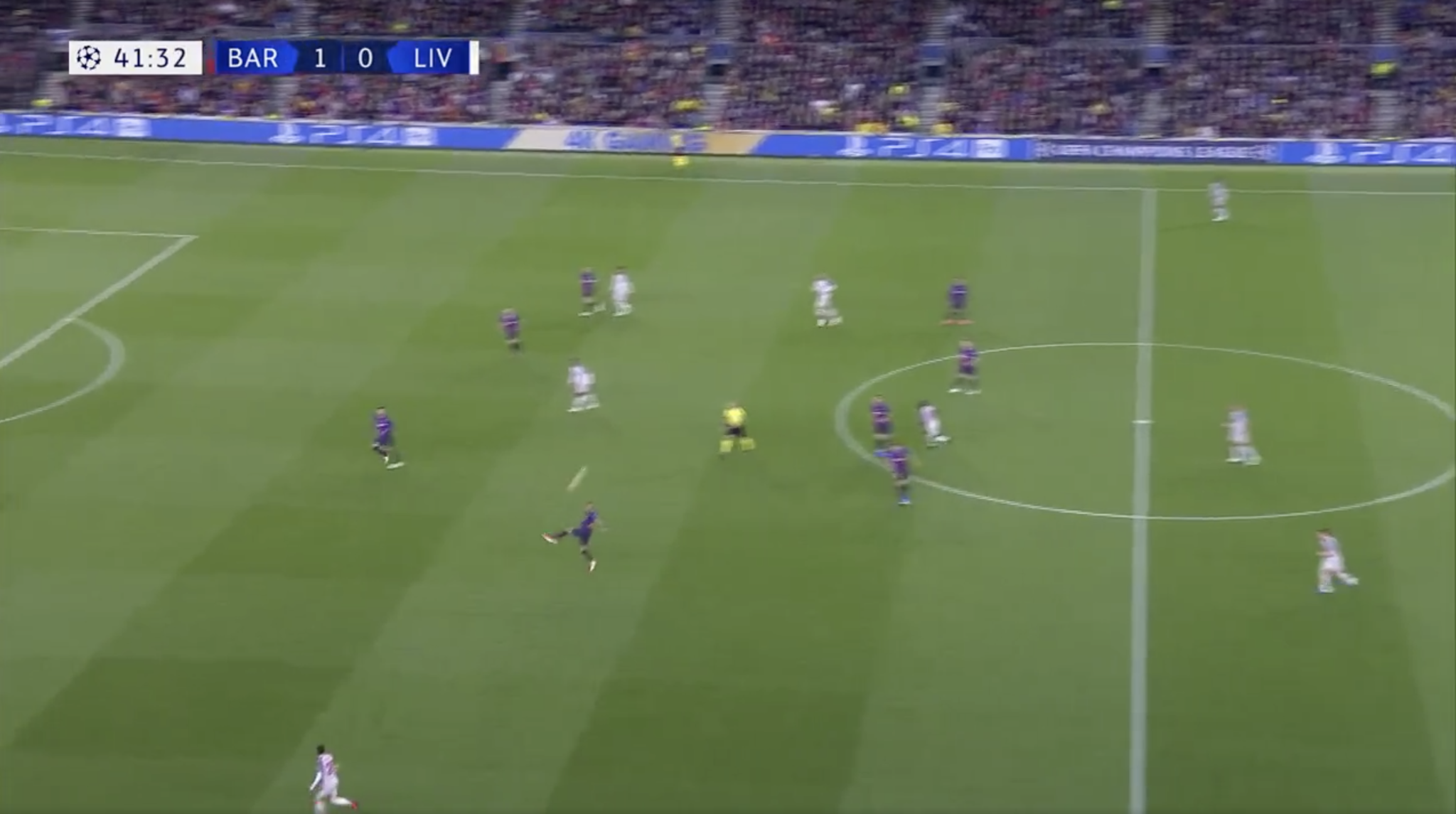 Here, as Barcelona aim to neutralize any crossing or dribbling threat down Liverpool's left flank, Vidal jogs to the edge of the box, then sprints to face off Milner and block his pass. The deflected pass bounces into Messi's path, who is promptly fouled.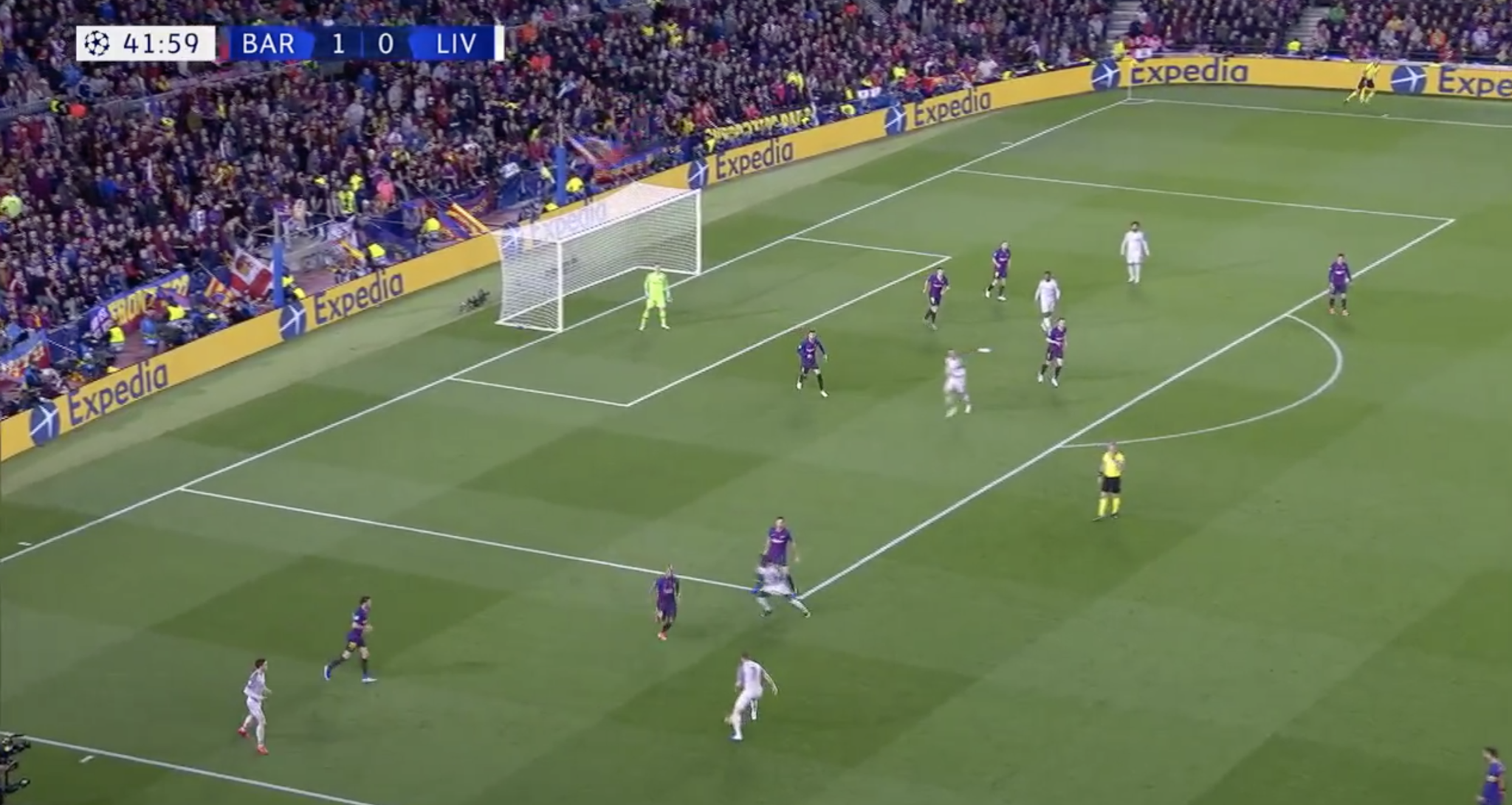 With Gomez, a natural center back, tucking into the right, Liverpool relied on Robertson to provide width, but thanks to Vidal's defensive actions, he didn't have the opportunity to create danger on the left flank. Here, Vidal runs back to block Milner's attempted through ball into Robertson, deflecting it into Busquets' path.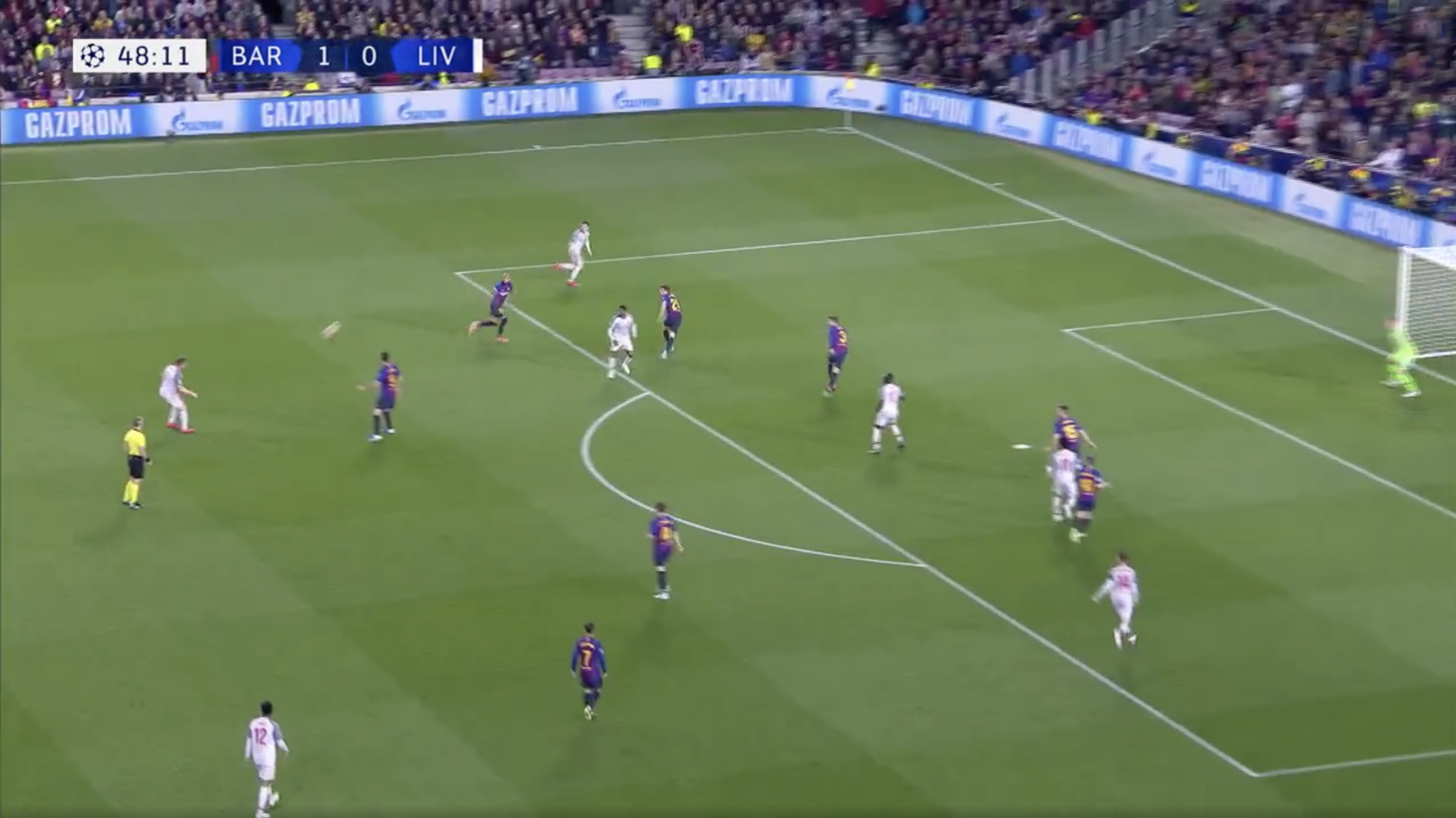 With Gomez operating in a narrow right back role, Klopp relied on Robertson and Mané's link-up to provide width. However, with Vidal both preventing Robertson time and space to advance on the ball, as well as denying them space to link up, Liverpool's left-sided attacking strategy was largely nullified.
Most of what Vidal did was so simple, yet so necessary. Vidal initially leans to the left to cut off the passing option into Mané, and when he realizes Milner is going to cut in for a cross, he shifts direction and blocks Milner's cross with a lovely lunge, blocking it out for a throw-in.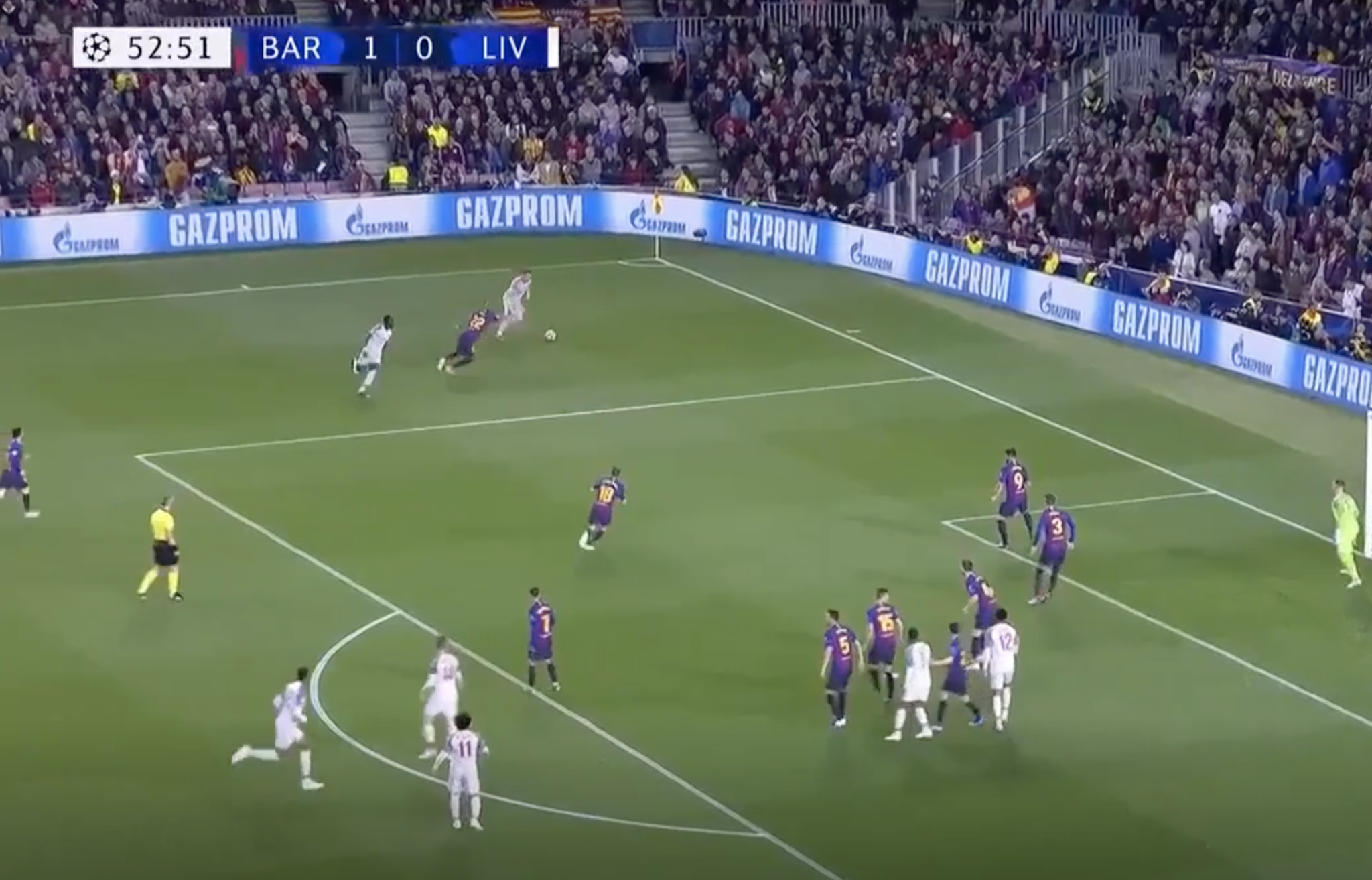 It's simple actions like this which prevented a high-flying Liverpool side from finalizing their chances. In many cases, with Mohamed Salah on the breakaway, the Egyptian attempted to thread Robertson in with a through ball, but with Vidal tracking him closely, opted to pass it to Joe Gomez, who is less adept in attacking facets.
After Nélson Semedo came on for Coutinho, Vidal switched to the left flank to help Alba defend Gomez and Salah. Perhaps Liverpool's attacking threat down the right flank would have been greater had Klopp started Trent Alexander-Arnold over Gomez, or if he had started Divock Origi rather than fielding Georginio Wijnaldum in a false 9 role, or if he had brought on Xherdan Shaqiri or Roberto Firmino on earlier. But he didn't, and Vidal did his job against a sterling, albeit imperfect Liverpool team.
Aggression
Apart from receiving between the lines and then sending a short pass to Messi or a more creative teammate, Vidal didn't do much on the ball, but he was a 'defensive playmaker.' Let's rewind to around a minute before the second goal.
Vidal initially stays deep, blocking a passing lane into Salah and allowing Gomez to lay it off to Milner without any pressure. However, once he sees Milner recycling it back to Gomez, he takes off and starts sprinting towards Gomez to press him. When Gomez takes a heavy first touch, Vidal slides in with a well-timed tackle, and Milner hurriedly plays it back to Alisson. Noticing that Alisson has decided to play it back to Milner, he rushes to press Milner, whose long ball is cleared by Lenglet. Barcelona regain possession thanks to Vidal's nonstop hustle. Busquets finds Messi between the lines, and Messi does what Messi does.
2-0 Barcelona.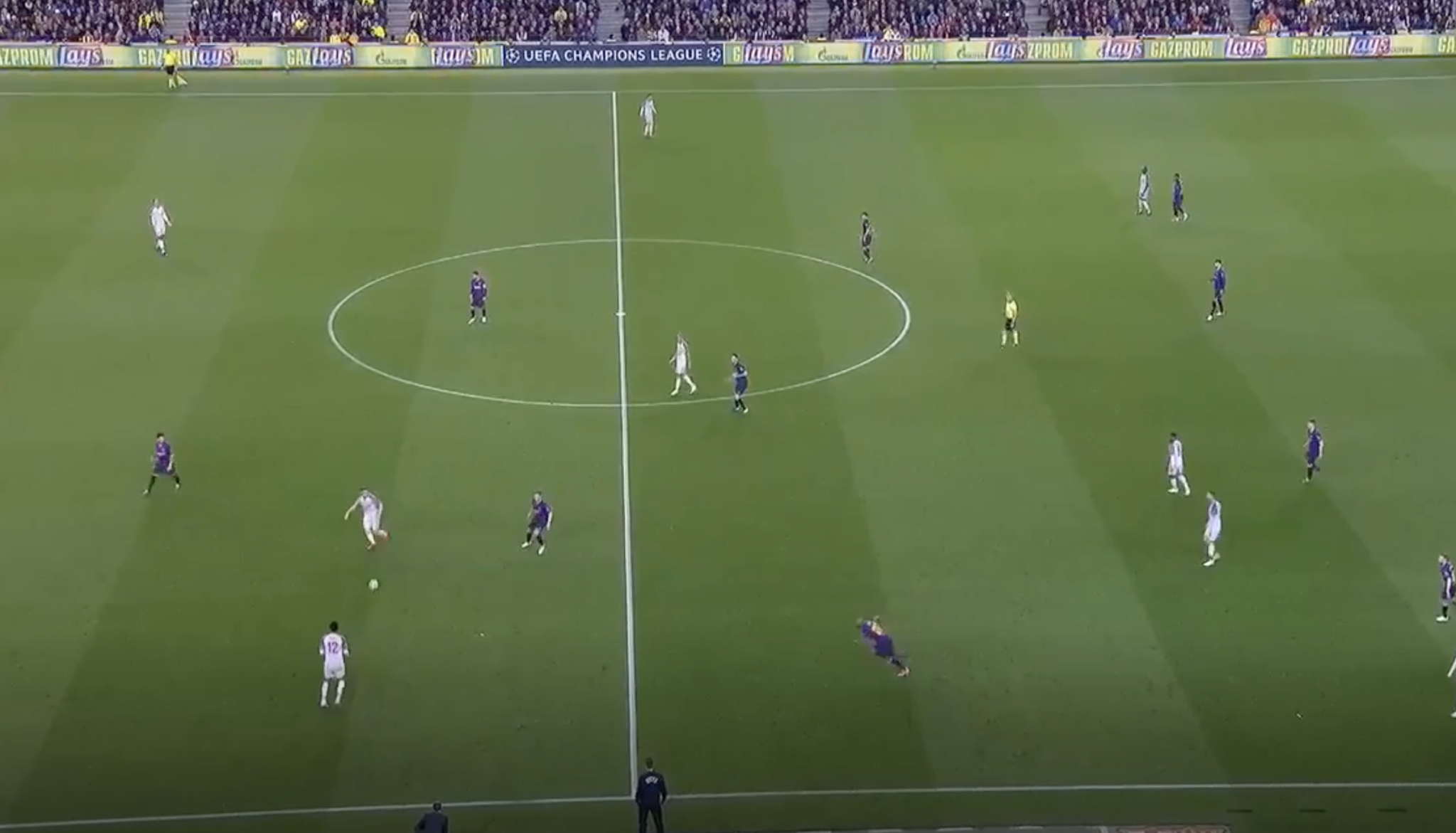 After Messi's third, Liverpool upped the momentum to try to find an away goal. However, Barcelona remained resolute and held onto the clean sheet. Here, Robertson finds Mané with a delicate chipped pass, but just as Mané controls it, Vidal slides in with a risky, yet perfectly timed tackle. Liverpool players protested, calling for a penalty, but Bjorn Kuipers made the right call and went with a corner kick.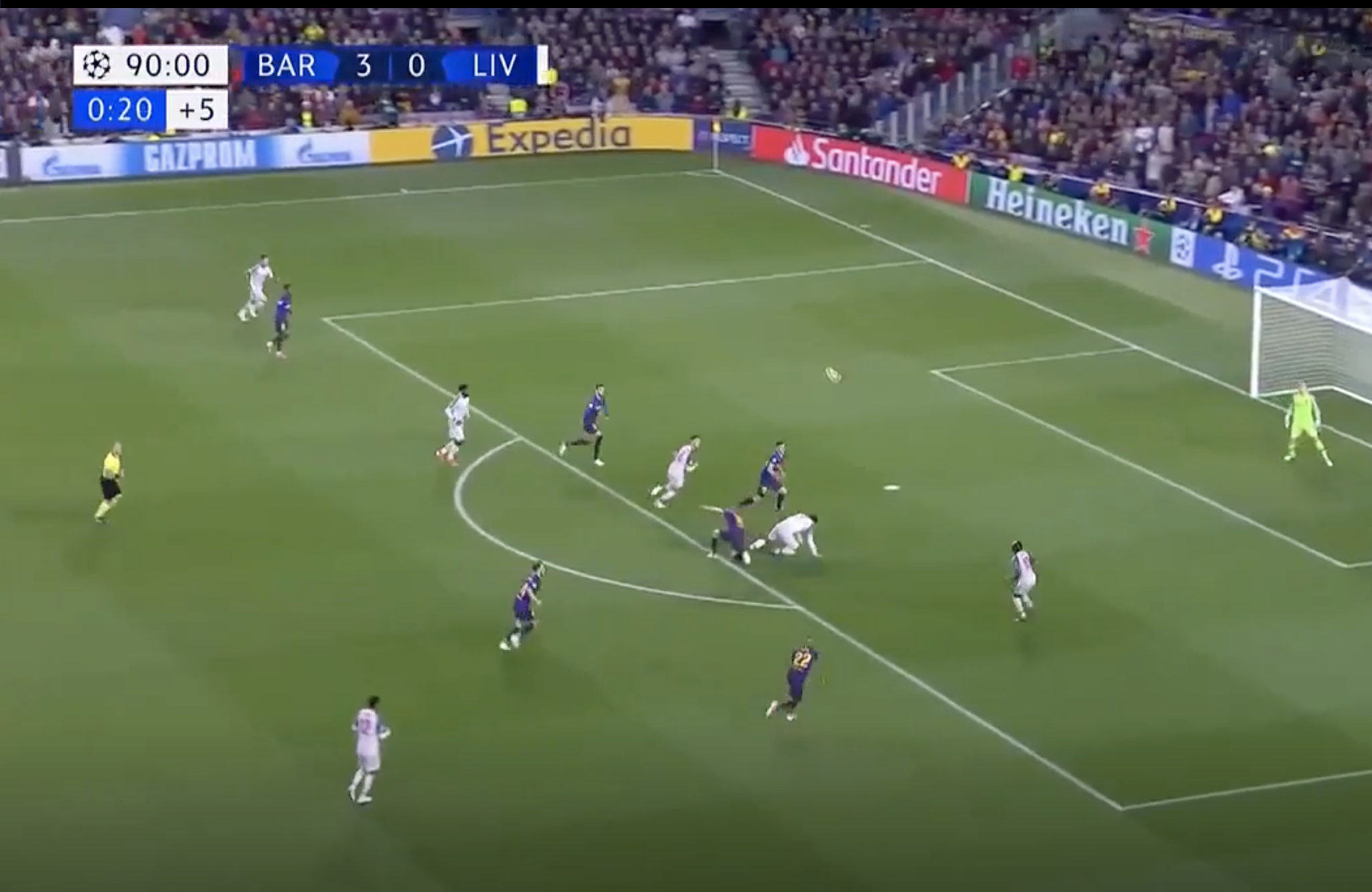 Positioning
Once again in the defensive playmaker mould, Vidal motions to Ivan Rakitić to follow Jordan Henderson closely between the lines. When Gomez attempts to find Henderson, Vidal steps a foot in to block the pass, which rebounds into Suárez's path, who plays it to Messi. Messi carves his way into the box, but is denied by a good block from Virgil van Dijk.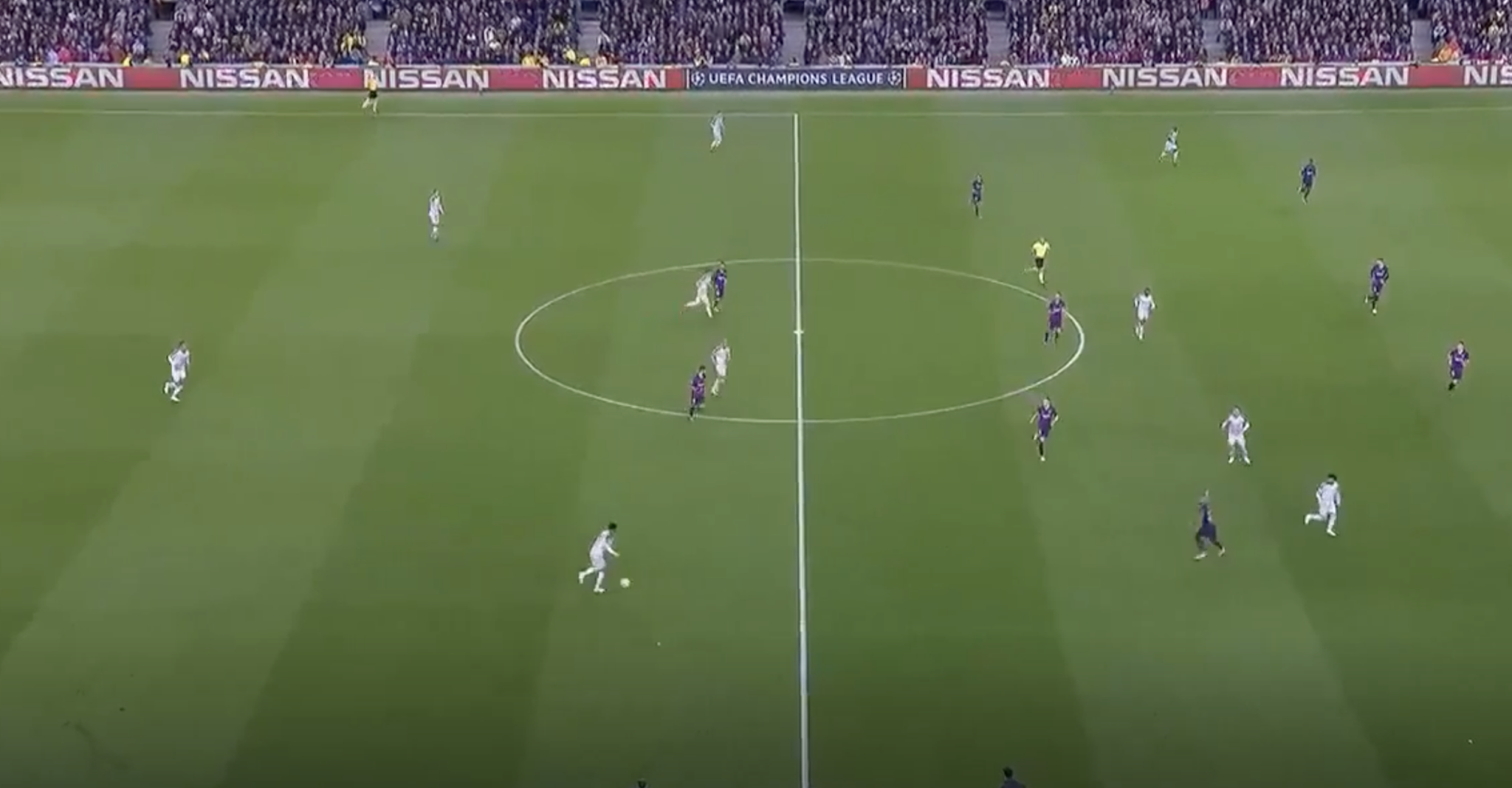 From Xavi Hernández to Yaya Touré, from Andrés Iniesta to Michael Laudrup, Barcelona have laid claim to some of the greatest midfielders in football history. Vidal may not be a prototypical La Masia-made controller, but he's a warrior who will rightly be remembered as one of the best midfielders of his generation.
He's a born winner, and he won't stop until he claims the only trophy missing from his cabinet: the Champions League.
By: Zach Lowy
Photo: Gabriel Fraga