Analyzing Paul Pogba's Performance vs. Chelsea
Without the injured Anthony Martial and Jesse Lingard, as well as, of course, David de Gea, who has been rested in domestic cup competitions this season,  Manchester United took on a full strength Chelsea side at Stamford Bridge. They didn't just beat them: they wiped the floor with them, adding to Ole Gunnar Solskjaer's honeymoon spell and Maurizio Sarri's misery.
Perhaps United weren't that good; perhaps Chelsea were just so bad. Whatever the case, in a FA Cup split between larger-than-life superstars and big-money signings, one player reigned supreme throughout the match: Paul Labile Pogba. Since Solskjaer's arrival as caretaker manager, Pogba has played the best football of his career, and many would claim that, since the Norwegian took over at the club, he has been the best midfielder in football. Whether they're right or not, his performance on Monday certainly didn't hurt his cause.
Energy in Transition
The first chance of the match came in the second minute, and it wouldn't have happened without trademark box-to-box play from United's star midfielder. After retreating to the first line of defense to cover César Azpilicueta's run, Pogba hustled forward to provide a quick passing option for Nemanja Matić. Cutting inside from the left, he holds off Azpilicueta before finding Juan Mata in his #10 position. Mata quickly dishes it out to Romelu Lukaku on the left, who fires a surprisingly accurate cross which is then blocked by a last-ditch clearance from David Luiz. Corner kick.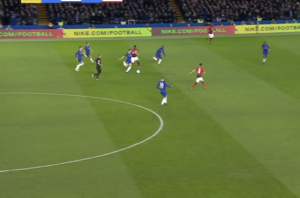 Tackling
As good as Pogba has been unleashed in an attacking midfield role, he still retains those defensive qualities that allowed him to flourish in a double pivot for France, as well as in a box-to-box role for Juventus. We see this early on, where Pogba cleanly dispossesses Mateo Kovačić with his long legs, before recycling possession back to Matić. Whether it be tackles, 50-50s for a loose ball, or aerial duels, Pogba's physicality gave him the upper edge, allowing him to physically dominate without fouling or putting him at risk of the injury.
Throughout the match, Pogba was a colossus, not just technically, but physically. Against the relatively light-weight Pedro Rodríguez, Azpilicueta and Jorginho, as well as the diminutive N'Golo Kanté, Pogba was a menacing threat high up the pitch, harassing Chelsea's build-up to win back possession and offset Chelsea's build-up strategies.
Facing off against another world-class superstar in Eden Hazard, Pogba holds his position, bending his knees and preparing to turn to tackle Hazard off the ball. When Hazard turns past him and accelerates, Pogba uses his long legs to stop him from threatening United's defense. He lunges in with his left to tackle the ball off him, and he tries to use his right to play it to Mata, before boxing out Azpilicueta and allowing Shaw to hoof it down the left wing to Rashford.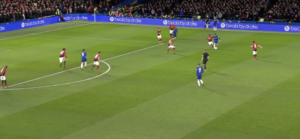 Upper-body strength
Paul Pogba's unique combination of intelligence, physicality, and technique makes him one of the most dynamic players in football: he's impossible to stop when he gets in his groove. In the 8th minute, Pogba receives while sandwiched by the nearby Kanté and the ensuing Pedro. He stops his run, hesitates, and gently drops his shoulder to breeze past Pedro, ushering him into the second line of defense like a nightclub bouncer throwing out a rowdy patron. Pogba trots forward a few steps before crossing to Rashford, who is fouled by Alonso. That slight shoulder drop wasn't malicious or exaggerated, and it begs the question: was that strength or technique, or both? With Pogba, it's impossible to tell.
Pogba's impressive combination of physicality and technique makes him an easy passing option, be it for outfield players in need of a short passing option, or goalkeepers looking for a target to launch a goal kick towards. He has the strength to hold off the opponents, and he has the first touch to control it. It is this unique threat of technique and strength that makes him unstoppable both offensively and defensively, sometimes at the same time.
His superior physicality and technique also allows him to have extra confidence when bringing the ball out from the back. Here, he receives by the corner flag while under pressure from both Azpilicueta and Pedro. He takes a touch to control and looks set to boot it out, when all of a sudden, he pulls a Cruyff turn and sashays past the two and dribbles towards the wing.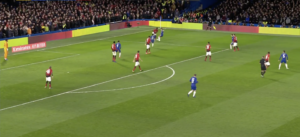 In the 13th minute, Azpilicueta heads away a long pass from Victor Lindelöf, and Pogba doesn't even have to jump to reject his header and control it. He takes one header to control it, then he heads it forward to Rashford, before finding an open Ander Herrera in midfield with a lovely chipped pass, despite being marked heavily.
At 6′ 3″, Pogba is both a target for his own team's set-pieces, as well as an adequate defender of opposition set-pieces. And if he can improve his aerial delivery, he'll add a handful of goals to his track record each season.
Pressing
Situated in the left half-spaces here, Pogba suffocates Chelsea's right-sided build-up, forcing a series of hurried horizontal and back passes with his nonstop pressing. After Azpilicueta gives it back to Luke Shaw with a failed clearance, Pogba shuttles past Kanté and Azpilicueta just as Shaw finds Marcus Rashford. Rashford, harassed by Azpilicueta, plays it short to the open Pogba, who plays a one-touch pass to Shaw. When Jorginho fails to clear it, Pogba controls it on his chest, before picking out Romelu Lukaku with a half-volley/half-cross. Lukaku, marked closely by Marcos Alonso, fires it into the stands.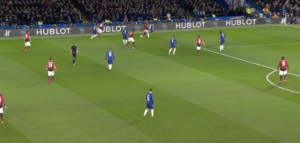 'Pass and Move:' Pogba's Offensive Movement Off The Ball
Pogba's off-the-ball movement and positioning in defensive transitions allowed United to remain compact as Chelsea looked to break down their block, but his off-the-ball movement in attacking positions was just as important, if not more. That intelligence, that ability to always think one step ahead, allows him to play on a different wavelength to that of his opponents.
Here, Pogba receives on the turn, but instead of passing it to Shaw down the wing, he decides that Pedro has blocked the angle, and even if he were to find Shaw, Shaw wouldn't have anywhere to go via either dribbling or passing. He hesitates, drawing Kanté out of the medium block and inviting him towards, before finding Lukaku in a central area. He rushes forward after passing, cushioning Lukaku's shaky first touch and subsequent pass, and dishing it off to Herrera. He then rushes to the right wing, aiming to take Alonso on in a dangerous position, but with Jorginho and Kovačić taking away the angle, Herrera goes inside and plays the easy pass to Mata.
The second goal, which more or less sealed victory before halftime, was a product of Pogba's proactive movement. After a series of headers, Pogba squeezes in front of Kanté, controls it, and brings it down onto his feet. Suddenly, he has a perfect passing option, with Rashford sprinting between Luiz and Alonso. Pogba plays the perfect through ball to Rashford, giving him plenty of space  from the retreating Luiz.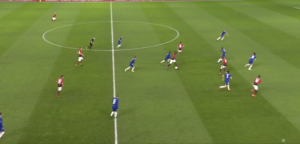 As Lukaku huffs and puffs his way towards the edge of the box, and as the rest of defense try to get organized to prevent a cross, Pogba sprints forward to the left into open space, before towering over Azpilicueta and firing a header into the back of the net. Once again, he was not only one step ahead of the opposition physically, but mentally as well.
Pogba's Defensive Movement Off The Ball
A lot of Pogba's work wasn't impressive enough to analyze in detail, but the simplicity shouldn't take away from the importance of the actions. Be it heading away corner kicks, or finding himself in the right place to take away a passing option from an opposition player, or using his strength to win a foul or a 1v1, Pogba's work was both elegant and simple against Chelsea.
After being fouled by Shaw, Willian quickly plays the free kick into Azpilicueta, and while Shaw is still complaining about the call, Pogba is sprinting over to prevent a potential cross. Azpilicueta takes a touch to put him in crossing range on the edge of the box, but by the time he gets there, Pogba has raced towards the ball and boxed him out with his back towards the Chelsea vice captain. The Spaniard can only twist Pogba's arm and kick and foul him in a hopeless attempt to get the ball.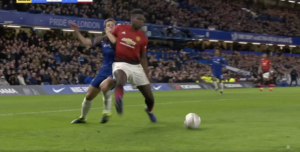 Passing
Without Martial or any winger whatsoever to offer width, Pogba often found himself in advanced wide positions on the left flank. In the lead-up to the first goal, Azpilicueta gets outmuscled by Lukaku, and then attempts to close down Matić, who beats him to the ball and plays a sharp one-time pass to Mata. Mata plays a one-two to Lukaku, and with Azpilicueta jogging in the middle, not even worried in the slightest about getting back to his position, Mata finds Pogba deep on the left flank.
Suddenly, Pogba is isolated 1v1 with Antonio Rüdiger, and unbeknownst to the ball-watching Chelsea players, Ander Herrera is sprinting from the center circle into the penalty box, raising his hand for a pass. Pogba does a million step-overs, keeping Rüdiger on the edge, before sliding to the right to create some space for a cross. Rashford has ventured inside, occupying both Luiz and Alonso, and with Herrera through on goal, Pogba plays a luscious pass into his path, which he heads home past a hopeless Kepa for the go-ahead goal.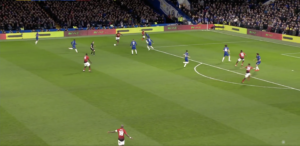 As game wore on and as the intensity of the match dwindled, Pogba took up a less active role, yet still using his long legs to intercept and break up dribbles. Nonetheless, in the 84th minute, he activated full energy again, going on a lung-busting run and delighting the traveling United faithful with one of many individual highlights.
Willian's corner was, once again, rejected by Pogba's header, and after the ball ricocheted off Matić into Pogba's path, the World Cup winner controlled it on his knee and embarked on a mission to create a third goal.
Perhaps the most impressive action from this sequence was the fact that Pogba, involved in all facets of play throughout the match, managed to hold off and sprint past Ross Barkley, who had been on the pitch for 13 minutes. Pogba left Barkley in his wake before reaching the center circle and playing a through ball to Alexis Sánchez, who was isolated 1v1 against Davide Zappacosta.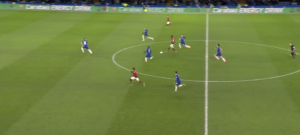 Alexis took one touch before falling down while sending a botched cross into Andreas Pereira, who had to hurry to prevent it going out from a goal kick. If there's anything that sums up Alexis' time at United, it's that play, and if there's anything that sums up Pogba's performances under Solskjaer, it's that play as well.
By: Zach Lowy
Photo: Gabriel Fraga / https://t.co/AdwHSL6jLS