Analyzing Sergio Ramos' Heroic Performance Against Ajax
With Marcelo and Raphaël Varane both out, and with Ajax putting Madrid's resolve to the test early on in their quest to retake the Champions League, Sergio Ramos stepped up with a captain's performance to put Real Madrid within touching distance of the quarterfinals.
Alessandro Costacurta, one of the greatest defenders in history, praised Ramos' performance, saying, "Sergio Ramos' performance against Ajax was one of the best ever performances I've seen from a defender."
Anticipation
In the 10th minute, Matthijs de Ligt wins a physical duel with Karim Benzema, but before he has a chance to play it into Hakim Ziyech, Ramos steps up and cleanly wins possession back, allowing Benzema to clear it away. It was key actions like this that allowed Madrid to sustain early onslaughts of pressure from Ajax.
Ramos initially sidesteps to follow Neres' run, but then, he adjusts his run to stay in between Tadić and Neres as Ziyech looks to play a through ball in behind the defense. Timing his run perfectly to meet the trajectory of the ball, Ramos clears it while tracking ball, almost performing a bicycle kick in the process, and playing it into Modrić, and thus, turning the tide of possession in Madrid's favor.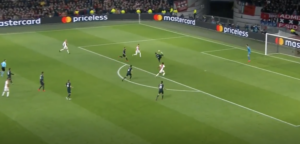 While everyone else is focused on the player with possession (Neres) and where Neres will play it next, Ramos is focused on Donny van de Beek, who looks determined to make a run in behind the defense and threaten on goal. So when van de Beek fails to control the pass, Ramos is there, uncontested and unthreatened, to sweep up trouble.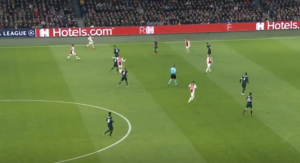 When van de Beek tries to pressure him for a throw-in, Ramos evades the pressure by faking a pass and performing a semi-Cruyff turn, holding off the ensuing Dutchman before playing it to Toni Kroos.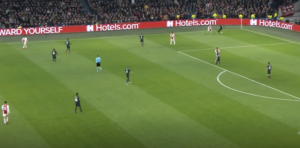 Sergio Ramos is arguably the finest defender of his generation for his unique combination of positioning, aggression, anticipation, and speed. As good as Neres was, he barely got a sniff on goal thanks to Ramos' tremendous defensive work. When Nicolás Tagliafico plays this pass into Dušan Tadić, Ramos is close enough to Tadić that, if Tadić decides to receive and dribble into space, Ramos would be well-placed to stop the dribble. However, taking notice of the simultaneous facts that 1) Neres is running into space, 2) Nacho has lost focus of Neres, the man he was supposed to mark, in order to turn his attention to Tadić, and 3) Tadić's body stance looks as though he's set to send a lay-off pass to Neres, Ramos slightly drops off Tadić and turns towards Neres' path, so that when Tadić does play the pass into Neres, Ramos can clear it away for a throw-in with a superb slide tackle, before Neres even has a chance to dribble or play a one-two back to Tadić.
Positioning
In the 3rd minute, van de Beek pressured Casemiro into losing the ball with a poor touch. Tadić immediately recovers it and plays a short, quick pass to Ziyech amidst pressure from Nacho Fernández. Ramos, staying deep to monitor Ziyech's run, quickly steps up and wins possession, getting nothing but the ball and cleanly winning possession. Then, he steps up seconds later and outmuscles Ziyech, who makes a hasty pass to Lasse Schöne.
As a consequence of Ramos' superb positioning as well as Ajax's lack of a central forward, Ajax failed to test Madrid in the box with pinpoint crossing. Even with Donny van de Beek's late runs into the box, Madrid were rarely challenged aerially. Tepid crosses from Noussair Mazraoui on the right and Tagliafico on the left were cut out with ease.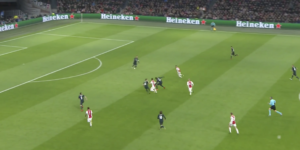 Aerial duels
With Ajax starting with a false 9 in Tadić rather than a target man in Klaas-Jan Huntelaar or Kasper Dolberg, Ramos didn't have too much work to do in out-dueling his opposing strikers in the air. In the 12th minute, with De Ligt preparing to cross, Ramos initially retreats to follow Tadić on the second ball. However, taking notice of the trajectory and distance of the pass, he stops his run, runs forward to his initial position, and cleanly wins the aerial duel with David Neres, earning a foul from the Brazilian in the process.
Assured in set-pieces, Ramos cut out trouble in corners and free kicks, rising above to extinguish any danger.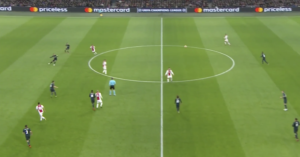 Passing
Most of Ramos' passes were simple, short passes into Nacho or Luka Modrić, but it's worth noting the effective, albeit un-Hollywood line-breaking passes that are in his breadbasket. With Frenkie de Jong shadowing Modrić, with Ziyech monitoring Toni Kroos, with Schöne and van de Beek blocking passing options through the middle, and with Tadić closely shadowing him so as to prevent him from pushing up or dribbling into midfield, Ramos plays a standard curved pass into Sergio Reguilón at left back.
Ramos had the patience to wait for vertical passing lanes to open up,  before playing a square pass into Casemiro or another central outlet. But while he often waited before choosing a vertical or, more often, a short pass option, he also found Carvajal on the right alone, with the Spaniard isolated one against one with Tagliafico.
Ramos rarely succeeded in finding the target with long, vertical passes, but his passing game mostly consisted of short passes, calmly rotating possession and finding Modrić and Kroos with time and space to pick a deadlier pass.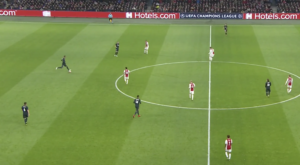 Tackling
Ramos initially follows van de Beek, but once Ziyech receives and aims to play the final ball, he adjusts his run to stay between van de Beek and Neres, who are making opposite runs to confuse Ramos and Dani Carvajal. Ramos is just a step too late to get a full touch to intercept Ziyech's pass, and Neres picks up the deflected pass. However, he recovers, sandwiching Neres between him and Reguilón. With quick feet and calm, Ramos ushers the ball out of Neres' control, and then plays an inch-perfect pass to Vinícius Júnior while falling down.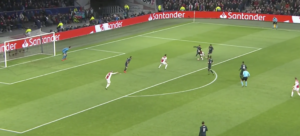 As lively as Neres was throughout the match, Ramos kept him in check for the majority of the match. Call him dirty all you want, but while Ramos never let Neres get so much as a few dribbles on the ball before regaining possession, the Spaniard also never viciously fouled him along the lines of Presnel Kimpembe or Ashley Young's fouls from Tuesday's United-PSG fixture.
Recoveries
In the 31st minute, Daley Blind plays a long pass into Tadić, but despite being taller and stronger than the Serbian, Casemiro fails to get contact and head it out for a throw-in. Not to worry: the 32-year-old (33 next month) Ramos sprints from the middle of the pitch to win back possession, heading it out of Tadić's path right after winning the footrace.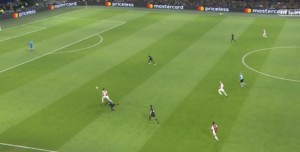 He controls it, races into the right corner, holds off the ensuing Tadić, and with van de Beek and Neres attempting to close him down, he passes it to Modrić via a tight angle. But he doesn't immediately retreat after passing it to the Croatian: he stays in the play, allowing Modrić to play a short pass to him, which he then redistributes to Casemiro, thus alleviating another wave of pressure from the playbook of Ajax manager Erik Ten Hag.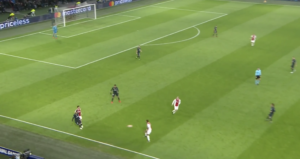 After Carvajal loses possession, Tadić holds him off and, after pulling Nacho wide, plays a pass into Ziyech, who races past Kroos into acres of space.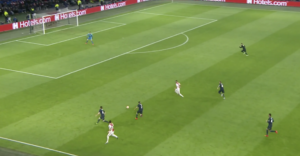 Once again, Ramos is tasked to clean up the mess, and he sprints across the pitch to keep pace with Ziyech, but he doesn't overcommit: he stops his sprint short once he sees Ziyech aiming to cross, and surely enough, when Ziyech does attempt to pick out Neres, Ramos is there to stop it.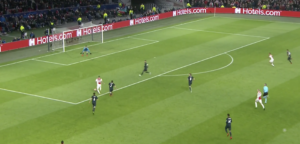 He extends his back leg to block the pass, deflecting it out of danger, before falling down. He recovers, and steps up to usher Tadić out of a dangerous shooting position for a goal kick, before scolding his teammates for poor defending.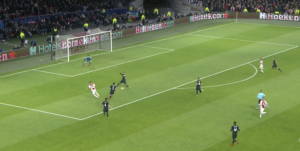 Ramos had less to do defensively later on in the match, with the substitution of Lucas Vázquez for Gareth Bale, coupled with Ajax's declining energy, making Madrid more comfortable defensively. But when he was tasked with cleaning up a mess, he never disappointed.
After Ajax counter-press Benzema into losing possession, and after some smart passing and quick combinations, Tagliafico has the chance to put Tadić in on goal with a through ball. However, rather than playing it wide for Tadić to chase it down the line and drag Ramos 1v1, the Argentine plays it too central. When Tadić turns around to follow the trajectory of the wayward pass, Ramos is already there to intercept, once again, with no issue. He dribbles further forward, before giving it back to Kroos in space.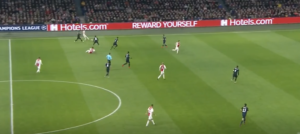 Kasper Dolberg's introduction late in the second half meant that Ajax finally had a natural center forward to exploit space in behind–although he failed to turn that space into goals. In any case, Ramos had to remain vigilant and aggressive to ensure Madrid left with the advantage. There was nothing Ramos could do for the equalizer, which saw Neres churn out a beautiful pass into the middle of the box for Ziyech to finish.
As the game progressed, Ramos did show his dirty side, stepping through the back of players and perhaps getting more body than ball, but the only card he picked up was a late lunge on Dolberg in a non-threatening area. Indeed, Ramos was looking to get booked so he could have a clean slate for the rest of the knockout round.
It's hard to blame him either. Real Madrid will go back to the Bernabéu in March for the second leg, and after a smash-and-grab victory in Amsterdam, Ajax will have to score at least two goals to go through or force extra time. As we saw against Juventus in the Bernabéu last April, Madrid miss a lot when Ramos isn't on the pitch, but it's likely the Spaniard's risky bet will pay off. Neither Dolberg nor Klaas-Jan Huntelaar are anywhere near as potent as Mario Mandžukić, who destroyed Madrid's defense in the second leg of last year's quarterfinals, so Nacho and the returning Varane should have no issue sealing their way into the quarters.
By: Zach Lowy