Best World Cup 2018 Matches: France-Argentina
Group C winners, France, faced Group D runner ups, Argentina, in a seven-goal game that ended Lionel Messi's latest chase for a World Cup title. This fixture had the makings of an unforgettable match leading up to it, as Jorge Sampaoli was reportedly losing the dressing room with Argentina, while France's starting eleven was fresh and ready after being rested during the final group stage game against Denmark. France lined up in a 4-2-3-1 that changed to a 4-4-2/4-4-1-1 when defending and 4-3-3 in attack. Argentina went with a 4-3-3 with Messi playing a false 9 role up front. In defense, Argentina shifted to a 4-1-4-1 with Messi high, and with Javier Mascherano as the pivot in front of the back line.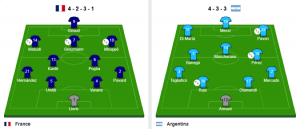 Over the course of the game, France was content with not possessing the ball, and Argentina would finish the game with 60 percent possession. France were disciplined defensively, and Olivier Giroud, alongside Antoine Griezmann, put in a shift to screen the passing lanes to the holding midfielder and force play down one side. Early in the game, Messi drifted towards the right side of Argentina's attack, and N'Golo Kanté applied pressure as Messi dropped to receive the ball. Blaise Matuidi looked to cut the passing lane from the wing into Messi and would double up on pressure at times when Messi was in a dangerous area.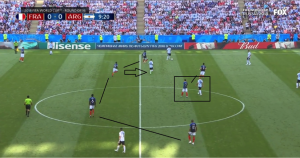 The first goal of the game came from the penalty spot for France. The foul was drawn by Kylian Mbappé with a brilliant piece of individual effort and sheer pace. In the sequence of images below, France's counter attacking game plan is shown. Messi plays a one-two pass with Cristian Pavón and takes a touch towards the eighteen-yard box; Pogba steps to clear the ball off Messi's leg, and the ball breaks loose between Nicolás Tagliafico and Éver Banega.
Mbappé reads the play and has the awareness and reactions to be first to get to the loose ball. He uses his other-worldly acceleration to get past the two Argentine defenders with his first touch. He then dribbles past Mascherano and into the open middle-third of the pitch. Once he gets into the final third, Marcos Rojo applies pressure and Mbappé does well to hold him off and continue his run to meet the ball in the box and draw the PK. This was a taste of what was to come from the 19-year-old Frenchman.
Following the goal, Argentina looked to get on the front foot and break the defensive line with runs from Ángel Di María and Pavón. Messi was able to find space in the channel on the right side late in the first half as Matuidi and Kanté lost sight of him.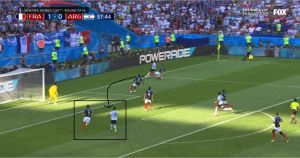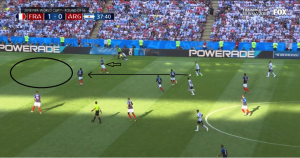 Pavón was then able to beat Lucas Hernández for pace to get to the byline and deliver a low cross towards the six-yard box. However, France had the numerical advantage in the area, and were able to clear their lines. Benjamin Pavard stepped in front of Di María, and Argentina failed to get a shot on target during that sequence of play. This was the story of the first half, as La Albiceleste's was unable to get into dangerous areas and test the back line of France. Messi was dropping deeper and deeper to pick up the ball and create, but the space left between France's center backs and central midfielders was not exploited.
With five minutes left until halftime, Argentina looked as though they would go into the locker room a goal behind. This was until a moment of magic from Ángel Di María. Argentina had a throw-in deep in France's half following a corner kick, and Di María stayed central about 35 yards from goal. France's midfield line was close to the top of the eighteen-yard box, and Griezmann and Giroud were out of position, leaving Di María with room to pick up his head, touch the ball forward, and pick his spot with a perfect strike. This would be the only shot on target for Argentina in the first half.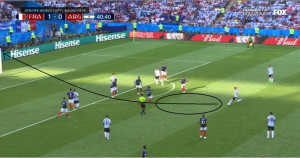 After El Fideo's equalizer, Argentina looked a different side going into halftime. Their shape was distinctive, and a new energy emanated from them defensively. Messi was the lone striker that applied pressure on the center backs, and the midfield four communicated when to step to Pogba and Kanté, in order to stop penetrative passes that France had been successful with previously. Mascherano sat in the gap between defense and midfield and picked off passes to Griezmann and Giroud.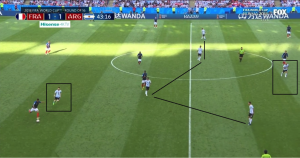 During the halftime break, Sampaoli subbed Federico Fazio for Marcos Rojo, who was on a yellow card following the foul for the penalty. Argentina carried over their energy from the end of the first half and grabbed a scrappy goal early to flip the game around. Following a poor clearance from the French defense off a free kick by the corner flag in the 48th minute, Messi picks up the ball inside the box, turns, and shoots. This shot redirects off Gabriel Mercado, who was onside and with no one even remotely close to him.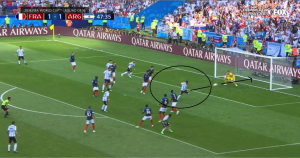 The following 10 minutes after Argentina's go-ahead goal, France took control of the game with patient build-up play, threatening Argentina's back-line with penetrating though balls. The fullbacks for France, Benjamin Pavard and Lucas Hernández pushed higher up as Samuel Umtiti, Raphaël Varane, and Kanté would create a makeshift back three when Hugo Lloris came out to distribute. Then at the 57-minute mark, Pavard would top the individual technique and sensational strike of Di María with a half-volley that would send the French faithful, and everyone watching, into a frenzy. After escaping his marker, Matuidi plays a ball in behind the Argentine defense that Lucas runs onto, sending a cross towards the far edge of the box to an on-running Pavard.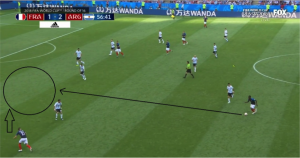 With over 30 minutes left in the game, the momentum had shifted in France's favor, but Argentina would not go down without a fight. Just seven minutes after Pavard's goal, France struck again to regain the lead in the match. This chance came from Lucas again, who raced down the left flank and overlapped with the midfield. Umtiti brought the ball forward to take Messi out of the play defensively, and found Pogba free in miles of space. With Matuidi and Griezmann making diagonal runs across the back line, Mercado lost sight of Lucas. As one of Pogba's trademark moves, he played a penetrating, diagonal ball to a tee for Lucas, who whipped in a cross.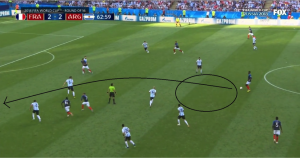 Lucas' cross was kept alive by Matuidi and the ball popped to Mbappé, who then displayed exceptional awareness and quality of touch to create a goal out of very little. His first touch brought the ball under his control, and then, Mbappé moved the ball across his body with his right foot to split the defenders and open a window for a left-footed finish to the bottom corner.
In response to being down a goal, Sampaoli subbed on Sergio Agüero for Enzo Pérez, who was playing as the right sided central midfielder. This was an attacking substitution to try and exploit the space that Messi left behind him, as he checked between the lines. Defensively, Argentina played a 4-4-2 with Agüero and Messi up high and two flat banks of four. This change would have adverse effects on their defensive structure, and would lead to France's fourth and final goal.
Starting at 67 minutes and 34 seconds, Lloris plays a goal kick short to Umtiti, who then attracts Messi, and as a result, plays it back to Lloris. Kanté becomes an option between Messi and Agüero, as both of them  are occupied with the center halves of France. Kanté turns and finds Griezmann, who is monitoring the gap between the midfield and defensive line of Argentina. Earlier in the game, Mascherano would cover that space as Argentina defended in a 4-1-4-1. However, since Agüero was subbed in, the pressure up the field was higher and a central midfielder was sacrificed for a striker. Otamendi had to step out to pressure Griezmann, and a hole in defense opened up.
Matuidi receives the lay off and attacks the back line of Argentina that is now out of shape. Giroud runs into the space between Fazio and a recovering Tagliafico from the left back position, to then receive a pass from Matuidi and grab the attention of Tagliafico. Mbappé stays onside off on the right side, and is now in Tagliafico's blind spot.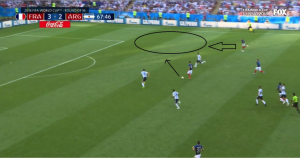 Fazio reads the pass from Giroud, but is unable to catch up to contest Mbappé for his second goal of the game. The time elapsed between Lloris' goal kick and Mbappé's finish: 16 seconds. It was a testament to Mbappé's spectacular blind-side movement, but also a testament to France's efficient and effective build-up. An exceptional team goal that would cap off the Round of 16 tie to send Les Blues one step closer to lifting the FIFA World Cup trophy. Argentina would grab a goal in stoppage time from Agüero, but it was too little, too late.
Mbappé deservedly won the man of the match award, having completed seven dribbles and scored two goals. As shown in the player positions graph above, Messi occupied space that Matuidi and Kanté closed down effectively to minimize his impact. The team performance of France cannot be understated, as they adapted to changing tactics, capitalized on chances, and broke lines with precision.
By: Alex Whetstone