Best World Cup Matches: Mexico-Germany
Line-ups:
Manuel Neuer was deemed fit to start in goal for Germany after his long spell out with a fractured foot. Marvin Plattenhardt was a surprise choice at left-back, ahead of Jonas Hector, while Julian Draxler was preferred to Marco Reus. Mexico's line-up was as expected, though set up in a 4-2-3-1 rather than their more regular 4-3-3.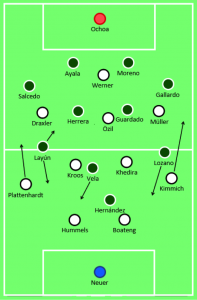 This game was all about Mexico's counter-attacks, exploiting the space afforded to them by Germany and within the first minute they displayed their intentions to attack directly, with midfield runners bursting forward in support of Javier Hernández. Chicharito dropped into space between the lines and flicked the ball to Carlos Vela, who slid in Hirving Lozano running beyond Joshua Kimmich, but Jérôme Boateng came across to block.
Germany were dominating the ball as you would expect, and the two full-backs were pushing up high and wide, leaving space behind them, particularly Kimmich, who played incredibly offensive. Mexico exploited this space by often leaving two or even three men in positions to attack when they won the ball back.
Layún often tucked inside to help out in midfield, while Lozano had to keep an eye on Kimmich, who was a threat in attack, and Vela stuck tight to Toni Kroos. But they were brave with their positioning at times and then quick in transitions, playing (or often carrying) the ball forward directly, with Layún, Vela, Lozano and even Herrera or Guardado sometimes, bursting forward in numbers. They looked to do this throughout the game, often catching Germany short defensively before they had a chance to get back.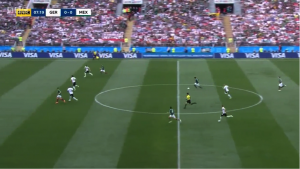 Hernández had a chance when he received the ball in the box, but he delayed the shot and was eventually crowded out. Germany had lost the ball down the right and Kimmich actually moved forward to press Jesús Gallardo rather than hold his position or retreat. The Mexico left-back simply bypassed Kimmich, playing it forward to Lozano, who then had time to turn and run with the ball. Boateng was having to cover the right side of defence but came rushing out to Herrera, who slipped the ball left to Hernández.
Mats Hummels took a chance in possession on halfway, allowing Mexico to steal the ball and break forward again, though it came to nothing. Mexico were also leaving 3 men forward on Germany free-kicks and corners, always looking for an opportunity to pounce.
One long ball allowed Vela in down the left, with acres to run into. Germany's full-backs were so high with no cover. It was almost Hummels and Boateng on their own at times.
It was no surprise when, after 34 minutes, Mexico eventually made one of their breaks count and took the lead. Héctor Moreno won possession on the edge of his own box and fired a ball straight into Hernández. Hummels rushed out (again) to meet him but Hernandez laid the ball off, spun him, leaving him on the ground, and received the return pass in space. He then played in Lozano to his left, who cut inside, jinked past Özil and scored at the near post.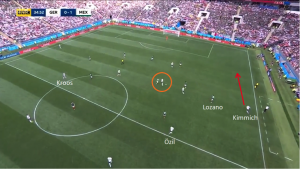 Özil and Kroos are in the defensive midfield positions here, so when possession is lost, they are tasked with tracking the runners, with 3 Mexico players in positions to attack. They simply aren't defensive-minded and didn't react quickly enough to the danger. Lozano tracked back with Kimmich but then sprinted past him when the ball was turned over. Özil chased Lozano back but ended up 1v1 inside the box and didn't exactly make it hard for him.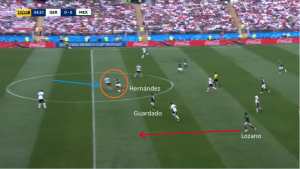 Kroos in particular struggled all game with the pace of the attacks – he simply couldn't keep up with the Mexicans. Too often he was left exposed, faced with players running past him at speed and it was far too easy to get through Germany's midfield. Khedira isn't the quickest either so the lack of protection combined with the lack of mobility was a recipe for disaster.
Hummels and Boateng were helpless at times but tried to defend aggressively and this only made things worse as they were often dragged out of position, leaving even more space behind them.
Joachim Löw didn't change anything at half-time, however, and the second half continued much the same, with Mexico having a great opportunity to double their lead after 10 minutes. Hernández and Vela found themselves in a 2v1 against Boateng, after Hummels again charged up-field without any cover. Hernández tried to square the ball to Vela but the pass was poor.
Mexico were moving the ball forward really well but at times made the wrong decision or their final pass was lacking. They had several good opportunities to go further ahead if they had been more clinical.
39-year-old Rafael Márquez came on for Andrés Guardado to become only the 3rd player to appear in 5 World Cups and the only one to captain his country each time. He sat in front of the defence as Juan Carlos Osorio switched to 5 at the back, with Edson Álvarez on at right wing-back and Carlos Salcedo tucking inside.
Marco Reus replaced Sami Khedira for Germany, with Özil dropping deeper into midfield and Mario Gomez came on for Plattenhardt to offer an aerial target.
Germany were now pushing and began to force Mexico back. They had some chances – Kimmich tried a spectacular overhead kick, Kroos had a couple of efforts from range and Gomez had a great opportunity but mis-timed his header. Mexico were now deeper and having to deal with some sustained pressure but there were now even more gaps on the break and they continued to threaten a second goal.
Germany finished up with 26 shots but few of them were really significant chances – they struggled to really penetrate, something which was an issue for them throughout the tournament. Julian Brandt came on for Timo Werner and smashed one off the outside of the post but they couldn't find an equaliser, resulting in one of the biggest shocks of the World Cup.
Germany were so open to counter-attacks throughout the match but Mexico and Osorio deserve credit for being brave and exploiting that weakness without leaving themselves too vulnerable. However, Germany were the Champions and had a flawless qualifying campaign – there was nothing to suggest this type of performance from them. They failed to recover and became the 3rd successive holders to be knocked out at the group stage.
By: JP Quinn