Can Wayne Rooney Fix Derby's Deep-rooted Problems?
The Championship is 'the league of risk' and the motto is high-risk, high-reward. This is because of the ludicrous reward of promotion, contrasted to the financial struggles of championship football. The Premier League dream has fans, players and owners alike dreaming but with these dreams can come huge financial costs.
Derby County have spent massively in the past five years, spending millions on transfers and wages – mostly on players that made little impact. Sometimes spending big can work as shown by Wolves in the 17/18 season when they won promotion but slowly building a team is now seeing greater success with Sheffield United and more recently Brentford – a club praised for their excellent model in the transfer market.
The Rams have often come close though, reaching two play-off finals – one of which lost in the 90th minute to ten-man QPR; two semi-final losses and a monumental drop off in 2015 as they dropped from 1st to 7th in the last stages of the season, this continued failure and late drama has the club branded bottlers by pundits and fans alike.
Below is a graph showing the gross spending of Derby and Championship clubs Reading and Birmingham City that have also been in the league for the past seven years.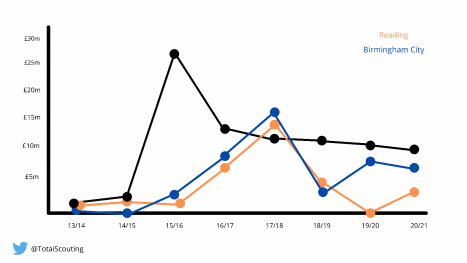 This graph shows that Derby were consistently spending irrational amounts of money since Mel Morris' purchase of the club. Reading and Birmingham City both outspent Derby on just one occasion and this was under the tenure of notoriously conservative manager Gary Rowett who made use of Matej Vydra as he went on to win the golden boot.
Vydra joined Derby as the club's record signing in the 17/18 season but didn't hit the ground running in a difficult first year. This continuous high spending is not viable in the championship and this has led to financial fair play (FFP) breaches and loophole attempts to avoid FFP such as the sale of the Pride Park stadium, to another business owned by Morris.
The club are now under a soft transfer embargo following an investigation for financial irregularities in relation to FFP and player amortisation, the threat of a points deduction still looms over the club too. Derby are heavily tipped to be relegated this year and are massive favourites to finish rock bottom of The Championship. This is ironically where they were in the table when Wayne Rooney took the reins but managed to scrape survival on the final day.
They lacked any real identity or style of play though and were lucky to survive. Rooney has a huge job on his hands both on and off the pitch as the club remain at war with the EFL and the transfer embargo is still imposed on the club. Owner Mel Morris has received mass criticism for his reckless dealings and snide decision-making during his ownership. 
It's reported that Morris is actively looking to sell the club and feels his time is up. It's been difficult for him though as after two years he's left in the same situation. Derby have had two takeovers fail despite taking them public in club statements. Firstly by the Bin Zayed Group and then by No Limit Sports Ltd, the club set multiple deadlines and even released a statement telling fans that it was still on course and happening by Christmas – it's now August of next year and both have fallen through. 
The new season has not only brought new drama but also a new tactical perspective for Rooney who is trying a new system. The Rams' full backs were instrumental last season with their defensive and more importantly attacking qualities. Most notably Nathan Byrne – the right back created 12 big chances for his teammates (12), only Harvey Elliot (14) and Emiliano Buendia (18) created more.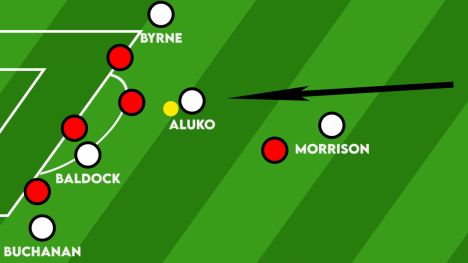 Derby full backs Buchanan and Byrne advance up the pitch | @JakeBarker1212
This is an incredible stat not only for his position on the pitch but also Derby's league finish (21st), suggesting he was a shining light in an otherwise dull team. Rooney is using this to his advantage, pushing the full backs further into the flanks, higher up the pitch. This creates space to overlap and cross into the box, utilising their skill sets. As they advance up the pitch, Derby's defensive midfielders drop into the space at full back.
Derby also use a tactical system with their front line. In the 4-2-3-1 formation, the three behind the striker will rotate during the game. Tom Lawrence, Kamil Jozwiak and Ravel Morrison will all play across the line and have runs at defenders. It's a very common system, used by teams such as Manchester United under Ole Gunnar Solskjaer. It is used to keep defenders guessing and the players moving, giving the license for a fluid front line. 
It's clear that Rooney is trying to build a squad at Derby but is heavily restricted in doing so because of the off-field disaster meaning Derby targets James Garner, Liam Delap and Tom Carroll, (who was the league's most progressive passer 10p.90) cannot be signed – all players that would have a big impact if Mel Morris can untie Rooney's hands in the transfer market. The season is now underway though and still, just 13 senior players are at the club, three are injured.
By: Thomas Lilley / @TotalScouting
Featured Image: @GabFoligno / Stu Forster – Getty Images / Bradley Collyer – PA Images