El Clásico Tactical Analysis: Valverde's Gaugamela
Oct. 1, 331 BC. Alexander The Great finalizes his conquest of Darius III's Persian Archaemenid Empire in the decisive Battle of Gaugamela. Darius' infantry was more than twice as large as Alexander's Macedonian cavalry, and Darius had the terrain of the battlefield smoothed so that his chariots could be as effective as possible against the Macedonians. Nonetheless, Alexander emerged victorious thanks to his aggressive, superior tactics, delivering a coup de grâce to Darius' empire.
Three years ago, Carlo Ancelotti was sacked as Real Madrid's manager, ending one of the club's most fruitful spells of this decade, one in which Madrid were often superior to Barcelona in both European competitions (2013/14) and in performances on the pitch (2014/15). Ancelotti was replaced by Rafa Benítez, a Spanish manager who, apart from a number of successful coaching jobs, had played for Real Madrid's youth team and managed Madrid's youth team as well. Benítez's spell at Madrid, one in which he sought to build the attack around Gareth Bale, came to an end after an ill-fated few months, in which Madrid lost to Barcelona by a four-goal margin, a Barcelona team that did not even include Lionel Messi in the starting line-up. Benítez was replaced by Zinedine Zidane, who left his post managing Real Madrid's B team to manage the first team.
Five months ago, Zinedine Zidane stepped down as Real Madrid's manager, ending one of the club's most fruitful spells of this decade, one in which Madrid were often superior to Barcelona in both European competitions (2015/16, 2016/17, 2017/18) and in performances on the pitch (2016/17). Zidane was replaced by Julen Lopetegui, a Spanish manager who, apart from a number of successful coaching jobs, had played for Real Madrid's youth team and managed Madrid's youth team as well. Lopetegui's spell at Madrid, one in which he sought to build the attack around Gareth Bale, came to an end after an ill-fated few months, in which Madrid lost to Barcelona by a four-goal margin, a Barcelona team that did not even include Lionel Messi in the starting line-up. Lopetegui was replaced by Santiago Solari, who left his post managing Real Madrid's B team to manage the first team.
Nearly three years after Luis Enrique's Barcelona destroyed Real Madrid by a four-goal margin at the Santiago Bernabéu, history repeated itself, nearly. This time, Barcelona didn't win 4-0, but 5-1. This time, Lionel Messi didn't even come on as a substitute; he didn't play at all. This time, Madrid had a short period of sustained dominance, and were even close to equalizing, and this time, it wasn't Rafa Benítez who would be sacrificed at the altar, but Julen Lopetegui.
A Mismatch on Barcelona's Left Flank
While at Real Sociedad, Álvaro Odriozola terrorized Barcelona's left flank last season with his speed and attacking verve, both in the January match at the Anoeta Stadium as well as the May match at the Camp Nou. Such an impressive season it was from the Basque right back that Julen Lopetegui included him in Spain's World Cup squad. Yet, in the absence of first-choice right back Dani Carvajal, Lopetegui either turned to Nacho Fernández (a center back) or Lucas Vázquez (a right winger) to replace Carvajal, not the €35 million summer arrival. In fact, while Odriozola clocked 272 minutes under Lopetegui, Nacho clocked 779, while Lucas clocked 421. Lopetegui started Nacho at right back against Barcelona, and this would prove to be a fatal mistake.
While Odriozola managed to give Barcelona's left flank headaches during his time at La Real, Nacho gave Madrid's right flank headaches. During the first half, Real Madrid's right wing of Bale and Nacho was a disaster. They didn't know how to work together in attack or in defense–it was, like many other facets of Los Blancos that night, non-existent.
Jordi Alba constantly found himself in space thanks to Nacho's narrow positioning, and while Nacho was loosely covering Philippe Coutinho, and while Bale was loosely covering Alba, their marking was, if anything, nonchalant. Real Madrid tried to play a high line without having the pressing or the marking or any semblance of a defensive structure to make it work, and this led to outright domination from the Blaugranas throughout the first half.
Nacho, who was a fitness doubt at game time, was torn apart by Alba and Coutinho, who, with positional switches and quick combination play, started plenty of chances from the left flank. They were the antithesis of Bale-Nacho; they knew where to run into, they knew how to interpret each other's movements, they knew where to pass to and where to defend.
The first half-chance of the game came from this mismatch on Madrid's right flank. As Clément Lenglet searches for a passing option between the lines, Coutinho drops inside, thus drawing Bale with him inwards. Before Lenglet even makes the pass, Coutinho starts his run; he sees Lenglet passing to Alba, he sees Nacho running to the right to pick up Alba, and he starts sprinting into the massive gap between Raphaël Varane and Nacho. Alba plays a one-time ball to Coutinho, who has plenty of time and space, yet his wayward cross goes out of bounds.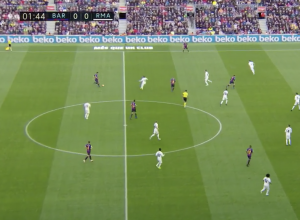 The first goal of the Clásico would come from a mismatch down this flank. For 44 seconds, Bale finally starts to mark Alba closely; he checks over his shoulder to monitor his blind-side runs, he rushes over to the touch-line to press him on the ball, and he follows his run when he attempts to make a run into the box. And yet, for some reason, at 10:22, Bale decides to stop marking Alba. He motions to Nacho, who, even when fit, isn't half as quick as Alba, to pick up his shift and pick up Alba's run. Rakitić plays a gorgeous pass into Alba, who, with an expert first touch, controls it into the box, and plays it to a wide open Philippe Coutinho, who makes no mistake with the finish.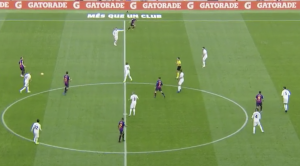 With Nacho constantly tucking in to follow Coutinho's inward movements, and with Bale failing to monitor Alba's movements, it's easy to claim that Alba's superb performance was solely a product of tactics and individual mistakes. This would be unfair to Alba, who gave an exemplary masterclass in the fullback position. Defensively, he was great, making key tackles, interceptions and blocks throughout the game, while once again shutting down Bale. Offensively, he was consistently excellent, constantly presenting Barcelona's center backs and midfielders with a progressive passing option, while consistently finding his teammates in goalscoring positions with pinpoint passes and crosses.
A Tale of Two Pressing Schemes: Barcelona's Intensity vs. Madrid's Somnambulation
If Barcelona found most of its attacking opportunities down its left flank, its right flank did an admirable job of leading the press. The axis of Sergi Roberto, Ivan Rakitić and Rafinha broke down Madrid attacks before they even started.
In the 8th minute, after losing possession, joined by Sergio Busquets, Arthur Melo and Luis Suárez, Rakitić, Roberto and Rafinha swarm like bees to try to regain possession. Madrid, to their credit, evade the press with good combination play between Marcelo and Isco, and with Roberto already in an overly advanced position to supplement the press, Bale receives in space, but Piqué keeps pace with him, and while Bale does well to find Benzema, it's a limited chance, one in which Benzema can only volley the long shot with just one touch, and he skies it. Every single Madrid opportunity in the first half was an opportunity in name only–never actually testing Marc-André ter Stegen.
While both team's team sheets indicated that they would be operating in a 4-3-3, Madrid continued in the 4-3-3 throughout the first half, while Barcelona's approach was far more varied. In build-up, Barcelona tended to use a 2-3-2-2-1, with the fullbacks positioned further forward to supply width, with two midfielders tending to drop back to aid in build-up, while one midfielder, often Arthur, would find himself in a further advanced position to provide a vertical passing option centrally. In addition, Barcelona pressed in a 4-1-3-2, with Arthur joining Suárez up front to disrupt Madrid's build-up. Rakitić would often shift horizontally depending on the direction of ball movement, while in the case of an extreme press, Busquets would move forward to join him.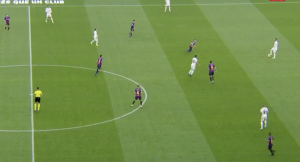 More than just lackadaisical, Madrid's press was disorganized; they pressed for the sake of pressing, but they didn't have a competent plan in the first half for how to use a press to their advantage. Barcelona exploited their disjointed press with clever, yet simple movements to pull their organization into even greater disarray. Luka Modrić tended to follow Arthur even when out of possession, and Arthur could either receive ahead of Modrić or dribble past him, or lure him in before passing to a player with space. Toni Kroos would follow Busquets as well, albeit to a lesser extent, thus leaving even greater gaps in midfield. To call the first half a training session for Barça would be inaccurate; Barcelona players have to face organized, compact presses in training sessions. There was zero threat in central areas from Madrid; Busquets could've played out of the press while scrolling through his emails or while enjoying a cup of espresso.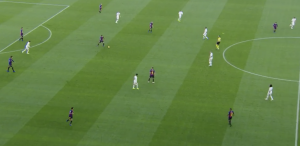 In short, Barcelona completed simple movements, often short passes, to lure in Madrid players, and then play the killer pass further forward. In addition, the Blaugrana players knew where to run in order to create space for each other; Coutinho would often position himself more centrally, aiming to receive behind the lines, while Suárez would also make runs to drag Raphaël Varane out of position, creating more space for Coutinho to run into.
During the build-up to the second goal, we see both Barcelona's quick, short passes drawing Madrid's players out of position, as well as Madrid's failure to prepare an adequate press. Varane's foul, which resulted in the penalty kick and Suárez's first goal, was preceded by an inch-perfect pass from Alba, a well-timed blind side run from Suárez, and poor positioning from both Varane and Sergio Ramos throughout the play.
Barcelona's pressing wasn't just intense; it was precise. While Madrid were disjointed and isolated in every facet of play–build-up, defending, pressing, attacking–Barcelona performed admirably as a unit. They suffocated Madrid's build-up, forcing them to play into wide areas, where an amalgam of Rakitić+Roberto+Rafinha on the right side or Rakitić+Alba+Coutinho would be joined by as many players as necessary to block passing lanes.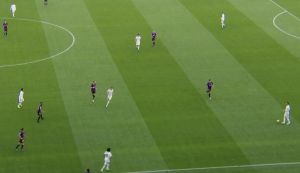 The Bleeding Stops: Lopetegui's 3-4-3 Solution
Madrid entered halftime lucky to be only 0-2 down; with improved finishing and decision-making from the front three, this tie would have been put to bed before the interval. Nonetheless, Real Madrid, having been completely shellacked through the first 45, did not have to overcome an unfeasible margin, but in order to level the scoreline, they first needed to level the performances on the pitch. Lopetegui withdrew Varane and replaced him with Lucas Vázquez; he would switch the formation to a 3-4-3, with Casemiro now acting as the libero in the backline, and with Marcelo and Vázquez operating further forward as wing-backs. Off the ball, Madrid alternated between a 3-1-4-2 and a 3-4-1-2, either with Kroos acting as the deepest midfielder or with Isco playing behind Benzema and Bale. Lopetegui, to his credit, did not go with the safe, conservative solution of playing Vázquez at right back and having Nacho partner Ramos; instead, he went with a radical solution, and it paid off, at least for the time being.
Suddenly, Madrid, previously incapable of tracking Alba's runs, now looked in control of their right flank, with an effective, organized press that caused Roberto and Alba to make hasty decisions on the ball. With Vázquez dutifully marking Alba, while also overlapping on the right, and with Marcelo operating in a free role on the left flank, the momentum had swung in Los Blancos' favor, even if the scoreboard had not.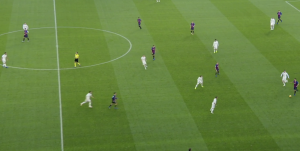 The formation change benefitted every Madrid player: Kroos had far more time and space to drop back and administer the midfield build-up, while the front three could now link up with the wing-backs. In addition, while the wing-backs sought to prevent Roberto and Alba from having time and space on the ball, Nacho and Ramos, now as outside center backs, nullified Coutinho and Rafinha's previously tricky positioning in the half-spaces. Isco, on the other hand, could be found as a free passing option between the lines.
Madrid's goal came from a combination of these factors. First, Marcelo and Benzema combined on the left wing to evade the Roberto-Rafinha double press, which had so diligently locked down Madrid's build up during the first half. Benzema, the architect of the goal, charged down the middle to quickly combine with Bale, then spread it wide to Vázquez. Isco, taking advantage of the wide gap between Alba and Busquets, facilitated by Busquets' failure to close him down quickly enough, latched onto Vázquez's through ball and crosses it, attempting to find Bale. His cross deflected off Ter Stegen, and bobbled past Blanco and Blaugrana players alike, until Marcelo controlled it on his chest and slammed it into goal.
The momentum would continue to grow in the defending European champions' favor, and Real Madrid would have more golden opportunities to equalize, largely thanks to Barcelona's inability to cope with Madrid's newfound potency on the flanks. It was light and day: while through the first 45, Madrid's structure on and off the ball saw attackers isolated, unable to muster anything more than a long shot at Ter Stegen, the next 20 minutes saw Madrid's attackers link up with greater frequency and create deadly chances.
In the 53rd minute, Thibaut Courtois calmly collected a corner kick and immediately Hail Mary-d it to Isco on the right flank. Cutting inside, Isco chose the easiest passing option, the option that seemed the most effective in the 3v3 break. However, while it was the most obvious one, it wasn't the right one: instead of turning to his right and threading it in to an unmarked Vázquez, he gave it to the 30-year-old Benzema, perhaps assuming he still had the change of pace and precision of a 24-year-old Benzema. Whatever the case, Benzema ran into traffic, surrounded by Busquets, Kroos, Rafinha, Alba and Roberto, and could do nothing with the shot, which was easily handled by Ter Stegen. Had Isco given it to Vázquez, it would have redirected the attention of the retreating Barça defenders' to the right flank, and perhaps a pinpoint cross could have met Benzema or Kroos for a shot on goal.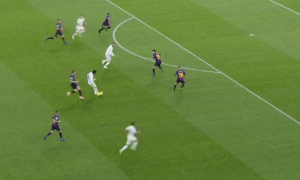 Isco would not repeat this mistake again; in the 68th minute, after turning Alba inside out, he sought to do what Madrid achieved with such success during the opening spells of the second half: exploiting the space behind Barça's fullbacks. While falling down, he launched a pass to Vázquez, who had acres of space to sprint into, which he did. Rakitić fruitlessly aimed to block his cross, which fell to an unmark Benzema, whose header would soar above the crossbar.
Off the ball, Madrid were pressing with greater intensity, limiting Barça's build-up and defending on the front foot. Several periods of play saw Barcelona unable to escape their own half and unable to sustain possession, with Madrid quickly regaining the ball and carving out clear-cut chances. Bale, Ramos and Benzema squandered golden opportunities, but the closest call would come with Modrić, whose low shot careened off the crossbar.
Finally, in the 60th minute, Madrid's waves of pressure and sustained possession came to an end after Casemiro fouled Suárez. Madrid defended hurriedly, and Barcelona attacked hurriedly during this phase of possession, but to their credit, Arthur, Alba and Rakitić did well to maintain possession when Barça came close to losing possession. Seizing upon Isco's failure to press from the left, as well as the speed mismatch between Marcelo and Roberto, Rakitić played a gorgeous masterstroke of a ball into Roberto, who sent it to Suárez, who, like he had done most of the match, made a mess of (an albeit difficult) finish, careening it into the crossbar.
After so diligently manning the flanks in the first half, the double threat of Isco-Vázquez on the right and Benzema-Marcelo on the left was too much for Barcelona to handle. Ernesto Valverde needed to calm the chaos on the flanks, he needed to hook his two inside forwards, neither of whom were contributing enough defensively (Coutinho especially), both of whom were struggling to create anything going forward. Finally, in the 69th minute, Valverde made his first substitution of the night: Nélson Semedo for Rafinha. Sergi Roberto would be moved up to the front three. In the 74th minute, Ousmane Dembélé came on for Coutinho.
Just as it had been in the first half, the right-sided axis was defensively solid again: Semedo, Rakitić and Roberto took care of any potential threats from the left flank, be it from Modrić, Isco, Marcelo or Benzema.
Nearly 30 seconds after entering the pitch, Ousmane received the ball in space, as measured combination play between Arthur and Alba broke down an aggressive triple press of Bale, Vázquez and Kroos. He was off to the races, with Barcelona suddenly finding themselves exploiting the greatest defensive frailty from Madrid's 3-4-3: counter-attacks which easily lead to 1 on 1s. Barcelona's front three raced towards goal, while Madrid's back three retreated, and as Casemiro stepped out of line to attempt to tackle (or foul him), Ousmane dished it off to Roberto before the Brazilian had a chance to make contact. Then, in perhaps the most Sergi Roberto play ever,  Roberto did not attempt to thread in a perfectly feasible through ball between Casemiro and Ramos, even as Suárez demanded it to be placed right to his feet, even as he held his run to stay onside. No, instead, he played a lofted ball into Suárez, whose header redirected it past a helpless Courtois. 3-1 Barça.
It's almost as if Rafinha's consecutive starting appearances had sent a message to Ousmane on how important defensive work rate was to Valverde; with Modrić now dropping into a deep, wide position, Ousmane assured the Croatian's influence was limited. But it wasn't just him; the entire team received an injection of energy from the third goal, and were far more vibrant in every aspect, from attacking, to defending, to pressing. In fact, Suárez could have very well been sent off for being a little bit too eager in closing down Nacho.
Madrid, on the other hand, looked fatigued and dejected. Whilst pulling off a back-heel pass to Isco, Marcelo tore his hamstring, and would have to be subbed off. It couldn't get much worse, until it did.
Lenglet booted a searching long ball into the middle of the pitch. Ramos controlled it on his chest, and then, somehow, slipped onto his knee, allowing Roberto to regain possession. As he was falling down from a moderate collision with Ramos, Roberto placed a through ball into the box, and Suárez made no mistake, controlling it and chipping it past Courtois.
After the fourth goal, the final change of the game would take place: Arturo Vidal for Arthur Melo.
In the 87th minute, Ousmane stretched out to latch onto Rakitić's pass, and suddenly found himself 1v1 against a beleaguered Nacho, like a starving cat who had just cornered the last mouse in the room. He got Nacho to commit, side-stepped him, and then looked for the right destination to place his cross. Suárez was making a run, but between Casemiro cutting off the angle and Ramos ready to step in and outmuscle him to prevent the Uruguayan from furthering the embarrassment, Ousmane needed to find a new location for his cross. Vidal had continued his sprint from deep in midfield, and Ousmane's cross met the mohawked head of the Chilean, as Rey Arturo rose up to knock in the fifth.
By the end, Madrid were mentally and physically exhausted, outplayed, outmaneuvered, and outmatched. There was no structure anymore, with Ramos occasionally popping into midfield, and with Modrić occasionally dropping into the line of defense, it was lackadaisical chaos. There was no substance, no threat, no energy. The formation that had previously been an agent of energy and verve no longer held a tactical purpose; it was a collection of eleven, random men, who knew that the fate of their current manager had already been decided.
It wasn't equivalent to any Clásico in recent memory–it was a bloodbath of historical proportions. In the end, Alexander The Great had emerged victorious, blood had soaked the Gaugamela battlefield, and King Darius' empire had fallen.
By: Zach Lowy