Experance Tunis, The Winning Strategy
Esperance Tunis finally won a third CAF Champions League title. It was long overdue. No other African club has been as consistent, at continental level, since 1997. This was the year that the group phase was introduced in the Champions League. This Tunis club has almost always finished top of the group. They say league standings do not lie; in this case a 6-match mini-league versus the best in Africa.

No other team has advanced as group winners 10 times. And they have been just as good at reaching semi-finals and finals, which is reserved for the most elite of football clubs. They might as well be the African club of the 21st Century. A controversial opinion.
Recap

Many months before the crowning moment, nothing spectacular seemed to be in the offing for this generation of Esperance players. This would have been disappointing as the club is celebrating 100 years of its existence. Esperance Tunis was founded in 1919. Yes, the club had secured another routine league title in Tunisia. True, this team was now called [Arab Champions https://www.kingfut.com/2017/08/07/esperance-arab-champions/]. But they had been bested by Al Ahly yet again.

In 2017, Al Ahly knocked out Esperance Tunis from the Champions League at the quarter-final stage. The Cairo club achieved this by a win in Rades, Esperance's home ground. The following season, 2018, Esperance had to settle for an unfamiliar second in the group stage. This was to Al Ahly, against whom they did not manage to score a goal. The air around Esperance Tunis was as unremarkable as for each of Real Madrid's UEFA Champions League wins. Let us be honest, they neither dominated their league nor succeeded in style.

Redemption happened in the knockout stages. Esperance ousted a domestic rival, Etoile Sahel, in the quarter finals but lost the first leg of the semi-final. The solitary goal loss to Primiero Agosto, of Angola, forced a coaching change. This kind of coaching turnover is, unfortunately, normal in these parts of the world. Fortunately, Mouine Chaabani has steered the side right in the short time he has been in-charge. Esperance does look like the strongest club side in Africa. Is Chaabani a genius? That will be answered in due time. Coaching a big club is deceptively easy. All that is required is handling egos and maintaining traditions.

In his stint, Esperance overturned the semi-final deficit. His team also overturned a first leg deficit in the final against Ahly. On top, their run in the 2018/2019 season has been immense. Esperance are comfortably ahead in the league, maybe not worth the mention? They also got back to topping the group stage and they did it with no defeats suffered. So, how are they doing it?
Double-Pivot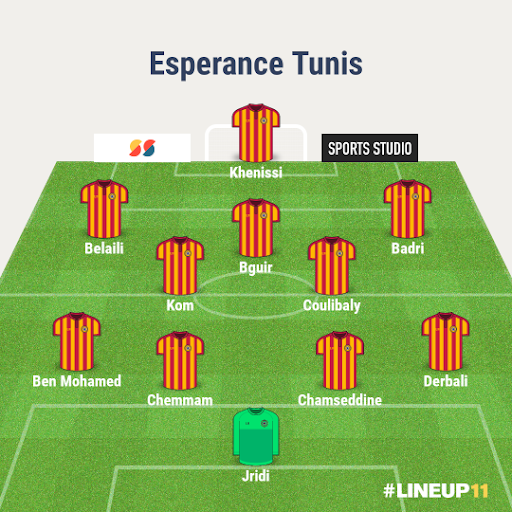 Esperance Tunis 4-2-3-1 formation
Arguably, the standout area of this Esperance team is the double-pivot in midfield. This kind of arrangement appears to have lost its lustre everywhere in the world except in Africa. What the cool kids do nowadays is play only one individual in the holding position, or in the deepest point of the midfield. The individuals are either there to coordinate speedy build-up (Jorginho), to create chances from the least congested area of the pitch (Fabregas, Pirlo) or to simply protect for a more adventurous team approach (Fernandinho). 
Esperance Tunis have thrown out this rule book. In fact, they do not field the kind of double-pivot you have in mind. This would be a defensive midfielder and a defensively conscious central midfielder (aren't they all?) working in tandem. Instead, Esperance field two similar individuals in Fousseny Coulibaly and Franck Kom.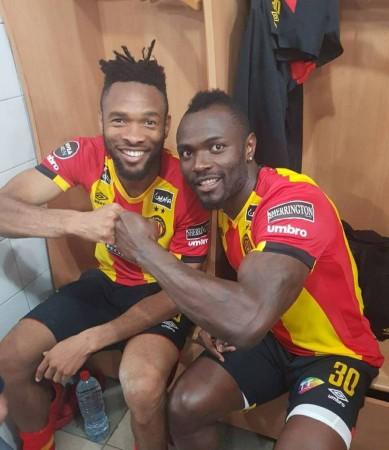 Coulibaly and Kom
They are both defensive midfielders at worst and all-rounded footballers at best. 
The special work they do is protecting the team against transitions. They break play in the center of the pitch and help defenders recover from poor positioning or a break-down in structure. This gives Esperance its impressive defensive record. In the 2018/2019 Champions League, the club conceded only one goal when either of these two was on the pitch. The second goal was conceded in a dead rubber with Chaabani opting to field reserves.
No other club in Africa, maybe the world, can boast of such a formidable bad cop – bad cop combination. You have to go back to Conte's approach, at Chelsea, with Matic and Kante for something close. It is not that other CAF Champions League contenders do not want this kind of assurance. It is that finding these types of players who can partner well is difficult. Even Esperance does not have like-for-like replacement for Kom and Coulibaly. The player who alternates with the two is Ghailene Chaalali. He is more of a limited central midfielder than a physical specimen to build a team around.
All that said, this combination is also a source of weakness for this version of Esperance Tunis. They cannot launch central attacks for lack of guile from deep areas of midfield. Comparatively, in Europe a lot of emphasis is placed on being able to build right from defense and through the middle phase of play. But Esperance get vulnerable when the try to pass the ball around when building up.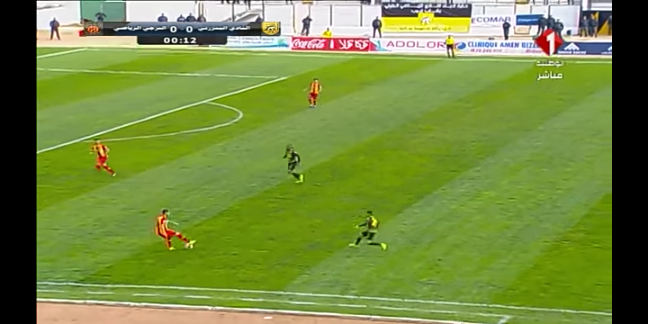 An instance of Esperance pressed from the back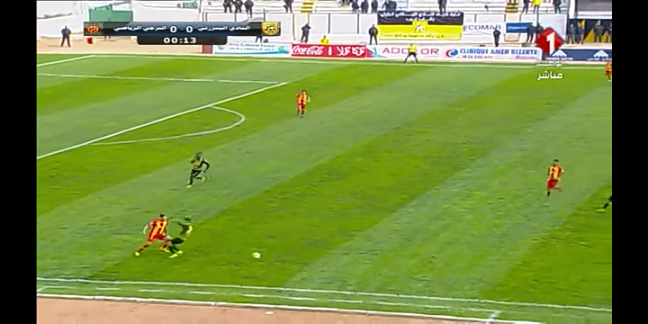 In trouble! But Esperance are rarely subject to this kind of pressure
This double-pivot cannot distribute the ball quick enough nor control the ball well enough in tight situations. At least, they cannot perform this task with the consistency required by an African champion. Luckily, most of Esperance Tunis opponents opt to wait out rather than harry them off the ball out of respect (fear). The drop in quality in African football leagues can be quite spectacular, mind you. Also, it is a culture that the away team play conservatively in Africa. Therefore, these weaknesses never get exposed for Esperance Tunis.
The best the duo do to contribute to attacking play is shuttling the ball forward, like box-to-box midfielders, and arriving first to second balls. It is in these moments that counter-attacking opportunities against Esperance present themselves. 
Attacking Threat
Otherwise, Esperance Tunis rely entirely on an attacking quartet to find goals. In these positions they are blessed with alternatives. Al Ahly and Sundowns are the only other African clubs to have gathered attacking talent of this calibre.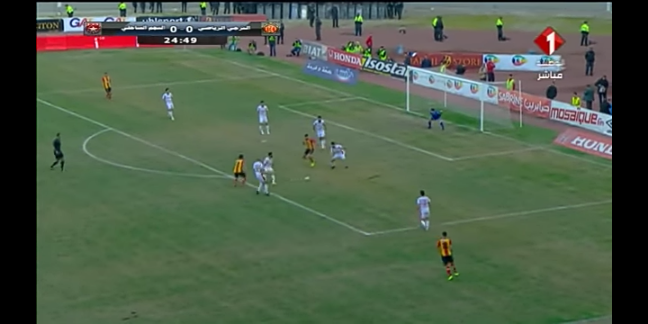 4-man attack: "No overloads. We are Esperance"
Saad Bguir is likeable and he calls dibs on the number '10' position. He wouldn't be effective elsewhere. His job is to link the defensive phase to the attacking one. When he starts, it always indicates that coach Chaabani will pick an offensive approach. In his stead, the aforementioned, Chaalali plays as a number '10' of sorts. 
Whoever starts will be flanked by Youcef Belaili to the left. The Algerian is a strong dribbler but, as most, he does not always make the right decisions. Someone who is more predisposed to playmaking is Hamdou Elhouni. The Libyan is a newly acquired player. He has settled quickly in competing for starting roles and does look better than Belaili on enough occasions. The right wing belongs to Anice Badri. The Tunisian international is the club's secondary goal threat. 
The main goal threat is, striker, Taha Yassine Khenissi. He is not the most popular figure but he gets the job done. He has a good sense of positioning and is mobile enough to work alongside the flair midfielders. This is an important quality because Esperance attacking third is based off the freedom the four players have and what they do with it. 
The team tries to get the ball in their area of the pitch as fast as possible. Besides the shuttling work of Kom and Coulbaly, Esperance will also simply play long balls forward. This is never great because the club neither has the type of players to deliver such passes nor ones to always win them. Another option is to use the single full-back licensed to maraud to bypass midfield passing and just run the ball to destination. This is usually Sameh Derbali. He won Esperance's second Champions League in 2011 as well. 
When the ball arrives, it is the first time that Esperance will instinctively pass the ball amongst each other with clear purpose. The most exciting way this will manifest is by quick exchanges and any of the 4 allowed to attack the final ball.
The Defense
But make no mistake. Defense is what has made Chaabani's Esperance so strong. You would have a clue by now that it is structured around 6 players. The fullback who attacks is expected to recover. There is the double-pivot policing vulnerable areas and, always, 3 defenders in front of the goalkeeper. The central defense is composed of capped Tunisian names of Yacoubi, Chamseddine Dhaouadi and Khalil Chemmam who rotate. Their standout quality is experience. 
An interesting figure is Ayman Ben Mohamed at left-back. He was from Ireland but had to adapt to Tunisian football. And it took him a while. [He says https://punditarena.com/football/oisinmcqueirns2758/ayman-ben-mohamed-longford-town-champions-league-winner/], "I couldn't get a grasp on the language and the culture is different too. The style of football, everything, even the weather. So I really found it difficult at the start to adapt to the team." He has since matured into a mainstay of the team and a Tunisian international. He is allowed to attack at times. But his usual role is remaining in a back 3 with the center-backs. 
Esperance are like any good pragmatic Tunisian team. Passive in defense. There is no real interest in getting the ball from higher areas of the pitch. The attackers, who barely track back, will press the ball carrier to give the defense time to reorganize. It is typical that a real pressing system will involve reducing the distance between two horizontal lines of players. Africa is a huge place, but no club has a reputation for playing like this. 
Esperance prefer to attack the opposing ball carrier when they encroach into, first, the middle zones marshalled by Kom and Coulibaly. They will also pick out players vulnerable to pressing or those in vulnerable positions – as any decently trained team will do. One such circumstance is when an opponent isolates himself in wide areas in Esperance's end of the pitch. 
A strong attribute of Esperance Tunis defense is that the players hardly lose focus on organization matters. The only clear improvements would be in quality of personnel. Perhaps, they are not put through the test enough times. Al Ain managed to put 3 past Esperance at the Club World Cup. One can interject that it is just another episode of Africa's poor form at the tournament. 
By: Hannibal Football