Group Stage Fan Preview: Real Madrid
May 26th, 2018. Real Madrid are going against English club, Liverpool, as an attempt of winning their third consecutive Champions League. The domestic champions of Paris Saint-Germain, Juventus and Bayern have all tried to dethrone the reigning back-to-back European champions. All have failed either miserably or in heartbreaking manner. As we proceed to see the events in Kiev, the mass majority has predicted that Real Madrid would complete the three-peat. Karim Benzema pounced like an opportunist to strike the first blow. Despite Mane's valiant effort to put Liverpool level with Real Madrid, Los Blancos simply had too much quality within their squad. A certain Welshman by the name of Gareth Bale has been waiting on the wings, waiting to be unleashed. Unleashed he was as Bale delivered a man of the man performance which propel Los Blancos to their fourth Champions League in the previous five seasons. While many has predicted Real Madrid would prevail over Liverpool, few foresee that Los Blancos would actually lose two key members. The most accomplished manager of the 21st century: Zinedine Zidane in addition to Real Madrid's talisman: Cristiano Ronaldo.
With the chapter of Zidane coming to a close and Real Madrid are undergoing through the post-Cristiano Ronaldo era, Los Blancos decided to hire a manager that pushes the mantra that Los Blancos should not rely on individual brilliance. Real Madrid under Zidane were too reliant on fullbacks Marcelo and Carvajal acting like an auxiliary winger while hoping the forwards did not go on a goalscoring drought. The board of Real Madrid realize that while Galacticos may be a feature within the Spanish capital, the collective of a squad must be embraced if Real Madrid want to continue their ways of winning trophies. The board of Real Madrid look no further than at-then Spain's manager: Julen Lopetegui.
While the sample size is rather small as to what Lopetegui will eventually implement, one could actually see what Lopetegui's vision are when it comes to the roster of Bernabeu. No longer are Real Madrid are relying on good service from Carvajal and Marcelo. Real Madrid under Lopetegui has been playing an attractive brand of football that has not been seen ever since Carlo Ancelotti has managed Real Madrid. In order to establish this brand of attacking football, Real Madrid needs a metronome at the base of the midfield. This means that Casemiro's role in La Liga fixtures is diminished as Madrid are using their immense quality as a collective to be just superior to inferior La Liga's rivals. Enter Toni Kroos. Under Lopetegui, Kroos expresses the trait of tranquility: maintaining possession with sharp decisions like an organized general. Kroos is also sandwiched between Ramos and Varane, acting like a third centerback as Lopetegui urges Marcelo and Carvajal to roam forward, provide as much width as possible and give support to the attacking players. While Kroos is not the physical tackler and is rather average at aerial duels compared to holding midfielders, Kroos has the tactical awareness and the discipline to have superb positioning. His anticipation is second to few. Anticipation and tranquility are what Kroos will bring to the base of the midfield while being a part of the build-up play, therefore diminishing Casemiro's role in La Liga fixtures.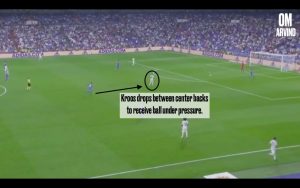 Source: @OmVArvind
As much as Kroos is the metronome of the midfield, someone has to run the show in the midfield. With Kroos' left-center midfielder being vacated, Los Blancos need a midfield that doesn't express tranquility of being stagnant, but rather provide verticality. Madrid needs a dynamic midfielder that is a shuttler, that can bring creativity while also linking the attack with the midfield. There's no other man than Francisco Román Alarcón Suárez that fits the bill as a means of replacing Kroos' tranquility in the center midfield with someone that can run the show. Under Lopetegui, Isco dominated the left half-space during Lopetegui's U-21 team in 2013 and during Spain's qualification for the FIFA 2018 World Cup. Isco was accused of being inconsistent throughout his time at Madrid, as someone that has glimmer of brilliance. With Kroos taking over Casemiro's role as holding midfielder, Isco will be the new center-midfielder that dominates the left half-space. Isco will not be restricted to the left half-space. Isco because he acts as a shuttler, will be given license to actually roam forward as Isco is more than free to sniff out forwards while not having to worry about overcompensate of tracking back since Asensio's defensive workrate is superior to Ronaldo's. With Kroos featuring more of a holding midfielder it seems and Isco being more of a LCM, one thing has not changed: Modric's role. If Kroos is the one that brings tranquility and Isco is the one that is running the show, Modric does a bit of both. Modric is a Swiss Army Knife that any manager would be blessed to have regardless of the template they implement. Modric's open play creation is second to none in addition that his dribbling is fantastic. Modric is among the finest in resisting the press. What makes Modric a Swiss Army Knife despite his offensive attributes is that he's also equally as good defensively. Modric is a fantastic interceptor in a 4-3-3, more mobile which is rather crucial when he is not a shuttler or a holding midfielder. Modric is the crown jewel of Madrid's midfield that seeks to choke out opposition with their passing and creativity.
There are still some seeds of protagonism within the Real Madrid's locker room. With the absence of Cristiano Ronaldo, if there is any man that will be a protagonist of sort for Madrid to lean on? It would undoubtedly be Gareth Bale. Many including myself has stated that Bale is like a left-footed edition of Ronaldo. Competent aerially, ferocious on the counter-attacks and has a knuckleball that when striked properly? No goalkeeper in the world can save it. The problem with Bale during his time at Madrid is that nobody, including himself knows if he is going to be on the field. Despite Bale's fitness concerns, it would be foolish to say that Bale is not a top footballer. Bale when healthy has shown that he could be a game-changer on his own right. Because Isco will be more of the roaming midfielder centrally, Bale will still be deployed on the right wing. Bale's partner-in-crime is perhaps, a possible resurging Frenchman: Karim Benzema. The Frenchman is notorious for being a false nine: dropping between the lines to support the midfield while the inside forwards could tuck closer to the goal. Benzema is a passing option between the opposition midfield and defense in an already fluid system. Benzema's role is more of a creative attacking midfielder that has striking duties as opposed to center-forward that is dropping off to the midfield which could explains his surprising resurgence in regards to goalscoring. The absence of Ronaldo will certainly affect the forwards as defense may play a more expansive game against Madrid. However, if Bale and Benzema can consistently contribute to the scoreboard, opposition has no other choice but resort to a deep block which is what Lopetegui prefer the opposition to do.
With a clear vision of embracing the collective, it seems Real Madrid have an identity. As opposed to pressing sometimes as a means of having a shape under Zidane's, Madrid will have no problem being proactive in regards to participating in the press. Madrid have subscribed to press-oriented philosophy as opposed to having a stable shape. That is not to say Madrid's press is unsustainable. Madrid does this by implementing a high line, which means the opposition are forced into their own half resorting to long balls, which the likes of Ramos and Varane can easily sniffed out. Real Madrid are implementing a holding midfielder that acts more of a half-back as opposed to an assertive but sometimes clumsy holding midfielder. The wingbacks still provides width as they used to do under Zidane, but their service is not the be-all, end all. With Real Madrid having a favorable group with Roma, CSKA Moscow and Plzeň all featuring, there is absolutely no excuse for Madrid to not advanced out of the group stage. But just like many Madridistas such as I, getting out of the group stage is not enough. Going all the way to win the fourteenth is already the sight of all Madridistas. Legends comes and go from Estadio Santiago Bernabeu, but Madridismo is still a fearful sight for European rivals. Dread it, run away from it, a resilience of Madridismo will happen if anyone wants to dethrone the Kings of Europe.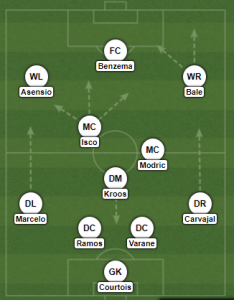 Predicted lineups: Courtois-Marcelo-Ramos-Varane-Carvajal-Isco-Kroos-Modric-Asensio-Benzema-Bale
Photo: Reuters