Hanging on by a Thread: How COVID-19 Threatens the Existence of EFL Clubs
It has been a month and a half since a football was last kicked in the EFL. Whilst the Championship, League One and League Two seasons would usually be reaching a dramatic climax, managers, players and fans alike are instead sat at home, twiddling their thumbs. 
The government-imposed COVID-19 lockdown has resulted in professional football grinding to a halt. It is yet unknown how the 2019/20 season will be concluded, but one thing is for certain; there will be significant financial strains on a number of EFL clubs. 
Unlike their Premier League counterparts, match-day revenue makes up a large portion of lower league clubs' incomes. The likes of Accrington Stanley and Swindon Town can't rely on lucrative TV deals and multi-million pound sponsors, they simply need the money generated from ticket sales to survive.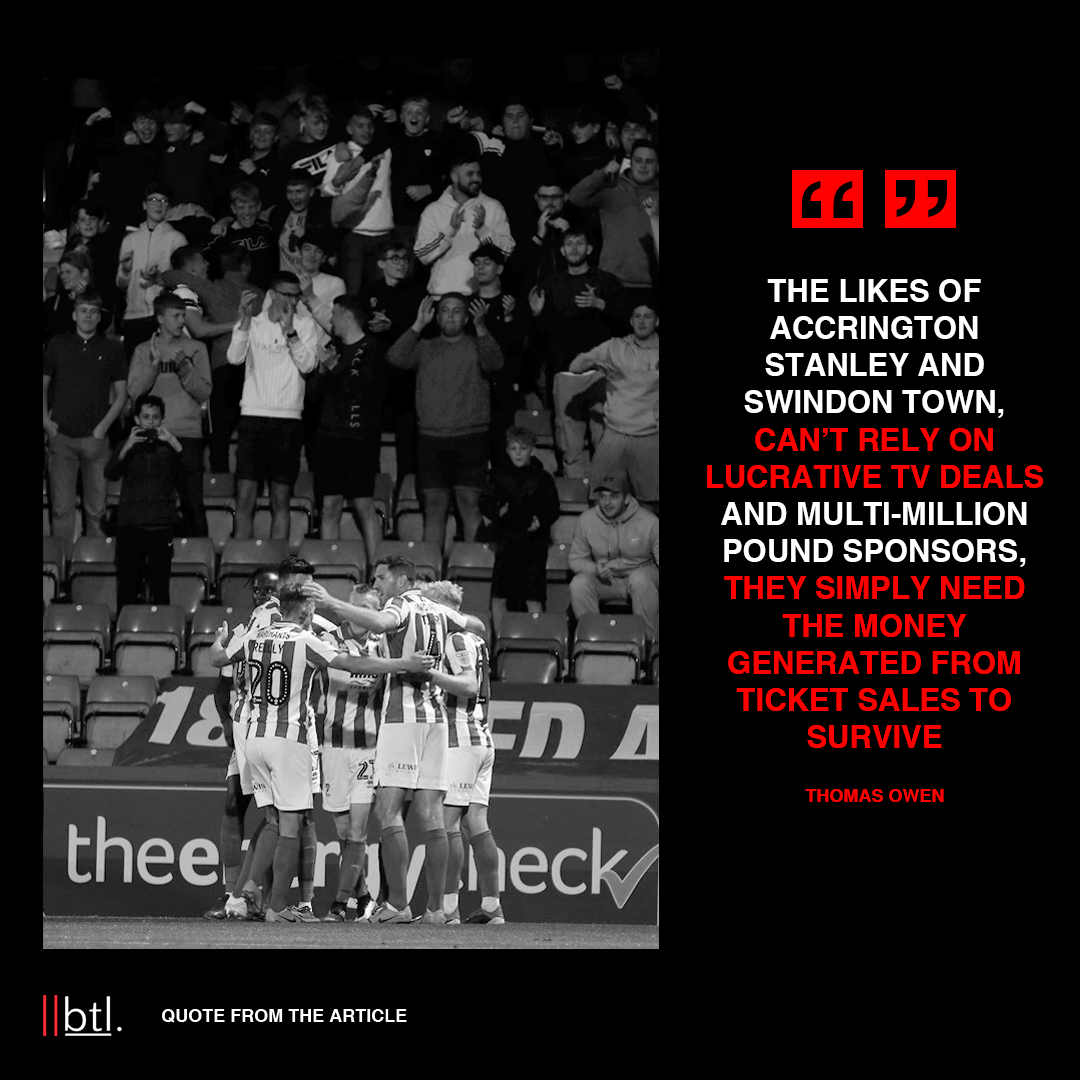 For example, Manchester United's gate and matchday income only accounted for around 18.5% of their £590 million turnover in the 2017/18 season. This is in stark contrast to Grimsby Town, a League Two side, whose matchday income made up for 34% of their £3,197,000 total turnover in 2018. 
Spending a prolonged period of time without one of their primary sources of income has the potential to seriously harm Grimsby, and many other EFL clubs, financially.
The likelihood of crowds returning to stadiums across England in the next few months is minimal, when football does return it will almost definitely be played behind closed doors. This means that clubs across the country are now facing the grim reality of being starved of a large portion of their revenue until autumn, at least. 
There are already several clubs across the EFL who are facing serious financial hardship. After Bury were expelled from League One, Bolton went into administration, Macclesfield and Southend have both been unable to pay their players, and many Championship clubs are neck-deep in debt as they gamble to reach the Premier League. It is feared that the clubs who are currently tip-toeing on the edge of financial disaster will be nudged into the abyss by the COVID-19 lockdown.
A host of EFL chairmen have expressed their anguish and worry, estimating that most clubs will lose hundreds of thousands of pounds over the next few months. Football clubs aren't just about 11 men kicking a ball around, they're the heart of communities, mass employers and even places of worship.
The demise of Bury showed how crucial football clubs are to towns and cities across England, the expulsion of the Shakers from League One left hundreds unemployed and thousands without a place to go every other Saturday. There could be catastrophic consequences for local communities if clubs begin to follow in Bury's footsteps, particularly in disadvantaged areas. 
Photo: Getty
Whilst the likes of Tottenham and Liverpool have been rightly criticised for taking advantage of the UK government's furlough scheme, many lower league clubs have had no other choice than to place their backroom staff, coaches and even players onto this scheme.
This is an entirely reasonable step as the annual revenues of these smaller clubs pale in comparison to some of the biggest businesses that operate in the UK, but it does show that the majority of EFL clubs aren't immortal and need financial help to survive. A plethora of Championship sides have agreed wage deferrals with their players; a smart move as clubs will save money in the short term whilst players will be eventually fully repaid.
It is commendable that footballers, whose character and morals are often scrutinised by the British press, have been willing to sacrifice a significant chunk of their wage in order to protect the jobs of clerical staff at their clubs.
Luton Town have, so far, taken the most drastic step towards stabilizing their finances by terminating the contracts of manager Graeme Jones and his backroom staff. The club insist that they "are taking an early move to restructure in order to remove its cost base" – it speaks volumes that Luton feel forced into making such a huge decision due to financial restraints.
It is rumoured that the Hatters will hire Nathan Jones when football eventually returns, so it seems like this may just be a move to minimise the club's wage budget in the absence of any matchday income.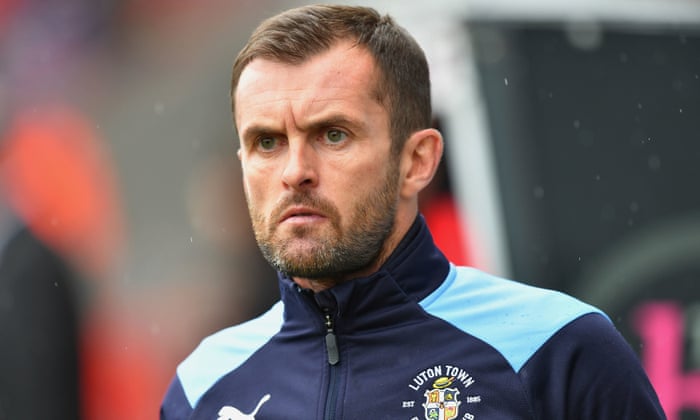 Photo: Dave Howarth / PA
It seems like many fans attempt to guilt trip the Premier League into bailing out lower league clubs whenever they encounter financial difficulties. There were calls for Bury's wealthy neighbours, Manchester United and Manchester City, to save the Greater Manchester club when they were facing administration, although this didn't materialise.
Gary Neville is the latest high-profile pundit to call for Premier League clubs to "look after football" and prevent "economic carnage for the game." Whilst Neville's plan of the wealthy helping out the poor seems feasible on paper, the Premier League's billionaire owners may be reluctant to help out at a lower level unless they are forced to. Will the Glazer family be overly bothered if a few lower league clubs liquidate?
The fortunes of Crawley Town and Morecambe may not concern the financial juggernauts of the Premier League. As the gap between the Premier League and the rest of English football has widened, the elite clubs seem to have less of a moral obligation to support grassroots, local football. 
The EFL have established an emergency £50 million fund for clubs which includes interest free loans and advances on competition prize money. Whilst it is promising that the EFL have recognised the need for financial intervention, £50 million split between 71 clubs across three divisions will not go particularly far and it is essential that another injection of cash is supplied within the coming weeks.
They have already been globally shamed for allowing a historic club to slowly rot away, and they will have blood on its hands if it fails to offer support to clubs during this time of hardship.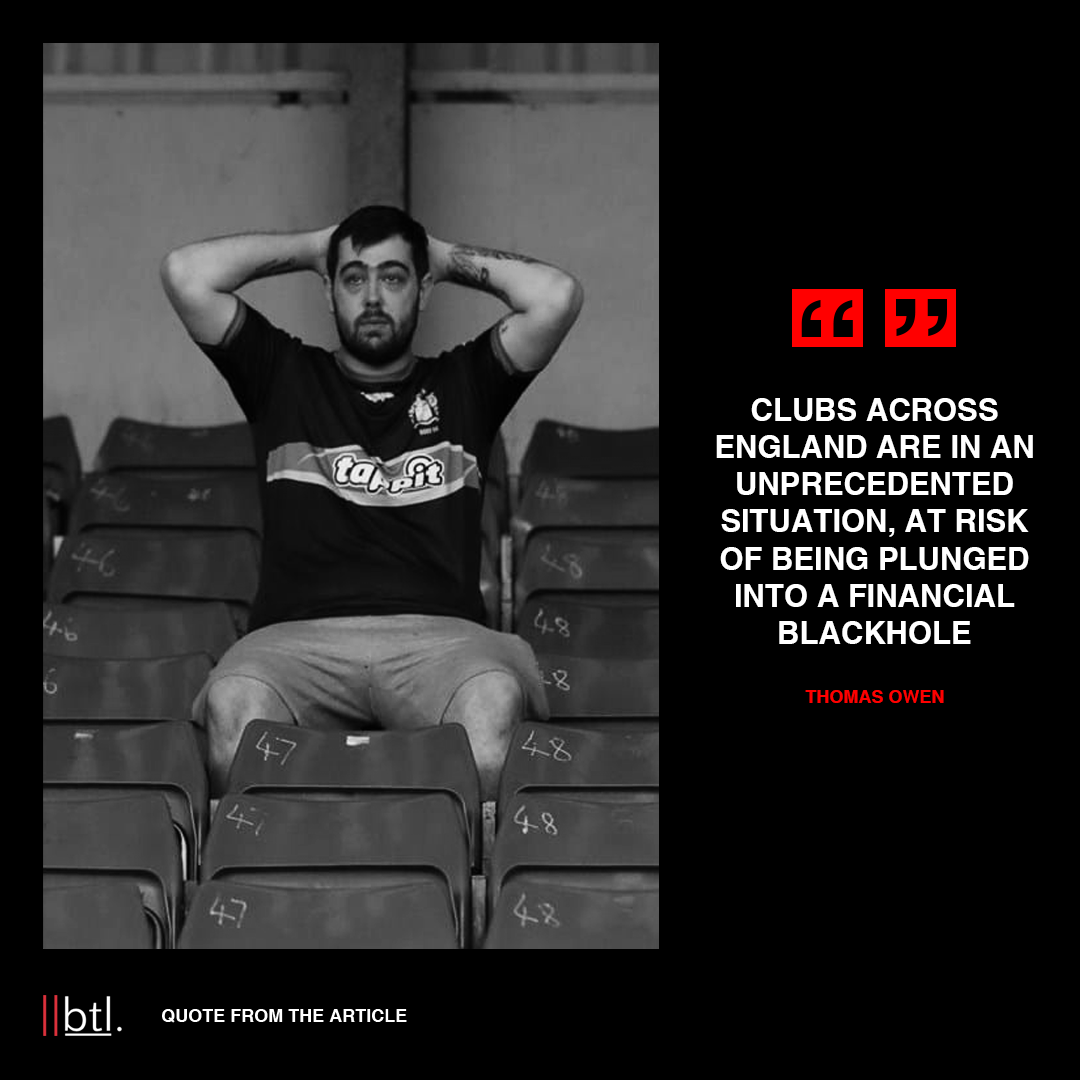 Clubs across England are in an unprecedented situation, at risk of being plunged into a financial blackhole. Whilst football may seem relatively insignificant during these uncertain times, it is vital that the smaller clubs are thrown a metaphorical lifeboat to keep their heads above water. Football is a cornerstone of English culture, and it wouldn't be hyperbolic to say that local communities would be torn apart if clubs are neglected by the sport's governing bodies.
The next few months will undoubtedly be tough to navigate for many lower league sides across the country as they are essentially staring down the barrel of financial ruin but support from the EFL and FA will hopefully help clubs survive until crowds can return to the stadiums.
By: Thomas Owen
Featured Image: Gabriel Fraga