How Tuchel Out-Coached Solskjaer at Old Trafford
Line-ups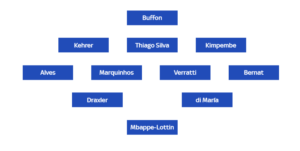 With Paris Saint-Germain missing their star playmaker Neymar, and with Edinson Cavani withdrawing to injury after the Bordeaux match last weekend, Thomas Tuchel put out a makeshift side at Old Trafford for the first leg of their Round of 16 tie with Manchester United. The team alternated between a back three and a back four depending on the situation, but it was listed as a a back three in the official lineup, with Dani Alves and Juan Bernat acting as wing backs in possession. Off the ball, PSG defended in a compact 4-4-2 shape.
United went with their strongest side, in Ole Gunnar Solskjaer's trademark 4-3-3. Nemanja Matić acted as the defensive shield in midfield, with Ander Herrera in a shuttling role and Paul Pogba given almost complete freedom. The front three were fluid in their movements, and Solskjaer gave them enough leeway to interchange positions constantly while linking up.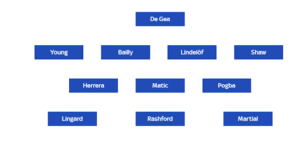 PSG's pressing masterclass
For all the good that Solskjaer has done at United, the defense still remains a vulnerability, which is more due to a lack of individual quality rather than a tactical failure. Tuchel pinpointed United's lack of coordination at the back as an obvious weakness, especially as it was coupled with a defence that lacked any real ball-playing ability bar Victor Lindelöf. Eric Bailly and Ashley Young were shaky in possession, and Luke Shaw lacked the intelligence or guile to bypass the aggressive PSG press.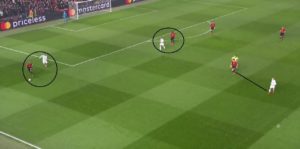 PSG's pressing system was mostly man-oriented: each PSG attacker targeted a specific United player and hounded them aggressively when the pressing trigger was set off. Not only did this cut off the supply of passes into midfield, but it also allowed United players little time on the ball.
PSG also managed to isolate both full backs on the ball multiple times, blocking off passing lanes into the middle and forcing David De Gea to pass it wide, before initiating the trigger. As a result, many of United's passes from the back were aimless clearances, and PSG restored possession immediately.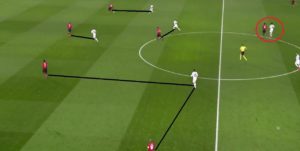 Even when they allowed United to progress up from the first 30 metres of the pitch, their positioning of the press prevented United from building up any rhythm in possession. As you can see in the image above, the pressing trigger is set off by Dani Alves moving towards the ball carrier (Shaw). The PSG players then proceed to use a more zonal style this time, rather than the man-oriented system they used in the first third of the pitch.
Julian Draxler blocks off the passing lane into Matić, who is the only real passing option available to Shaw. And while Kylian Mbappé makes sure to prevent the back pass option to Lindelöf, Ángel Di María is situated in the half space, where he is able to cover either Bailly or Young depending on the movement on the ball.
Under Solskjaer, Pogba has played some of the best football of his career, playing in his natural position of attacking midfield and utilizing his energy, strength, technique and creativity to the fullest. Tuchel tasked Marquinhos to intensely man-mark Pogba throughout the match, and in doing so, he completely neutralized the Frenchman's threat.
In a makeshift defensive midfield role, Marquinhos constantly tracked Pogba's movement, preventing him from receiving the ball in half-spaces and progressing forward. While PSG were robbed of their main creative force due to injury, United were robbed of their principal creator due to Marquinhos' dutiful man-marking, which saw Pogba struggle to exert his influence on the game. He only managed to touch the ball without pressure by dropping into the first third, rather than the final third where he is most effective. To top it off, Pogba completed a measly 30 passes, a testament to the expert man-marking job Marquinhos executed.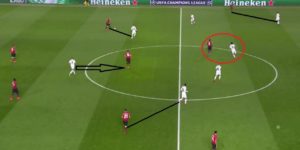 PSG often left Matić open in certain situations, inviting United to play the ball back to him and progress up the pitch. This action was meant to allow the PSG players to get situated into their defensive shape. Matić, for all his virtues, is hardly a creative force, so it was a low-risk move which ended up being a big plus in the scheme of things.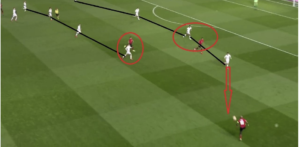 When PSG allowed United to enter the final third, they set up in a compact 4-4-2 shape designed to allow the opposition minimal space on the ball in impactful areas and force them out wide. United's spacing in the attacking phase was extremely poor, as is illustrated by the image above. Attackers are outnumbered three to eight by PSG's players. Little space between both banks of four, and any possible vertical runs are covered.
PSG's build-up structure and intelligent movements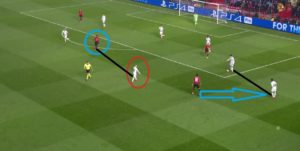 PSG's spacing and well-coordinated structure allowed them to bypass United's fairly aggressive press numerous times. As you can see in the build-up, they are building out from the back in a back five, with every defender relatively near each other. They have managed to create an opening for Marco Verratti to receive the ball on the turn with their ball circulation, dragging the United attackers towards the ball carrier and out wide, thus freeing up a pocket of space in the middle. They have attracted four United players to the first third of the pitch, allowing them to transition easily into the second and third phases of play once the initial line of press is bypassed. They can then create overloads in attacking situations.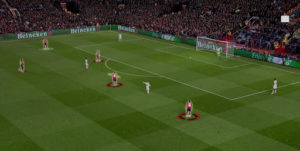 As you can see from the above image, United attempted to press the PSG backline in an aggressive manner. While the initiative was great, the press was clearly uncoordinated and disorganised, which allowed PSG to easily get the ball to the midfield and wide forwards, and then break quickly.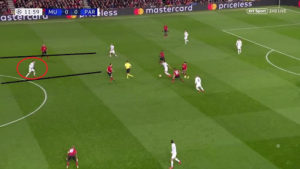 Julian Draxler was one of PSG's vital performers on the night, and his importance was, perhaps the most underrated. His guile and constant exploration of spaces created many options for the PSG attack, testing the United defence on several occasions. He was constantly looking to receive the ball in the half-spaces, especially on the right side where he took advantage of Pogba's lack of defensive effort. He constantly popped up in open spaces, before providing incisive passes to the wing-backs or circulation possession back to Verratti or Marquinhos.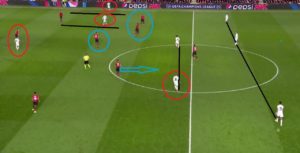 When PSG entered the second phase of build-up, they stuck with a 3-4-2-1 formation. Thilo Kehrer, Thiago Silva and Presnel Kimpembe composed the defense, with Alves and Bernat as wing-backs, and Marquinhos and Verratti forming the double pivot in midfield. As we can see, PSG managed to outnumber United in midfield five to three, while simultaneously creating the option for an overload out wide largely due to Draxler's movement.
The German peels away from Pogba, while Alves provides a wide outlet after Anthony Martial neglects to track his run, so if Marquinhos can find Draxler behind the lines, PSG will create a 2-on-1 situation on the left flank. He can also switch the play to Bernat or Di María on the left, both of whom are not in the screenshot above. Just as Tuchel had planned for, it was complete domination in the attacking and defensive phase of play.
PSG full backs differing roles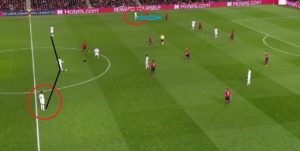 Even though Kehrer and Bernat were both playing as full backs, their roles could not have been more different. In the defensive phase, both acted as traditional full backs with the main goal of protecting the wide areas, but when PSG had the ball, things got really interesting. Kehrer shifted laterally to form a back three with Silva and Kimpembe, while Bernat pushed up, acting almost as a left winger, thus disorientating the United team's press and creating an overload at the same time. 
Conclusion:
Against a fully fit, red-hot United side at Old Trafford, PSG outplayed them on their own backyard thanks to the vision of their enigmatic German coach. Tuchel had studied the opposition perfectly, and he set up his team to damage the English side flawlessly, preying on their weaknesses and completely nullifying their threat. Without Neymar or Cavani, he embarrassed Solsjkaer and showed the difference in terms of tactical nous and flexibility, proving why he is one of Europe's elite managers.
PSG has failed to churn their quality into results on the European stage, but with Tuchel, they may have just found the right manager to take them to the promised land.
By: @hashimftbl
Photo: AFP/Getty