Julian Nagelsmann – The Tactics Behind a Pioneer
"30% of coaching is tactics, 70% is competence."
These sound like the words of an aging footballing philosopher who draws on countless years of experience, yet they belong to the youngest coach ever announced as manager of a team in the top five European leagues.
Julian Nagelsmann was just 28 when appointed by 1899 Hoffenheim and in just under two years has taken himself from relative obscurity to one of the hottest coaching tickets in world football built on a set of humble ideals, an astute tactical brain and a tireless work ethic.
To fully understand Nagelsmann's wisdom, it is essential to note his formative years prior to coaching. A centre half at youth level for both 1860 Munich and Augsburg, his playing career was cut short by persistent knee injuries and he would never make a senior appearance at any level. This allowed him to step out of the professional bubble into academic life where he would study Business for two years before transferring to Sports Science to finish his degree. This time spent scholastically would later shine through in Nagelmann's studious approach to tactics, training and player nutrition. Something a lot of coaches do not experience when transitioning straight from playing to management.
His first coaching position came under Thomas Tuchel. A familiar name to many European football fans and someone who would greatly influence his current tactical approach at Hoffenheim. While only spending a single season at Augsburg, Nagelsmann still quotes it as one of his greatest learning experiences. Fast forward to the 2012 season and a 25-year-old Julian was hired as assistant coach at Hoffenheim with simultaneous duties as u19 manager. For him the path to first team management was now clear.
Nagelsmann excelled in his role. Nicknamed the "mini Mourinho" by ex-German international Tim Wiese for his meticulous approach on the training ground, he would lead their u19s to a Bundesliga title in 2014, his second full season in charge.
In October 2015 it was announced that Nagelsmann would take the reins of the first team before the start of the 2016/17 season. This was to give him time to get his backroom team in place and study the first-team players in greater detail in order to hit the ground running. However, following the resignation of Huub Stevens in February 2016 for health reasons, the mini Mourinho was thrust into first team duties with "Die Kraichgauer" languishing in 17th position, seven points from safety. The appointment was labelled a "publicity stunt" by regional paper "Rhein-Neckar Zeitung" and they were made favourites for the drop. Hoffenheim would go on to win seven of fourteen remaining games, scoring 21 and conceding 24 goals in securing Bundesliga safety.
"Second season syndrome" is a common phrase used across multiple sports to describe an expected drop-off in performance as teams adapt to your play style and you lose the element of surprise. This did not apply to Julian Nagelsmann. His first full season in charge would prove historic for the south German side. They secured their best ever Bundesliga finish (4th) and first ever qualification for the Champions League. In doing so they went on a 17-game unbeaten run lasting until January, the longest of any side in Europe. Die Kraichgauer had the 2nd best defence in the league (37 goals conceded) and increased their goal tally by a whopping 64% (39 to 64). Remarkable improvement with a similar squad but when analysing their innovative approach to training, it is clear to see why the progress occurred.
Hoffenheim are the only team aside from Dortmund who use the "footbonaut". A square shaped enclosure where balls are drilled at participants who then must control and pass the ball back through a target area. This serves to improve a player's first touch, passing and peripheral vision.
Nagelsmann also makes use of a "videowall" during his thorough training sessions. Using a system of camera's (one behind each goal and two overlooking the central area) controlled by the training staff and relayed to a 40sq meter screen erected beside the pitch. This allows him to stop the feed at crucial moments and explain to players why moves are breaking down and better convey his positional and tactical instructions. A true innovator.
Tactically he is a disciple of Tuchel, Guardiola and Rangnick. Adopting a 3-1-4-2 formation which can transform into a 3-3-4 or even a 3-1-6 in certain situations depending on the layout of the opposition. The foundations of Hoffenheim's gameplan are a high press to cause turnovers followed by attacking overloads and exploitation of half-spaces to unbalance defences and create clear openings for their attackers.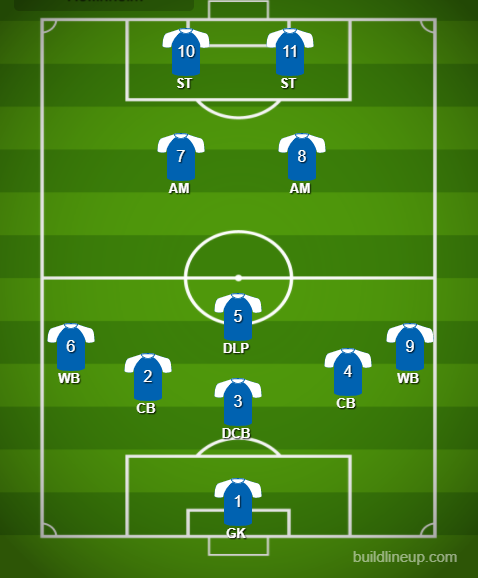 The 3-1-4-2 requires a few key components to be successful. A Goalkeeper with good distribution and organisational skills. A deep centre back requiring good technical skills but also adept at reading the game as he will be forced to squeeze vertically or slide horizontally depending on the gaps that appear during Hoffenheim's defensive press. It is vital the four attackers are flexible positionally with the two central midfielders drifting wide or running beyond in support of the forwards.
DEFENSIVELY
Nagelsmann's defensive strategy is a modified version of Ralf Rangnick's vintage high-octane press. The modifications come once possession is recovered as instead of rushing straight onto the counter attack, the German encourages his side to pass horizontally at first to maintain control and allow his team to change mindset, before moving the ball vertically through central channels at speed. Kevin Vogt is the key man in this defensive system having assumed the role following Nicklas Súle's move to FC Bayern in the summer.
Signed from FC Kóln and converted from a central midfielder to a centre back. Vogt is the deep central defender and the one given responsibility to push up as a DM when Hoffenheim slide to a back four during the initial press or need an extra body in the middle to prevent a central overload from the opposition. Trust and self-responsibility is a key feature of the German's man management style which has drawn him much praise.
The 3-1-4-2 system also allows for a uniquely fluid press which has become known as "Pendeleffekt" or "the pendulum effect". This is a defensive premise similar to that of an army commander collapsing one flank to protect while advancing with the other.
Essentially if a team attacks down Hoffenheim's right, the right wing back will press high to meet the ball in coordination with the right sided striker and midfielder in the hope or cornering the man in possession. While this is happening the rest of the defenders will slide across to form a back four and the left sided central player will collapse back to the DM role, thus cornering the ball in one quadrant of the pitch as seen below.
In the first visual, you can see the standard Hoffenheim shape vs. The Pendulum effect in the second:
The object of this manoeuvre is limiting the options for the ball carrier but conversely failure to shift accordingly can lead to a lot of horizontal space being created. It takes great team cohesion and verbal skills to pull of continuously. What makes this such an effective press is that even if the attacking team manages to escape and move the ball across the pitch, there is still a stable defensive shape in place, giving the midfielders time to filter back and reorganise.
ATTACKING
"Die Kraichgauer" like to attack directly through central channels using the DLP to pass directly to the strikers who then lay it off to the oncoming midfielder to drive into the space vacated by the defenders.
Uth, Demirbay and Rupp are generally given the license to drift or drop deep to receive a pass from Vogt. If the central channels are blocked the wingbacks will then push up to provide horizontal options for the DLP and if it is the case that the opposition choose to sit off Hoffenheim, they will stay high and adopt a 3-3-4 formation to keep their opponents hemmed in. Furthermore, if the opposition "park the bus", the flexibility of the 3-1-4-2 allows them to adapt a very attacking 3-1-6 formation giving maximum passing options to the DLP who will also sit higher up the pitch in this instance.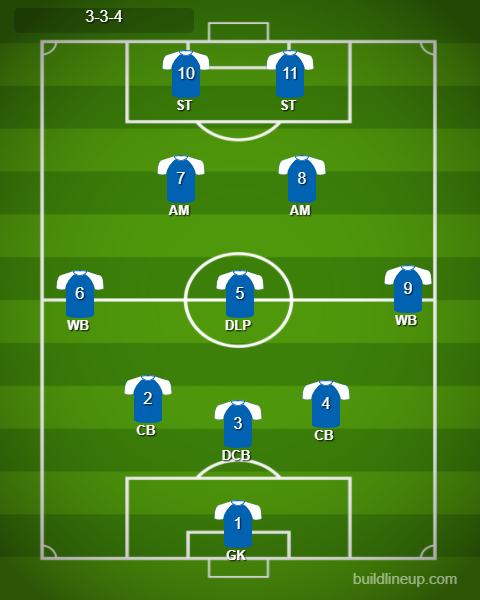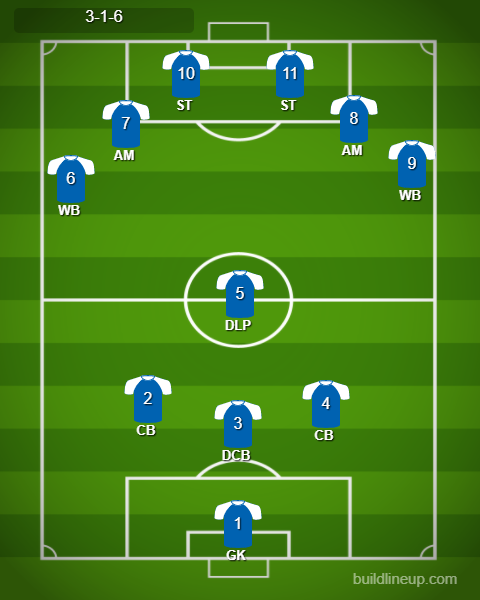 Nagelsmann's attacking philosophies are derived mostly from a combination of Pep Guardiola's principles. That of the "positional play" style and attempting to overload the space between the lines of the defence. Meaning if his favoured central channels are clogged then the German likes his team to drop and spread out between the lines to open up passing channels. The result is an attacking formation of potent fluidity thus maximising the options for the DLP in possession even in the face of overwhelming defensive numbers.
This precise style challenges each player mentally and requires tactically intelligent players in key positions along with a great group togetherness and mentality. It results in a very attractive and fast tempo brand of football not dissimilar to that of the Brazil side of 2002, who also exceled in using wingbacks in attacking situations.
So far, this season has been a mixed bag for Hoffenheim. They drew an abundance of praise for their performance against Liverpool in the Champions League but their Bundesliga form has been slightly inconsistent and they currently sit 9th in the table. Nagelsmann is learning to adapt having lost key players Sebastian Rudy, Nicklas Sule and now Sandro Wanger all to Bayern Munich in the last six months.
It could be a quick reunion however as the Bayern hot-seat will be up for grabs shortly and the "baby Mourinho" is top of the list to land the most coveted job in German football. We see an innovator and a studious tactician but Julian Nagelsmann sees himself merely as a simple baker.
"I work like a baker. I mix things, shove them in the oven and see if it tastes well."
His rise has been astronomical and his challenges many, but his greatest tests still lie ahead. At only thirty he stands to have a long career of tactical genius ahead of him. How far he ultimately goes is down to his ability to adapt his style to those who would stifle it. What is beyond doubt is that we are witnessing the development of one of the great tactical pioneers of a new generation of manager and this should only be admired.
Writer: Robert Fahy
Photo: achtzehn99.de