Leonardo Bonucci: The archetypal ball-playing center-back
"I thought it was a joke. I would never have thought anything like this could happen," Alessandro Del Piero told Sky Italia on hearing the news about Juventus defender Leonardo Bonucci's transfer to AC Milan.
As the old adage goes: where there's smoke, there's fire, and that was especially true here when it came to this transfer.
On Wednesday afternoon, rumours hit the web that the Rossoneri, a club on a mission to restore past glories, had interest in bringing the Azzurri star to the San Siro. Initial reports insisted a possible deal would include Alessio Romagnoli and long-time Massimiliano Allegri favorite Mattia De Sciglio. Naturally, supporters on both ends scoffed at the simple thought of the Bianconeri selling arguably Europe's best central defender, let alone sporting director Massimiliano Mirabelli contemplating the idea of including a priceless pillar like Romagnoli.
Negotiations took off rather quickly and soon, it became clear that Juventini's worst nightmare would in fact become reality. Talks accelerated between Bonucci's agent Alessandro Lucci, CEO Beppe Marotta, sporting director Fabio Paratici and Milan's entourage. Bonucci had agreed to personal terms with the Milanese club, only needing the two clubs to reach an agreement over transfer fee. After a bit of back and forth, the most trusted sources in Italy confirmed that Bonucci was off to join the red and black club. According to Di Marzio, Juventus will receive 40 million euros plus 2 million euros in bonuses, with the player earning €6.5m per year in wages on a five-year contract until 2022.
Earlier today, Bonucci pulled up to a crowded Casa Milan, greeted by waves of enthusiastic supporters who awaited the arrival of their newest signing. Pending the completion of his second test, Leonardo Bonucci will officially be announced as an AC Milan player tomorrow before heading out to join his teammates in China on tour. Ready to begin the next chapter of his footballing career in Milan, let's look at the tactical impact Bonucci will have under manager Vincenzo Montella.
Widely considered the best of his kind in world football, Bonucci is as complete a centre-half as you will find. Defensively strong and fundamentally sound on the ball, never does the Italian collapse under pressure or squander possession for his side. Obviously, most of us are well aware of Bonucci's range and distinct passing ability from the back. Simply put, he is unrivaled in that respect. Whether it be playing out of a press, launching an attacking build-up or simply letting one of his trademark long balls fly, Bonucci's importance cannot be understated – as we've seen regularly for both club and country over the past several years.
At Juventus, he typically played in a three-back setup armouring Gianluigi Buffon. Pound for pound alongside veterans Giorgio Chiellini and Andrea Barzagli, 'BBC' formed the best defensive unit in the world; Bonucci took on playmaking duties, ultimately re-defining the way defenders should strive to play. Part of the reason former coach Antonio Conte, and most recently Allegri, handed him the keys to this role is because enough cover surrounded him, enough to the point where he could orchestrate at his command.
Over the years, Andrea Pirlo, Paul Pogba, Arturo Vidal, Claudio Marchisio and others have all graced the Juventus midfield, ultimately making it rather simple for one another to freely play to their strengths. Montella's midfield –though vastly improved with the additions of Franck Kessie, Hakan Çalhanoglu and Lucas Biglia –must show cohesiveness and form the chemistry necessary to fire on all cylinders. This is where the technical qualities of both Romagnoli, and now Bonucci, come to the forefront.
First, we analyze Bonucci in a 4-3-3.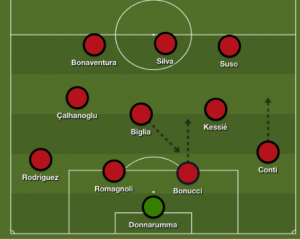 Bonucci can shine in either a three or four man setup. Comfortably, he holds the ball deep into the midfield, occupying the space conceded by the opposition who respect his range. In the graphic above, Bonucci could play a few options: down the middle to the regista Biglia, shift play out wide to Conti or launch a long the pass over the top, surpassing tight opposing lines to find one of his attacking outlets. Unlike the 3-5-2 where heavy numbers are forward, defensive recovery is less of a concern for Bonucci who –though sturdy and astute in his positioning – does not enjoy the luxury of speed.
Let's make the assumption that by Montella now having three starting-level central defenders, the 3-5-2 is the ideal shape.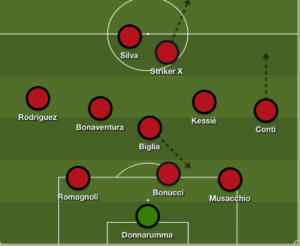 Here, Romagnoli, a left footed player, slots in as the LCB, still holding the license to play a role in the build-up. On the opposite end, Musacchio is fleet of foot and easily the quickest of the three defenders; his speed will be important to help mitigate any balls played in behind the line. Wing-backs Ricardo Rodriguez and Andrea Conti's offensive prowess means they heavily plunge forward to make overlapping runs and expand attacking play in the final third. Still, in understanding that role, the two must track back to cover defensively to avoid being exposed on the flanks by wingmen. Kessie, the undisputed muscle in the middle, is the modern day box-to-box midfielder making marauding runs forward, but also disrupting play on the back end. Offensive-minded playmakers Bonaventura and Calhanoglu operate in the final third as creators. This is where Biglia's ability to confidently combine with Bonucci, and control the tempo, proves to be special.
Part of what makes Bonucci such a major loss for Juventus, and massive gain for AC Milan, is his character on the ball. Incredibly confident in handling this responsibility, Bonucci puts those around him at ease, specifically the goalkeeper. Unlike Buffon, who's comfort on the ball goes without saying, teenager Gianluigi Donnarumma tends to struggle with his feet. Distribution, lamented in an earlier article on the importance of Romagnoli to AC Milan, highlights the 18 year old's deficiencies in this department. Progressively, Donnarumma has grown in this respect, but no doubt there is room for improvement. Adding a calming presence like Bonucci alongside Romagnoli surely makes life easier for Donnarumma to carry out Montella's possession-based style of play for the upcoming 2017-18 campaign.
One by one, the proper pieces are falling into place. Gradually, as new players continue to be announced, additional formations will be discussed. Leonardo Bonucci will likely be handed the captain's armband, and with that takes on great responsibility as the club's first marquee signing under the new Chinese ownership.
From Nesta to Maldini, Costacurta to Baresi, Leonardo Bonucci can continue the legacy of defensive greats at Milan. After living in black and white for the last seven years, he can finally add a bit of (red) colour to brighten his future.
Photo Credit: LaPresse/Daniele Badolato
By: Matthew Santangelo