Liverpool 4 – 3 Man City: A Klopp Tactical Masterclass
This was meant to be City's sternest test of the season (yet), away at the cauldron of fire, Anfield. However, City fell just short of the mark despite a belated rally in the face of a spirited performance by the Reds.
With Coutinho sold to Barca, Klopp had little choice in selecting his midfielders and attackers while he opted for caution at the back, deploying Robertson (who's a better defender than Moreno) and Gomez a converted centreback who has pace to deal with the quick duo of Sterling and Sane respectively.
With Gabriel Jesus out, Pep had little options for a tactical surprise. Aguero cannot play wide and hence no false 9 systems (with Sterling as the false 9) could be used to surprise Liverpool and catch Liverpool off-guard. He went with his strongest eleven, with just the small change of Gundogan in place of David Sliva, attempting to use Gundogan's press resistance to their advantage.
First half
Liverpool's press
Klopp isn't the first manager to implement a high press effectively against City, nor is this the first time he has tried it against City. Any manager who chose to press high had to proceed with caution as history showed pushing high up against City with an uncoordinated or heavily man orientated press would cause yourself to be decimated, as proved with Stoke and Spurs who tried it at the Etihad.
Klopp instructed his team only to press when they identified a pressing trigger such as a loose ball, a backwards pass, poor body positioning or at goal kicks.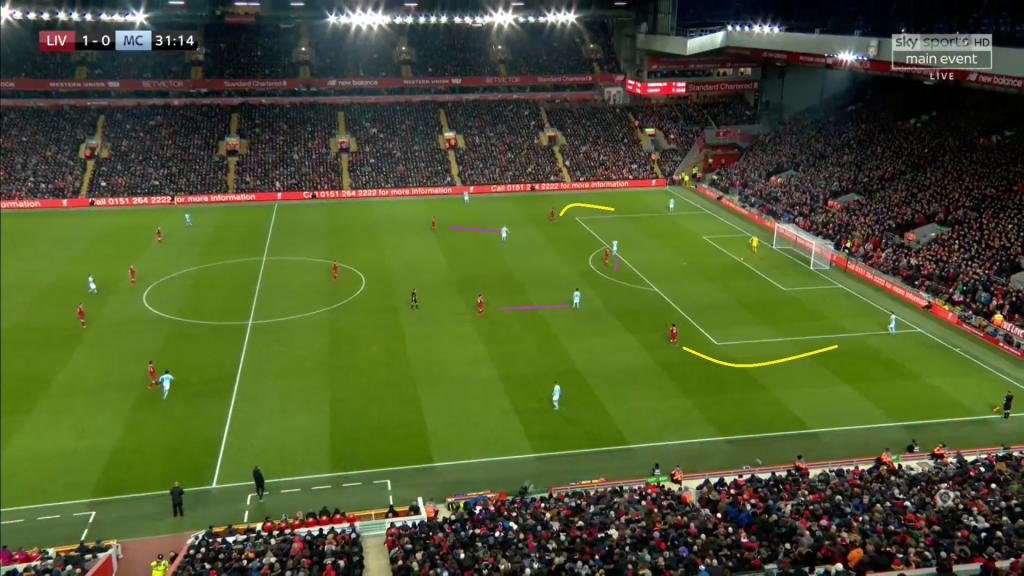 At goal kicks, his central midfielders would man orientate to their counter parts, sticking tightly to them as did Firmino to City's defensive midfielder Fernandinho (purple). The wide forwards would stand in a positon between fullback and centreback, making an angled run (yellow) if the ball were to be passed to either City centrebacks.
When the ball was with the centrebacks it was similar with some minute differences.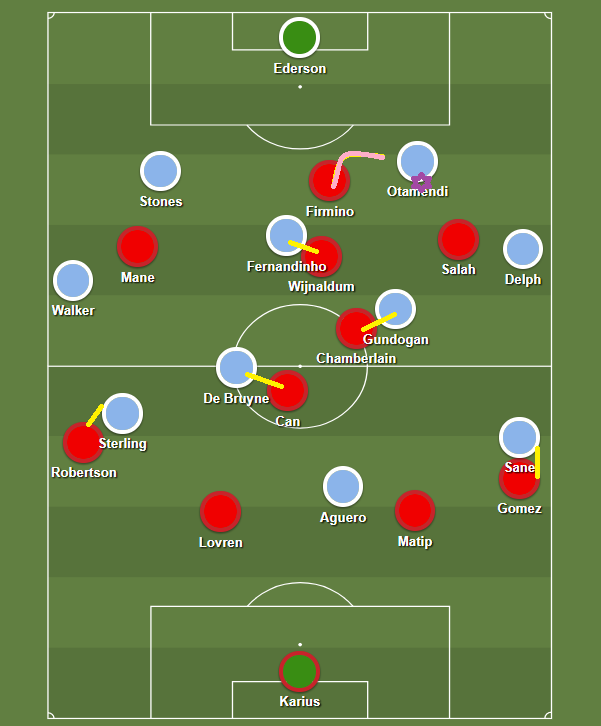 This time, ALL Liverpool centre midfielders would pick up their immediate counterparts with Liverpool's fullbacks heavily man orientating to City's wingers (yellow). (Chamberlain and Mijnaldum took turns being the the highest midfielder to press Fernandinho). Firmino would also make an angled run this time, making a run to block a pass between the centrebacks (pink).
This made City's life very difficult, especially considering the pressers were all quick, giving City little respite when playing the ball out from the back. As a result, they were forced to go long, with Liverpool winning aerial duels and second balls readily, as City were not set up in a shape that facilitated the recovery of second balls.
City's press
From the off, it was clear City were going to press in a 4-1-3-2 shape where the ball near centre midfielder would join Aguero up front.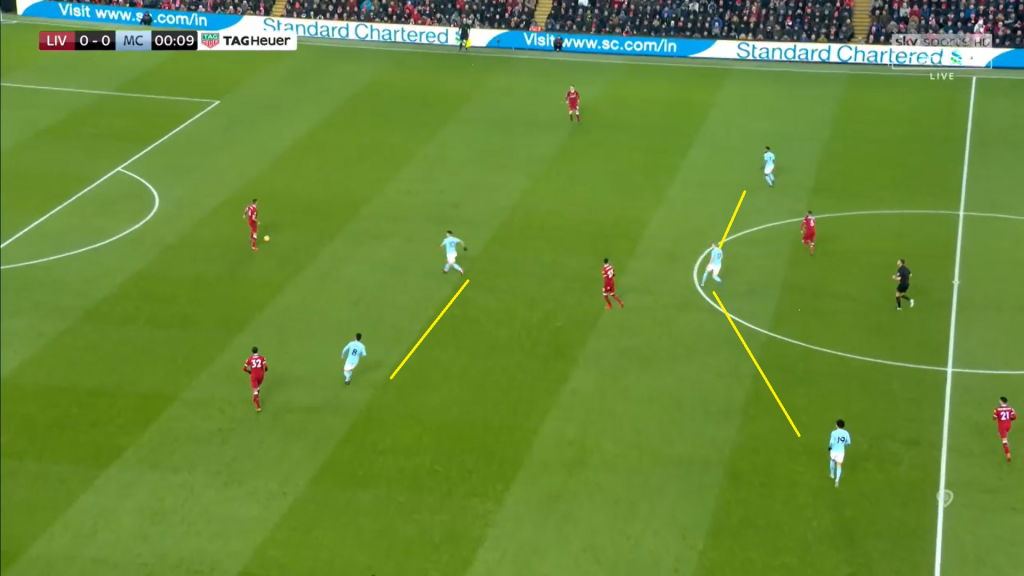 This was a system they had been using for weeks, having used it against Spurs a few weeks back.
City's press was good and did not allow Liverpool to play through the centre. However, Liverpool went long and were able to bypass the press and recover the ball through effective spacing, which I would explain later in my article.
Liverpool's mid-block
Klopp set up in his customary 4-5-1 shape in big games, with the wingers/wide forwards narrow and the midfield five occupying and crowding the centre axis with a striker dropping deep to put pressure on opposition midfielders.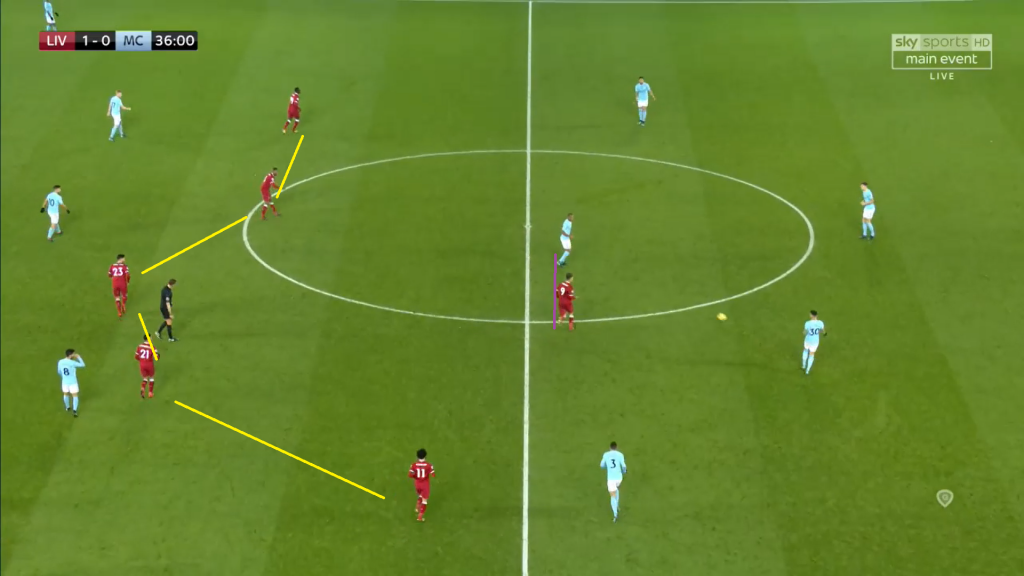 Here, Liverpool's midfield would defend space rather than man orientate, making any direct passes to City's roving #8s very difficult. Firmino would man orientate to Fernandinho, making passes to him difficult This reduced City's ability to penetrate centrally and forced City wide. However, this was also a problem as Liverpool's fullbacks would aggressively man orientate. Also, the pass distance between any of the City defenders with City's wingers would be very great, allowing Liverpool fullbacks time to get forward and close down their direct opponents.
City's attempt to break down the block
City's offense in the final third was fairly standard, making use of the half spaces to overload and penetrate the block so I will be only covering City in the initial phase. With Liverpool heavily occupying the central axis, it would be impossible to break through the centre directly. Hence City had to be heavily flank orientated in their approach, at least in the initial phase.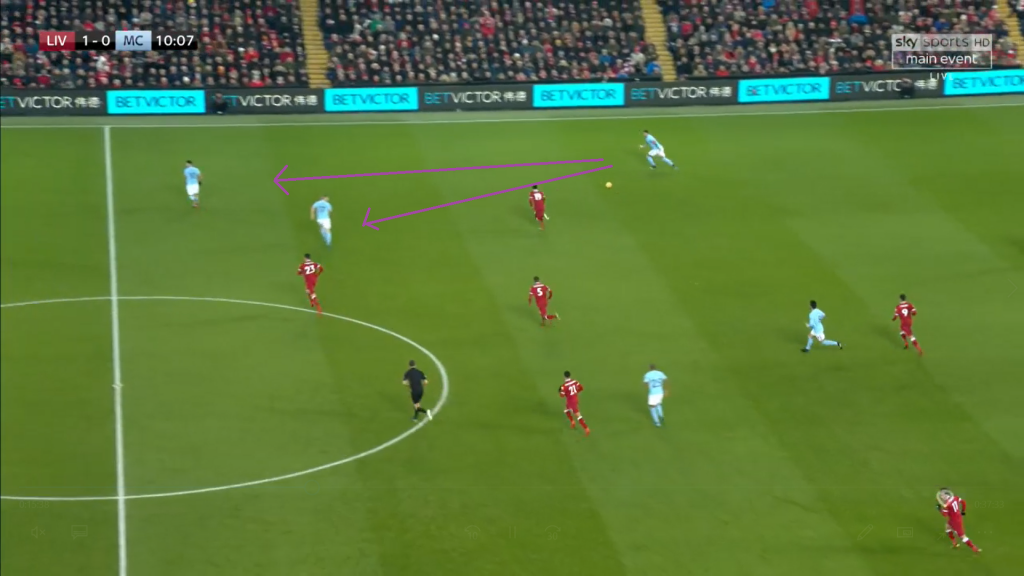 City would build up on one flank and once they realised the far side winger was sufficiently infield, they would move the ball horizontally across the pitch or play back to Ederson for him to chip it to the former ball far full back and try play down the former ball far flank and advance up the pitch.
Here, Walker has just received the ball after the ball has been switched from the opposite side and he is able to find Aguero and De Bruyne with passes (purple) behind the Liverpool midfield, thereby bypassing the press.
However, early in the game this was not very effective as Liverpool were still fresh and were able to shift across the pitch quickly without much trouble, rendering it ineffectual especially early on.
City had also other methods to break down Liverpool. City would get the ball one of their defenders and then send a long ball to the ball-far winger. This would bypass the Liverpool press and the crowded central axis entirely. The winger would then have to receive and then take on their man. This was used to great effect during City's first goal.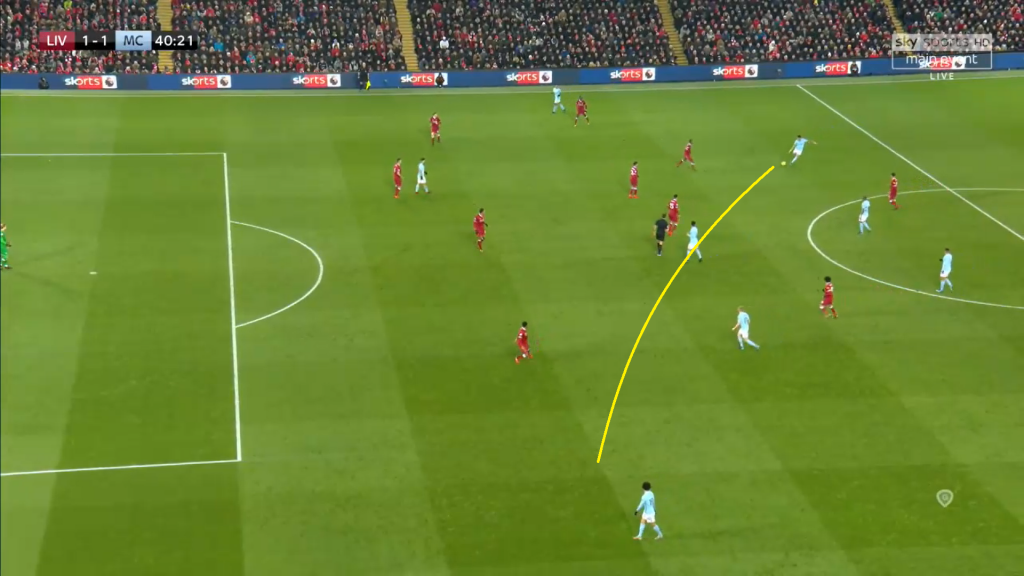 Here with all the Liverpool players watching the ball and not paying attention to the far side, Walker switched the ball over to the ball far winger Sane who then brilliantly controlled the ball, beat his man and finished with aplomb at the near post.
However, this method of breaking down Liverpool's block is not easily replicable, considering the windy conditions and the skill needed to ping an accurate and quick ball across the pitch and the ability of the receiver to bring it down, control it, and advance the play.
Liverpool's certainly made City's life very difficult by forcing them wide in the initial phase. They certainly understood the phase "the touchline is the best defender well". By limiting City to just wide spaces, it certainly reduced their effectiveness.
There were attempts from City to advance centrally, but it was often sporadic and only could happen when Liverpool lost concentration and there was a temporal loss of compactness.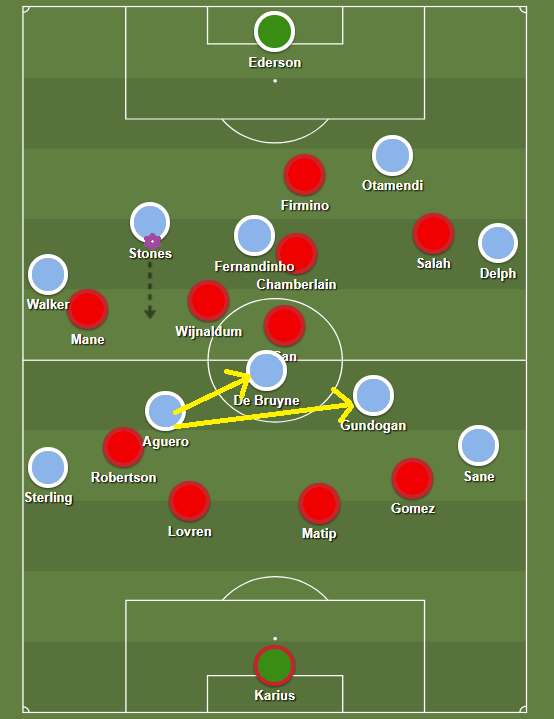 Here, with Liverpool losing compactness, Stones with the ball (purple) would try and advance with the ball and play a driven pass to Aguero who would then lay the ball off to De Bruyne and Gundogan. While this worked well in theory, it was hard to execute, requiring precision from the pass and skill from the receiver to lay off the ball quickly and accurately, Unfortunately, with Stones just back from injury and Aguero apparently carrying an injury, the execution was not as clean as Pep hoped, allowing Liverpool to get back in time into their defensive block.
Liverpool's offense in the final third
Against a defensive line that liked to squeeze up and compress the space in front of them, inevitably, it would lead to acres of space behind. Liverpool exploited it to its full potential. Their mobile forwards constantly made runs behind the City defence who then had to track these runs. City defenders were then left in a dilemma.
If they tracked the runs this led to space opening up in front of the City defence which invited Liverpool to take shots. They led to Liverpool's opener. The goal was much more than just an excellent strike. Salah's run helped open the space necessary to go with the shot, while Liverpool did excellently well to outnumber City in the midfield.
If they did not track the runs, a slick through pass could open up a clean cut high expected goals (xG) goal scoring opportunity. Quick Liverpool attackers would be then through on goal.
Another way of Liverpool's offense was through playing a long ball and initiating a successful counter press against City.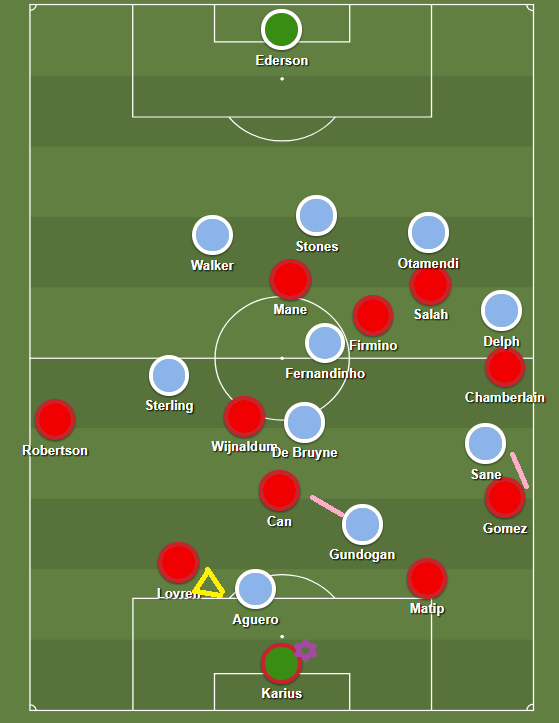 Karius has the ball (purple star) and realises all his close options are marked (pink). (Matip is not free as Gundogan can make a curved run to close him down while blocking passes to Can with his cover shadow). Therefore, in a pre-planned move, Liverpool would push men forward into the vicinity of where the goal kick was going to fall to and to try and anticipate and win the second ball.
Of course this was very effective in the game as it effortless bypassed City's press and turned defence into offense very quickly. Also, with quick attackers, Liverpool were able to sprint to second balls relatively quickly and get to the ball faster than the City defenders.
It is also worth noting that if Liverpool had lost the second ball here, and if City could recover the ball in a stable shape, City could break quickly and start attacking the exposed defence. While it was somewhat risky, it certainly paid off for Liverpool.
Second half
After Firmino scored, City became desperate and set off in unstable possession and lured themselves into a false sense of security, making them misplace passes. This culminated in Mane striking the post and then scoring from rather similar positions. This all stemmed from City's vulnerable shape in possession as City tried to push more men forward and in search for an equaliser.
As Stones pondered on the ball, Firmino advanced, forcing a nervy short pass to his centreback partner. That was the pressing trigger. The Liverpool players started to block his passing options while converging on him. Otamendi under pressure, trapped, lost possession to Liverpool which ended up with City conceding the third of the night.
After going 4-1 ahead, City attacked with far greater rigour and intensity. Liverpool failed to close out the game well, conceding 2 goals (albeit from low xG chances). They merely made like for like substitutes until the 90th min when City were really threatening only then did he introduced Klavan. It should have came much sooner and never give City the chance to come within touching distance of an equaliser.
Conclusion
Liverpool put in a near perfect performance to beat City. Their gameplan was almost perfectly executed. Their defensive block was compact and well organised and made life very difficult to City. Guardiola must be furious with his side. The scoreline aside, his side have been dragged into a very unstable and scrappy game that has seen a lot of turnovers, which works perfectly in Liverpool's favour.
City to their credit did not give up and fought back valiantly but it was a case of "too little too late". It was a well-deserved win as they capitalised on City's every mistake. However, not many teams can replicate Liverpool's approach against City due to a lack of quality players or coaching. If a lesser team were to replicate what Liverpool did, they could end up getting well thrashed.
City have barely lost anything despite the result, still having a mammoth lead to second-placed United. The pressure of being unbeaten through the season has also been lifted too. However, they have to be careful to ensure this is just a blip and they need return to their dominant best rather than limping over the line, otherwise it could hurt their Champions League ambitions.
Liverpool on the other hand have placed themselves well to secure a CL spot and could possibly snatch second from United. They just need to ensure that fatigue does not get the better of them and they will be well placed to finish in a CL spot.
Writer: Zach Wu/@cityzenforlife
Photo: Peter Byrne/PA Images via Getty Images