Megan Rapinoe: A Champion on and off the Pitch
When France Football revealed their list of the most influential people in football this week, two names stood out amongst the rest, drawing attention in social media. One was journalist Jonathan Wilson (ranked 41st), whose unexpected entry was a minor talking point, mainly by journalists and his fellow colleagues, who celebrated it with light-hearted jokes. The other was Megan Rapinoe (ranked ninth), whose inclusion would have been widely expected.
While it was normal to have her on the list, what was also normal was the expectation of backlash – immediately, people questioned: why is she on there? Why is she ranked so highly ranked? What has she achieved in the game compared to some of the others who are ranked lower than her? 
Everything Rapinoe does attracts attention, and while most people are dismissive of her influence, it is her actions that answer the questions of the previous paragraph. She's in the top 10 because of how important she is to modern sport. She's ranked so highly because of how helpful she has been to various people and communities. She has achieved so much in the game, and achieved even more when not kicking a football, that no matter where she places on France Football's list, her influence cannot be ignored.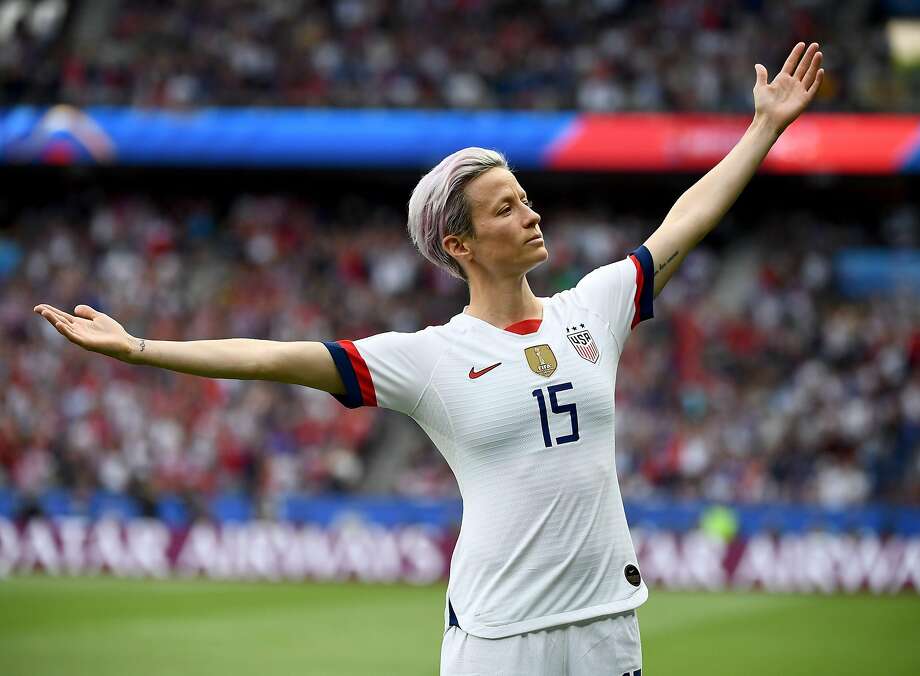 Photo: Franck Fife / AFP / Getty
As one of women's football's most outspoken players, Rapinoe has constantly used her platform to raise concerns and shine the spotlight on important issues. From fighting for a historic equal pay agreement to calling out the President of the United States on his prejudice, to encouraging more LGBTQ+ athletes to take up sport, Rapinoe has strived to make football a more inclusive sport.
Even during the COVID-19-induced lockdown, she has used her position to initiate conversations with politicians and leaders through Instagram and encourage more clarity between the government and the public. This barely scratches the surface of just how important Rapinoe is to modern sport. 
It could perhaps be agreed that her 2019, which saw her become a two-time World Cup winner and also claim the Golden Boot and Golden Ball in France was not enough to warrant her winning FIFA's The Best Award and the Ballon d'Or over the likes of Lucy Bronze, Vivianne Miedema and Sam Kerr, all of who played far more football than Rapinoe, but even after winning those two individual honours, she spoke mainly about the need for athletes to do more, recognizing that whilst her objectives on the pitch may have been achieved, her goals off it were still a significant distance away.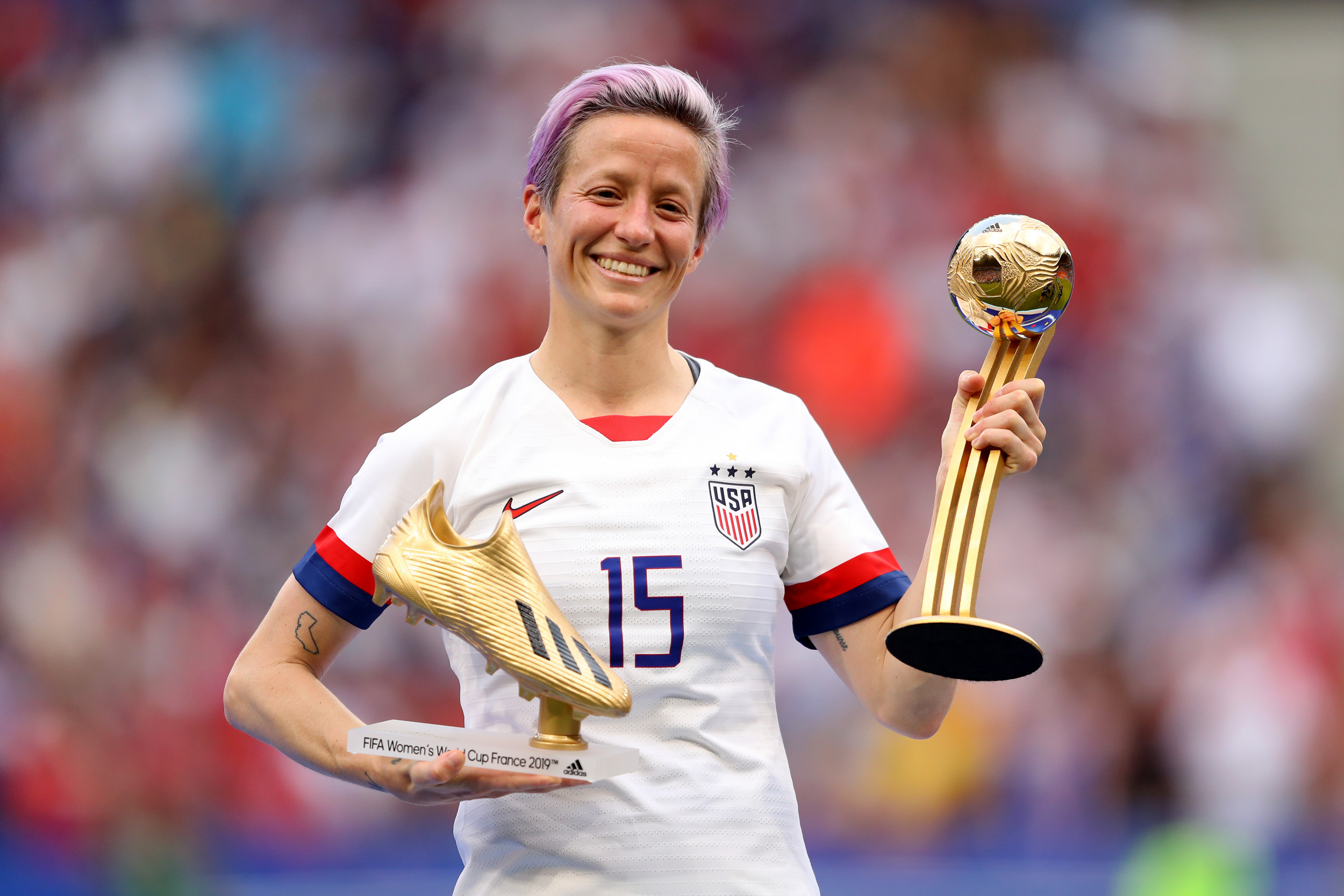 Photo: Richard Heathcoate / Getty
"If we really want to have meaningful change, what I think is most inspiring would be if everybody other than [Raheem] Sterling and [Kalidou] Koulibaly, if they were as outraged about racism as they were, if everybody was as outraged about homophobia as the LGBTQ players, if everybody was as outraged about the lack of equal pay and investment in the women's game other than just women, that would be the most inspiring thing to me," Rapinoe said in her acceptance speech at FIFA's ceremony.

"That's my ask of everybody. We have such incredible opportunity, being professional football players… we have so much success… we have incredible platforms."
The United States Women's National Team have been a joy to watch on the pitch, and their historic success is richly deserved. And yet, this team, containing stars like Rapinoe, Alex Morgan, Rose Lavelle, Christen Press, Carli Lloyd and more, see their defeats celebrated more than their victories – often even by their own compatriots. In the USWNT's fight for equal pay, they were ridiculed by the large majority of football followers, but the team's claims were reasonable and well-argued.
Photo: YouTube
They had earned the right to demand more, they had made their way into a position where they could deservedly ask for more money, and yet, instead of being lauded for their efforts to create a better environment for the sportspeople of tomorrow – in any country, for that matter, not just the United States – they were mocked. 
Speaking about US Soccer's abhorrent statement which cited "skill and strength" as reasons for differing pay and which resulted in then United States Soccer Federation's President Carlos Cordeiro's resignation, Rapinoe said:
"Its undertones and undercurrents, sometimes blatantly, that we've experienced before which is why we've filed the gender discrimination lawsuit. But for them to go that low and take it there in this lawsuit is not just disappointing for us, but more so for what it says to every other person in the country, every kid growing up, not only girls but the boys as well.

You're not lesser because you're a girl and you're not better because you're a boy as well…We just wanted to do something as team to show solidarity not only with ourselves but with all the little girls that those words were spoken to and the little boys and women out there as well who have been told that they are lesser than, just because of who they are."
Photo: Icon Sportswire via Getty
Rapinoe's actions and voice are important. 
For every person that takes to Twitter to say something nasty about Rapinoe, there is a young girl who has combated sexism throughout her years who takes a ball and gets on with doing what she loves doing most. For every person that takes aim at Rapinoe's excellent football skill, there is another who has combated discrimination throughout their years who is encouraged to be the best version of themselves. For every person that downplays Rapinoe's achievements, there is another who was raised in a prejudiced society who is driven to make their way in the world.
There is no denying that Rapinoe is one of the most candid football figures in the world. That statement alone makes one wonder just how many 'anothers' she may have enthused in recent times. 
Photo: Franck Fife / AFP /Getty
If you don't like her style of doing things, okay. Move away from it, ignore it, send out a tweet if you like, and get it done with. If you don't like her outspokenness, okay. Share your opinion on it, add in a few emojis or maybe write a story about it, and get it done with.
If you don't like how she plays football, okay. Make a mockery out of it, create a video and a few memes and get it done with. But don't for one second disregard what she has done – in the last 18 months alone – for various communities; don't for one second disregard how she has inspired millions, and don't for one second bring her down because it is that same style, outspokenness and football that has carved Rapinoe's legacy as a modern icon, not just on the pitch, but more importantly off it as well. 
Correcting the wrongs of humankind's past when it comes to discrimination and marginalization is not something that can be accomplished overnight, and that is exactly why more people like Rapinoe are needed – especially in women's football, which sees its popularity is increasing every day. 
Photo: Brad Smith/ISI Photos/Getty Images
We can't fix the errors that were made decades and centuries ago, but we can fix today for a better tomorrow, and that's where Rapinoe's words and actions play a crucial part. Marginalized people today may not want to step up and do what they love or say what they want to say because of circumstances beyond their control, but we can still do our best to encourage them, like Rapinoe has.
But if several decades from now, discrimination is still rife, sexism in sport and other walks of modern society are still prevalent, racism is still normalized, and outspoken activists are still ridiculed, that will be on our hands. That is what Rapinoe is trying to fix. That is going to be her legacy.
Here's to you, Pinoe. Keep doing what you do. 
By: Karan Tajwani
Photo: @GabFoligno