Monza and its Milanese Connection
Synonymous with motor racing, Monza is known around the world for its famous racing circuit, the Autodromo Nazionale Monza, which has hosted the Italian Formula One Grand Prix for every year bar one since 1950.
Situated about 15 kilometers north of Milan, Italy, the city has started to gain some attention from football fans in recent years thanks to its club's change in ownership.
Former AC Milan president Silvio Berlusconi purchased the club in September 2018 from Nicola Colombo – whose infamous father Felice was the Rossoneri president from 1977 until 1980 and instigated the 1980 Totonero match-fixing scandal – and he brought in his right-hand man Adriano Galliani, with both men possessing the ambition to earn Monza promotion to Serie A.
For Galliani, it was a moment of personal pride and joy to return to the club where he entered the football world as a director while also acknowledging his long-time business associate.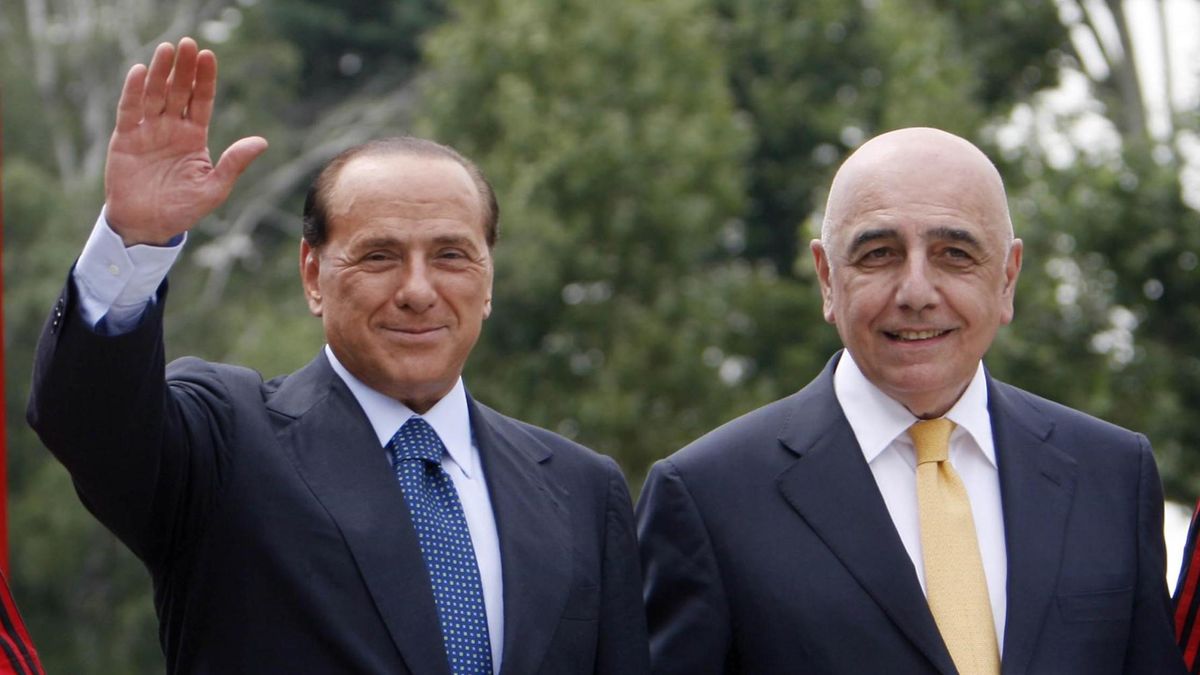 Photo: LaPresse
"Thanks to Silvio Berlusconi, I return to my team of my heart and city," he said in his press conference.
"In September 1975, I became a shareholder in Monza thanks to Aurelio Cazzaniga and I found Felice Colombo as vice-president. They were a nice group of businessmen from Brianza. Monza form part of my life and they have shaped my whole life. 

Monza isn't me betraying Milan, precisely because I started at Monza and went to Milan on loan for 31 years. My life without Berlusconi would've been different and certainly less pleasant."
It would be the first time in the history of the Brianzoli if they obtain promotion at the end of the 2020/21 campaign as the club has not finished higher than fourth in the Cadetti and the Rossoneri contingent are capable of making it happen.
Despite not boasting an illustrious football history like its Milanese neighbors, Monza's influence on AC Milan and vice-versa is not a new thing. With the two clubs in such close proximity, the Brianzolo side has been a nursery for the Diavolo.
Rossoneri in Biancorosso
Rossoneri great Nils Liedholm coached the Biancorossi in the 1968/69 season and his former teammate Luigi Radice had three coaching spells at the club. Other Rossoneri players such as Gino Pivatelli and Mario David had stints as coaches with the Biancorossi in the 1970s.
When Liedholm led Milan to the 1978/79 Serie A title, his squad had consisted of midfielders Walter De Vecchi, Ruben Buriani, and Roberto Antonelli, who were acquired from Monza.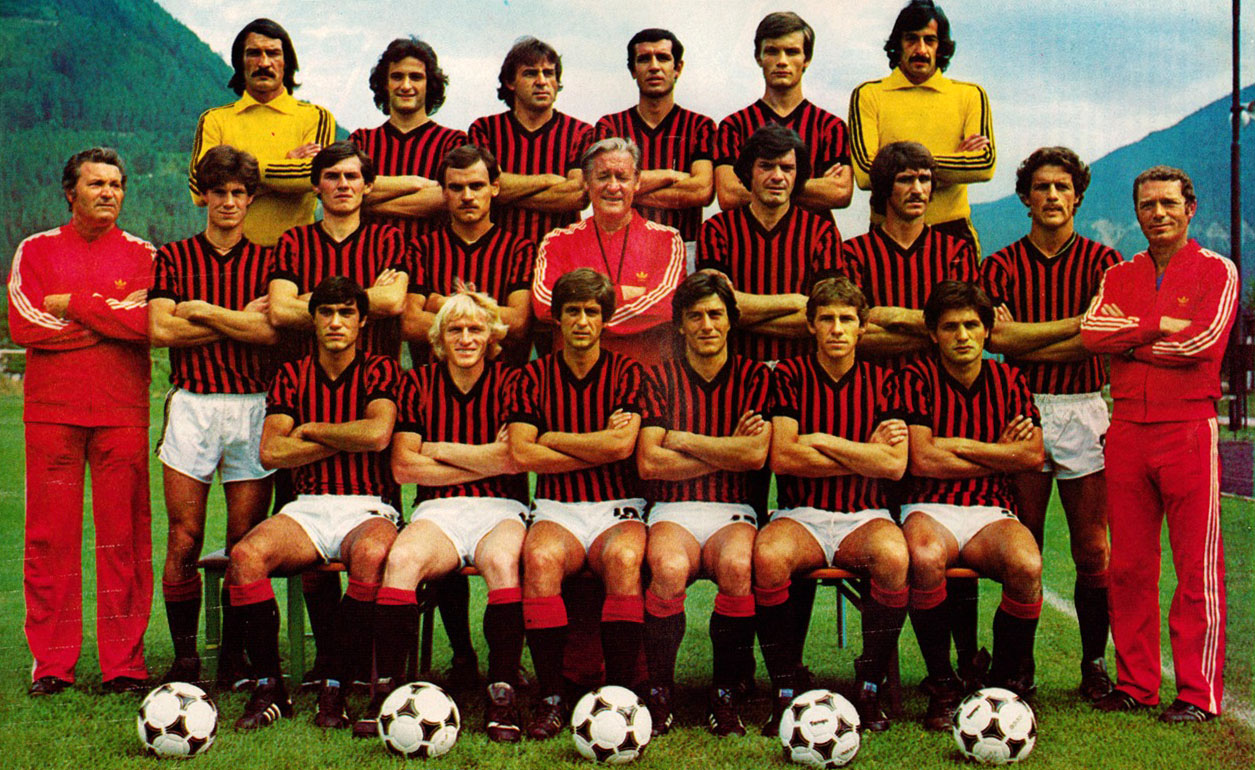 Photo: Italy Public Domain
Former AC Milan director Ariedo Braida played for Monza for two seasons in the mid-1970s and was a director at the Brianzoli before Galliani brought him to the Milanese. Both Galliani and Braida were a fundamental part of the Rossoneri's glory years of the late-1980s and 1990s and they recruited players from the Biancorossi or who had played for them.
Midfielder Angelo Colombo and forward Daniele Massaro came through the Monza youth system and were purchased by Serie A clubs before they were lured to Milan, defender Alessandro Costacurta spent the 1986/87 season on loan with the Brianzoli, and goalkeepers Francesco Antonioli and Christian Abbiati were bought from the Biancorossi.
While Clarence Seedorf was playing for AC Milan in the 2000s, he was one of the owners of Monza in 2009 and 2010 as part of his advisory group On International. Unfortunately, the club was not able to push for Serie B promotion while he had a stake in the club and they had to settle for mid-table mediocrity in Lega Pro.
Galliani, who was born in Monza, returned to his hometown club as its CEO in September 2018, but he had been the vice-president of the Bagai – the boys in the Brianzolo dialect – from 1984 until 1986.    
Berlusconi and Galliani Revolutionize Monza
When Berlusconi and Galliani arrived at the club, Monza had finished fourth in Serie C Girone A in the 2017/18, but they had been eliminated from the second round of the play-offs. Marco Zafferoni remained as coach but he was relieved of his duties after eight rounds into the 2018/19 and he was replaced by Cristian Brocchi.
Unsurprisingly, Brocchi is someone Berlusconi and Galliani know well. He played for AC Milan in the 2000s, coached some of the Rossoneri youth teams, and he was a caretaker coach for the senior squad in 2016. Not only that, he prefers the 4-3-1-2 formation, which the Monza patron likes.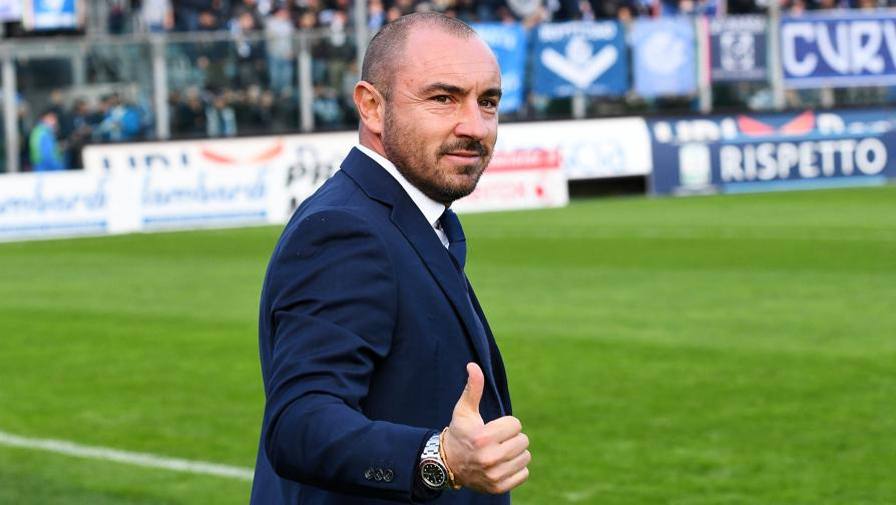 Photo:LaPresse
Although the former AC Milan and Brescia coach had won just three out of his first 10 league matches and his team dropped to as low as 13th, Berlusconi kept the coach in his role. Brocchi experimented with other formations early on, but he settled with the 4-3-1-2 in the second half of the season, and the Bagai finished fifth at the end of the 2018/19 season. 
After a 2-0 victory against Fermana and then a 3-3 draw against Südtirol – progressing at the expense of the Trentino Alto Adige club due finishing a place above it – in the first two rounds of the Serie C play-offs, Monza faced Imolese in a two-legged affair in the third round.
Once again, images of motor racing are evoked. Only in 1980 was the Italian Formula One Grand Prix held away from Monza and at the Autodromo Internazionale Enzo e Dino Ferrari in Imola instead, then the circuit in the Emilia-Romagna region hosted the San Marino Grand Prix from 1981 until 2006. 
In the battle between two cities synonymous with motor racing, Imolese won the first leg 3-1 in Monza but the Brianzoli came close to progression after winning 3-1 in Imola. Unfortunately for the Biancorossi, the Imolesi progressed to the next stage due to finishing third in Serie C Girone B.
During that campaign, Monza had also reached the final of the Coppa Italia Serie C, a competition which it has won a record four times. Although the Bagai won the first leg 2-1 against Viterbese, they lost the second leg in Viterbo 1-0, and they were not able to add to their tally.
Off the pitch, Nicola Colombo was replaced as president by Silvio Berlusconi's brother Paolo. Despite Berlusconi's holding group Fininvest buying 70 percent of Monza in September 2018, Colombo remained in his role as the chairman, but in March 2019, the Colombo era came to a close and his family do not have an involvement in the club.  
For the 2019/20 campaign, the Brianzoli decided to recruit players that had experience in Serie A. 
Goalkeeper Eugenio Lamanna and full-back Mario Sampirisi played for Genoa; center-back Giuseppe Bellusci had Serie A experiences with Ascoli, Catania, and Empoli; central midfielder Nicola Rigoni had top flight experience with Palermo and Chievo; and Gabriel Paletta played for Parma, AC Milan, and Atalanta, and the Argentine-born defender also represented Italy at the 2014 World Cup.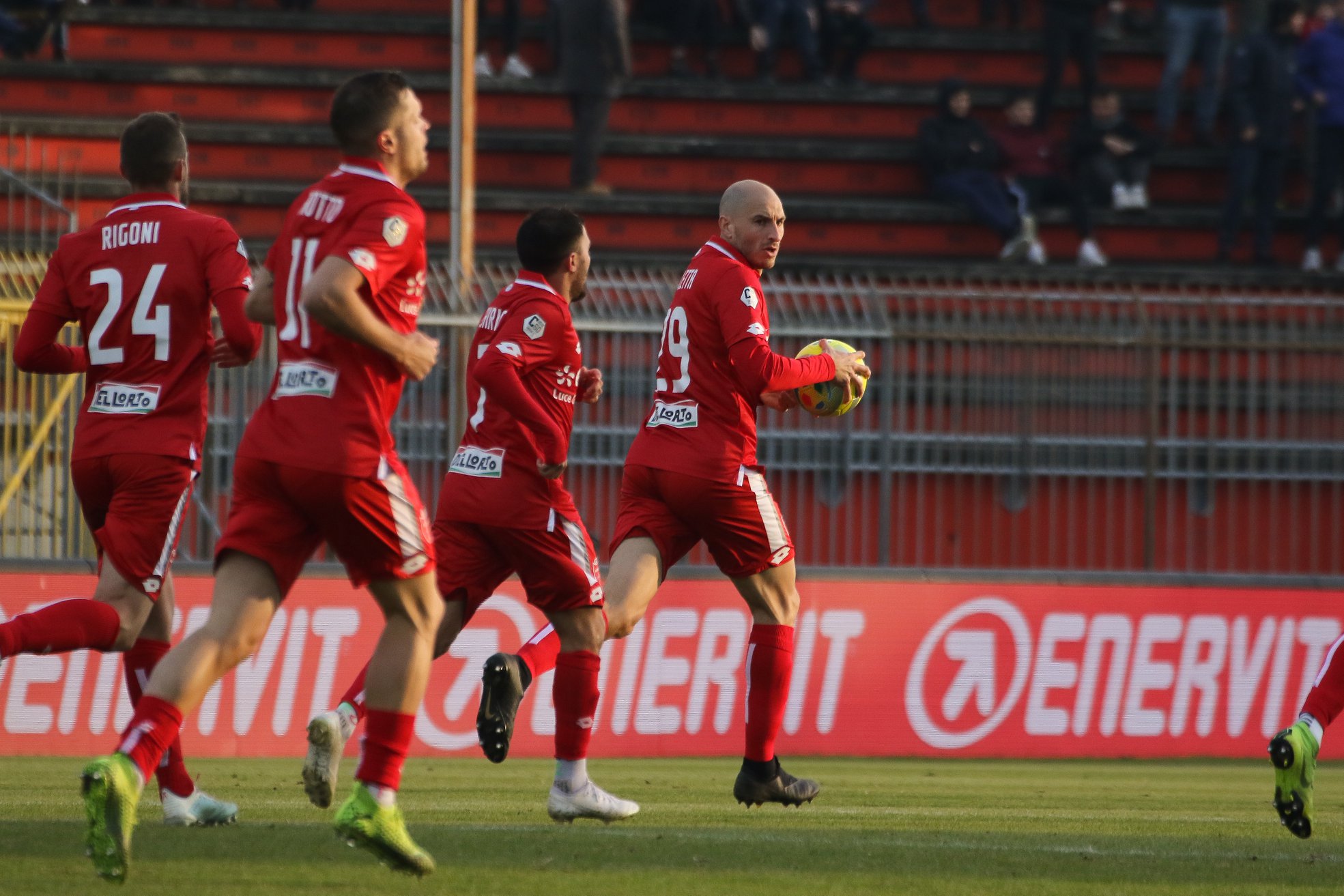 Photo: Antonio Mastrangelo / ZonaSport
Monza participated in the Coppa Italia, reaching the third round before losing 3-1 to Fiorentina, and its form in the Coppa Italia Serie C wasn't so great this time, eliminated by Pro Patria in extra time in their second-round clash.
As for the league, everything seemed to be plain sailing, and the Brianzoli never relinquished top spot. They won eight and lost just once in the opening nine rounds of the Serie C Girone A season and it was only until Round 26 against the Juventus Under-23 team when they suffered their second defeat of the season. 
Eventually the Serie C season came to a halt in northern Italy after Round 27 as the Coronavirus outbreak started to spread around the world. Their southern counterparts eventually played for a few more rounds but the Lombardy region where Monza is situated was affected the most.
It was made official in June that Monza, like the other two group leaders, would be promoted to Serie B. In Girone A specifically, the Bagai had been leading Carrarese by 16 points, and according to FIGC, their projected points tally was 86.231 while the Tuscan club had 62.637.
Although the Brianzoli did not complete the season per se, they had shown in the 27 rounds played that they were head and shoulders above the rest, and they are not resting on their laurels after earning promotion to Serie B.
Equatorial Guinea midfielder José Machín, who had joined Monza on loan in 2019/20, was bought outright for €4 million; 21-year-old Brazilian left-back Carlos Augusto was purchased for €4 million from Corinthians; Bosnian-born Croatian striker Mirko Marić joined from Osijek for €4.5 million; and central midfielder Antonino Barillà joined from Parma for an undisclosed fee.
There have also been some arrivals on free transfers. Right-back Giulio Donati was signed from Lecce, central midfielder Andrea Barberis has arrived from Crotone, and Danish striker Christian Gytkjaer joined from Polish club Lech Poznan. 
In addition to those purchases, Monza has signed some young Italians on loan from Serie A clubs such as defender Davide Bettella and midfielder Andrea Colpani from Atalanta, midfielder Davide Frattesi from Sassuolo, and goalkeeper Michele Di Gregorio from Inter.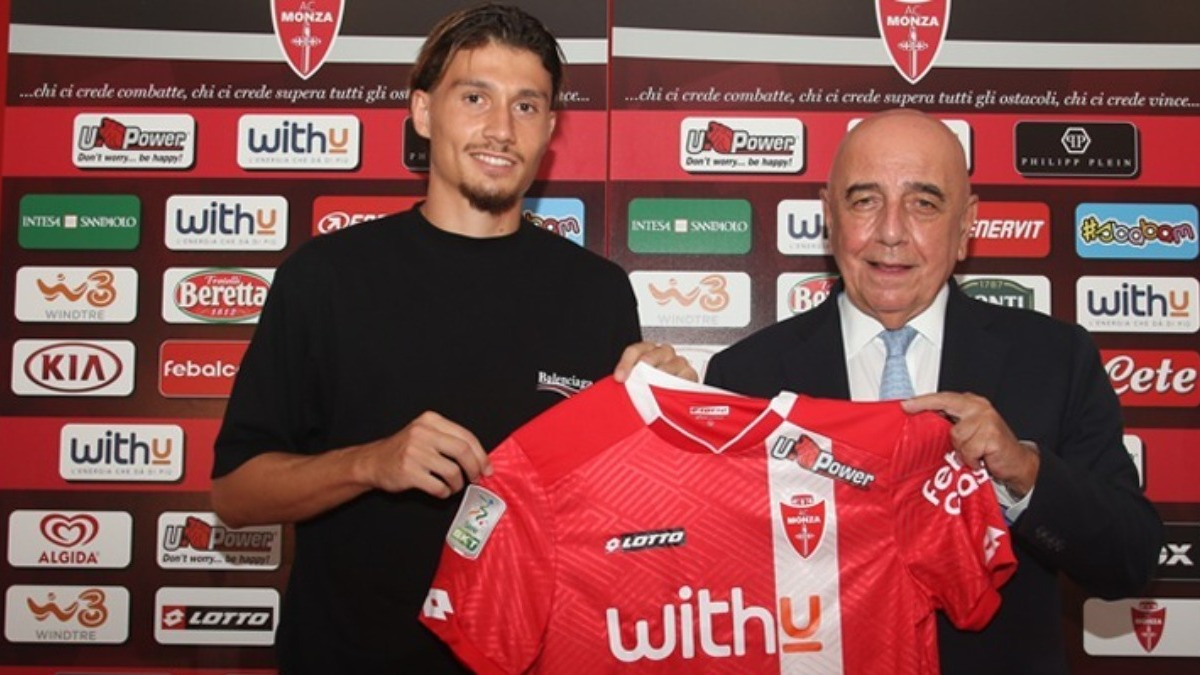 Photo: Monza Calcio
If that is not enough, Kevin-Prince Boateng is expected to sign for the Brianzoli from Fiorentina and he was one of AC Milan's stars when it won its last Serie A title in 2010/11.
With a blend of youth and experience in the squad, Brocchi certainly has options and the club has certainly given him enough material to build a team capable of securing promotion. 
Football might not be the first thing that springs to mind when a person hears of Monza but its football team might be able to create its own history thanks to its Rossoneri connection.
By: Vito Doria
Featured Image: @GabFoligno / ZUMA Press / Cordon Press