Italy, 1302. Dante was expelled from Florence.

He wrote of such events in The Divine Comedy in 1308, where he lacerated those in power and documented his journey through hell, to purgatory and into paradise.

A humid summer's night at Old Trafford, 2018. The Mourinho third season syndrome lurks in its night terror form, brooding in the dark and in the back of Manchester United fans' minds striking fear and worry that he may meet Dante's same fate of expulsion from a land he tried to govern.

With the fault lines not just showing but intensifying in the red half of Manchester, the Theatre of Dreams may unravel and provide the footballing world a season of nightmare once the curtain rises.

Why the link to Dante? What links fourteenth century Italy to twenty-first century England? Why, it's the fascinating idea of how José Mourinho subverts Dante's quest in The Divine Comedy.

Dante first endures Inferno, then into Purgatorio all to reach Paradiso by being guided initially by Virgil and then Beatrice- spiritual guides that sought to bring Dante at one with his soul and God.

However for Mourinho, it's very much subverted; his first and second season at a club is usually the Paradiso stage which Dante craves where there are several heavens of courage but is followed on the backslope of the second season (albeit usually a successful one) by an unearthly purgatory where the club limps over the line hailing a terse summer ahead.

Forget Beatrice and Virgil, José's guides Ed Woodward and Avram Glazer haven't led him to the vision of God in Paradiso but back to the undefined, unidentified, forest we first see in Inferno.

Thus we arrive in the third season that we reach the several circles of Inferno where fire fills the air and demonic spirits possess the once so omnipotent. The summer of 2018-19 has merely been a prelude to the Inferno ahead, meaning the conditions are ripe for Mourinho's Manchester era to potentially come crashing to a heaven splitting end.

In his world of grand designs, contradictions, paranoia and one ups, such a climate of terror and the unknown is merely part of Mourinho's Divine Comedy.

Let the curtain, rise.

Paradiso Lost?

"But already my desire and my will were being turned like a wheel, all at one speed, by the Love which moves the sun and be other stars."

– Dante (The Divine Comedy- Paradiso: Canto XXXII)
What is paradise? Is it heaven? Is it perfection?

In football, Paradise is the symbol of all things stable and glorious, to which football managers work for every living day. For some, it comes naturally- which is the case for José Mourinho.

As a born champion, Mourinho needn't involve himself in the soul searching that other managers such as Jürgen Klopp at Liverpool engage in. Winning is instant. Dining is instantaneous, take Jose's first season at Chelsea in 2004-05 as a prominent example.

As a result, he's already in paradise. He's already in the levels of heaven that Dante dreamed of in Inferno and Purgatorio. Dante dreamed of nine spheres of heaven: inconstant, ambition, lovers, the wise, warriors of the faith, just rulers, contemplatives, faith/hope/love and the angels.

Even in the two seasons at United, it's safe to say many of those spheres Mourinho has elevated United towards and in. For example; it was Mourinho's ambition for Manchester United to beat Chelsea to the £75 million signing of Romelu Lukaku, the 'wisdom' that's guided United to big victories (even if it was in a defeated war) over Manchester City, the 'just ruler' dictating the battle lines of what it means to be a Manchester United player… and so on.

All of this work has shown to be successful in some vein, as Manchester United lifted the UEFA Europa League In 2016-17 over Ajax, on top of the previously won League Cup. Trophies have returned to Manchester United alongside a iron fisted personality ruling the Old Trafford skies with an angelic grace, the first time (arguably) since Sir Alex Ferguson left the club in 2013.

Perhaps the one realm of heaven that only Mourinho has reached is the region above physical existence. Above the nine very spheres of living heaven. The Empyrean.

The Empyrean in The Divine Comedy is the light that envelops Dante to render him fit to see God itself. The very spherical essence of God. The eye into the soul. But its exposure is what sets the clock in motion for a backward journey for Jose, it's the Empyrean one could argue that creates an impenetrable hubris which forebodes future disaster.

Ever since the glimpse of the Empyrean upon Europa League victory and the swashbuckling start to the 2017-18 season, the Paradise seems to be losing sight.

And that's when it begins.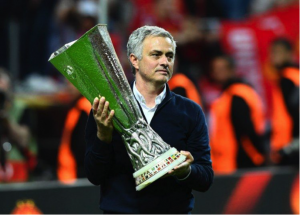 Heaven on Earth: Mourinho lifted the Europa League in his first season, and started strongly in his second…but an underlying hubris awaits.

The Summer of Purgatory

"Haste denies all acts their dignity."

– Dante (The Divine Comedy- Purgatorio: Canto III)
Traditionally, Purgatory is associated with the confrontation of the seven mortal sins and the ability to repent and cleanse the soul readies one for their ascent into heaven.

However, as we all know by now, we are recounting the subverted journey of Mourinho. Instead of cleansing from sin, Purgatory is the building up of these sins similar to clouds- once they are filled up to burst, the inferno can begin with fire and brimstone rain.

In the final furlongs of the 2017-18 season, paradise dissolved into a terse purgatory. From what seemed to be a sea change in winning a thrilling Manchester Derby at the Etihad, descent begin upon Manchester United's sleepwalk and snoozefest 0-1 defeat to West Brom at Old Trafford which won their cross city rivals the title.

Sins of avarice- the insatiable longing for excess- started to bubble inside Old Trafford when their own theatre of dreams was shattered by the nightmare of a City title.

Mourinho started to snipe at his own players and the United hierarchy, suggesting that he wasn't at fault for the 2017-18 campaign not achieving its primary aim. It saw the brakes applied in United's season at the wrong time, culminating in a bizarre outburst of United "not being as good as people think" following a 1-0 defeat to Brighton, just a fortnight after he purred that United "aren't as bad as people think" following the victory at City.

It also saw the trigger finger point at specific players such as Anthony Martial, in a blast that they must up their level.

The FA Cup final highlighted the entry into a deep purgatory. Mourinho's decison to wantonly bench Eric Bailly for no apparent reason (he cited it was because players on the World Cup needed to play…) would be one of the causes of the defeat, as stand in Phil Jones conceded the penalty that won Chelsea the trophy.

Trophyless and answerless, the end of Mourinho's second season has been stale and attracted disappointing form- all of which made the air tense. Such a mood continues in their pre-season tour of the US, where United currently are lethargic and excuses for the season ahead are being created. Troublesome.

It mirrors, quite eerily, how the Chelsea 2015-16 pre-season went. We needn't say more. Battle lines being drawn between manager and player, transfer worries dragging into the final fortnight, lethargy and tumult. Is it expectation management of the grandest of designs by Mourinho? Is this the excuse of not winning the title in season three when even he set the task of winning it in his first at United.

The waters are choppy. The clouds are gathering and blackening. The wind is blowing in the direction that's leading them away from purgatory and even further away from paradise.

Pre-season is thus an appetiser for what could be ahead. Hell. For now, however, United remain in a humid purgatory against the clock to assure the team is complete to compete.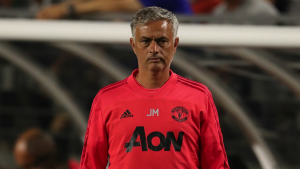 US and Them: Tension over transfers and players from the FA Cup final defeat dissipates into United's disappointing pre-season in the US, suggesting a storm is coming…

Full Circle

"Into the eternal darkness, into fire and into ice."

– Dante, (The Divine Comedy- Inferno: Canto IV)
The third season under José Mourinho either is the end or brings a perfect climate for his end. Akin to a Greek tragedy, it'll only end when everyone dies in bloody resolution.

Dante brings a philosophically complex yet broad image of what hell is imagined to be; possibly suggesting that hell isn't for baseless sinners but for sinners that manipulate God's very own world- to which true fatalism is necessary.

The most telling of Mourinho's method of madness is the seventh circle of Dante's hell: violence against people. It is the most grotesque epithet of his denouements at Real Madrid upon his public spat with Iker Casillas and at Chelsea upon his red eyed cries of the team betraying his work. It once more rears it's ugly head in the form of his criticisms of Anthony Martial, which may conclude with a transfer away from the club- with many deeming him a potential world superstar.

It is this hyper self absorption and a desperation to keep a fledgling ego inflated that culminates in Mourinho's innate compulsion to attack other people within his camp. To live on edge. To separate men from boys. But within this circle of hell, he doesn't make many allies.

It is also significant that he has descended into the several chasms of fraud- the eighth circle of Dante's hell. The most telling chasms that warm of an moment Mourinho self implosion are the hypocrites and falsifiers. The hypocrisy in the transfer window and the falsification in his spin; spinning disappointing seasons and the gulf in class between United and rivals Manchester City.

The ninth circle of hell, the Pit of Cocytus, is where we can see the end of Mourinho's Manchester United tenure through our fire clouded crystal ball. Within these pits lie layers of treachery, to which the end of his eras usually spell- whether it is Antenora (traitor to the cause) or Judecca (traitor to superiors), treachery is a motif in the end of a Mourinho spell.

Europe usually marks the spot for huge clubs in measuring success and reputation, so for a huge club like Manchester United it is quite important.

With last season's humiliating exit to Sevilla still seared into the faithful's mind, it may be a similar exit that begins the end. Presumably in the March-April time (a R16 or quarter final exit) the pit is opened by the red panic button and the season of fraught tumult will be brought to an end under a mushroom clouded inferno of chaos, bringing the comedy to a brutal and bloody end.

Therefore, Mourinho's soul searching in his divine comedy endured purification and deification, until the sins within begin to erode and pollute such a golden soul. The golden soul of a champion turns into deep, voided black soul that is anything but pure.

It is therefore apt that the Inferno ends his time at United, coming full circle.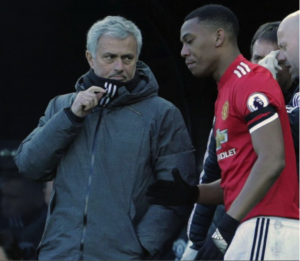 Unlucky Seven: Mourinho's alienation of Anthony Martial parallels his previous spats with Iker Casillas and Eden Hazard. By entering the seventh circle of hell, destruction of his era seems to be closing in.

Mourinho's Divine Comedy

From José Mourinho's initial exile from his vision of heaven at Chelsea (twice), you'd have thought Mourinho would have learned how sin can drive destruction and make hell home. It'd make him repentant.

After all, his teleology at Manchester United started off well. He was deeply entrenched in paradise when United eased past Ajax in Stockholm and when they laid down a huge statement of intent by signing Romelu Lukaku from Everton.

Then came the light of the Empyrean. Again. The beginning of a descent from hubris to eventual humiliation.

It lead him into purgatory as the 2017-18 season chugged to a stalling end at Wembley in a cup final defeat, the compulsion to self destruct throbbed. It marked the total end of Paradiso and started the short stay in Purgatorio whereby the lethargic pre season in the US is slowly heating up the world around Manchester United- just as it did in Mourinho's second spell at Chelsea in 2015 (where the champions' went stale at the end and embarked on a soulless pre season tour in the US).

We know in this subverted, Chelsea fans most so, Divine Comedy what happens next or- more accurately- where next.

Instead of taking them to a title paradise, the Old Trafford giants are sleepwalking from purgatory into hell. With only one result.

That being said, we can never predict what will happen in football. It's very much possible that United swim back into a leafy paradise in winning the title.

However, with a stark track record and a summer of foreboding, it is tempting to predict that the third season may once again prove to be Mourinho's kryptonite and undoing at Manchester United.

Astrology in The Divine Comedy showed how the geocentric universe can mark the levels of heaven as well as the levels of hell- how the stars can mark the layer of liberation or damnation.

Therefore, in an epic journey of soul searching akin to Dante, Mourinho's Divine Comedy suggests the end is written in the stars.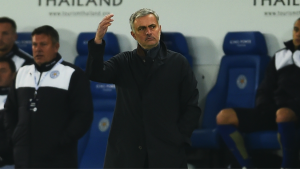 It's a Wrap: Mourinho's Divine Comedy seems to be hurtling towards a fiery, hellish inferno… and we all know what happens next.
Photo: Shaun Botterill