Real Madrid: 2017-18 UEFA Champions League Final Preview
The biggest match of club football is a few days away: the Champions League finals. The story couldn't be different as to whom we expected to be in Kiev. On one side, the majority did not expect Liverpool to appear in Kiev. In fact, one could argue that Liverpool were not the favorites to represent the English Premier League as a few teams heading into the preseason were cast as having a better likelihood. Liverpool's opponent, however, has dominated the scenes of Europe for the past couple of years. This upcoming Saturday, Real Madrid will appear in their fourth UEFA Champions League finals in five years. Real Madrid has won their past three appearances. Madrid finished second place in the group stage among eventual group winner Tottenham, Dortmund, and APOEL. Madrid despite finishing second has gone through an impressive run to appear in Kiev. Madrid has denied eventual domestic champions of Paris Saint-Germain, Juventus and Bayern Munich, all three of which had aspirations of enthralling European success. One would argue that if we are talking about strictly within the realms of the Champions League, the 2010s Real Madrid would be the greatest European dynasty ever since the European Cup rebranded into the Champions League. As Real Madrid did not have any alluring success in either La Liga or the Copa Del Rey, a 13th European Cup would salvage an underwhelming season for Los Merengues faithful.
There is one approach as to how Madrid will go about in Kiev. There is the approach that Madrid would like to sustain pressure by implementing the 4-4-2 diamond with Isco as the CAM, Toni Kroos, Casemiro and Modric being the center-midfielders while Cristiano Ronaldo and Karim Benzema spearhead the attack. Ideally, if Madrid implements the 4-4-2 diamond, conventional thinking is that Madrid will attempt to absorbed Liverpool's renowned pressing by building up play and sustaining pressure. With Toni Kroos, Isco and Modric being renowned for their abilities to shield the ball efficiently and being creative to sustain pressure, Madrid will likely outnumber Liverpool's midfielders when it comes to having an option for a passing lane. Toni Kroos and Luka Modric will have their typical roles where they dropped into the defensive half-spaces to stabilize the circulation by staying flat to each other in the half-spaces which Madrid look to overload with their quality wing-backs: Marcelo and Dani Carvajal. Toni Kroos and Luka Modric will do a lot of work if Madrid implements the 4-4-2 diamond against Liverpool, controlling the match as deep-lying playmakers while also acting as some sort of box-to-box midfielders considering width is only provided by the wingbacks of Madrid. Isco, on the other hand, will be provided a free role should Madrid implement the 4-4-2 diamond.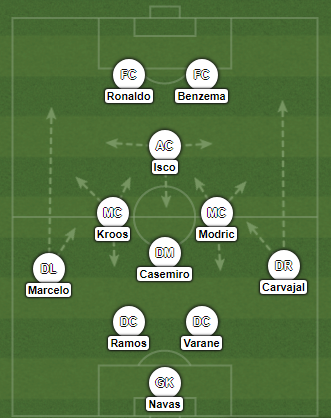 Isco floats into space vertically like a traditional #10 to provide some sort of creativity. Isco also floats into space horizontally to create overloads with the overlapping wingbacks of Marcelo and Carvajal. Isco is the key figure within the 4-4-2 diamond as he likes to collect the ball, play one-twos with the midfield three of Kroos, Casemiro and Modric as a means of sustaining pressure and building up. If Madrid does implement Isco as a starter in Kiev, Madrid is daring for Liverpool to win a war of attrition. Madrid is daring Liverpool to press within a whole match while thinking if the game is close?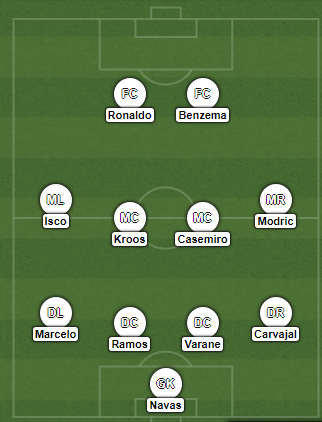 Conventional wisdom indicates that Madrid would prevail as Madrid has difference makers in the reserves against the concentrated, but tired legs of Liverpool such as Marco Asensio, Lucas Vazquez, and Gareth Bale. Another facet of this final is the dominating period frame. Madrid usually struggles to get into gear in the first 15-25 minutes. This is where Liverpool are the most energetic and at a high level. And when Liverpool is tired out in the last 25 minutes, Madrid would be well into gear. The disadvantage with a 4-4-2 diamond is that it is easier to counterpress a narrow formation such as the 4-4-2 diamond especially if the wingbacks like to push up into advanced positions. Liverpool in the Champions League likes to direct their play to their fearsome trio of Mane, Firmino, and Salah as soon as possible. But if there is any team that has shown the ability to absorb pressure throughout the Champions League, it would be Los Blancos.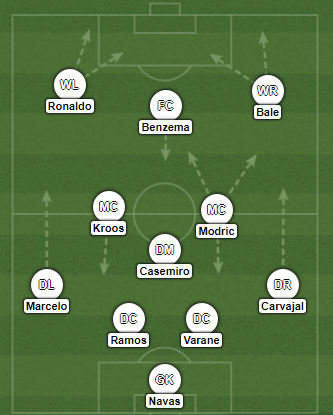 A curveball within the realms of Spanish capital is that Madrid would actually implement a 4-3-3 with the forwards of Ronaldo, Benzema, and Bale being the spearhead of the attack. Bale for the past few weeks has been in amazing form. If Madrid implements the "BBC" as the trio to spearhead Madrid's attack, one would think that Madrid will do something entirely different. Madrid will dare Liverpool to build up play, use their midfield trio and absorbing pressure if Madrid implements Ronaldo, Benzema, and Bale. It would not be the first time in a Champions League final in which, Madrid played pragmatic football. Two years ago in Milan, after Real Madrid fired the first shot via a Sergio Ramos' goal? Los Blancos were content with conceding possession to Atletico Madrid since building up is not the bread and butter feature of their noisy neighbors. Now if we flash forward two years ago, it would not surprise me if Madrid does the same to Liverpool. Real Madrid if anything, would not mind to counter-press Liverpool and hit them on the counter-attack. Indications have shown that Madrid has no issue counter-attacking their opponents in the Champions League, as they do it more often in Europe's grandest stage than their fixtures in La Liga. If Madrid reverts to a pragmatic sort of football, Kroos-Casemiro-Modric will need to press as a cohesive unit. The inside forwards of Ronaldo and Bale will likely make Madrid a narrow 4-5-1 defensive shape, with Casemiro protecting the center-backs and patrolling the midfield as the anchor of the midfield.
Casemiro will be among the most important player if Madrid plays the 4-3-3 as Casemiro is tasked with marking Liverpool's best build-up player: Roberto Firmino who acts as a false nine. If Casemiro does his task, Sergio Ramos and Raphael Varane will not have to do too much. As Liverpool loses the ball theoretically, conventional wisdom indicates that Madrid will counter with the searing athleticism of Bale and Ronaldo in either flank with playmakers having great decision-making as to when to start and end the attack from the searing crosses of Madrid's wingbacks, midfielders pinpoint passing and a certain Benzema that can hold up play enough for anyone that wants to participate in a counter-attack. Essentially, if Madrid starts Bale ahead of Isco? It is Madrid's way of saying "Anything you can do, I can do better". Madrid by implementing the 4-3-3, will be pragmatic, concede possession to Liverpool but brutal when counter-attacking.
It is difficult to see how Madrid will go about their approach in Kiev. Many call for a ball-retention formation with Isco at the helm of the attack and daring Liverpool to sucker-punch Madrid as a means of preventing a war of attrition taking place. Others such as I, would not be surprised if Madrid attempt to beat Liverpool at their own game by conceding possession to Liverpool and strike the Anfield faithful with a fearsome counterattack. Ultimately as a Madridista faithful, I cannot predict the scoreline as to who will win. Anyone can win in a one-off final as anything can happen. Theatrics, fights, cards, brawls, supporters uproar. Anything can happen in a final as the cliché goes. What will happen is two storied clubs are battling to win their first and only form of major silverware for the 2017-18 season. The Anfield faithful can look at their team with their heads held high regardless of what happened in Kiev as Liverpool has exceeded expectations. But for the Bernabeu faithful such as me? The difference of victory or defeat in Kiev is also the difference if the 2017-18 Real Madrid is ultimately a successful one.
Predicted lineups:
Liverpool: Karius, Robertson, Van Dijk, Lovren, Alex-Arnold, Milner, Henderson, Wijnaldum, Mane, Firmino, Salah
Real Madrid: Navas, Marcelo, Ramos, Varane, Carvajal, Kroos, Casemiro, Modric, Ronaldo, Benzema, Isco/Bale

Writer: Tommy/@VIVALACRISTIANO
Photo: Getty