Round of 16 Fan Preview: Schalke 04
The round of 16 match between Manchester City versus Schalke is a unique one. Most fans, especially those not too familiar with the German club, will be quick to suggest this should be a cake walk. How can it not be, with a team second in the English Premier league and oodles of money against a team sitting twelfth in the Bundesliga? However, one should not overlook who Schalke are and what they can do.
Schalke are one of the big clubs in world football. They are also a rich club, consistently ranking in Forbes Top 20  list (https://www.forbes.com/sites/mikemeehallwood/2019/01/24/how-to-read-the-2019-deloitte-football-money-league/#7442c17d1e42)
Schalke used to be a consistent challenger to Bundesliga title year in and year out, and even made it all the way to the Champions League semi-finals in 2010-11 campaign. However, the last several years has seen the club from Gelsenkirchen struggle.
Last season saw a new young manager by the name of Domenico Tedesco come to the fore in his first season in a major league. New in the sense that he was not only new to Bundesliga football, but in the sense he only began coaching professionally the season before with Erzgebirge Aue in their last eleven games of the season. Tedesco was not only new to coaching professionally, but he was only 31 when he took the reigns of Schalke.
The young Italian-German took off in his first season at Schalke, finishing second in the Bundesliga and boasting one of the stingier defenses in the league. Tedesco brought stability to the defense and flexibility to the team.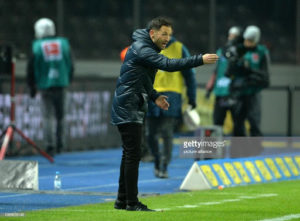 (Photo by Jan Kuppert/picture alliance via Getty Images
Flexibility is an important characteristic in today's modern game. Look no further than Pep Guardiola and Manchester City. Guardiola has built a dangerous team that is flexible and can adapt to any situation. So, how can Schalke compete with the juggernaut that is City? By discipline and execution.
The Cityzens more often than not like to begin with a 4-3-3 base and adjust to the opponents. Guardiola's men have used an array of formations such as 4-2-3-1 or 3-4-2-1 and more. Opponents of Manchester City concede they will unlikely have much possession, and thus tend to use a 5-4-1 to soak up any attack throw at them.
Doing that is fine and dandy, if you have discipline.
A prime example as pointly explained by ManchesterCityAnalysis (https://manchestercityanalysis.com/analysis/match-analysis/city-march-pursuit-quadruple), Burnley tried to use the same formation and Guardiola adjusted and came out with a 2-4-3-1 formation to attack Burnley and eventually switched to a 2-3-5. Changes like this led to yet another victory by the flexible and adaptable City team.
The reason Burnley failed is by giving up far too much space despite hunkering down. This is where Schalke can learn from.
Schalke's stout defense from last season mostly played in a 3-4-3 formation. This season, Tedesco has incorporated a plethora of formations, playing as many as ten different formations. This came about as Schalke started out quite poorly, causing Tedesco to struggle to gain consistency. Not only have Schalke been flexible in formation, but also in personnel. Tedesco has used players in a multitude of positions. One player in particular, Weston McKennie, has played in every position this season with the exception of goalkeeper.
Schalke have become more formidable over the last two months, and have gone to a 4-2-3-1 or some variation of that. Though this is the base, Schalke will push up their wing backs into a 2-4-3-1 or a 2-2-2-2.
Formation aside, execution will be vital. Missed opportunities tend to haunt opponents of Manchester City. If we want to learn a way to attack City, look no further than what Crystal Palace did recently.
Palace came out in a 4-5-1, which is not too dissimilar from what most have used. Their positioning was more telling.
(https://manchestercityanalysis.com/wp-content/uploads/2018/12/defcp.png)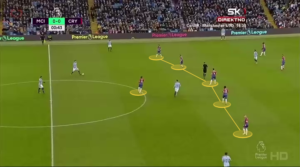 Crystal Palace used their numerical advantage in midfield to pressure the playmakers of City high, well away from goal. This was critical because any mistake that was made was not near their box, but in a neutral location.
Palace were, more importantly, clinical. They countered City when opportunities presented themselves. Palace had three attacks in the City box and scored three goals. Talk about clinical finishing.
Tedesco preaches pressing triggers to his team. They have different moments where they press and the team is once again on the same page, or so it appears. Schalke can learn from the mistakes made by teams like Burnley, who did not put pressure on Kevin De Bruyne and company. These trigger points will be vital to disrupting Guardiola's attack.
More so, once Schalke gain possession, they must be decisive. Daniel Caligiuri and Bastian Oczipka will have to be at their attacking best. The two Schalke wing backs will need to fly down the pitch and cross it into the box looking for the strikers in the box.
Oczipka in particular, may have to be more aggressive than he normally is. Successful teams against City have exploited the attack mostly down City's right side, where Kyle Walker plays as a right back. Opposition used this weakness to cross balls in and carve out quality scoring chances.
Schalke will have to improve in their scoring if they want to mount a serious challenge to City. Goals have been hard to come by for the Germans this season, however, the trend as of late has seen the Royal Blues average just over two goals per game over their last three.
The first leg will be at Veltins Arena and the return at the Etihad. If Schalke can keep a clean sheet or get a victory at home, the odds of progression will be increased dramatically. The Etihad will be tough, but as Crystal Palace demonstrated, it is not impossible. This will be closer than anticipated.
First leg prediction: Schalke 2-1 Manchester City
Second leg prediction: Manchester City 3-1 Schalke
Author: Richard Kharman (@R_Kharman of @S04_podcast)
Photo: Schalke 04