Sérgio Conceição: From Makeweight to Heavyweight
In late January 2020, following the defeat against SC Braga, Sérgio Conceição made his position untenable. Despite having guided FC Porto to the league title in his first season in charge (2017-18) – with a record 88 points and 119 goals scored, the 45-year-old still wasn't satisfied with the status quo.
Six months after leading the Dragões to their first league title since 2013, the Coimbra-born manager was struggling to keep his squad intact. UEFA's Financial Fair Play (FFP) rules have hit FC Porto hard in recent years, and the club's precarious financial situation saw several key players depart Porto, with the club failing to secure adequate replacements.
Photo: Global Imagens
The results weren't favorable either – the club was seven points behind rivals and defending champions Benfica, as well as exiting the UEFA Champions League in the preliminary round after losing to Krasnodar. Midway through his third year at the helm, Conceição was convinced that things were not going in the right direction. 
Despite the many uncertainties, neither Conceição stepped down, nor did the board contemplate his removal. Six months later, the club and the manager are celebrating an amazing turnaround of fortunes, and a second league title in three seasons.
"We won one of the most important titles in Porto's history," Conceição told the media shortly after FC Porto had sealed their 29th Primeira Liga title. The club management seemed to concur. 
"I think that everyone recognizes Conceição's value in technical, tactical terms, in the way he works," club president Pinto da Costa told Porto Canal.

"But he is above all an indomitable spirit, like a dragon that took over the defense of FC Porto. He is the first defender. It was only in that spirit that it had been possible to turn this situation around."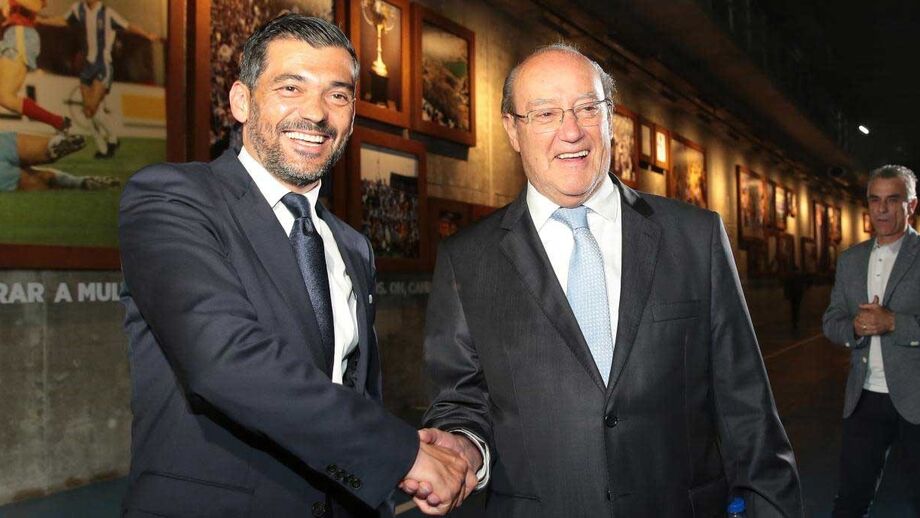 Photo: MoveNoticias
The surprise change of fortunes, coupled with the silverware, has given Conceição the upper hand yet again. The manager can use this success to bargain with the management; not only regarding his own future, but also about the club's overall ambition.
Reports in Portuguese media indicate that Conceição, well aware he will lose key players in the summer market, has already imposed conditions to continue at Porto in the next season.
The advantageous position of Conceição the manager comes in stark contrast to Conceição the player. Despite being a formidable winger and a regular with the Portuguese national team, he was deemed dispensable by his club not once, but twice in the span of two years.
In fact, the most successful period of his playing career, both in terms of impact and silverware, was followed by a couple of years in which he had absolutely no control over his professional future. Decisions were made, or rather enforced on him, and it was anything but a reward for his consistency and success that had been attained in previous years.
After starting his professional career in the second division, Conceição made his first big move in 1996, joining Porto. Two immensely successful seasons later, he joined a newly rich Lazio side, managed by Sven-Goran Eriksson. He prospered in Rome, helping the Biancocelesti win the UEFA Cup Winners Cup in his first year and the domestic double in his second.
Photo: Reuters
He also prospered for Portugal at the Euro 2000, scoring a hat-trick against defending champions Germany in the group stage and helping his national team reach the semi-finals.
However, his consistent contribution notwithstanding the Roman club's ambition meant no player was indispensable. Having already succeeded in securing big money moves for the likes of Christian Vieri, Juan Sebastien Verón and Marcelo Salas, the club management decided further additions were needed to maintain the momentum.
Hernán Crespo, Parma's all-time leading goalscorer, was identified as the next target. Parma would have not let their prized acquisition – who had scored 22 goals in the season prior – go on the cheap. They agreed to sell the Argentine for a then-world record £35.7 million, with both Conceição and Matías Almeyda joining Parma as part of the deal.
Without being consulted, Conceição had been made the makeweight and the Portuguese was palpably peeved. "I deserved greater respect for what I have given to this club," he said. "I still know nothing about it; no one has told me I could be sold."
Conceição struggled to settle at his new club, and his overall performance on the field was decent at best even as Parma finished fourth in the 2000-01 campaign behind AS Roma, Juventus and his former club Lazio. The Gialloblù also reached the Coppa Italia final, losing 1-2 on aggregate to Roberto Mancini's Fiorentina.
Photo: ANSA
However, if the Portuguese had contemplated settling down at the Stadio Ennio Tardini for a longer period, he was in for another surprise. In the following season, he was used as a makeweight yet again. On this occasion, he wasn't part of any record-breaking deal but was being exchanged for a young goalkeeper.
With Internazionale spending €26.5 million to acquire Francesco Toldo from Fiorentina, 21-year-old French goalkeeper Sebastien Frey was deemed surplus. The Nerazzuri think tank wasted little time in sanctioning his transfer to Parma, with Conceição part of the swap deal. 
For a second straight year, the Portuguese had been used as a makeweight. However, he wasn't disappointed this time. 
"I am very pleased to be here in Milan to play for a glorious club like Inter. I have chosen to accept the offer of the president Moratti because I believe that this club can do excellent things next season."

"I am very motivated, especially as the club has shown its ambition by refusing to release [Christian] Vieri. When we were at Lazio together, Christian and I had excellent results and I can guarantee that I will do everything to replicate that this season."  
Conceição featured regularly and performed admirably, as Inter finished third in the table, an improvement from their fifth-place finish the previous season.
The following season, the Nerazzuri moved up one position, ending second behind champions Juventus in what turned out to be his final season in Italy. From then on, he spent a lone season at Porto, winning the league title, before heading to Standard Liège in the summer of 2004 and winning the Belgian Golden Shoe in his first season, an annual award given to the best player in the league.
However, his second season did not go as planned. On March 27, he was banned for four months after spitting on a Zulte Waregem player, before taking off his shirt and armband and shoving them into a referee.
He left shortly after losing the 2006-07 Belgian Cup Final to Club Brugge, joining Kuwaiti side Qadsia SC on an annual salary of €1.1 million. However, he failed to settle in, and returned to Europe after six months.
After several failed deals to join Portuguese clubs, Conceição signed an 18-month contract with Greek side PAOK, where he would play under current Portugal manager Fernando Santos. Conceição was given the armband and became a fan favorite for his leadership and dedication. Nevertheless, knee injuries took their toll on him in the 2009/10 season, and he retired at the age of 35.
Photo: MotionTeam
The Portuguese's experiences as a player albeit helped strengthen his resolve when he became a manager. Before joining FC Porto, Conceição had been in charge of five clubs in as many seasons, with no major trophy to boast of.
A Taça de Portugal final defeat to Sporting Lisbon in 2014-15, when he was in charge at Braga, was the only semblance of a memorable result on his CV up to that point. Yet when he was officially unveiled at the Estádio do Dragão on June 3, 2017, Conceição made an emphatic announcement.
"I didn't come here to learn, I came to teach. I'm a coach at Futebol Clube do Porto," he declared.
Conceição backed his strong words with an equally strong temperament, meticulous planning, and implementation. In his maiden season in charge, Porto ended Benfica's hopes of a fifth straight title.
His second season at the helm of affairs witnessed the blue and white lead the standings by seven points at the halfway mark. Then, they imploded, and a Benfica side led by new manager Bruno Lage and breakout stars João Félix and Florentino Luís went on to win the title. This season, Porto have done the opposite, by reversing a seven-point deficit and taking home the title.
Conceição's stocks have expectedly risen. More importantly, in all the three seasons that he has been in charge, Porto has managed to score 100 or more goals, highlighting their manager's aggressive approach.
His on-the-field achievements notwithstanding, Conceição, though not hypercritical, hasn't shied away from expressing his disappointment with matters off the pitch. He has been vocal as regards his relationships with the management and his colleagues. But at the same time, he has been realistic, as he was during his playing days.
The Porto boss is aware that he will lose key players such as Alex Telles and Jesús Corona this summer, that Benfica will come back with a bang under Jorge Jesus, and that if Porto put out another embarrassing showing in Europe, he could be on his way out. But he can rest assured that, should club president Pinto da Costa decide to sack him, he will have plenty of suitors outside of Portugal.
Once a makeweight in his playing days, Sérgio Conceição is well on his way to become a managerial heavyweight.
By: Bikash Mohapatra
Featured Image: @GabFoligno