Tactical Analysis: Metz 2 – 4 OGC Nice
Throughout the 2016/17 footballing season, there were many interesting matches. Many of these go relatively unnoticed in the chaos of the schedule and are neglected in terms of the depth they deserve. In a BTL exclusive feature, writer Ross Eaton (@boxtoboxcb) will be analysing a series of these intriguing football matches…
On gameweek 10 of Ligue 1, Lucien Favre's Nice side topped the French league table by a gap of four points. Title rivals PSG had slipped up and the Eaglets pounced. Favre had shown tactical versatility in his opening months as Nice boss, implementing and adapting similar systems and styles to different situations and shapes. Metz, though not spectacular, were intriguing to watch following their promotion from Ligue 1, occupied a mid-table spot.
Metz utilised a 4-4-2 formation, which in possession often transitioned into a 4-2-3-1. The chosen line-up was as follows: Didillon; Rivierez, Milan, Falette, Signorino; Sarr, Cohade, Mandjeck, Nguette; Jouffre; Erdinc.
Nice played with a fluid and pragmatic 4-3-3 shape. Cardinale was the GK, ahead of him Souquet, Dante, Malang Sarr and Ricardo Pereira. The midfield three had interchangeable positions. This was made up from Cyprien, Seri and Remi Walter. Eyserric was chosen as the right-winger, with Allasane Plea and Belhanda playing from the CF and LW positions.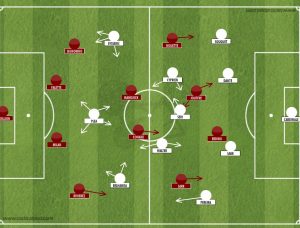 Beating the Block in Early Phases with Variable Movements
Facing a Nice midfield which possessed great qualitative superiority in the three central lanes of the field, Metz defended from the front with the objective of denying Nice spatial or positional superiority in key central progressional spaces.
Defending initially from a 4-4-2-0 shape, which saw Jouffre join Erdinc deep as a front pairing, Metz adopted a relatively position-orientated approach. Aiming to contest the central spaces of the field, Metz appeared to be very comfortable with Dante and Sarr being unopposed in deep possession, with Erdinc and Jouffre having a greater focus on preventing passes and restricting spaces in the central-midfield spaces than pressing Nice's centre-backs. In response to this, Nice's full-backs, particularly Pereira, moved higher up onto their respective wings, as Nice needed little presence in the backline. This further engaged Metz' wingers onto Nice's full-backs, which saw them defend slightly wider than before, on the wings rather than halfspaces. By Metz wingers beginning to defend primarily on the wing, the halfspaces opened up slightly, which allowed Nice's centre-midfielders a little bit more space.
With Nice struggling to progress from phase one or two of build-up, non threatening ball circulation seemed to be all they could muster up. Nice had to to take full advantage of any weak point in Metz block if they were going to be more efficient in their progressional possession. With a combined age of 22, Nice's youthful midfield of Wylan Cyprien, Jean Serri and Remi Walter appeared to take it upon themselves in extremely intelligent and impacting performances. Though manager Lucien Favre had provided the players the foundations of a system allowing free-flowing movements, it was up to the players themselves to make use of the situations provided and created in order for it to be effective. This was certainly done so by the Nice players, particularly the three central-midfielders.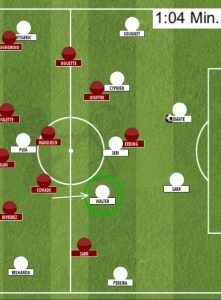 One common movement we saw was for the 6 of the situation to play between Jouffre and Erdinc (central midfield forwards – CMFs), to keep them occupied, the ball-near CM would push up near the 10 space in order to stretch Metz' CMFs to reduce the vertical compactness between Metz' midfield and forward line, and the ball-far CM would drop from a slightly higher position into a deep midfield position in the ball-far halfspace. Due to Metz' centre-midfielders focusing on lateral ball-orientated shifts, and the ball-far full-back and winger preferring to control the far wing, this left the ball-far halfspace open for Nice.
In the case of good timing of the CMFs movement, quick identification and circulation, and lastly correct execution, this pattern was very effective in exploiting a weaknesses in the otherwise largely strong first phase Metz block.
Combinational Focused Positional Play
Playing from their free, extremely variable 4-3-3 base shape, the positional play of Nice was largely dictated by the requirements of each situation to create and make effective combinations.
By having movements orientated largely by combinations, we see a quite a ball-orientated positional play style. This saw a lot of Nice's movements coming towards the location of the ball, without any significant consideration of teammates positioning. Here, Nice would attempt to create many situations of numerical and qualitative superiority. These were largely in tight spaces, as Nice would often pack three or four players locally to the ball.
Common movements we saw from Nice included dropping movements from central-forward Allasane Plea to either receive longer flat passes and provide lay-offs for onrushing midfielders, or to drop between lines and receive and turn to dribble the ball into the final third.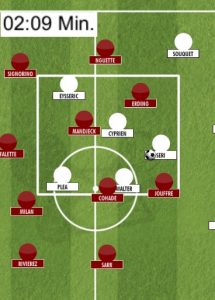 When Plea made these dropping movements, Eysseric or Belhanda would be tasked with making vertical movements to keep Metz backline occupied, or even stretch it. Interestingly, we also see vertical movements from Cyprien from the 6 space, in order to make combinations with Plea, Seri and Walter in the 10 space.
Though these movements meant Nice created, and successfully utilised many combinations, particularly vertical ones which efficiently took the ball in their possession closer to the goal, there were downsides. With other zones on the field being vacated in order to allow for overloads local to the ball, some zones on the field were left unoccupied situationally. This even happened for extended periods of time sometimes, due to common long movements from Nice players towards the ball. The positional play meant that Nice were at times unbalanced, as despite strong structures locale to the ball, underloaded areas with potential for opposition counter-attacks were largely neglected. The far-side wing was one underloaded area of Nice's positional play which Metz looked to exploit and use for counter-attacks. With Eysseric/Belhanda often moving inside to help overload the centre, Souquet/Pereira were left in 1v1 situations on the wing against Metz quick wingers. In the case of a turnover, Metz would often play hopeful high passes out to the far-side wing, with Sarr/Nguette looking to receive and make direct runs at their opposition full-back.
Conclusion
In an exciting affair which saw six goals fly in, Nice ran out victorious as their excellent Ligue 1 form continued.
Playing an easy-on-the-eye style of positional play, Nice's combinational play was not only great to watch, but extremely efficient in making clean and quick progress in possession. Though a more balanced type of positional play will certainly be necessary in terms of sustainability at a high level, Favre seemed to be getting the best out of his squad with the currently implemented principles.
Photo: AFP