Tactical Analysis: Olympique Lyonnais – Les Gones Are All Right
With Olympique Lyonnais sitting in 4th place, 21 points off the leaders Monaco, their season may seem a fruitless one, but recently they have been playing some immaculate football. While not doing the best in Ligue 1, they have advanced to the quarterfinals of the Europa League, after getting knocked out of the Champions League in a group with Sevilla and Juventus. They've knocked out Roma 5-4 on aggregate. In their last 5 league games, Bruno Génésio's men have only lost to defending champions PSG in a 2-1 encounter. Disregarding results, they have played free-flowing, attacking football. They may not be the most possession-oriented team, but they create chances and are a very fun team to watch. Lyon has so many young talents on their team as well, with players like Tolisso, Lacazette, Cornet, Fekir, Ghezzal, and the list goes on.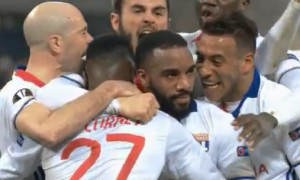 The Squad
The young, talented Lyon side has so many options in defense as well as attack. In both of their Europa league games, as well as their league match against PSG, they played a 4-3-3. Anthony Lopes the man in goal, and Diakhaby & Mammana the starting centre-backs. Yanga-Mbiwa played in for Mammana against PSG, due to injury. Jallet the preferred right back to Rafael, and Morel the left back. There are so many options in midfield, but the Gonalons is always the man to get himself into the team. This man is a top quality footballer, and I wouldn't be surprised if there's a team that swoops in for him. In more attacking roles, there's Tolisso, Tousart, and Fekir. So much talent in the midfield, and to add to that they have Ferri and Darder to come off the bench. On the flanks, they have Memphis Depay (who is ineligible for the Europa League), Valbuena, Cornet, and Ghezzal. Finally, at the 9 they have the Alexandre Lacazette. This man is elite, and will definitely be making a big money move in the near future.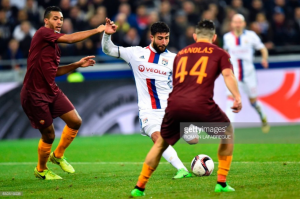 Style of Play (Defensively)
Lyon has two major defensive systems, a 4-3-3, and a 4-4-2. In these two systems, they typically sit in a mid block. They're more of a team that likes to soak up pressure rather than pressing up the pitch, but they do press occasionally. They are more zone oriented rather than man oriented. In the second leg against Roma in the EL, they particularly sat back, which was disappointing to see. They were holding onto an aggregate scoreline, and Roma kept attacking at them for most of the second half. It was wave after wave of attack. Fortunately, they came out with the result, but I don't think it was deserved. I see their style of wanting to sit back and absorb pressure, then counter, but I think they'd be more successful if they won the ball high up the pitch, and went from there. Also, they played in a 4-4-2 against PSG, with Fekir and Lacazette pressing the center backs. It was effective as they created turnovers and forced mistakes against a PSG side that loves to come out and play football. Hopefully we'll see more of this in the future from Bruno Génésio's men.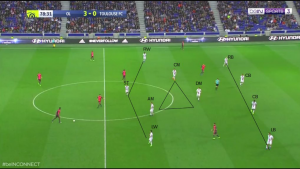 Style of Play (Offensively)
As I mentioned before, Lyon play lovely attacking football. Their positional structure isn't why they're successful, but rather their movement in attacking areas. Players like Tolisso, Fekir, and Lacazette are so talented, and have such good movement that they can create chances from it. In the build-up phase, the two CBs will split and Gonalons will sit just in front of them. Lyon has a great ball playing center back in Mammana, and they can keep possession well, but I wouldn't call them a possession team. It depends on what kind of block the opposition is playing, but they're never afraid to hit long passes. Gonalons is so key for Lyon because he keeps the game ticking and passes the ball very well. Once they get into the attacking third, their play is very individualized. They've scored some great goals, particularly in the first leg of the EL tie against Roma. The Tolisso goal in that game epitomizes a Lyon attack, and the Fekir goal was an astonishing solo goal.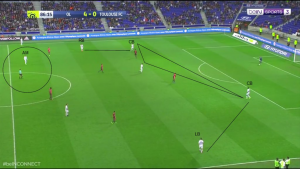 Simple analysis for the Tolisso goal. Such good movement. Lacazette 10/10 performance. OL so much talent & creativity. pic.twitter.com/QUxQLtsX3E

— Nonstop Press (@nonstoppress) March 11, 2017
(Simple Analysis for Tolisso Goal)
The Importance of Jallet and Gonalons
Christophe Jallet and Maxime Gonalons are the two most important players in the Lyon side. Not only because of their age and experience, but also their quality and composure on the ball. Starting with Jallet, the right back is always making the right decision, in and out of possession. He knows when to get wide, when to tuck in, when to play long, and when to keep the ball. A manager's dream. While not always getting into the starting lineup, the 33 year old has experience, and is an essential player in a team full of youth. Gonalons, the regista, is a player that I could definitely see making a transfer to a bigger club, especially when he is in his prime. Lyon would definitely not function the same without him. He's always showing in possession, always playing simple and keeping the ball with a cool head. A vital player to the team.
Young Talent
Corentin Tolisso – This man is an absolute gem, and every top club in the world is keeping their eye on him. He has it all. The dynamic attacking midfielder is known for his long range pass and shot, but he offers so much more than that. At times he can drop deep, like he did against PSG, and dictate play. Also, a very versatile player, and Génésio has had him at RB, LB, and CDM, at times. He is what I would call a complete centre-midfielder, at the age of 22.
Alexandre Lacazette – The 25 year old Frenchman is bound for a big money move very soon. His movement in attacking areas is superb, and he comes up with big goals in big games. In the first 30 games of the 2017 Ligue 1 season, he is the second leading goalscorer with 23 goals, only behind Edinson Cavani. Also, he's a threat on set pieces, and can hold the ball up very well for Lyon.
Memphis Depay – Memphis is slowly starting to find his feet at Lyon. At only 23 years old, the Dutchman has lots of time to settle in and grow. After the transfer in January from Manchester United, I think he's in the right place. A slow start, but he's played some decent football since. The winger scored arguably the goal of the season against Toulouse from 40+ yards, and in that game he had a brace. That glimpse just shows what he's capable of. We haven't really got to see enough of him this season, but I think we all know what he's capable of.
Conclusion
With Lyon not having the best of seasons, result-wise, they have played some great football, and they have some gems in their side. Yes, they may not be doing the best in Ligue 1, and they did get knocked out of the CL, but no one can deny the ambition of this young side. They're still in the Europa League, and are one of the favorites, whilst fighting for the top four in Ligue 1.
By: @nonstoppress
Photo Credit: RTL France