Tactical Overview: Women's World Cup Group Stage
The Women's World Cup started on June 7th and has been a complete success. Full stadiums, broadcasting records, a lot of inspirational stories and the most important: quality soccer. In a competition whose consequences and effects go beyond the field and the actual games, fighting for gender equality and women's rights, women's soccer is growing exponentially and a lot of the countries that invested in it are now seeing the results. We all know the typical favorites and stronger teams: USA, Sweden, Brazil, Norway, Canada, Australia, Japan or Germany. The good news this year are countries that built competitive teams without having that history in earlier competitions. Teams like Italy, France or England, but also Chile, Argentina, China or Nigeria, who are starting to fight for more competitive places, with good players and more developed soccer skills. With the end of the group stage, I bring you a summary of each group, with some individual and collective highlights of each team.
Group A
The group of the host team, France, who dominated since the first whistle. With three wins on the group stage for the first time in its history, France's national team showed that they will be competing for the title, with a lot of great individualities. Even though their soccer style is not one of the most attractive ones, the team showed up in excellent form, being one of the most dangerous on the last third of the field. A lot of their plays start with long diagonal balls from the center backs, who have great passing quality, to their wingers, Cascarino and Le Sommer, who are two technical players with the ability to finish plays with individual plays or dangerous crosses. There are a lot of great players in this squad, but adding to the ones presented before, the center back Renard (28 years old, Lyon, 6'3, three goals scored, ), the right back Torrent (27 years old, Montpellier) and, of course, the captain and superstar from the current European Champions Lyon, Amandine Henry (29), the maestro and star of this team.
Photo: Icon Sport
Norway presented a decent and expected good soccer, which could have been better if it wasn't for the absence of the best player in the world, Ada Hegerberg. There is a clear new blood in this team, which still managed to fight with France for the first place. Well organized defensively, Norway has one of the great center back duos of this WC, with Thorisdottir and the captain Maren Mjelde, who both play for Chelsea FC. In the midfield, Guro Reiten (24, LSK Kvinner) is at the peak of her career, being the most dangerous player in attack.
Nigeria showed a great evolution in this tournament. With a win in their last game against Korea, it's the first time in 20 years that they are in the last 16. Rita Chikwelu (31, Kristianstads DFF) was the highlight of quality in the Nigerian midfield.
South Korea left their third World Cup with no points, which was worse than 2015, where they achieved the round of 16 for the first time. Yeo Minji (26, Gumi Sportstoto) scored the only goal for the Korean team.
Group B
One of the stronger groups, with Germany at the top. With no goals conceded and led by their captain Alexandra Popp (28, Vfl Wolfsburg), Germany showed up with a very dominant and pressing style, with players that enjoy having the ball and with a lot of quality. Popp is influent in every game, and even though she only scored once, she connects and organizes the offensive game of her team. The rising star of this team is Giulia Gwinn, the 19-year-old player who is moving to Bayern Munich. Playing in many outside positions, Gwinn is the definition the German DNA: elegant with the ball, very intelligent and always in the right place to support her teammates. In the midfield, the loss due to an injury of Marozsán, the most creative player on this team, can be felt later in the competition. In the back, Wolfsburg's center back Doorsoun-Khajeh has been imperial and dominant, while the full back Schweers seems to have won the place on the starting XI after being benched in the first game.
Spain is having the time of their lives. This is only their second appearance in a WC, but the group led by the great Jenni Hermoso (29, Atlético Madrid, 2 goals) showed that they are a strong group in defense and very well prepared physically against stronger opponents and quick games. It has been a pleasure to observe the versatile Corredera (27, Levante) running down the wings and showing her competitiveness and quality supporting the attack. Alexia Putellas (Barcelona) has been irregular, but at times she showed that has the capacity to change games for this team. I will also highlight Sandra Paños (Barcelona), the goalkeeper that kept the goal safe and was very important to achieve the second place of Group B.
China qualified for the round of 16, after getting points in two of the three games they played. Dangerous in attack, China managed to force Germany to play at their best, due to their defensive organization and a special threat up top, Yang Li (26, Jiangsu Suning). The goalkeeper Shimeng Peng (21, Jiangsu Suning) kept the goal almost unbeaten, conceding only one goal, against Germany.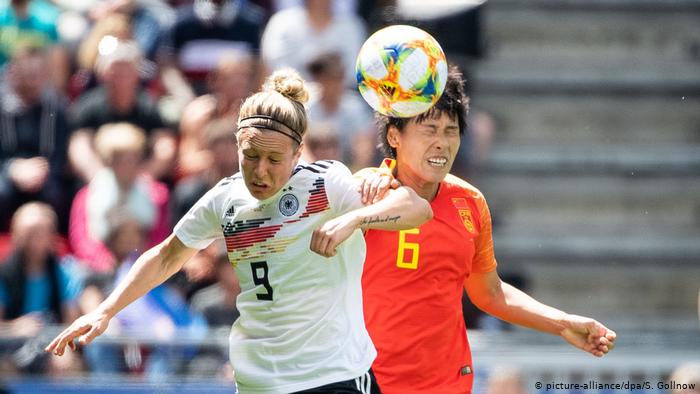 South Africa made their debut in a WC and even though they did not conquer any point, there were some good aspects about their defense and organization. Without many offensive options and struggling to move the ball forward, Kgatlana (Beijing BG Phoenix F.C) was the most dangerous player, while also scoring the only goal for the South Africans.
Group C
The best and most balanced group of this stage. A surprise (Italy), a confirmation (Australia) and a team playing to their limits (Brazil), all with six points. Italy was a positive surprise, playing their first WC since 1999. Women's soccer mentality in the country has grown in the last years and this team showed quality, intensity and individualities to put games away. They surprised Australia on the first game, by countering and defining really well their plays. With Barbara Bonansea (Juventus, 28) and Cristiana Girelli (Juventus, 29), Italy has a deadly duo up top to create dangerous plays and runs, having a total of 5 goals. The team only conceded from PK's, a proof of their very Italian defensive organization, with Gama (Juventus, 30) and Linari (Atlético Madrid, 25) forming a great pair. In the midfield, Valentina Cernoia (Juventus, 27) showcased her passing ability (short, long and crossing), while Manuela Gigugliano (21, A.C. Milan) balanced the team and focused on more defensive tasks.
Australia is always a threat and has another successful generation. With the iconic Sam Kerr (Chicago Red Stars, 25) up top with 5 goals already, Australia is one of the most exciting teams to watch. They play a possession game from the back and an attractive style of playing that brings them finishing situations, with eight goals scored in three games. They switch a bit their system (4-3-3/4-2-3-1/4-1-4-1), but Caitlin Foord (Sydney FC, 24) is always the key player for the Matildas, proving to be the perfect support for Kerr. In the back line, the young and talented Ellie Carpenter (19, Portland Thorns FC) has been a great surprise, with fantastic defensive performances and showing that she is the present and the future of this team. The center back Allana Kennedy (Orlando Pride, 24) is also a player that will be at the top level for many years, with a lot of regular performances and very effective on defense.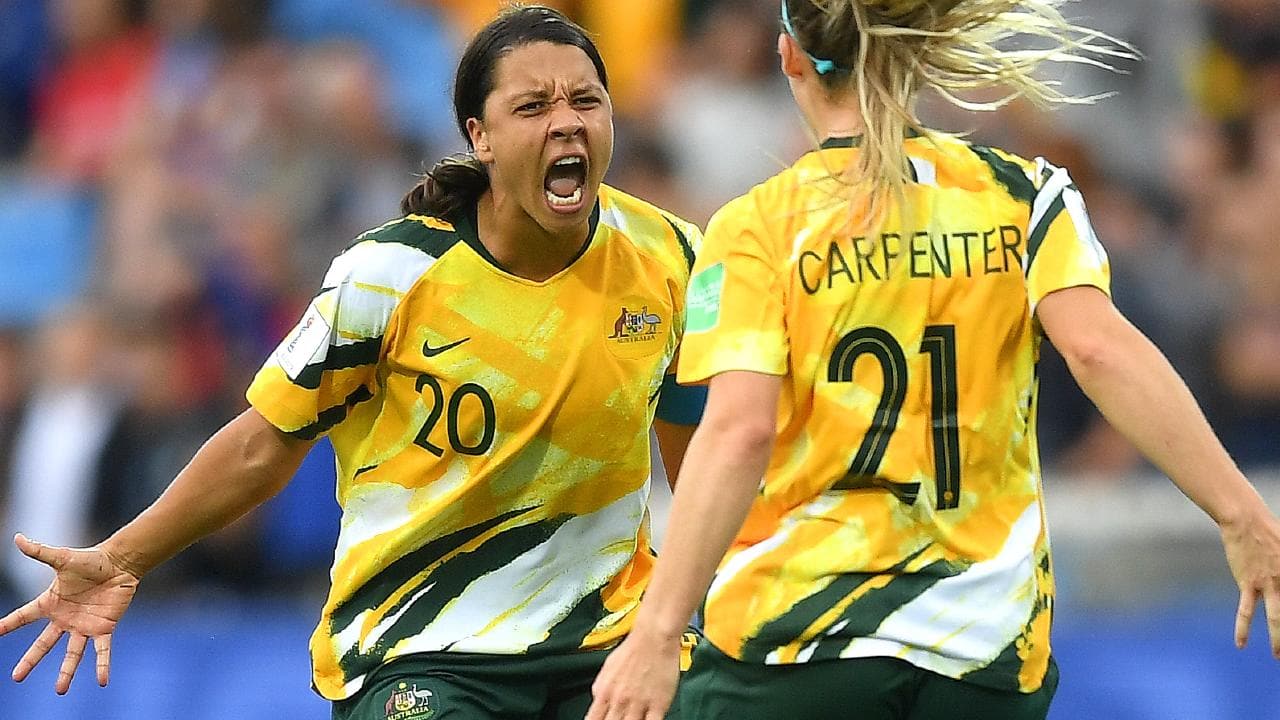 Photo: Getty
Brasil got to this competition with an old team, knowing that there is a revolution coming soon. Marta (33, Orlando Pride), Cristiane (34, São Paulo FC) and Formiga (41, PSG) are still very influent players, but they have to be managed perfectly in order to perform at their best. New talents are starting to perform, like Andressinha (24, Portland Thorns), Debinha (27, NC Courage), Kathellen (23, Bordeaux) or Geyse (21, Benfica). The team was somehow irregular, but is always a threat in attack, as they showed against Italy and Australia. Brazilian fans cannot ask for the title, especially after some important injuries, but getting to the quarter finals would be a deserved award for this group of players.
Jamaica made their debut in a WC with no points, lots of goals conceded, but with one goal scored and a lot of positive energy. They showed to have a great young goalkeeper Sydney Schneider (19 , UNC Willmington), and an excellent player up top, Khadija Shaw (22, Bordeaux), with potential to be in a WC very soon.
Group D
This was the clear affirmation of England at the top level. In a very emotive group, the team coached by Phil Neville showed the recent English identity, with a possession style of play and quality from the back, looking for players between lines with deadly passes. There are great players in this group, starting from the back: Houghton (31, Manchester City) and Millie Bright (25, Chelsea FC) are the best duo on the ball and it's with them that all the plays start. On the right, Lucy Bronze is one of the best on her position, with a tremendous regularity and impressive stats: 76% of 1vs1 battles, 75% passing efficiency, 3.3 tackles per game and 2 key passes per game. Up top, Neville switched a lot, with Ellen White (30, Manchester City, 3 goals) being the reference for her teammates, known by her great runs and cold blood in front of the goal.
Japan showed their organization and defensive quality. Even though they struggled to score, with only two goals, Mana Iwabuchi (26, Kobe Leonessa) and Sugasawa (28, Urawa Reds) showed their skills on the ball. Iwabuchi more creative, while Sugasawa was a box reference and a finishing threat for the opponents.
Photo: Getty
Argentina was another great surprise, even though they ended up not qualifying for the last 16. Great on defense, aggressive and supportive, center back Cometti (23, Sevilla FC) was the representation of this team: aggressive, with a lot of potential and very efficient. The game against Scotland was one of the most emotive games, with Argentina coming back from a 3-0 differential.
Even though it was their first World Cup, Scotland was somehow disappointing, in a group where they could have dreamed with the second place. Their games were very even, but their offensive performances were never convincing, probably because of Christie Murray's (29, Liverpool FC) injury, their big star and the player responsible for moving the ball and creating game for her teammates.
Group E
The Netherlands are year after year proving to be a top-10 team. Even though they struggled a bit on the ball with a lot of missed passes and turnovers in the back (something unusual on Dutch teams), the team has world-class players in attack. Lieke Martens (26, FC Barcelona) is one of the best in the competition, known by her technical skills, game IQ and ability to break defensive lines. Miedma (22, Arsenal) is now the record breaking goal scorer for the Dutch team, and despite her young age, she is already one of the best strikers in the world. Great with her back facing the goal, she attracts defenders and is deadly in the box.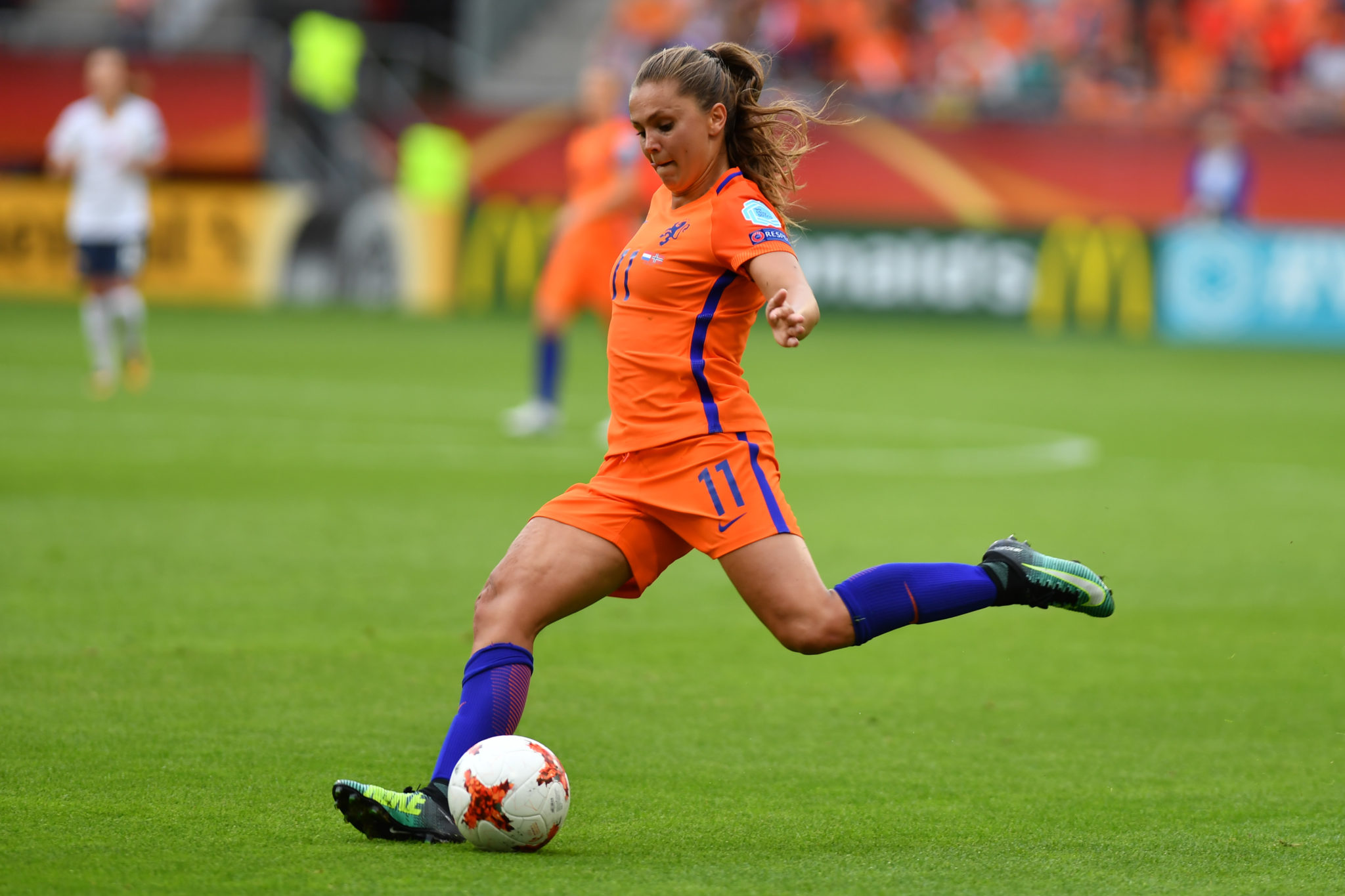 Photo: Wikipedia Commons
Canada (7th consecutive WC) finished second and showed that they can beat Sweden on the next round. With Janine Beckie (24, Manchester City) in great form in the center of the park, the highlights go to the legend Sinclair (36, 283 games, 181 goals, Portland Thorns FC). She is the leader of this team and helped with a goal against Netherlands.
Cameroon surprised everyone and ended up 3rd, beating New Zealand with a late goal (90+6), confirming their spot in the last 16. It is only their second time in a WC, but Leuko (27, Arras FCF), Nchout (26, Valerenga) and the striker Onguene (30, CSKA Moscovo) showed why they play in competitive leagues in Europe, being the core of this team in every game.
New Zealand had quality for more, but left this WC with 0 points. They fought and battled against good teams, but only two players seemed to belong to the top level: center back Rebekah Stott (26, Avaldsnes) and striker Sarah Gregorious (31, AS Elfen Saitama).
Group F
The USWNT is, arguably, the best team in the world at the moment. They dominated every game the way they wanted, played all the 20 field players and proved to be in this World Cup to conquer the title that currently belongs to them. Great on the ball, dangerous on counter attacks and with a lot of individual quality, set pieces were another great feature of this team. Every player in this group is world-class, but ignoring the stars Alex Morgan (29, Orlando Pride) and Carli Lloyd (36, Sky Blue FC), it has been the young blood on this team to perform at the highest level. Center back Abby Dahlkemper (26, NC Courage), midfielders Sam Mewis (26, NC Courage) and Lindsey Horan (25, Portland Thorns FC) have been great, with Horan being a surprising key player for this group while playing her first WC.
Sweden could not beat the US, but they are definitely fighting for a place in the top 4, which will be hard due to the competitiveness of this tournament. They like to have the ball, press very high and count on Kosovare Asllani (29, Linköpings FC) to create and execute offensively. Behind her, Fridolina Rolfö (25, Wolfsburg) is a technical player that does not fear any opponent and likes to dribble through defenders.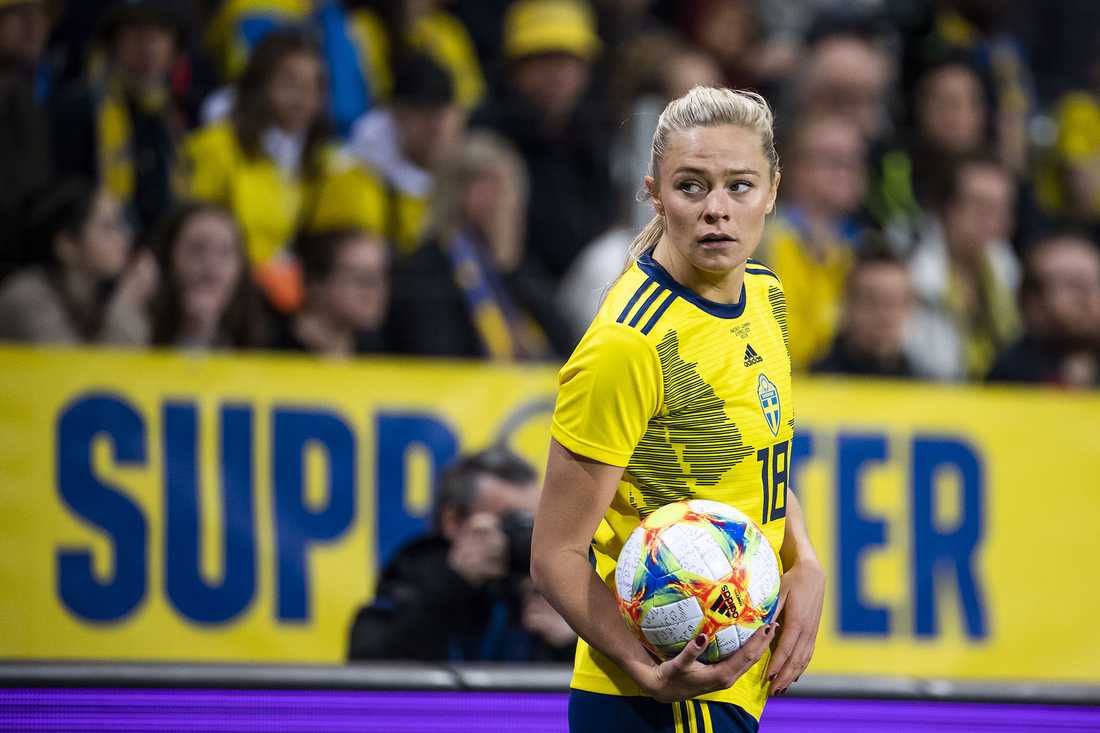 Photo: JONATHAN NÄCKSTRAND / BILDBYRÅN
Chile did not make history because of one goal (they conceded one more goal than Nigeria, who went through). With a win against Thailand, Chile players conquered the third place in the group after playing at this level for the first time. Midfielder Urrutia (25, Amazonia) and the goalkeeper Christiane Endler (27, Paris Saint-Germain) are two of the many national heroes, who gave more than 100% to qualify for the last 16.
Thailand did not get any point, but gave us the best moment of the tournament when they scored their goal against Sweden. It was a deserved award for everyone who contributes to the development of the game and the players in Thailand, highlighting the dedication and hard work of each Thai player that performed in this WC.
By: Rodrigo Carvahlo