Tactical Preview: Bayern Munich-Round Of 16
Form
In what has been a rather lackluster season for the rather usual dominate Bavarians, Carlo Ancelotti's men will face their toughest challenge of the season as of yet when they hold host to Arsenal on Wednesday in what could turn out to be a season defining tie for them. Leading up to the tie Bayern have been extremely underwhelming for their massive standards, after just recently scraping through a draw which very well could have gone down as a lose against Schalke at home, beating a severely poor Wolfsburg team in the DFB Pokal due to a Douglas Costa strike that was deflected just in front of goal, and then being held until the 90th minute against bottom dwellers Ingolstadt they don't seem very convincing heading into this tie to say the least, but if there's one thing you don't do it's to count Bayern out in a champions league match at home. In such situations form charts could very well be thrown out the window, and that's usually the case with such a talented squad like Bayern's.
Tactics
Carlo Ancelotti has failed to find a successful tactical approach as of yet into 7 months of his tenure as Bayern manager. With strands of Pep-esque pressing, and high possession still imprinted in the clubs current DNA, Carlo seems to be happy just to follow suit in his predecessors foundation, which hasn't come near to the standards or success of Pep's free flowing Bayern. From juggling between the more passive, and passing/possession focused  4-3-3 to a more traditional Bayern formation in the aggressive press based 4-2-3-1 in which Pep had a liking towards in the latter stages of his tenure at Bayern, Carlo doesn't seem to be matching his tactics with his formation selections. With the 4-3-3 in place, Carlo utilized a midfield trio of Thiago, Vidal, and Alonso (with the occasional presence of Kimmich), his front three consisted of Costa, Lewandowksi, Muller for the most part with Robben, Ribery, and Coman being sidelined for major parts of the beginning of the season due to injury. With this however, Carlo's team often had trouble creating many clear cut chances and breaking down compact defenses units due to the isolation of the front three, a Thiago reliant midfield trio, and sub par performances from Muller who in fairness is not a winger or a classic nr 9, (which has lead to him being dropped on multiple occasions to the displeasure of himself, and many Bayern fans) and Alonso. In fact many times under a 4-3-3, Bayern resorted to moments of brilliance from Lewandowski, Thiago and Kimmich's goal scoring run which tallied up to a total 7 goals just to scrap them by in the early goings of the season, this in which saw Bayern finish 2nd in their CL group for just the first time since the 2009/10 campaign under the now retired LVG. Under the 4-2-3-1 Carlo's Bayern have fared a bit better, in which they put up their current match of the season performance against a highflying RBL where the team synchronized nicely in their buildup, pressing and most importantly of all finishing. Thiago firmly established his reign over Bayern's midfield after his stunning 10/10 performance in the hole just behind Lewandowski, notching a goal and an assist to his name. However the "harsh" winter break disrupted what seemed to be a free flowing Bayern machine in action, and performances have never look the same since. With the midweek clash against Arsenal coming up fast Carlo must be prepared to bring Bayern's A game to the table if they wish to set themselves up for an easy passing to the quarters of the competition, if not things could turn very troublesome, and could possibly lead to an early exit for him and his team, this in which would almost certainly cut his time as Bayern manager short. In such a high stakes affair Carlo must, and will put up his strongest team available.
Predicted Starting XI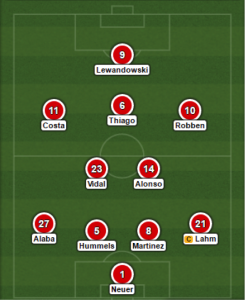 With a red hot Thiago, Carlo would be a fool to play him anywhere else besides at the 10 just behind Lewandowski. From here he can easily get the best out of him, and cause the most havoc for Arsenal's deep lying midfielders and defenders with his pinpoint passes, and his ability to control the game effortlessly. Lewandowski will almost certainly play on the shoulder of the two CB's hoping to latch onto anything coming his way, and even drift a bit outside in the hope of holding up the ball long enough for support to arrive in order to create chances. Robben, and Costa will most likely test the willpower of their opposing fullbacks in 1on1 situations in which I believe Bayern could highly profit off of. Alaba will most certainly be bombing up and down the left flank, offering support for Costa against the Arsenal resistance. Vidal will likely be instructed to shut down Ozil and make sure that he doesn't have the time and space to pick out a devastating pass, and secondly to protect Alonso as much as possible and allow him time on the ball to work his magic from the depths of midfield. The backline will most likely be instructed to keep a wary eye of Arsenal's blistering fast counter attack, and their main threat in Alexis Sanchez. Carlo's Bayern will probably see most of the ball as Arsenal will most likely drop back and hope for a lap of concentration to strike back at them, so it'll be key for the back four to keep a structured backline, and be wary of complacency.
Key Players
Thiago Alcântara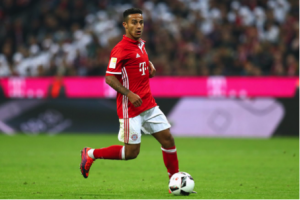 Thiago has been nothing short but brilliant this term. Finally finding the consistency to his game that he was lacking under Pep, and staying off the injury list, Thiago has taken the reigns to Bayern's midfield in outstanding fashion. Statistically he has been one of the best players in all of Europe and a Bayern squad without him lack the creativity, and fast cutting edge passes that split even the most stubborn and compact defenses in which only he can really offer in the current squad at the moment with the likes of Ribery spending most of his remaining days on the injury list, and a declining Alonso who seems to slow down Bayern's play now more than anything. With him, Bayern has the perfect mediocentro who can lead them to glory against Arsene Wenger's men.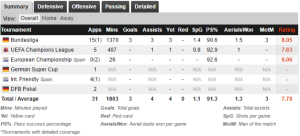 Honourable Mentions:
Robert Lewandowski & Arjen Robben
Lewandowski and Robben could also prove key to the outcome of Wednesday's home leg as Bayern will look heavily towards these two to produce the goals they'll need if they wish to solidify a good advantage heading into the 2nd leg away, and overall set them on course to progress onto the latter stages of the competitions. Both world class attackers in their own right, they will definitely cause Wenger and his defense some headaches on Wednesday.
Predictions
If Bayern play to the fullest of their capabilities, and with the 12th man behind them to push them on in the thicke of things I can see them edging out a win in the first leg on this tie. I expect a good, tempo controlling performance from Thiago and for Lewandowski, and Robben to find their names on the scoresheet. Complacency, and a highline could very well be where Arsenal capitalize with their pace, and notch a goal back from.
Final Score Prediction
Bayern 2-1 Arsenal
Photo Credit: AFP Photo/Patrik Stollarz
By: @Orges_Saliu