Tactical Preview: Borussia Dortmund-Champions League Round of 16
Champions League: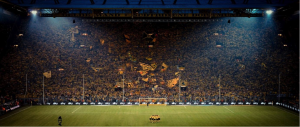 Borussia Dortmund play Portuguese giants Benfica away at the Estádio da Luz in the last 16 of the Champions League. Benfica finished second in their group, behind Serie A highflyers Napoli, collecting 8 points.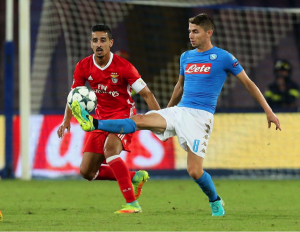 2W, 2L and 2D while scoring 10 and conceding 10 isn't a record that does SL Benfica justice. An attack minded team full of creative flair players, Benfica would give any team in Europe a run for their money at full flow. This was shown in an impressive 2-2 showing against Bayern Munich in the quarter-final stage of last seasons Champions League. Benfica held their own in many of the exchanges, against a team that come out on top nine times out of ten in battles all over the field due to their extremely full, talented squad. Pressure, and impressive attacking play gave the Portuguese a 1-0 lead through striker Raúl Jiménez, after which Benfica eased up, allowing Bayern to level up through Arturo Vidal in the 38' and then go 2-1 up through Thomas Müller in the 52'. After the wake up call, Benfica started to press again, with the knowledge that they had to score 2 more to go level or 3 more to lead the Germans on an aggregate score. An equaliser was scored in the 76' through a sweetly struck freekick by Anderson Talisca (now on loan at Besiktas) but it was too late, and Bayern Munich advanced on a 3-2 aggregate.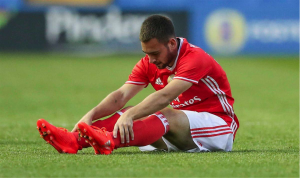 Benfica have since been weakened by the departure of top prospect Gonçalo Guedes to PSG, who was a regular starter and played a big part in Benfica's group stage scoring two goals and registering an assist…they've also been set back by the exclusion of first choice left-back Alejandro Grimaldo through injury. However, the inclusion of supremely talented Serb Andrija Zivkovic (who was rumoured to be very close to a switch to Borussia Dortmund not too long ago) and new signings Pedro Pereira and Filipe Augusto will mean that Benfica are definitely not to be taken lightly.
System: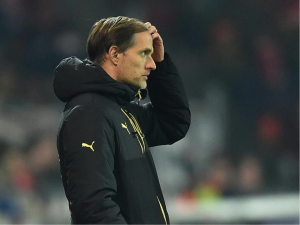 As of late, Dortmund coach Thomas Tuchel has been under quite a bit of scrutiny, with fans raising eyebrows over slightly odd team selections and a tendency to leave much needed substitutions until it's too late. This was illustrated in the many draws Dortmund took in the first half of the season, where flair players were brought on to salvage a draw rather than to secure a win. BVB currently sit in 3rd place, and with RB Leipzig and Bayern Munich more or less out of sight, holding on to the 3rd spot and securing Champions League football is the only realistic finish line for BVB to run towards.
This current season, Dortmund have varied between two systems:
A 4-1-4-1 that can transform into a fluid 4-3-3/4-2-3-1 in transition which has been the subject of defensive frailties, self inflicted mistakes and lapses in concentration. This was illustrated in the many draws Dortmund suffered in the Hinrunde , where they lacked the killer instinct to finish off teams and uncharacteristic errors meant dropping points, or where defensive instabilities meant they went behind first and could only salvage a draw.
A 3-4-3 which coach Tuchel has tended to deploy in the bigger games. It's proven to be slightly more sound from a defensive standpoint, shown in Dortmund's 1-0 win over Bayern Munich which came from a well worked Pierre-Emerick Aubameyang goal in the 11th minute and some dedicated, but smart defending aided by the comfort of an extra centre half.
Important players: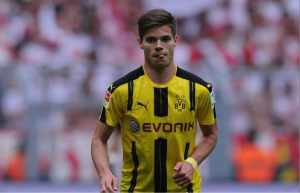 Since joining from 1860 Munich in the summer of 2015, Julian Weigl has taken up one of the most, if not THE most important place in BVB's squad. Usually a burden one wouldn't expect a 21-year old to thrive under, Julian Weigl has proven just the opposite. From the No.6/CDM/Holding midfield role, Julian Weigl has been the basis of structure in the BVB side right from the off. His defensive contribution and stunning range of passing evolved Borussia Dortmund's game to a whole new level which was shown in a remarkable 2015/16 campaign where the black and yellows finished second, only to powerhouse Bayern Munich. They racked up an impressive 78 points, which would've won them the title in most previous campaigns.
His calming presence, instinctive decision making and passing range allows BVB to either rebuild, pierce the pressing line and go on to start an attack or score a goal. Always being on the half turn, Weigl is able to relieve his defence of some pressure and drive the team further forward by either depositing the ball off to a more creative midfield partner after a short burst (Mario Götze or Raphaël Guerreiro) or playing a pinpoint long-range ball to one of the fullbacks/wingbacks who tend to make runs in behind in a system where Dortmund's fullbacks provide their width allowing the wingers to come inside and influence the play a little more, something Henrikh Mkhitaryan really benefitted from in his final season with Borussia Dortmund. This was displayed for Dortmund's first against Real Madrid, where Weigl picked out a free Marcel Schmelzer out on the left with a peach, who then squared to Aubameyang who calmly finished. The midfield metronome is the best player on the pitch nine times out of ten and to put it very simply, if he doesn't play well, neither do Borussia Dortmund.
On paper, this is a draw that Borussia Dortmund will be expected to win, but given their shaky form of late and Benfica's abundance of talent, only time will tell.
By: @essop23