Tactical Preview: Borussia Dortmund – Quarterfinals
On Tuesday, Borussia Dortmund will go head to head with Ligue 1 leaders Monaco in a battle of five-star prospects and high-paced attacking sides. A highly anticipated matchup for aficionados of the beautiful game, the draw promises to be a fascinating one, filled with goals, passion and clever combinations. Sheer electricity in the stadium, some of the finest young talent Europe has to offer on display, and unquenched hunger for the elusive Ol' Big Ears makes this a can't-miss matchup at the Westfalenstadion.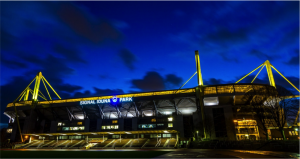 Current situation:
Borussia Dortmund sit fourth in the Bundesliga, a point behind wunderkind manager Julian Nagelsmann's Hoffenheim and ten points ahead of Cologne, making third place and automatic CL-qualification a realistic target for the black-and-yellows, with the top four seemingly set in stone. The matchup for Dortmund comes a couple of days after an away game at Bayern Munich, a match which will be significant in how Dortmund approach the Champions League fixture both mentally and physically. Matches in Bavaria tend to be gruelling for Dortmund, and coming away with three points would undoubtedly increase morale going into Tuesday's fixture against Les Rouges et Blancs.
Borussia Dortmund play at home first, that its benefits and drawbacks. An obvious drawback is that should Monaco score, they take a precious away goal(s) back to France's Mediterranean coastline, which would be a thorn in BVB's side going to the Stade Louis II as even though they are more than capable of putting numbers past most teams, they'd have to outscore the highest scoring side in Europe this season whilst preventing them from scoring, putting them at an immediate disadvantage entering the second leg. However, a massive advantage for Dortmund is that they've made the Signal Iduna Park a fortress, one which they have not been defeated at in 2 years, picking up 28 wins and 6 draws over a 34-match period.
System: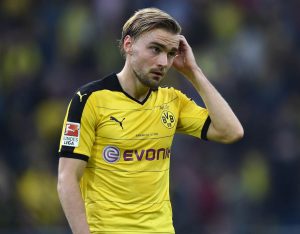 Since the last round of the Champions league (in which Dortmund eliminated Benfica on a 4-1 aggregate over two legs), coach Thomas Tuchel has stuck to using a 3-4-3 which helps maintain Dortmund's structure in the centre and also gives them the aid of an extra centre-back in a backline that turns into five while defending. This is where Dortmund try to recycle possession, with the wingbacks dropping into normal fullback roles to add comfort and then later bombing down the flanks to make themselves available as options once possession has been regained. Captain Marcel Schmelzer has been a key element to this process as his pressing, cutting off lanes, and ability to read the game have been factors why Raphaël Guerreiro has not been able to reproduce from that spot, causing Tuchel to field the former Lorient man as a centre-mid rather than a left-back. Schmelzer's contributions often go unnoticed, as he isn't one to display flip-flops and fancy tricks, but the Dortmund captain may well be the most intelligent player on the team who knows exactly what he has to do, and often executes it seamlessly. However, keeping out free-scoring Monaco could prove to be a mammoth task for a defence that comes with lapses in concentration and the odd sloppy error.
Ones to watch: 
In the last round, I mentioned Julian Weigl as Dortmund's most important player, but along with him and aforementioned Schmelzer, a player that has displayed the very best of his talents in recent weeks has been Shinji Kagawa. With Marco Reus still on the treatment table and Mario Götze ruled out for the season with metabolic problems, Dortmund fans wondered where the creative flare they needed would come from. Enter: Shinji Kagawa. A player that most had written off, Kagawa stepped up and grabbed arguably his best form since 2012 from thin air; he was Dortmund's best player in the 2-1 loss to Hertha Berlin and was easily the best player on the pitch for both the 1-1 draw in the Revierderby (assisted Aubameyang's goal) and die Schwarzgelben's 3-0 victory against Hamburg, in which he picked up a deserved goal and an assist.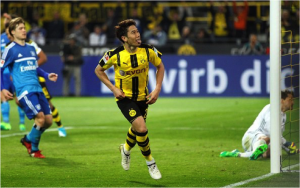 He has been instrumental for Dortmund recently, acting as a one man transition between the midfield and the front three, where his marvellous close control and astuteness allow him to play pinpoint passes from deep, instinctively beat defenders, and distribute while advancing to dangerous positions in and around the box. Here, he can conclude a move himself or generously put a chance on a plate for one of his teammates. Should he maintain this perplexingly amazing form, Monaco will have quite the job on their hands.
A matchup that could go either way, will the ever-intimidating Yellow Wall claim another victim, or will Dortmund fall short to Les Monégasques? Whatever the result, with attack on the mind and Ballon D'Or calibre talent on display, expect sparks to fly in Dortmund on Tuesday night.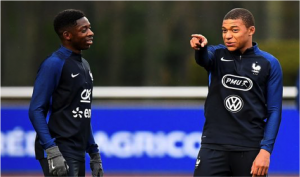 Featured Image Credit: EPA, Schmelzer Photo: DFL via Getty Images, Mbappé/Ousmane: AFP/Getty Images, Kagawa: Ruhr Nachrichten BVB, Westfalenstadion Pic: traveldigg.com
By: @essop23