Tactical Preview: FC Barcelona-Round of 16
Today, FC Barcelona will take on reigning French champions Paris Saint-Germain.
This tie seems like a yearly occurrence, as the upcoming meeting will be the 7th in the 5 seasons between the two clubs, with Barcelona edging the previous 6 with 3 wins to PSG's 1, and 2 draws.
This tie is, as I like to call it, is a clash of snoozing titans, with neither team having reached the heights it had hoped for at the beginning of the season. Both teams currently sit second in their respective leagues and have enjoyed little consistency with two thirds of the season behind them.
Barcelona has lined up with its usual 4-3-3 in attack and 4-4-2 in defense this season, but to give you an idea of Barca's struggles this season, they are yet to truly find their ideal Starting XI.
Sergi Roberto has deputized at RB after the departure of Dani Alves with little success in big games, and Aleix Vidal is still trying to make his way into the team. In midfield, Barca has struggled to find the ideal partner for Iniesta and Sergio Busquets, with Ivan Rakitic's poor form and Denis Suarez and Andre Gomes still adapting to their new surroundings.
Tactics:
Coach Luis Enrique has come under heavy criticism this season for failing to adjust to the loss of Dani Alves and over relying on Barca's front three. Barcelona have been inconsistent this season, struggling against high-pressing teams. When the midfield, especially Sergio Busquets, are pressed high, the team struggles to build out of the back and are hence forced to go long and more direct which often leads to possession being lost or having the two center backs positioned wide when in possession. As a result, in a majority of Barca's possession has been in their own half, with less creativity and more chances for opposing sides than at any point in the Luis Enrique era.
As a way to counter the midfield's struggles vs high pressing teams, Lionel Messi has been positioned more centrally this season, while Neymar has played a wider on the left side. Messi has even less defensive responsibility while Neymar's responsibilities in buildup have increased. Messi's new central role doesn't allow opposition to zonal mark Barca's right side, which has been Barca's weak link. Opposition teams are then left with 2 options: press but Messi can resist the press even centrally and operate in the vacant space, or not press at all and Barcelona will build-up comfortably.
Marc-Andre Ter Stegen has also been given a bigger role in build-up with the loss of Dani Alves. Almost as a false regista, he has become an extra option for the defense and Busquets to receive the ball and start attacks with his exceptional passing ability, even more so than he did in his first two seasons.
Key Players:
Barcelona will be without Javier Mascherano, and Sergio Busquets and Andres Iniesta have just come back from injury. Barca also lost in form right back Aleix Vidal for the rest of the season on Saturday vs Alaves. Vidal had given Barca a new dimension in attack with his ability to operate wide on the right and stretch opposition defenses.
With the loss of Vidal and Mascherano, Barca are left with few options.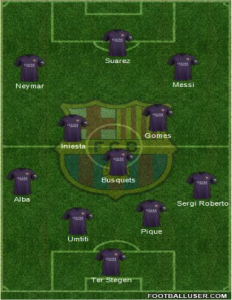 A 4-3-3 with Sergi Roberto at Right back.
This is the likely line up though it doesn't fill me or most Barca fans with much confidence given Sergi Roberto's poor performances at right back this season, especially against great teams.
A 3-4-3 with Rafinha at right wingback.
Though less likely to happen, a 3-4-3 would help Barca take control of and dominate the midfield battle, where the team has struggled. It eliminates Sergi Roberto as a right back, and gives Rafinha Alcantara more cover behind him as a wingback. The formation also has Pique man mark PSG hit man Edinson Cavani in what would be a very good match up. On form midfielder Andre Gomes unfortunately misses out on a starting spot in this line up.
Everyone will be watching arguably the greatest player to ever play the game, and Neymar who has netted 5 goals in 4 games vs PSG. However, one player who could be key is Iniesta and Busquets' midfield partner, Andre Gomes.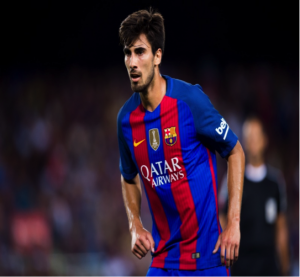 After a rough start to life in Barcelona, Gomes has been slowing finding his feet in the second half of the season. Taking advantage of Rakitic's poor form, Gomes has performed well as the pivot in a midfield 3 and as an interior since the turn of the year. He is slowly growing in confidence and has put in some promising displays, most notably in the 1-1 draw with Atletico Madrid in the Copa Del Rey and the 6-0 drubbing of Copa Del Rey finalists Alaves.
There is an air of uncertainty with FC Barcelona. Barca look to be peaking just in time, and though he has been lacking his finishing touch, Neymar has been in fine form. Having said that, PSG are no meager task, especially considering the season Edinson Cavani is having. Barca have stepped against the big clubs this season, and will need more of the same against Emery's improving side.
Photo Credit: Clive Rose/Getty Images Europe
By: @ElvisMalu