The Curious Case of Paul Pogba
On the eve of one of Manchester United's biggest games of the season, Mino Raiola sent the football world into a frenzy when he came out with a statement that said his client, Paul Pogba, wanted out of the club at the nearest opportunity. In typical fashion, the World Cup winner had the spotlight on him once again, and not for the right reasons.
Pogba was left out of the starting lineup in Germany, Manchester United lost to RB Leipzig in dramatic fashion, resulting in United's exit from the Champions League. Raiola's comments certainly had a part to play in the result and the performance of the team, and that incident felt like the final nail in the coffin that is the toxic love story between United and Pogba, with fans finally closing the chapter on the once-loved, enigmatic No.6.
Fast forward a month down the line, and Pogba's deflected volley away at Burnley sends United top of the Premier League. A series of top performances (most recently against Liverpool in the FA Cup 4th round) led fans and teammates alike to sing his praises, and it seems that United's vision when they re-signed him for a then-world record fee in 2016 is finally coming to fruition. 
But all of this continues to unfold under the ever-changing circumstances at the club. Managerial changes came with complete shifts in mentality, playing conditions, tactical variations as well as results; with both United and the Frenchman having to bide their time to reap the rewards of the move.
Life Under Mourinho
Ever since his youthful days in the Manchester United academy, Pogba's footballing life has been a fixture in the media and sports press. His transfer from Le Havre in 2009 was met with reports that United had tapped him up illegally, going against the FIFA regulations guiding the signing of underage footballers. The report was the club had paid €100,000 each to his parents, as well as providing them a house, which United firmly denied. 
After only seven first-team appearances, all as a substitute, Pogba left United to Juventus in 2012 — in a move that Sir Alex Ferguson felt the Frenchman and his agent had "disrespected" the club. He returned to United four years later for £89 million, citing that it was the "right club to achieve everything he hoped to". United needed a franchise player, a savior of some sort — someone who would carry the club on his back and champion the rebuild of a sleeping giant. The club needed him to be everything they hoped for, and they needed that instantly.
The prospect of the linkup between José Mourinho and Pogba was mouthwatering. Box office. And life under the Portuguese coach started off relatively well. There were flashes of his quality and influence on Mourinho's side, but as the season wore on, the tone in which critics spoke about Pogba changed, as he was heavily criticized for not having enough of a positive effect on United's performances, especially in the big games.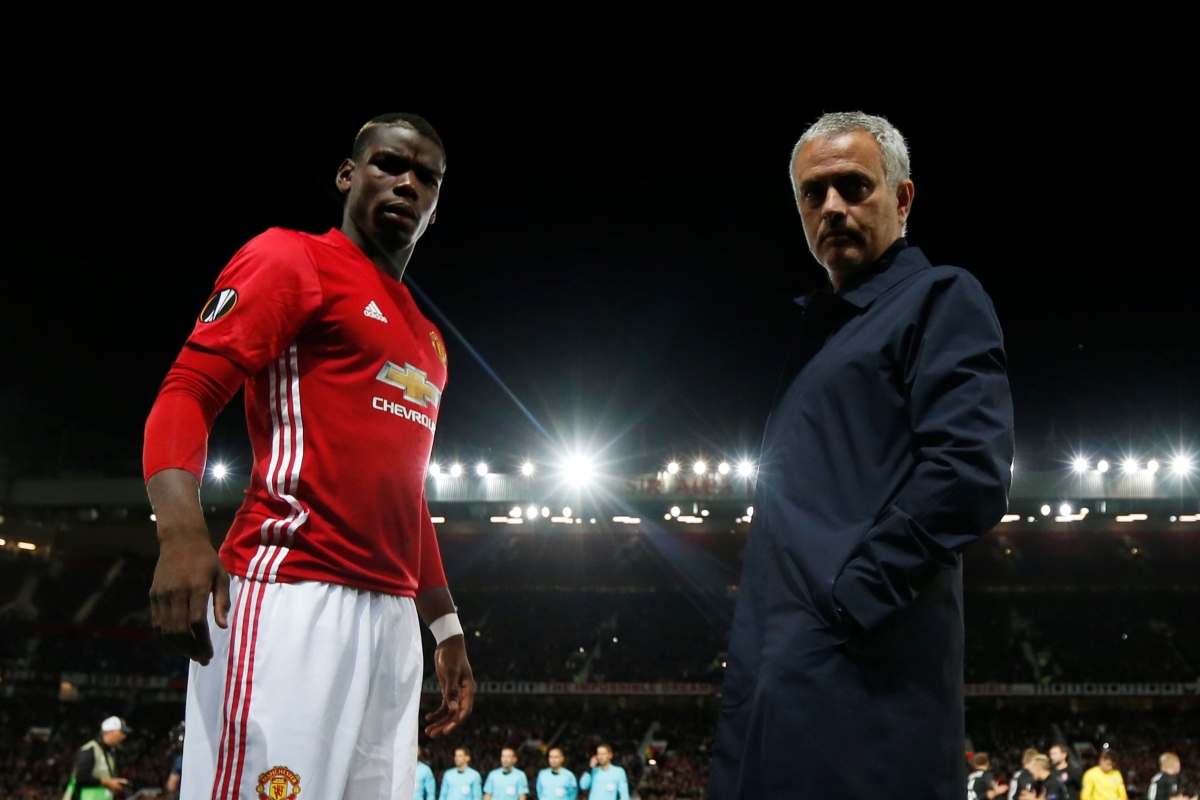 Photo: Reuters
There was also the debate about what Pogba's best position was, with many critics and fans claiming that despite his undoubted talent, he lacked the discipline to play as part of a two-man pivot, and instead clamored for a switch to a three-man midfield with Pogba as the left-sided #8 (as he was more frequently used at Juventus). League form was poor as United finished 6th place, but his work in the Europa League helped to balance out the general perception of his season — as he scored the opening goal of a 2-0 win in the final against Ajax and finished as the best player in the tournament.
Optimism was high in the United camp as they hoped to build on the progress of the previous season. Nemanja Matić and Romelu Lukaku were brought in as major pieces of the new spine Mourinho looked to build, but it wasn't enough; as optimism died out due to dwindling results as a consequence of Mourinho's tactical approach to games.
One thing that rang clear was that Mourinho had not earned the complete faith and belief of the players to do as he pleased. His one-size-fits-all man management skills, autocratic tendencies, as well as his obsession with a low block/quick counter philosophy went against the identity of Manchester United and how the players saw themselves; a team that was at least capable of playing on the front foot against most teams in the league. 
Pogba was the usual scapegoat when things went left for the team, and Mourinho hardly (if ever) took the blame for poor performances and dropped points — while publicly criticizing players several times — especially against teams United were expected to beat (one scenario of this is Mourinho's infamous "Football Heritage" rant after the Round of 16 loss to Sevilla in the Champions League). While it is true that the Frenchman didn't do himself any favors with his performances at times, it is wrong to say that there was a direct correlation between his poor performances and United's results and utterly dire style of play. 
The tipping point was the game against Southampton away at St Mary's in December 2018. United went into that game enduring their worst league start in 28 years and started as a back 5 with Matić, Phil Jones, and Scott McTominay as the center halves. United went 2-0 down after 20 minutes, but despite managing a first-half equalizer, failed to carry on to win all 3 points.
Pogba was horrendous, Mourinho had once again gotten it wrong, and the infamous dressing room row between Mourinho and Pogba ensued, with Mourinho calling the Frenchman a "virus", saying that he "kills the mentality of the good, honest people" around him. Mourinho had lost the dressing room, and a few weeks later was sacked following an abysmal performance at Anfield, as Pogba was an unused substitute. 
Life Under Solskjær
After Mourinho's sacking, United decided to go down a different route, favoring a long term project that would bring a bit of balance and stability at the club. Ole Gunnar Solskjær was chosen, a man who seemingly knew the club and embodied all its ethos. While at Molde, he had said Pogba was a player to build a team around, and had previously worked with the Frenchman at youth level. United hoped that this appointment would bring a new dynamic and a lighter atmosphere to the training ground and the dressing room, which would, in turn, bring the best out of their most prized asset. 
Solskjær gave the team a new bounce, allowing the players to play with freedom and without fear. United won 8 consecutive away games in all competitions, knocked Paris Saint-Germain out of the Champions League as United enjoyed one of their most famous nights in the competition's history, and most importantly, every good thing that happened on the pitch came from Paul Pogba.
The Frenchman enjoyed his best season statistically, as he finished with 13 goals and 9 assists in the Premier League, as well as a spot in the Team of the Year. Despite this, United finished in 6th place again, and the final game of the season ended as a 0-2 loss to Cardiff City, with Pogba getting in an exchange with a fan as he walked off the pitch. 
Rumors of an exit to Real Madrid hung over the club throughout the summer of 2019, and Pogba's comments about wanting a "fresh challenge" fueled speculation intensely. In fact, Real Madrid offered £27.5 million plus James Rodriguez in exchange for the Frenchman, which United rejected.
United and Pogba endured a mixed start to the 19/20 season, and after the 1-1 draw away at Wolves, Pogba suffered racial abuse on social media following his penalty miss during the game. He picked up an ankle injury against Southampton which caused him to undergo surgery in the new year, following its reoccurrence.
In Pogba's absence, United had to find a new way to play. At first it was difficult, picking up just 28 points in the first 19 games of the campaign, but the 0-2 loss at home to Burnley in January 2020 was the turning point. Bruno Fernandes joined the club, and Manchester United found a reliable system for winning big games, going for a simple, yet structurally sound set up with Fred and McTominay at the heart of midfield.
Fernandes' impact meant a significant amount of pressure had been lifted off Pogba, especially as the league commenced Project Restart. Pogba now had someone to share the burden (as well as the blame) with, as the duo's combined efforts sent United back into the Champions League, finishing in 3rd place.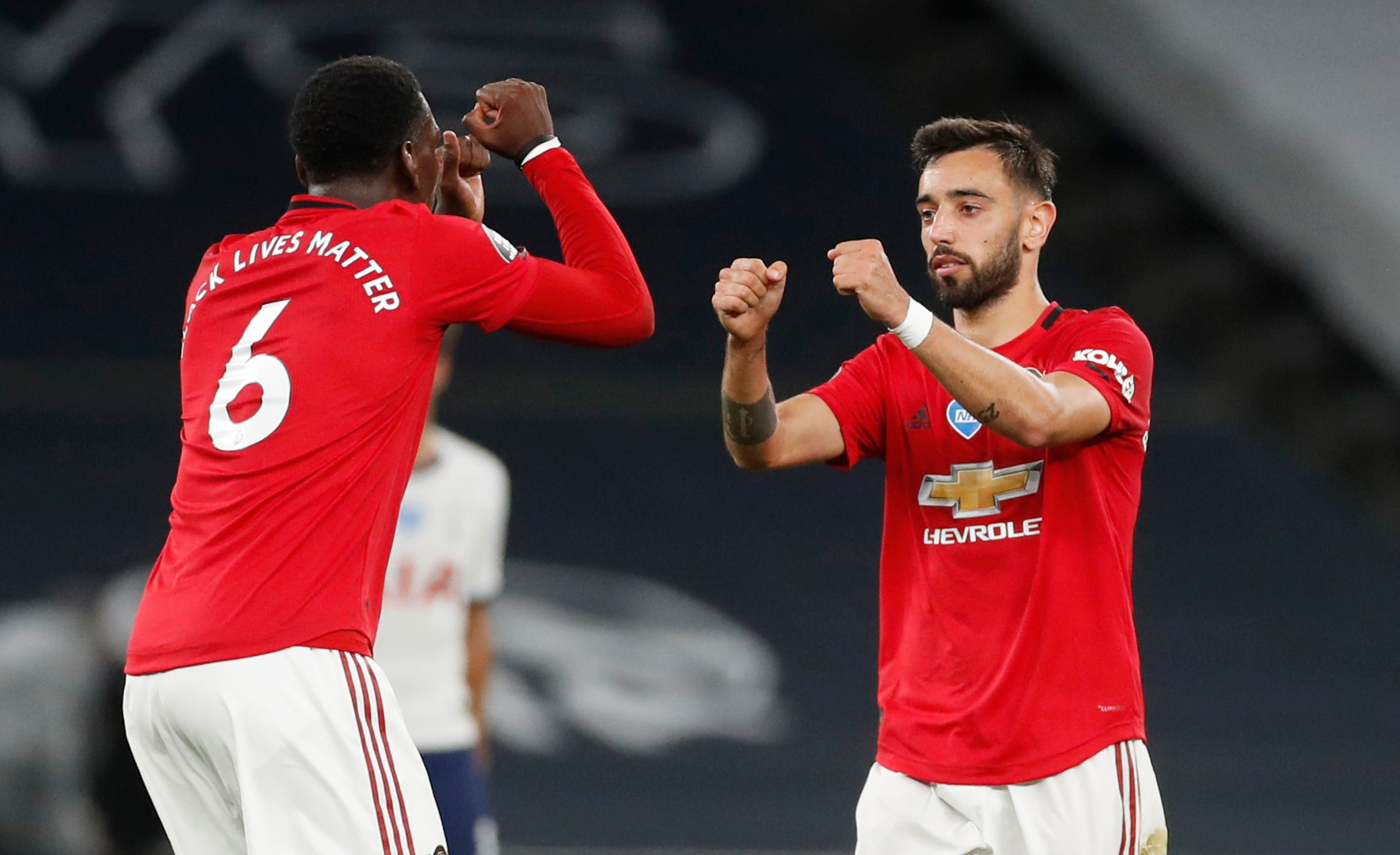 Photo: Reuters
Solskjær's man management and squad rotation policy helped United overcome a torrid start to the campaign (which saw Pogba get plagued by COVID-19), significantly weather the storm caused by Raiola as well as reintegrate the Frenchman into the fold and amongst one of the most important names on the team sheet.
In hindsight, Pogba's absence was a blessing in disguise for Solskjær. The performances of Fred and McTominay as a pivot in big games further highlighted the fact that, despite all his amazing physical and technical qualities, Pogba actually affected United's structure negatively in those games. His biggest hindrance is his inability to stay switched on defensively for long periods, and this makes him a luxury player who is better suited as a crowning piece in an already structurally sound setup.
Coming into the new season, Solskjær was forced to think outside the box, finding ways to include Pogba's technical brilliance and physical presence higher up the pitch in a system that already works. This gave birth to the idea of Pogba being deployed as a left-sided midfielder in a 4-2-3-1, allowing United to maintain the combative duo of McTominay and Fred, with Pogba occupying in the left half-space just wide of Fernandes. Without the ball, he defends the wide spaces in a 4-4-2 shape, using his physical presence against the opposing fullback. 
This tactical tweak allows Pogba to use his physical and technical ability to the highest possible level, while helping out defensively in doses, as opposed to being one of his primary duties (his 2 ground duels won resulted in goals in the FA Cup 4th round tie against Liverpool).
Misunderstood Genius
Paul Pogba is many things to many people, but the fact remains that he is one of the most misunderstood personalities in world football. His immense talent has led many critics to judge him hastily without taking his environment into context.
Mourinho claimed that top players can play in "every team, in every system, with every coach", and while that statement holds some truth, it is up to the manager to create an environment that allows the players to be in their best condition, as they are humans first before they are footballers. We all know Pogba has everything and has shown it playing as a LM, LCM, RCM, and RM (Liverpool away in the league) since his return to form, performing at a very high level. So what held him back all these years?
Maybe Pogba didn't push himself hard enough under Mourinho. Maybe Mourinho didn't do enough to get to know him as a person first before understanding what he needed as a footballer. Whatever it is, he now looks like the best version of himself, and United will surely look to him as a source of inspiration in the most important season in the club's rebuild yet.
By: Clarence MacEbong
Featured Image: @GabFoligno / Matthew Peters – Man Utd