Lucas Torreira: The Garra Charrúa That Arsenal Need
Arsène Wenger believed South Americans tended to be the best forwards due to their relentless mentality in attack; "You have to be shrewd, you have to show that you are good, you have to fight. We have lost a little bit of that in football." What Arsène missed here is that it is not just the forwards that could do with that attitude. Arsenal have been butchered in the press with the same terms coined for their lacklustre results – 'spineless', no 'fight, passion, desire' – terms that are often chortled at by footballing purists, but there is no doubt that there is a mental aspect to the game that cannot be overlooked. The type of desire that leads a player like Jamie Vardy to emerge from non-league and break all time PL consecutive scoring records held by legends at 29 years old, or how Sergio Ramos finds himself on the end of a cross at the very death once more to come in clutch for his side. When watching Lucas Torreira, one of the first qualities you're likely to identify, aside from his small frame, is his big appetite for the game – his 'Garra Charrúa', the phrase ingrained in the Uruguayan footballing philosophy. In Lucas' own words, 'It means that we give everything we have inside, for our football, for our country, for the people we represent' – a romance with the fans that won't go a miss when Torreira comes to England.
Garra Charrúa means something between grit and guts, and this pack-a-punch pitbull has it in abundance. I don't use that Pitbull reference lightly either, PL fans with an air of nostalgia about them won't be able to see past the similarities to Carlos Tevez in Torreira's aggressive playstyle – a comparison I found had already been made in Torreira's youth. When he signed for Pescara Calcio in 2013 he was a forward labelled the next "Carlos Tevez" because of this combative approach and his energetic movement. It was only under the guidance of World Cup-winning defender Massimo Oddo that he was moved further back into the midfield, when the coach believed his tenacity would be put to better use in a deeper role and he hasn't looked back since…quite literally. Torreira has been at the base of the midfield three for EVERY club he has played for since then, bringing us to his fantastic breakthrough in to the Uruguay first XI and the little man's huge impressions at Russia 2018.
Uruguay began the tournament in a flat 4-4-2 with Juventus prodigy Rodrigo Bentancur functioning as the Regista of the side, and with Chelsea target Vecino beside him in a typical B2B role. After two uninspiring 1-0 wins against Egypt and Saudi Arabia, who bowed out of the tournament particularly early, Oscar Tabárez seemed to hear the cries of the eager Arsenal fans across the world as he finally brought Torreira into the fray against Russia. As aforementioned, Torreira is always at the base of the team wherever he has played, and this did not change despite Uruguay plethora of players in his position. All four starting midfielders could be considered natural 'DMs in Bentancur, Nández and Vecino alongside Lucas. Bentancur, who before the tournament was considered the real gem of Uruguay's midfield and perhaps the bigger talent, was pushed further forward to enable Uruguay to emulate Torreira's club setup in a 4-3-1-2 or 4-4-2 diamond. Whether the thinking here was actually 'To get the best of the team, we must get the best from Torreira' I cannot tell you, but what we can tell from the performances that followed, this certainly was the case for La Celeste. Torreira strolled right on to the world stage with comfort, 53 of his 56 passes accurate, won 4 fouls, created 1 chance and curtailed the Russians with 3 interceptions, 2 clearances and 2 aerials won by the 5'6 dynamo. The home country, who have widely been accused of doping due to their unusually high distances covered over the tournament, were run ragged by Suarez and co. in this 3-0 win for Uruguay, none of which could've been possible without the positionally perfect Torreira, who contributes in all areas of the park through his nifty shuffles out of danger, his unusual strength in set piece taking and his relentless patrolling in front of his backline. Torreira announced himself as the player La Celeste could rely on in this game, and so they did for the rest of the tournament.
The next task for our brace-faced hero was a sizeable one: prevent an inform Cristiano Ronaldo and friends from progressing to the Quarter Finals of the World Cup. Of course, he passes with flying colours. Torreira dug in, snapping at the heels of anyone who came across him…literally…the boy was on the floor, harrying the ball away from the boots of the gargantuan CR7 with his head. WITH HIS HEAD. Many would shy away from blocking an onrushing Ronaldo with their entire person, but Lucas held true to the 'garra charrúa' saying in full here, putting his safety on the line for the safety of his country's progression. With 100% aerial duels won (No, the one on the floor doesn't count either), 84% pass accuracy, 5 duels won, 4 clearances, 4 blocks, 3 interceptions and 2 tackles, it was a backs-against-the-wall performance, and the pitbull came back fighting. The blocks and aerial duels won by Torreira exceeded the amount made by the entire back four combined – a true shield for his team. Having around 1/3rd of the touches he had in the previous game, this was an off the ball masterclass by the player, exhibiting the qualities held in such regard by his former assistant coach at Pescara, Donatelli: "His technique, his determination and his tactical intelligence always impressed me. He has always been strong in understanding those defensive tactical aspects and he is very mature tactically in terms of how he reads the game. He can cope with the gaps that emerge in midfield with great intelligence and he covers very well. He is the one who corrects the spaces and cuts out the passes between the lines in the defensive phase." Now who does that sound like? Yes. I know. Wait for it. "After SERGIO BUSQUETS, he is tactically the strongest midfielder in Europe." High praise indeed, and after this showing against the very best, it seems justified. What he lacks in stature, he makes up for in mental strength – both in a tactical sense crediting his understanding, but also his simple desire to win more than anyone else. After the game, Torreira said "I had cramp in both legs in the last few minutes, but I couldn't stay down, I had to continue. We could not let the victory escape us." Arsenal fans shut those mouths, I can already see you salivating.
Somebody said Ronaldo's only moving to Juventus now because he knows Lucas Torreira won't be in Serie A next season. 😂

— Lacazettes (@Lacazettes) July 8, 2018
Unfortunately, Torreira and his band of brothers met their end vs France. With talisman and world class forward Edinson Cavani missing, the outball for a primarily defensive team had gone and when Muslera let in a howler near worthy of match fixing allegations, it would've been very easy for Lucas, in typical hot-headed ball winner fashion, to lose his head and composure – however he fought till the end, putting in another complete midfield performance while his teammates fell around him. This was exemplified in him being the only player in the side to be given a 7.0 match rating in their whimpering defeat. With 2 chances created, 3/5 long balls completed, 100% takes on completed, 7 duels won, and 2 free-kicks won, this was Torreira's best creative performance of the cup, showing he can step up to the plate going forwards also – the particularly impressive thing about him, putting in Kanté-esque defensive numbers, a further 4 interceptions and 4 successful tackles, while offering something creatively that the Frenchman's technical ability doesn't extend to.
So, a true ball winner with the ability to dictate from deep and positional sense to pull it all off for 90 minutes? This is why the scout responsible for his Italian breakthrough, Druda, insists there is much more to come from our midfield gladiator. Despite his obvious knack for a scrap in the first two thirds, he also has enough quality on the ball to imprint and dictate on a game going forwards, having once been recommended to Juventus as the long-term heir to Andrea Pirlo. Druda says "He is a computer in the middle of the field. There is nothing to add" and this is where the comparisons with Marco Verratti emerged from the fans of Pescara, where both maestros learnt their trade. After playing an integral role in Pescara's promotion, Torreira moved to Sampdoria and went straight into their first-team, since then he has only missed five Serie A matches in 2 years. He's the player they cannot do without and simply wouldn't want to, his skillset matched up with his mentality make him an appropriate choice for any fixture.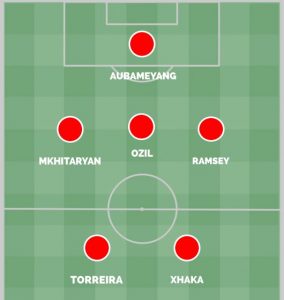 So, where does the new Gunner fit? Well, following the January departure of Francis Coquelin, the last ball winner Arsenal had, Santi Cazorla and Jack Wilshere have also been released. It seems Torreira will come in as immediate first choice as one mainstay to largely replace the three bit part players, with new young prodigy Guendouzi and academy graduate Ainsley Maitland-Niles taking the other two slots. This may sound light perhaps, but with the belief that Torreira will become a staple in the Arsenal midfield alongside likely captain Aaron Ramsey and primary creator Mesut Özil, as it stands we could see Granit Xhaka and Mkhitaryan fighting for a place in the side if the diamond formation, that Torreira has become a specialist in, is the chosen setup of Unai Emery. This is a viable route for Arsenal, as shown by Tabarez' Uruguay at the World Cup, if one has two strong enough forwards to run the channels, fullbacks quick enough to overlap, and a midfield of quality to supply them and occupy spaces, traditional wide men aren't necessary. This would make sense given Emery's targetting of central midfielders and seeming neglect of the already sparse wide areas at Arsenal, the Spaniard could see a diamond as the perfect solution to bring the best from so many creative central midfielders and utilise both Lacazette and Aubameyang, using Torreira's experience with club and country as the blueprint. Alternatively, Lucas could slot alongside Xhaka or Ramsey in a classic 4-2-3-1 as an option, potentially with the Welshman roaming from the right if the new Arsenal boss wishes to build a foundation of grit and steel with both Xhaka and Torreira holding.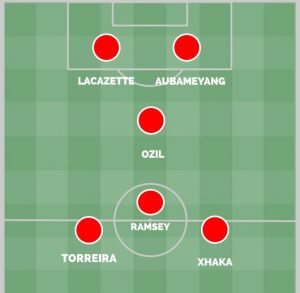 Regardless of shape, expect to see Torreira as one of the first names on the team sheet under Unai Emery, with his mobility and agility to avoid and apply the press which will be a very useful commodity as the pace of the Premier League is ever quickening. He is both the needle player who will keep it ticking over in midfield as Santi Cazorla did, and the rough and tumble destroyer that Francis Coquelin provided. Arsenal have effectively replaced this partnership with a 2in1 powerhouse that can join Xhaka in midfield to cover for his lack of mobility, clean up behind him and always provide an option for building from the back when the Swiss international pushes high into the area with Aaron Ramsey to provide the killer ball that so often breaks down the deep block sides of the Premier League. Effectively, Torreira will enable Arsenal to play the free-flowing game that is synonymous with the club even post the departure of Arsene Wenger, by providing the essential cover that the midfield has lacked, the shield that the back four has sorely missed, since the years of Gilberto and Vieira.
While off the ball, Torreira uses intelligent body shifts, not dissimilar to little Santi, to manoeuvre openings for himself. His low centre of gravity means he is nimble and while not being a Spaniard in his dribbling technique and ability, these shuffles are how he has managed to rank 3rd in fouls won with 87 in Seria A last season. In a league where tricky forwards and wide men are rife, it's almost unbelievable to think a defensive player has been such a consistent outlet out of tight situations for his team, but as you will find with Torreira, you can only really believe it when you see it. Torreira is also adept at shielding the ball under pressure which is a real asset against intense pressing, as Squawka claims, the player is '100% press resistant', and this will come like a gift from the heavens to Arsenal fans, who have watched their side crumble against press in big games and lead to humiliation far too often.
Torreira leaves Sampdoria at 22 years old off the back of winning the Talent Radar Award for Best U23 Midfielder, pipping the sensational Lyon #8 Houssem Aouar to the award previously won by Naby Keita, Julian Weigl and Nabil Fekir. In his two stellar seasons with the Blucerchiati, Torreira made more tackles and interceptions combined (356) than any other player in Calcio A since the start of 2016/17 and came out clear at the top for possession won in the midfield third. With returns of 60.8 passes with a 87.2% success rate, an average of 2.8 tackles and 2.0 interceptions per game, 1 key pass, 1 dribble and 2.4 fouls won – it's clear to see even at such a young age, Torreira is ready and raring to go for a new challenge, having already reached the very top tier in his role in Calcio A. An additional treat to add some bite to his harrowing bark, he has been known to strike ferociously, with all four of his goals coming from outside the box last season, including an absolute peach of a volley to sink Juventus, another big game in which Torreira was not afraid to announce himself. Only Sergej Milinković-Savić scored more from range out of the U23s in Italy, and with his fee being quoted in the £100m mark, Arsenal will count their lucky stars the release clauses of Sampdoria have enabled them to get this gem of a player for £25m. Quite frankly, pennies in this market.
A player who is always positioning himself as an outlet for team-mates, mobile and industrious, while strong on the ball from dead ball situations and in tight areas. His skillset is such that he could've joined his fellow countryman and Spartan warriors of Atléti where his winning mentality would be echoed across the board, join Jurgen Klopp's men where his relentless press and counter pressing movement would've been at home, or add to the pretty picture of Manchester City, where his positional play would've been music to the ears of Pep Guardiola. But instead, he joins Arsenal, where he represents a transition into a new era, where the 'work, work, work' philosophy of Unai Emery will see this tireless Pitbull fit in seamlessly and his 'Garra Charrúa' will be adored by the fans of the Gunners who have cried out for so long to see some grit and fight return to the Arsenal. For £25m, this is the BEST addition could have made to the Gunners midfield, and, considering the potential of the player and the look of the team now with him in it, could be looked back at as the foundation for a new look Arsenal and one of the best signings of the Emirates era.
By: @TheFalseNein
Photo: @VivekAFC