Tactical Analysis: Napoli's Revolution – The Maurizio Sarri Effect
Napoli have become a force to reckoned with under Maurizio Sarri. Over the years, when the likes of Mazzarri and Benitez were in charge, Napoli were not able to get maximum use out of their players and often ending up relying on one player shining to get them through. However, Sarri has now got Napoli playing some of the best football in Europe and today, we will run down the changes that Sarri has made and the impact it has had. Two managers came before the appointment of Maurizio Sarri and whilst it didn't necessary work out for Mazzarri and Benitez in Naples, it is fair to say that they did leave something for the next manager to come in on and develop.
One thing that he can be applauded for is the handling of the squad he was given. When he was appointed in 2015, Napoli already had a decent crop of players but Benitez just couldn't get the most out of the signings he made. It is evident that Sarri came into the job knowing how much potential the team had as he retained most of the squad, with the likes of Higuain, Callejon, Koulibaly and Jorginho all proving to be pivotal to the side that would soon dominate and become one of Europe's most underrated sides. In his first season, Sarri only made two signings bringing in Allan and Hysaj who both would slot into the starting eleven straight away.
Mazzarri's Napoli: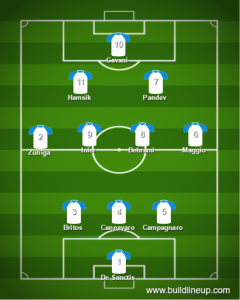 Benitez's Napoli: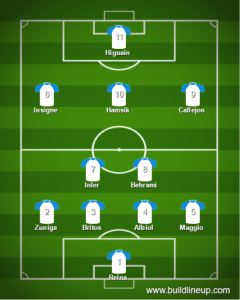 Evolution/Sarri's Style of Play: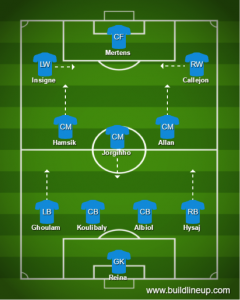 Napoli's style of play is desired by many around the football world. It revolves keeping possession whilst also ensuring that the ball circulation is quick and precise. It starts with the defenders especially the likes of Koulibaly and Albiol being comfortable on the ball, being able to keep it under pressure and playing out from the back and into the midfield. Triangles are very prominent within the Napoli team. Every single player on the pitch is comfortable on the ball and is able to pass the ball with either foot and this allows Napoli to adopt a quick passing sequence that often results in a chance being created. As soon as the ball crosses over into the oppositions half, the movement of the midfield three and the attacking trio changes as the striker and the left winger will often come short to link up with the midfielders.
In particular, it is intriguing to see the relationship between Hamsik, Ghoulam and Insigne on the left hand side. All three are gifted whilst on the ball and Hamsik is often the first to receive the ball in the middle of the park. Insigne's decision making is now vital as he can either come short and central to collect the ball, which will free up space on the flank for Ghoulam to move into and potentially exploit. Ghoulam can also stay wide and wait to receive the ball where he is able to cut onto his right foot and attempt to curl the ball into the corner of the goal or look to find Hamsik again who will continue the play. The rotation of these two scenarios during a match  happens so often that the opposition often does not know who to mark or whether they should stay tight to Insigne or Hamsik.
The right side of the team, which offers something completely different than the left side, is just as effective. This side is actually all about selfless running, supporting fullback runs and midfield runs from deep. Callejon is so pivotal to this system because he hardly ever stops running. For 90 minutes, he is constantly on the move, always running off the ball looking to latch onto a ball over the top or he is dragging the marker away from the left hand flank and into the box allowing Allan or Hysaj to occupy that space that is left.
Allan is very similar to Callejon in the amount of running he does every game. He operates as a box to box midfielder and is constantly looking to make late runs into the opposition's box but is just as willing to drop back and help out in defence. Hysaj is very much a modern-day fullback who is very good defensively and also is able to get up the pitch and assist as the team is going forward. These two triangles that are operating on a different side offer two different outlets and styles but they are just as effective and important as each other.
The role of Jorginho is imperative as a regista as he truly is the heart of the team and is the one that is tasked with orchestrating the play. He is the focal point of most of the attacks essentially as he collects the ball in a deep position and looks to move the ball forward to potentially create a chance. Jorginho is often spoilt for choice when it comes to options due to the movement of the players in front of him. His main attribute is his excellent range of passing which enables him to either pick out one of the wingers with a long pass, moving slightly forward to find one of his other midfielders or looking to put a player through on goal with a precise through ball. With 84 chances created, having a 91% passing accuracy last season and currently ticking 90% this season, there is no denying how big of an influence he has on the team.

Strengths:
Under the tutelage of Sarri there have been a lot of positives for this Napoli team. The first one follows on from the philosophy of the Italian allowing the team to be expressive and play in a free-flowing manner. The best thing about this Napoli side is their attacking impetus, they thrive on attacking with speed and precision. When they get a hold of the ball in a normal scenario, each player already knows what they are going to do whether it is the person on the ball or the rest of the players making runs or moving to space to receive the ball. There is equal effectiveness when they are on the break and the special thing about Napoli is when they are breaking, they only need to make a few passes before they are in behind with a chance.
Another strength with this team is their squad depth that they now have. With Mazzarri and Benitez, they had stars in the starting line-up but no one that they could really bring on when needed that would change the game in their favour but under Sarri that has changed, especially in the 2016-17 season. Sarri's first season squad was practically identical to Benitez's one except the additions of Allan, Hysaj and Valdifiori (who rarely ever featured) and there was a lack of squad rotation, particularly in the midfield department. The likes of Allan, Jorginho, Hamsik, Koulibaly, Albiol, Insigne and Higuain started nearly every single game together last season and some people believe that was a main reason why they did so well but now being in the Champions League, they couldn't rely on them to play every game and additions were made across the whole squad. The introduction of Milik, Zielinski, Diawara, Giacherrini, Maksimovic, Tonelli, Rog and Pavoletti means that now they are well stocked in every area and the list of the possible XI's are much better than before. Below are two alternative starting line ups now that Napoli have new acquisitions and this shows how much versatility they have compared to last season. The screenshots below show off Napoli's improved depth.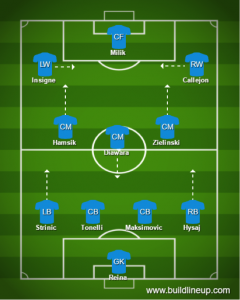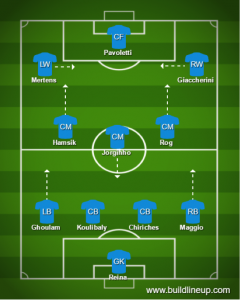 The most exciting and pleasing part of Sarri's football comes in the amount of club records that he broke. Last season was a very special and surprising first season for the former Empoli boss who managed to break a lot of records in his first season at the club. One of the most interesting stats were the amount of goals scored (80 goals in the league season – only Roma scored more), which is a testament to how well he has got his team playing. Other records that were broken include an 8-game winning run and also finishing with a club record 82 points, so it was no surprise that Napoli president Aurelio De Laurentiis renewed the one year rolling contract that was given to Sarri when he came to the San Paolo.
Gonzalo Higuain scored a large portion of those goals as he went on to dramatically break Gunnar Nordahl's 66-year-old record with a fantastic hat trick on the final day of the season, so when it was announced that Juventus had signed Napoli's most prized asset, there were worries about how he would be replaced. Arkadiusz Milik was recruited to take over the responsibility of putting the ball in the back of the net and he started off really well bagging 7 goals in 9 appearances before an injury ruled him out for 5 months. There was now a real selection dilemma for Sarri because now he did not have a recognised striker in his roster and so there were two different options for him to do:
Either play Gabbiadini at striker who is more familiar with the role but still struggles to make an impact when played there or experiment and take a gamble and play Dries Mertens in that position almost as a false nine. He decided to go with the latter and after a slow start, this gamble paid off big as Mertens stunned a lot of critics and went into red hot form going into the winter break. This form continued over and after a third hat trick of the season and he now is the top goal scorer in Serie A alongside Dzeko and firmly in the race for the Capocannoniere. The form of Mertens is truly astonishing coming from a player that wasn't even in the starting line up at the start of the season and someone with no experience leading the line. He is part of a quartet that include Callejon, Insigne and Hamsik, who collectively have been involved in 64 goals Napoli have scored so far this season. What this shows is there is a clear incentive for others to chip in and there are now goals coming from different areas of the field, something that wasn't prominent last season. This graphic from Squawka Football breaks down exactly how each player has done.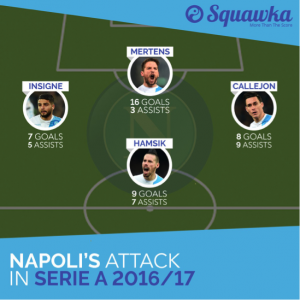 To get a glimpse of their attacking potent, here are highlights from Napoli's latest outing which was a resounding 7-1 victory over Bologna.

Weaknesses:
Whilst there are so many positives to take from Sarri's appointment, there are some issues that need to be ironed out if they are to seriously challenge Juventus for the Scudetto. The number one issue with this team is that they are very prone to conceding goals regularly. The goals scored are a very good statement of intent but as the great Sir Alex Ferguson once said:
"Attack wins you games, defence wins you titles."
This is very prominent within Napoli's current situation because going forward, Napoli are sorted, but it is when they are defending that problems arise. Currently, in their last 7 games in Serie A, they have failed to keep a clean sheet and there is an interesting observation that we have observed that could explain the reason for this. Napoli are a side that start games really fast and with high intensity; they have scored goals within the first 10 minutes of games on numerous occasions and while this is a very good way to start the game, there is often a period of each game where there is a drop of intensity. This drops leaves the defence vulnerable and more often than not this will result in the opposition scoring. It could be a fatigue issue or just lapses in concentration; Napoli will have to find a way to cope with this in order to see through games as they do not tend to kill games off until towards the latter stages.
Napoli are in their best spell since the days of Diego Maradona but now there is huge obstacle in the way of them; Serie A domination in the form of Juventus. If they are going to overcome the giant Bianconer, they have to ensure that their defensive frailties are eradicated. Sarri is no doubt one of the most underrated coaches in Europe and is proof to suggest that having a manager who was born in Naples and supports the club has a better understanding of what it means to the fans and how the team should play.
Image Credit: Getty Images