Toulon Tournament: Match 10: Brazil-Qatar
There was a moment during the match where, after lunging to make a tackle, Qatar's Amro Abdelfatah Ali Surag tried to get back onto his feet, before his head met the sheer brunt of a Lucas Fernandes shot whilst in mid-rise. That was basically the jist of this game.
With their qualification to the semis already sealed, tournament favorites Brazil played a fully rotated squad (with the exception of Matheus Henrique, who wore the armband before being subbed off at halftime after Brazil had already sealed the victory). While Qatar played one of their strongest sides, they were no match for a stacked Selecão side.
Watching the game from a stadium rather than a TV has its advantages and its disadvantages. You don't get to pause or rewind to closely study a play, but you do get the intangibles, like the pink houses and the rocky cliffs jutting out amongst the summer sky, the tennis courts in the background, the food truck, the kids practicing their juggling skills, the old men chatting in French to each other. It's special, but it's a different kind of special.
While he didn't play against Qatar, I did manage to use my broken Portuguese to get an interview in with Lyanco, the most impressive defender at the tournament.
Q: What did you think of the game?
A: "It was another good game for us, a good way to continue our good performances from the past two games, where we also won with a good score, so it was a good way to close the group stage in the best way we could."
Q: Do you think there's anything the team needs to improve in going into the semifinals?
A: "Yes, absolutely, there is always something to improve even when we are playing well, now it is time to rest so then we can start thinking about the next opponent."
Brazil's gameplan
Just as we saw in Brazil's first two games, the holding midfielder (Wendel) tended to drop back and receive, whereas the box-to-box midfielder (Matheus Henrique) tended to receive between the lines. While the right back Guga did not position himself in midfield, the gameplan remained the same as when Emerson had started: midfielders and center backs alike aimed to pick out Guga in deep areas, who would then try to link up with the wingers.
The Atlético Mineiro fullback wasn't quite as refined on the ball as Emerson, but he did just enough to stretch the play and keep Qatar pinned back. Moreover, just as we saw in the previous games, the right-sided center back (Bruno Fuchs) assumed more responsibility on the ball than the left-sided center back (Adryelson).
Overall though, this game was a formality, with Brazil having already sealed entrance into the semifinals due to France's failure to beat their goal differential. It gave Jardine an opportunity to rest his key men, while even giving third goalkeeper Lucão a run out.
Qatar's standouts
Disappointment and success are both relative. In a normal year, France would be disappointed with going out in the group stages, although considering the facts that they A) brought the youngest squad to the tournament and B) finished with six points, it's not so embarrassing.
Nonetheless, after winning January's Asian Cup, this was a disappointing performance from a Qatar side that was comparatively aged and experienced compared to their tournament rivals. However, one player who deserves to hold his head high from yesterday is Qatar's Meshaal Barsham.
The captain, who plies his trade at Al-Sadd, was often exposed by his defense, yet made some fine saves to keep out a number of Brazil attacks. He got a touch to Matheus Cunha's penalty, but it wasn't enough to keep it out.
While he held himself high in goal against a flurry of shots, it was his ability on the ball where Barsham truly stood out. Barsham consistently picked out his players with pinpoint passes. In fact, if there was any real 'attacking strategy' or structure to build out of pressure for Qatar, it was Barsham's passing.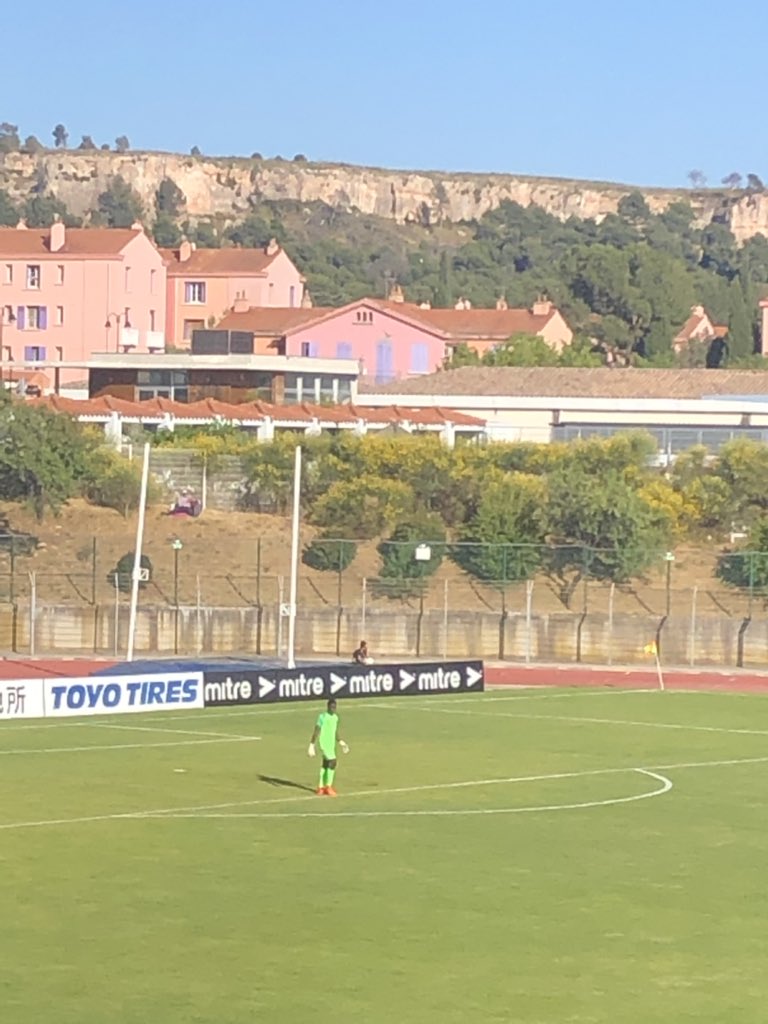 When it came to bailing his defense out with great saves, or bailing his defense out with great long balls, Barsham rarely let his team down. You'd see him receive a rolling pass and then drill the ball into Ilyas Mohammad or Mohammed Abu Shanab, you'd see him coming off his line to punch the ball away; whatever it was, he was the savior. On one occasion, he scurried across his line, dove down and pawed away a glancing shot from Lucas Fernandes.
When Qatar did try to clear or head away danger, it was too weak. When they tried to build out of the back, they were too inaccurate. You could give them the benefit of the doubt given the fact that it was Brazil, albeit weakened, but they failed to beat Guatemala or France too. Even though Brazil gave away a few counter-attacks in the second half with lazy decision-making, Qatar failed to make anything from it.
Brazil's standouts
If there was one thing that made the trip to Vitrolles worth it, it was Paulinho's fantastic performance. Having come off the bench in both the opening match against Guatemala and the second against France, him and Matheus Cunha were both given the starts. To give you a perspective of just how deep Brazil are, Cunha and Paulinho have already made big-money transfers to Germany for a combined fee of €33.5 million. In addition, the likes of Rogério and Wendel play regularly for clubs in Europe's top 5 leagues, yet can't even crack André Jardine's XI.
Apart from Paulinho, one player who might just give Jardine a selection headache heading into the game is Matheus Cunha. Two regular starters played a total of 90 minutes in Vitrolles (Matheus Henrique in the first half, and Pedro in the second half). However, with Cunha scoring a brace against Qatar, in addition to winning and scoring a penalty against France, Jardine may decide to give the Leipzig man the start in the semifinals.
Pedro has been a bit clunky and easy to defend against in comparison to the likes of Pedrinho and Antony, but the manager may value his physical hold-up play while preferring to use Cunha as a super-sub.
Man of the Match
Between Paulinho and Cunha, the two forwards made up for four of Brazil's five goals today, and two of those were absolute golaços from Paulinho. He was a handful down the right flank, getting in behind Ilyas Muhammad as well as Abdelrahman Mostafa, who entered in the second half. While he hasn't played much in Leverkusen so far, the debut year in Europe seems to have paid off in the gym.
He blazed past defenders with his electric pace, but also held off and outmuscled hapless Qatari defenders with his impressive upper-body strength. Early on, he tested the goal after bodying Nasser Al-Ahrak, before firing a shot that was palmed away by Barsham.
For the first goal, he arrived from the left flank, took a heavenly first touch past the defense and fired it into the bottom right corner. For the second, he took a step back to the edge of the box before shooting a powerful one-touch finish into goal. This was a fantastic performance from the 18-year-old, and it may even do him enough good to win a starting spot for the semifinals over Antony or Bruno Tabata.
I'd like to add a special thanks to my friends Pedro Lampert (@PedroLampert) and Rodrigo Carvalho (@rodrigoccc97) for their help in the translation of Lyanco's interview.
By: Zach Lowy