Toulon Tournament: Match 8: England-Portugal
If Monday's second match gave us the dullest match of the tournament, Tuesday's second match gave us the most exciting match of the tournament's early stages. With both of Group A's favorites having lost their opening games, and with Japan having already secured their first-place status with a 7-1 drubbing of Chile earlier on in the day, each team needed a win to keep their hopes of advancing to the semifinals alive. This game was a nail-biter from start to finish.
After surprise losses to Chile and Japan on the opening day, both England manager Paul Simpson and Portugal manager Filipe Ramos rotated heavily for Tuesday's do-or-die fixture. Of the players who started against Japan, only captain Trevor Chalobah and Burnley's breakout star Dwight McNeil kept their places in the starting eleven (although the latter made way in the second half for Marcus Tavernier). Amongst the Portugal side, Benfica duo Pedro Álvaro and Nuno Tavares held onto their starting spots, as well as Sporting's Félix Correa.
There was an element of rivalry going into the match as well. Vitor Machado Ferreira, who captained Portugal yesterday after his supersub appearance against Japan, was on the pitch with Fábio Vieira (who started yesterday before being subbed off after a poor performance) and João Mário when Porto defeated Chelsea in April's UEFA Youth League Final. Despite the high number of Chelsea graduates in the starting XI, only one who played in the Final started against Portugal: Conor Gallagher.
England's rotation pays dividends
After a nonexistent performance from England's double pivot vs. Japan (Sam Field and Josh DaSilva), Gallagher came in to act as the holding midfielder, while Eberechi Eze and Joe Willock operated further forward between the lines. Thanks to Gallagher, England pinned Portugal back deep throughout the first half, as the Chelsea youngster dictated the flow of possession throughout the half.
He read the game well, making key tackles and interceptions to retain possession, and during the second half, when Portugal gained a stronger grip on the game, he found himself moving down the touchline to block crosses and win possession by the wings. But apart from his defensive game, it was his offensive game where he showed his strongest skills.
Gallagher exhibited lovely technique to maneuver his way out of pressure, whether it be playing quick one-touch passes or evading the pressure with impressive footwork. The deep-playing midfielder dictated the flow of possession, playing lovely fizzed balls over the top, and finding teammates between the lines.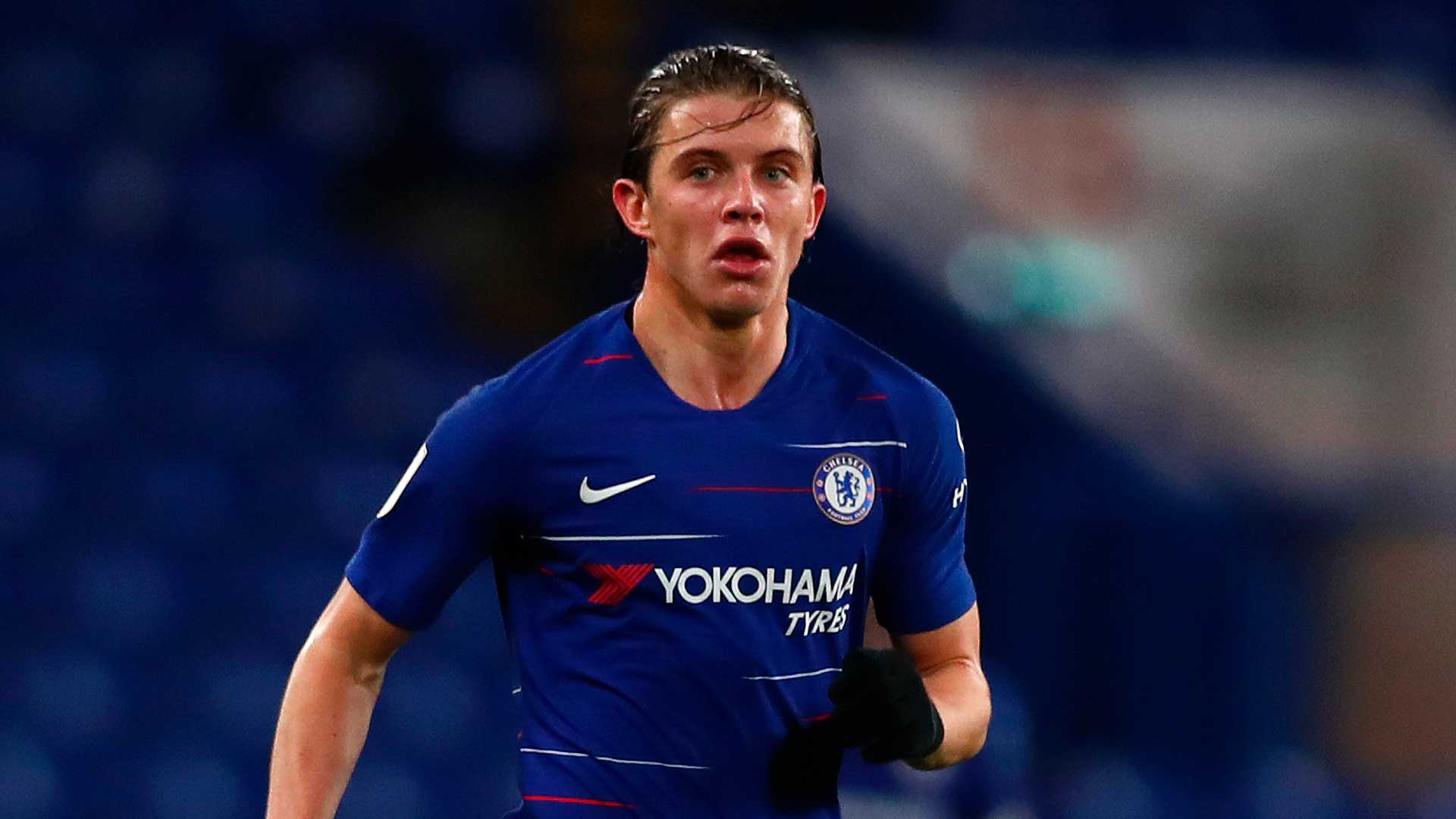 Photo: Goal.com
While not all of his attempted passes came off successful, I came away intrigued with QPR's Eberechi Eze. He struggled after being thrusted in behind the striker against Japan, but after playing in a deeper "free" role, Eze proved why he's one of the hottest prospects on the Championship. He used his physicality to win the ball high up the pitch, and evaded pressure with some smooth turns and dribbles.
Furthermore, he played some nice passes between the lines in for the likes of Joe Willock and Dwight McNeil, and when Portugal were imposing their control over the game, Eze dropped across the final third, mostly playing as a left winger  and receiving in half-spaces to generate danger.
Another player who deserves a special mention is Eddie Nketiah, whose performance up top made Paul Simpson's decision to start George Hirst against Japan all the more puzzling. In contrast to the hapless Hirst, Nketiah was a constant threat, controlling long balls, turning past the defenders on the corner of the box, and peeling off the center backs with fine runs.
He put England ahead with a well-placed goal, but he could've had a brace or even a hat trick. His half-volley was saved by João Valido, while he was just an inch offsides for another goal. He picked up an assist for England's second goal, but he could've just as easily had a brace had Joe Willock not gotten a touch before it entered the net. While his passing still needs some work, Nketiah is a special prospect who's on the right path towards success.
England's man of the match
I thought about giving this player man of the match, but I thought that would have been unfair to a Portuguese player who helped their side grind out the win. As such, I will attribute an extra-special mention for one of the best players in the Championship this past season: Reece James.
After helping Wigan stay up with consistently excellent performances, it was bizarre to see James not even enter during England's first match against Japan. However, he was given the start against Portugal in central defense, next to fellow Chelsea defender Trevor Chalobah, and he did not fail to impress.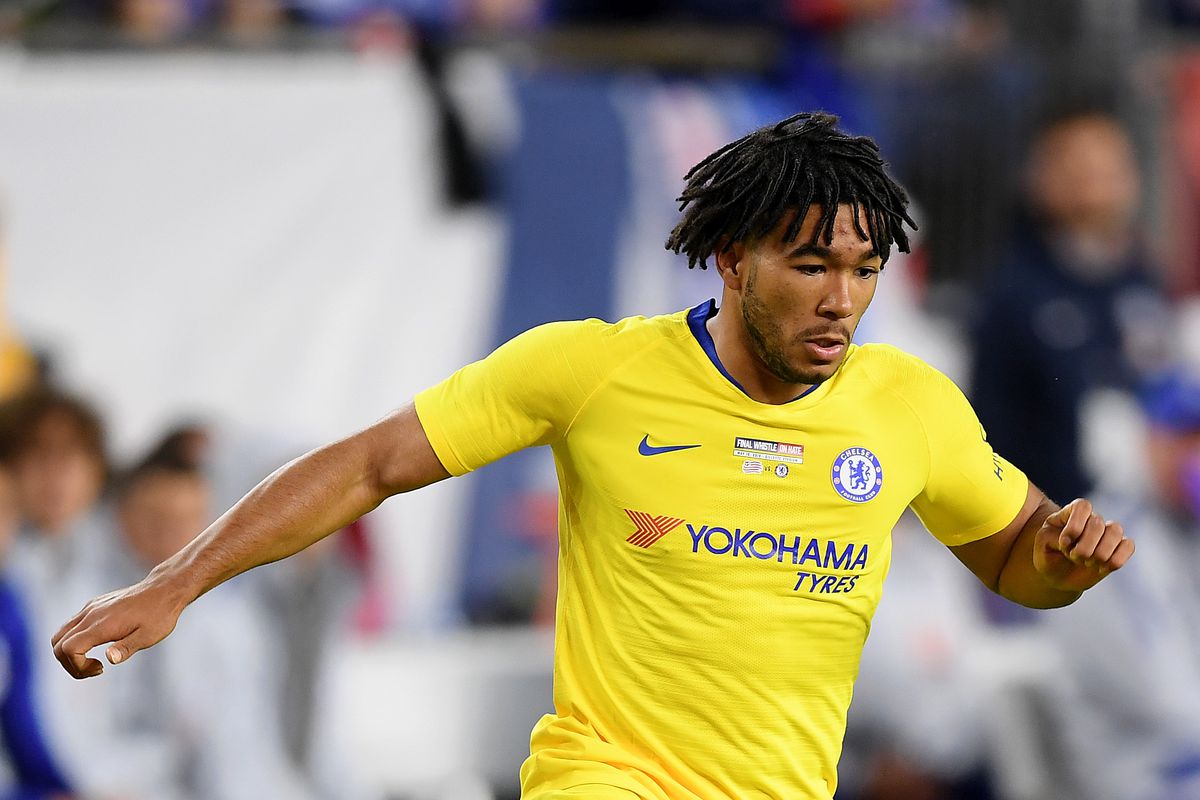 Photo: Darren Walsh/ChelseaFC via Getty
Despite facing a tricky Portugal attack, James made the right decision nearly every time, boasting his recovery tackles and impressive speed against a side that was all too eager to counter against England's high line. He used his upper-body strength and positional awareness to his advantage, controlling errant passes, shielding the ball and recycling possession back to safety. Well-positioned to intercept, strong in the air, and quick to cover counter-attacks, you'd have thought he was a natural center back.
On the ball, Reece was confident and precise, playing lovely cross-field balls into the left flank, and picking out Max Lowe and McNeil with ease. While he tended to favor passes into the left, he also pulled off some lovely passes over the top into Josh Sims and Kyle Edwards. In a transitional season that will be clouded by Eden Hazard's departure and a transfer ban, Chelsea fans can take solace in the return of Reece James, who joins the likes of Callum Hudson-Odoi, Andreas Christensen, and Ruben Loftus-Cheek as players who are aiming to become the first academy graduates to consolidate a starting spot in Chelsea's XI since John Terry.
Portugal's quick and fearless counterattacks
With England holding the lion's share of possession, Portugal defended deep in the first half and struck on the counter. Via Benfica's two teenage fullbacks–Tomás Tavares and Nuno Tavares–as well as wingers Félix Correa and Umaro Embaló, Portugal hit England on the counter, and despite being outplayed throughout the majority of the first half, Portugal went into halftime with a 3-1 lead.
Having been given the start after a sub appearance against Chile, Embaló showed just why RB Leipzig were ready to offer Benfica €13 million for him when he was only 16. While James did well to recover and deal with his threat, the Benfica forward stretched England's defense time and time again, getting in behind Max Lowe with his close control and blistering pace.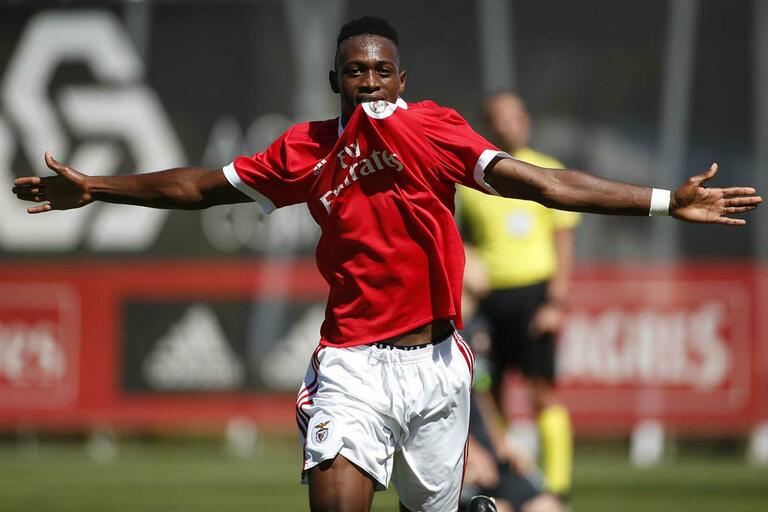 Photo: O Jogo
For the first goal,  Pedro Álvaro caught England out of possession with a world-class ball into Embálo, who cut in, only to have Marcos Nascimento 'intercept' his shot, and then score. Embálo had his penalty saved and missed a few shots which could have sealed the game, but he was still a complete menace on the right flank, the difference-maker for Portugal.
Following his impressive second half against Chile, Nuno Tavares did well to shut down Jamie Shackleton and Josh Sims on his flank, tracking runs in behind the defense well, and playing quick one-two passes to Nascimento and others before marching up the pitch. He also provided the second goal with a lovely whipped in ball for Gonçalo Cardoso. However, it would be his Benfica teammate on the other flank who would steal the show.
Man of the Match
Tomás Tavares came into the line-up after a so-so performance by the more defensive João Costa, and he didn't disappoint. His overlapping runs with Embálo wreaked havoc on England's high line. For the Selecão's third goal, he chipped a short pass into Embálo, who dragged Max Lowe with him. Embálo waited, then dished it off to Tavares into space, who sprinted to the byline and played a fantastic ball into Félix Correia, who scored with a powerful volley. Within four minutes, Portugal had put two goals past England, who threw away another early lead.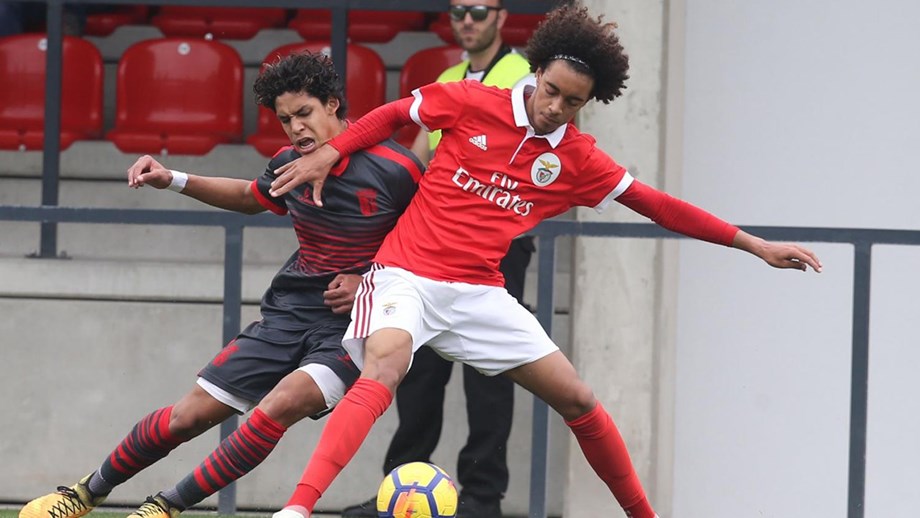 Photo: Simão Filho
Apart from his unstoppable, buccaneering runs up the right flank, Tavares did not ignore his defensive duties either. He was quick to come across and block crosses, keeping Dwight McNeil quiet on the left flank. He did well to cover runs and hold strong against a tricky England side, and in the end, he came out on top.
This was a fantastic game against two über-talented opponents, both of which let themselves down in the first match day with poor team selections. England's run of three straight Toulon championships comes to a end, but if their current pipeline of talent is any indication, it's only a matter of time before they're back competing for the trophy.
By: Zach Lowy