Unrequited Love (For Who?)
"La deuda la tenemos con nosotros mismos, a la gente no le debemos nada."
Those words by Lionel Messi still stand out like an ice sculpture in the Sahara. "The debt we owe is to ourselves, we don't owe anybody else anything." It was, perhaps, the boiling point of a decade-long battle between the fans of Argentina and the Argentine players, a psychological battle that has rambled on for eternity, and by the end of July, it may very well be over.
One month from today, Argentina will play a World Cup match against Croatia. With the match lodged in between two key group stage matches against Iceland and Nigeria, the game will be a huge test for Messi, who will try to hold his own against a midfield of Luka Modrić-Mateo Kovačić-Ivan Rakitić (barring injuries), but it will also be a test for Argentina, who play their first tournament match since 2016.
On June 26, 2016, Chile defeated Argentina in the Copa América Final, as Messi skied his penalty in the defining shootout. Of the 23 men who played in Argentina's last tournament, 11 will play in the upcoming World Cup, per the reliable Hernán Castillo. Of the 11 returning Albiceleste players, 6 will have already been resurrected from the dead.
Photo: Omar Torres / AFP
After the disappointment of the 2016 Copa Final, Lionel Messi retired from the Argentine national team. According to reports, Lucas Biglia, Javier Mascherano, Sergio Agüero, Angel Di María, Éver Banega and Gonzalo Higuaín followed suit, although it was never actually confirmed that they officially hung up their boots.
You couldn't blame them if they did retire; the anguish of three straight final losses, as well as constant abuse from Argentine fans, it takes a toll on a man's mind. None of them actually retired–they "took a break," and returned by the time new coach Edgardo Bauza announced his squad for the World Cup qualifiers (Higuaín, unlike the other 5, returned in October's qualifiers). Still, while they returned, the mental damage of three finals lost will never recede.
It's almost as if these players were Vietnam soldiers returning home. They were insulted and jeered by many of their own countrymen, they lost a deadly, heartbreaking war, and after a certain point, they didn't even know what they were fighting for.
And yet, the players soldiered on into the World Cup qualifiers. They didn't have much chemistry, despite playing with each other for years, and they didn't have a tactical game plan under Bauza.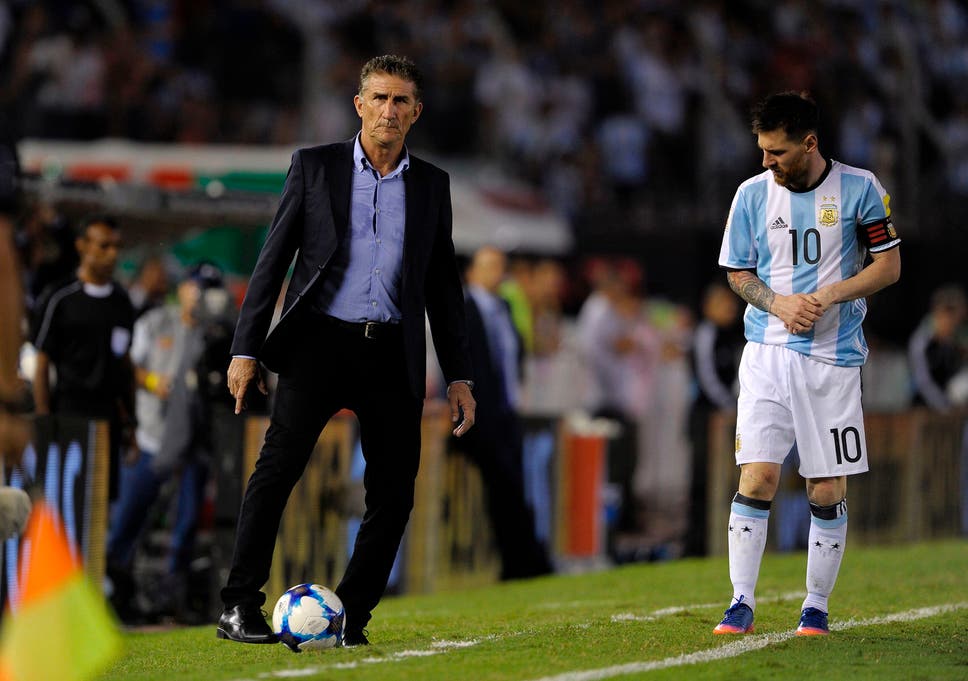 Photo: AFP / Getty
It is a testament to the players' individual quality that by the time Bauza was sacked in April 2017, Argentina did not have an insurmountable gap to climb. They were, however, 5th in the CONMEBOL table, with four games left for them to secure top four and an automatic World Cup spot.
Jorge Sampaoli, the man who handed this Argentina crop their second final loss, came to the helm. The Albiceleste's June 2017 friendlies excited fans and led many to believe World Cup qualification would be a breeze, but after two consecutive draws, Argentina's World Cup dreams were hanging on by a thread.
They needed to win against Ecuador, and with Ecuador scoring in the first minute, the players could already see the headlines in tomorrow's papers: "Por primera vez desde 1970, Argentina no clasifica al Mundial."
They won, but not as a team. Leo Messi turned into Leo Messi, and scored three goals, albeit against one of the weaker sides in the continent. It was ugly, but 'they' got the job done. It didn't matter, of course, because no matter what, in the eyes of the Argentine faithful, this current generation will never be as good as the World Cup-winning generation of 1986, and Leo Messi will never be as good as Diego Maradona, the man who brought them their last World Cup.
If anything, qualifying for the World Cup was just the bare minimum. A squad like Argentina, whose squad quality runs so deep that the likes of Leandro Paredes and Mauro Icardi will not be going to the World Cup bar injuries, this squad should be considered one of the favorites for the competition.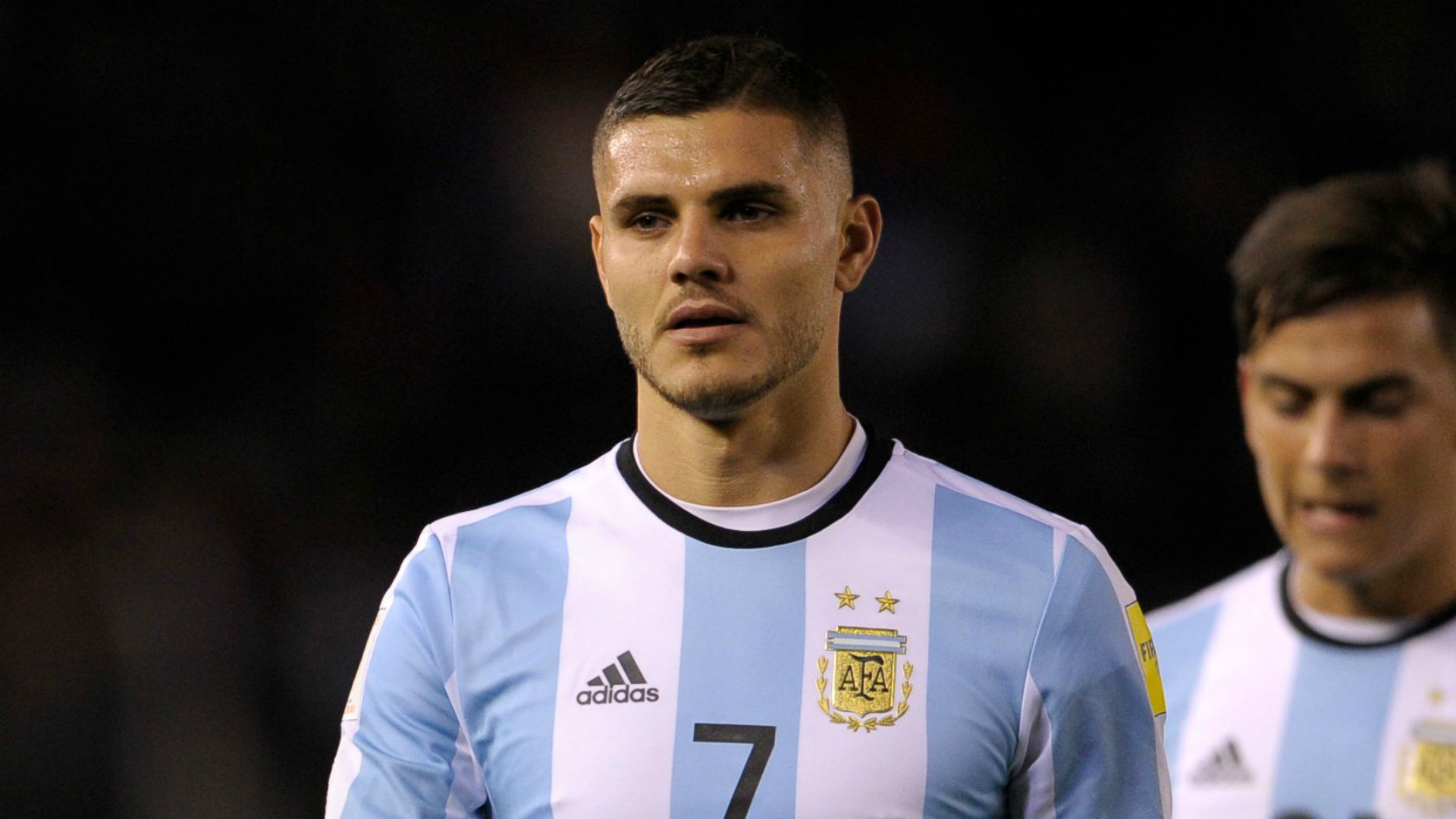 Photo: Getty
One can certainly understand the perspective of Argentina fans–after cheering and screaming for three straight finals, after chanting and praying for these players to lead them to a trophy, they got their heart broken three years in a row. Just like the players, Argentine fans have experienced a certain type of PTSD from three consecutive heartbreaks. Just like the players, they carry Argentina inside of them every waking moment of the day.
It's a complicated relationship that nobody has come close to scratching the surface with, until Quilmes Cerveza released their pre-World Cup commercial this month. The commercial, by the Argentine beer company, forces a dialogue between the fans and the players, and at the end, makes a rallying cry for unification as this Argentina generation approaches its final World Cup.
Oscar "El Cabezón" Ruggeri won two Copa Américas and one World Cup with Argentina alongside Maradona. He is a legend in his own right, and he is a member of the iconic Albiceleste side that brought home World Cup glory in 1986. In a way, he is a mediator. While many current Argentine players would be jeered and laughed at, Ruggeri is a senior, respected figure. He has lived both as a player and a fan, he knows the pressure of playing in a World Cup Final, as well as the emotional trauma of cheering on Argentina in a final, and seeing them lose at the final second.
Ruggeri walks through the tunnel, ambles onto the pitch and puts up his umbrella. Around him, the stadium is filled with dejected, confused, frustrated Argentina fans. Before the dialogue starts, Ruggeri's monologue sets the scene: "Between players and fans, we have an old contract that goes like this: we give up our lives, and in return, they support us without stopping. But when there are doubts, you have to talk about it."
It's time to talk about it.
And so, like a weary therapist, El Cabezón takes his umbrella to the center circle and asks, "Qué pasa muchachos?" One voice shouts out: "Sometimes, it seems like they don't even want to be here?" Another screams: "In their clubs they score 30 goals and here zero!" One man in the stands laments "I drove my car to Rio [for the World Cup Final] without eating, it took 4 days!"
"Well, it was because they got to the final, after all," retorts Ruggeri. You can call the fans spoiled for complaining after their team just made it to a final three years in a row, but after all, seeing your team lose three finals in a row may very well be more heartbreaking than seeing them fail to advance out of the group stage. It's hard to explore such a difficult relationship, who is in the right vs. who is in the wrong…but the first thing you must do is talk about it.
Ruggeri pleads with the fans to stop the hurtful memes towards the players, mocking their performances and failures. One fan retorts that they are hilarious, and that they deserve it for their poor performances, but Ruggeri asks for less tough love, less injustice, aggressive hatred against their own countrymen. As one Argentine commentator said, "When he's with his club, Higuaín thinks about scoring. When he's with Argentina, he thinks about not becoming a meme."
"We ask them to play with their balls!" one woman shouts. Is that so? In 2015, Paraguayan and Peruvian fans rejoiced in their respective teams' efforts during Copa América. They cheered them along, and applauded them for 'playing with their balls.'
Both of those teams only made it to the semis. Argentina, on the other hand, made it to the final, and lost on penalties. Did Paraguay and Peru play with more balls than Argentina? And even so, does Argentina not deserve praise for making it within inches of the finish line?
The accusation that Argentine players don't care or don't want to win is unfair, and Ruggeri calls them out on it. After all, we, as fans don't 'just' ask them to play with balls. As Ruggeri notes, we ask them to "make our lives happier, to cure our sicknesses, we ask less of God himself."
Now, it's time to revisit the ancient social contract between the fans and the players. We've already broken a lot of promises to ourselves, let's not break this one. The camera zooms in on Ruggeri, as he pulls out a document from his coat pocket.
"I will leave it all….to watch Argentina play." Suddenly, the singular piano note that has accompanied the entire video, a note that captures the dejection, disagreement, and ennui of Argentina's fanbase, that note stops. Now, overshadowing the piano is a triumphant backing track, like it's Leonidas leading the Spartan soldiers into battle.
Immediately after the music rises, so do the fans. What follows is a call-and-repeat war cry, with the fans pledging their unwavering allegiance to the Albiceleste players: "Because the players are going to show me that they are going to win, and that they want to become champions, and that they carry Argentina inside of them the way I carry it inside of me."
Now that the conversation is over, we see Leo Messi putting two Ecuadorian defenders on their backsides for the go-ahead goal that seals World Cup qualification. Now at an undisclosed tavern, Argentina fans rejoice in celebration…with none other than Quilmes Cerveza at the table. The announcer, in praise of Messi's goal, closes the ad with a demand for positivity and unification: "DREAM THAT IT IS POSSIBLE! AGAINST EVERYTHING! ENOUGH SCAPEGOATS AND CRITICS! VAMOS ARGENTINA! LONG LIVE FOOTBALL!"
Now, Quilmes Cerveza drops one last plea, with its slogan: "Let's return to the good old days, more class and more Argentina than ever." The way it should be.
Amidst all the heartbreak and cynicism, Quilmes Cerveza's brilliant commercial gets down to the root of the relationship between Argentina's players and its fans. It forces a dialogue that is so desperately needed between the fans and the players, and it explores the age-old contract between the fans and the players, and questions whether or not that contract is still valid. Finally, before what will surely be the last chance for glory for this aging generation, it calls for unity and passion, as we cheer our brave soldiers into battle.
By: Zach Lowy