Valencia's Familiar Turmoil Might Be One Too Many This Time
Valencia Club de Fútbol is one of those clubs that instantly pulls a smile out of people who saw their peak years. A truly historic club, many still fondly remember the Héctor Cúper-led team that shocked Europe by reaching two straight Champions League finals in its most complicated format ever; a run that saw memorable stars like Gazika Mendieta, Claudio López, Roberto Ayala, Kily González, Miguel Ángel Angulo and more come to the fore.
Those viewers may also remember the Rafael Benítez-led team that immediately followed Cúper's side, a team that shook Spain by winning two titles in three years and then went on to win the UEFA Cup to complete a famous 'doblete' in 2004. 
Unfortunately, Valencia now make the news for less exciting reasons like losing star players or star talents cheaply, sacking managers sometimes for shocking reasons, baffling manager hires, internal turmoil, battles between management and players as well as fans. If there was a trophy for this sort of thing, Valencia would definitely be one of the contenders. 
To get a simple picture of the instability that has enveloped Valencia over the past decade, all you have to do is look at the number of managers and managerial changes that Valencia captain Dani Parejo has experienced since joining the club in summer 2011.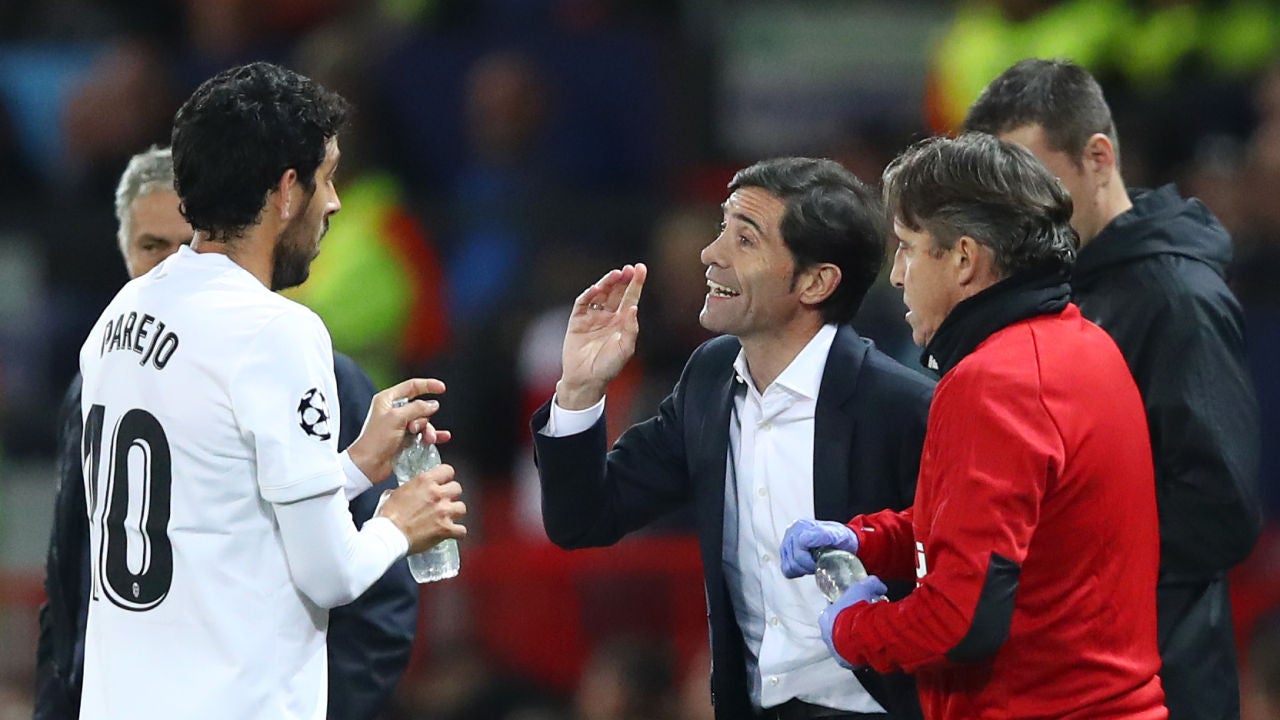 Photo: Getty
Unai Emery, Mauricio Pellegrino, Ernesto Valverde, Miroslav Đukić, Nico Estévez, Juan Antonio Pizzi, Nuno Espírito Santo, Voro, Gary Neville, Pako Ayestarán, Voro, Cesare Prandelli, Voro, Marcelino García Toral, Albert Celades, Voro, Javi Gracia. The last 11 have happened between 2014 and now. It's outrageous, and yet, not at all surprising anymore. It's Valencia after all.
2014 is significant because it is the year Peter Lim walked in through the door and became the club's majority shareholder, with a vow to take Valencia back to its glory days through his company, Meriton Holdings Limited. Even before the takeover, many Valencia fans raised concerns over Lim's association with Jorge Mendes, the super agent. They worried about how much influence was Mendes going to wield, especially since Lim's first move was to fire Pizzi and hire Nuno, Mendes' first client in football and close friend.
While those concerns turned out to be valid, considering the mess that Nuno and Mendes created at the club in the first two years of Meriton, Valencia have now gone on to have bigger problems beyond the association with Mendes. That problem is Meriton, specifically, Peter Lim.
In the six Meriton years so far, a lot has happened in the background. There have been internal tussles, lots of exits by club employees, a big player revolt, camps formed over transfer targets, a 2-time ACL-having 21-year-old signing the club president and sporting director found out about on Twitter who later failed two medicals and many more.
The twists and turns at Valencia have been endless, and the hearts of the fans have been relentlessly toyed with. In fact, divisions have also appeared in the fanbase over the many issues plaguing the club and Twitter has been agog with wars within the fanbase. 
Yet, when Lim hired former Mallorca president Mateu Alemany as director and Marcelino as manager, it seemed as though he had finally learnt his lesson. It had taken three whole years – which included two relegation escapes – to get to that point but the turmoil seemed to finally be over.
Photo: Getty
In Marcelino, Valencia had their most sensible manager hire in the Meriton era, a guy who was grounded in Spanish football (a native speaker) and vastly experienced in building teams and sustaining their level. Beyond that, Valencia's most tactically astute hire. This was something Valencia had been lacking since Valverde left in 2013.
The Alemany hire, through which the Marcelino hire happened, was a masterstroke. The synergy between both men led to Valencia's most sensible and strategic transfer window in a long time. By the time that campaign was 5 months in, Valencia were neck-and-neck with Barcelona in the title race, scoring for fun and setting a new club record for consecutive wins.
Valencia fans, who have seen enough false dawns to last a lifetime, started to believe again. Who could blame them? They weren't scraping wins, they were obliterating opponents, playing exciting football and banging in goals. 
Within two years under Marcelino (and Alemany), Valencia finished fourth twice, the first time they qualified for CL in back-to-back seasons since the Juan Mata and Roberto Soldado days under Emery. To crown it all, they went up against a Lionel Messi-led Barcelona in the Copa Del Rey final and won.
To understand the magnitude of that achievement, it is worth remembering that Barcelona had won four Copa Del Rey trophies in a row. They were aiming for their fifth and came into the game as overwhelming favourites. That triumph brought Valencia's first trophy in 11 years.
That same season, they also reached the Europa League semi final after dropping out of a tough CL group that included Max Allegri's Juventus and José Mourinho's Manchester United. The celebrations that followed went on for days, fans cried as the emotions ran deep.
It had been a tough decade, full of mostly 'downs'; relegation battles, player exodus after exodus, deep financial crisis that almost wiped the club from existence, etc. This was the release after years of struggle, the moment of triumph.
Photo: Reuters
Yet, it almost didn't happen. Marcelino had been under immense pressure for most of the season as Valencia struggled to win games. xG said Valencia's issues were an anomaly, as they were underperforming their xG massively due to shocking finishing – which wasn't likely to last. Yet, even the most patient of fans grew tired of Marcelino.
Marcelino had his flaws. He rarely took responsibility for things that were clearly his fault, some complacency and indiscipline crept in under him (exemplified by Michy Batshuayi's character arc within the team), some fan favourites were sold or loaned out over outbursts that fans considered normal for footballers.
Above all, his football had become predictable and dire. By January, Valencia were still far off the Champions League positions. Lim was reportedly contemplating firing Marcelino before Alemany stepped in to reassure him that Marcelino would definitely turn it around. And so, he did.
The most remarkable thing about this period, though, was something the players showed to Marcelino. Deep loyalty. It was visible on the pitch. Goals led to hugs with him, public show of affection and support for a manager stressed and under fire. The likes of Ezequiel Garay, Parejo, Gabriel Paulista, José Gayà – all team leaders – constantly did this during this run.
The message was clear – the group believed strongly in what Marcelino was doing and they were prepared to sweat and run and fight for him no matter what. The sheer will to win for their manager benefited Valencia. It spurred the players on. When a member of José Bordalás's backroom staff at Getafe openly mocked Marcelino with a 'cry' gesture after Getafe took the lead in the first leg of the Copa del Rey quarter final, the players took it personally.
In the second leg, Valencia needed two goals to advance by the 89th minute. The players refused to give up. Two goals in two minutes by Rodrigo Moreno (to complete his hat-trick) saw the wildest celebrations at the Mestalla since Unai Emery went crazy as Stéphane Mbia knocked Valencia out of the Europa League semi final with the last touch of the ball in May 2014.
This time, it was Valencia celebrating, and the players celebrating in the faces of the Getafe players. Again, it was a public show of support and love for a manager the group strongly believed in. It led to a brawl and some bad blood, and it included Rodrigo going crazy, repeating the 'cry' gesture to an ecstatic Valencia support.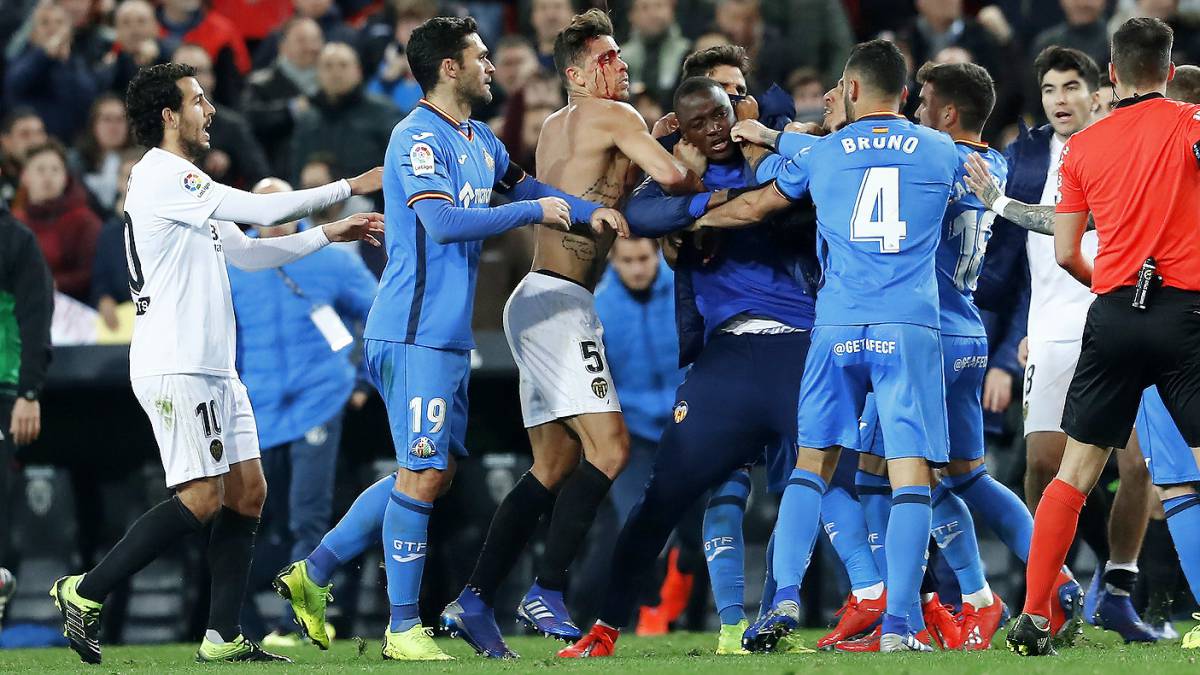 Photo: Diario AS
If anything exemplified Valencia under Marcelino, it was this night. It wasn't the only time they refused to give up and instead scored a late goal. They did that all season, scoring over 10 last minute goals to turn results around. Things may have been tough but these players were ready to keep going till the last ball was kicked, they were ready to fight for their manager. 
But if you thought the Copa triumph meant Valencia would kick on like Atlético Madrid in 2013 and become the force they were destined to be, then you didn't really know Valencia, especially under Meriton. What followed that has been a disgraceful one year of sheer self-sabotage, with Meriton majorly culpable.
First, it emerged suddenly that Lim wanted to fire Alemany over transfer disagreements. Valencia fans, en-masse, used Twitter that night to make their voices heard. Then they went into the streets the next day, to the club's offices, to say it louder. The message was clear; it was absurd to let go of Alemany.
It had been said that Marcelino would walk if Alemany got fired, as that was his main ally at the club. Without Alemany, it was going to be chaos for Marcelino. That was his covering. Eventually, after lots of speculation and uncertainty, Alemany remained in his role and things seemed to get back to normal. That was not to be the end of it. 
Three match days into the season, it emerged that Marcelino's dismissal was imminent. That night, it happened. Marcelino was fired. Next up was Alemany. He lingered for a while negotiating his exit before it eventually happened. Pablo Longoria, the third wheel in the trident who had been hired in a scouting capacity not long before, also walked.
As did Marcelino's people within the club; dietitians, cooks, et al. The players were confused, as were the fans. Not just confused, they were incensed. Soon, it emerged that Marcelino's replacement would be former Spanish Youth Team coach and Lopetegui's former assistant, Albert Celades. Celades, the guy who couldn't get a job with 3rd and 4th tier clubs, was soon announced as Valencia manager.
Photo: David González / Diario AS
It was reported that negotiations had been going on for weeks while Marcelino was in the job. And then Marcelino delivered an explosive press conference before his exit. He claimed that one of the reasons why he had been fired was that he disobeyed the Meriton directive to play a weakened team in the Copa del Rey and not try to win it. It sounded ridiculous on the surface but one could certainly understand the reasoning.
Champions League was the holy grail and Valencia just had to get it. That was the priority. A trophy was a bonus. Still, the squad was capable of handling both. Besides, the Copa final happened weeks after the season ended and Valencia had secured Champions League qualification.
The semifinal was just two games versus Real Betis, with Valencia having the momentum for the final Champions League spot at the time. There was really no reason why Marcelino would field a weakened squad for the Copa semi and final. It ultimately made no sense for them to give him that directive. 
Marcelino said a lot that divided the fanbase. There were those who felt he was just trying to make himself look good and he was once again refusing to take some responsibility. Others felt he didn't need to take any responsibility for the actions of such a trigger-happy management.
There had been other reported disagreements. There was the huge bid for Mouctar Diakhaby from Wolves which Alemany-Marcelino refused to agree to, despite Mendes and Lim pushing for it. There was also the Nabil Fekir interest which Alemany-Marcelino rejected on the grounds that he was injury prone and there were still question marks over his fitness. That sounds reasonable, but then, Marcelino wanted Rafinha, a guy who had a history of injury problems as well.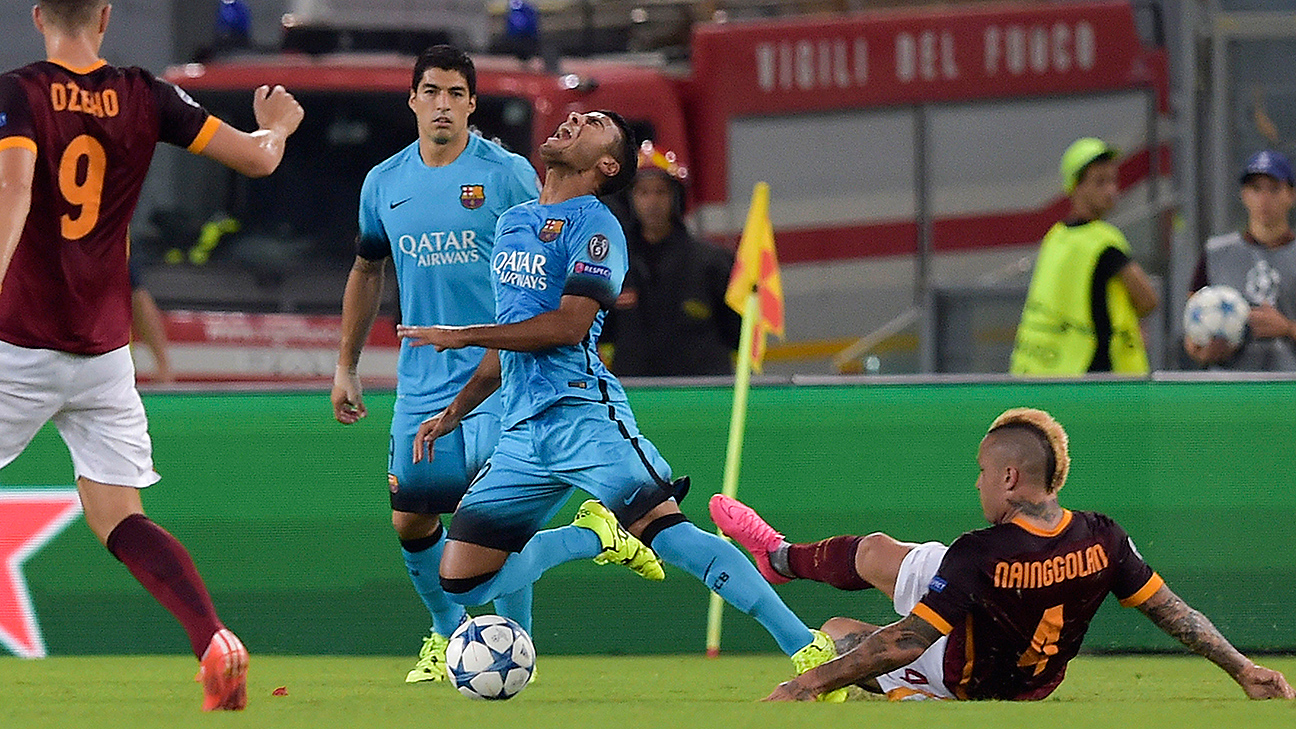 Photo: Luciano Rossi
Lim reportedly didn't find that amusing. Marcelino also wanted Denis Suárez, Lim said 'no'. It started to degenerate into an 'if you won't agree with my decisions, I won't agree with yours' duel and no side was willing to compromise. On one side of the divide, there was Marcelino, Alemany and Longoria. On the other side of the divide, there was Lim, Mendes and president Anil Murthy whom nobody likes.
Anil Murthy's case is worth its own article. He might be the most despised president in Valencian history, even more than Juan Soler who plunged the club into era-defining debts due to his balloon dream. Anil has a long list of offences and misdemeanors that would bloat this article. Simply put, he appears to be the worst thing about Meriton's hold on Valencia, at least in the minds of Valencia fans.
What reportedly pushed Lim over the edge with Marcelino was a press conference days before he was sacked in which he made a not-so-nice analogy. Lim took it as a personal insult and promptly fired him. Then again, he had reportedly been negotiating with Celades for weeks so that might just be a convenient excuse. What was clear though was that his ego was overriding common sense.
On the part of the players, they were angry. The positive of loyalty to a manager is that players would die on the pitch for him. The negative is that when you treat that manager poorly and sack him in the manner that Meriton did, you would lose the entire group.
There were passive aggressive social media posts with veiled shots thrown at Meriton. Garay wasn't interested in hiding anything. He was openly critical of the decision in his heartwarming message to Marcelino, and Lim never forgot. The first person to be kicked out once the season ended? Garay. And it came with some drama and Garay having to publicly call out lies that had been communicated officially by the club about him and his contract situation.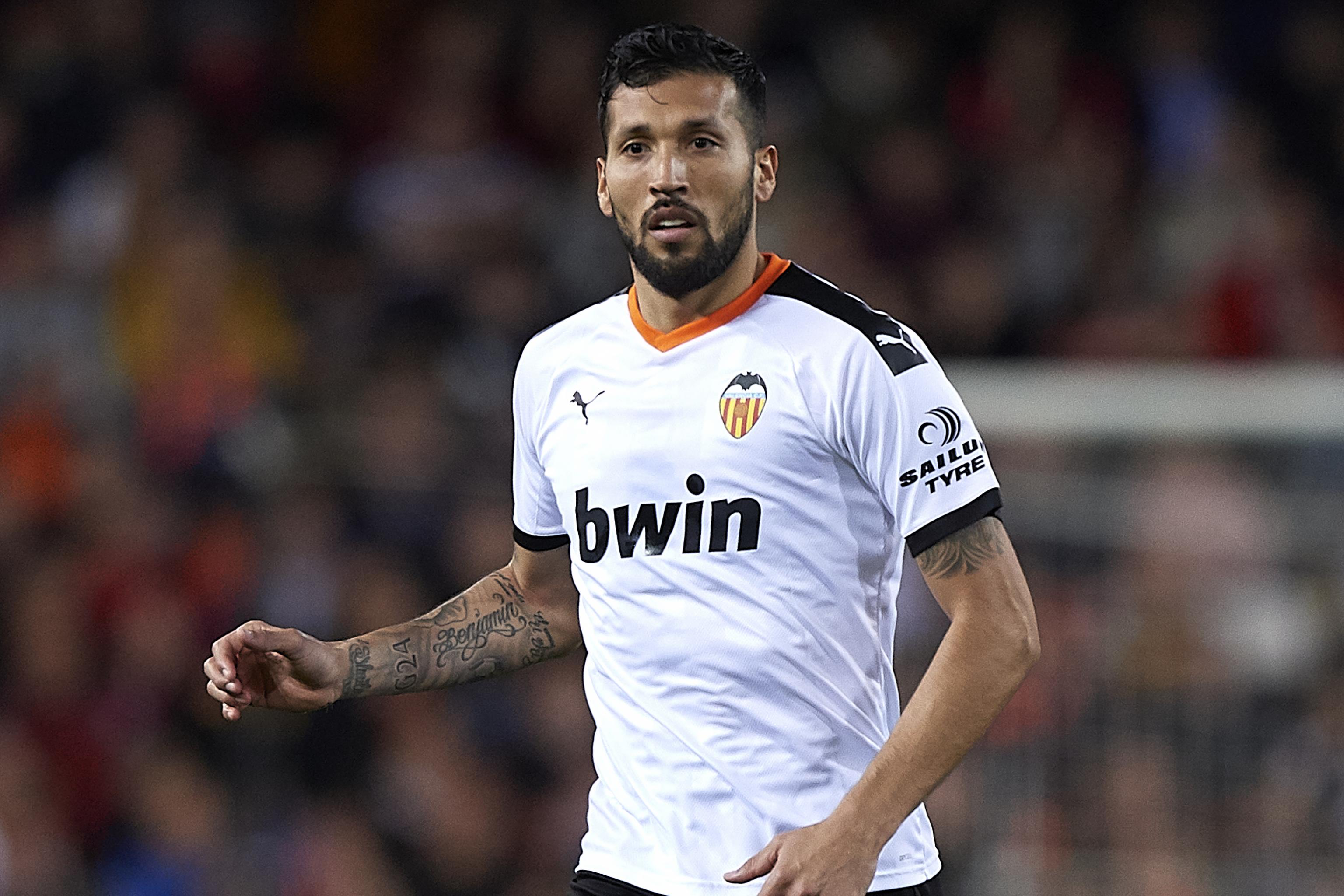 Photo: Pablo Morano / MB Media / Getty
It ultimately expired and he didn't even get a farewell. At the time of Marcelino's sacking, the players decided on a press silence. Celades had to go to press conferences alone for a while before they finally agreed to start speaking to the press again. Parejo, the captain, reportedly led talks with the club's management – a.k.a Meriton – demanding an explanation for the way things were being done at the club. They never forgot. 
After Celades ultimately undid everything Marcelino had worked hard over two years to build, he got fired with Valencia in as bad a situation as when Marcelino took over. After that, before a crucial game with European football hanging in the balance, Meriton reportedly called the agents of Parejo, Francis Coquelin and Geoffrey Kondogbia to tell them to look for new clubs. Great idea, that.
In a cruel twist of fate, Parejo missed a penalty in the game to draw Valencia level. They lost. He had a torrid game. No surprises there.  Now, it's no longer just those three players. There's a fire sale that has been reported. Over half the players in the team are being kicked out. More importantly, that includes most of Marcelino's soldiers.
The only Marcelino soldier likely to remain is Gabriel, but who even knows anything anymore? He could be sold tomorrow. The club goes on about its great focus on youth but spent a year trying to negotiate a new deal with Ferran Torres and failed. He's off to Manchester City for a ridiculously low price, considering the market.
It took forever for the impressive Hugo Guillamón to get a contract renewal. Gonzalo Villar, who had been seen as a potential heir to Parejo's throne, is now at AS Roma. U-20 MVP Kang-In Lee has reportedly suggested leaving after getting frustrated by his inability to develop in the first team. He will likely remain and get more opportunities though.
Photo: Yonhap
On social media, the club has also shown complete tone-deafness. The posts have gotten weirder and weirder, with subtle shots at fans themselves with a complete lack of awareness shown. The latest series has seen the club ridiculously post graphics using the label "owner – Meriton" in order to claim strange victories as some masterclass by Meriton Holdings.
When the fans reacted angrily to those posts by the Spanish account, the club switched to only posting them on the English account where they generally get less engagements. Fans have now turned that into a meme for all negatives emerging happening at the club, beginning with defeats in games.
In a nutshell, Meriton's relationship with the fans is now completely broken. Not even their loudest defenders have the voice to defend their actions anymore. The man who has completely fully fractured this relationship is none other than club president Anil Murthy, a guy who once sat in the Mestalla stands and told all the fans in the stadium to shut up. 
For fans of Valencia, these are familiar dark times. This time around though, it feels different. It feels like it has happened so many times that investing more emotions is counterproductive. Everything feels soulless and it's the fans who suffer the most. No one was excited when Gracia was announced as the new manager. No one is excited about any potential signings or looking forward to next season with excitement.
It's not that they can't, it's that they wonder if it's worth it. It feels pointless. Because no matter what good things Valencia build under Meriton, the fans know that Meriton would find a way to tear it down themselves, driven by ego over common sense and a refusal to compromise on certain things for the good of the whole.
Their inability to recognise their mistakes and learn from them is one thing. Their blatant refusal to take any responsibility for anything that has gone wrong at the club on their watch is another. As another cycle begins, the question is if Meriton have learnt anything at all.
Will Valencia continue to self-destruct under them? Will they be able to build a sustainable project? Will they deliver any of the promises they made at the start? Will Valencia rise again to elite level under them? Will there be another relegation battle? How much more can Valencia fans take?
By: Astorre S. Cerebronè
Featured Image: @GabFoligno