What to Expect From Patrick Vieira's Men In 2017
Background
NYCFC had high expectations coming into the 2015 MLS season having signed world class players including David Villa and Frank Lampard before the team had even stepped foot on a pitch together. After a rough start to the season NYCFC realized they needed a player to create the opportunities for David Villa, a midfield maestro if you will, and who better to bring in than "Il Maestro" himself, Andrea Pirlo. Even with 3 great veterans the team failed to make the playoffs. Perhaps the expectations were too high for Jason Kreis who had already won an MLS Cup when he was managing Real Salt Lake in 2009. Failing to reach the MLS playoffs in the 2015 MLS season resulted in the firing of Jason Kreis and the hiring of Arsenal legend Patrick Vieira.
Patrick Vieira was previously managing the Manchester City reserve team before coming to America and working with NYCFC. Most people loved the appointment of Vieira, another big name to add to the club's history. However, quite a few people around the league had their doubts with good reason. Prior to Patrick Vieira, there is no real evidence of a European manager coming to America and playing football the way it is played in Europe. Some of the reason is due to the fact that MLS players don't have the ability to play how Europeans play, they're simply not talented enough. A lot of players in MLS rely on their physical strength and pace rather than talent on the ball, thus making it hard for them to play nice controlled build up play starting from the back. This was not the case with the 2016 Patrick Vieira side. Patrick Vieira began training with his new club in the cold winter months of New York City in January of 2016 to get his team prepared for the upcoming season which started in March.
Tactics
Vieira came to NYC with a plan, a very well organized plan that would be hard to implement into any MLS club, especially one that lacked quality the season prior. So, what did Vieira have to do to get all of this to work? New signings. Vieira brought in 10 new signings who he thought would benefit most from playing in his system. Vieira's plan was to play slow, maintain possession, even if it meant playing the ball around the back for 5 straight minutes. In fact, NYCFC completed more passes in their own half than 17 of the other 19 clubs in the league even attempted.
For this style of play you need defenders who are comfortable on the ball, so Vieira brought in Ronald Matarrita and Frederic Brillant. He also moved Andoni Iraola, who had previously played fullback for Athletic Bilbao for 13 seasons, to a holding midfield role. While many people thought Andoni would not succeed in his new role, Vieira stuck with it and Andoni became a fan favorite due to his consistent play throughout the entire season. However, it was Andrea Pirlo who took up the holding midfield role very early on in the season before Vieira discovered Iraola's ability to play in this role. In NYCFC's first home match of 2016 vs Sebatian Giovinco's Toronto FC when NYCFC fans were still trying to figure out Vieira's plan, we saw Andrea Pirlo playing right in front of the backline.
This allowed for NYCFC's keeper to play the ball directly to Pirlo and start building from deep in their own half. This was ideal for Vieira, a calm player on the ball with good passing range playing deep in his own half pinging balls out to either sideline. At times, it appeared as if Pirlo was playing quarterback, taking in all his options and picking out the man he thought was most open. This method is particularly useful because it allows NYCFC to skip a whole phase. Most MLS sides who try to play out of the back struggle getting it from defense to midfield. The next phase would be getting it out of the midfield and into the attacking third. Fortunately for NYCFC, Pirlo's long passes played out to the wing finding Khiry Shelton or McNamara in the attacking third allowed for them to skip the midfield phase. Maintaining possession allowed NYCFC's attackers to begin playing beautiful football in the opposing teams third.
That is where NYCFC's wonder kid Jack Harrison came into play. The rapid English boy loved to take his man on and then combine with David Villa, which often resulted in the opposing team picking the ball out of their net. In the case against Toronto it was Khiry Shelton doing the work as Jack Harrison was out injured for the first 12 weeks of the MLS season. Jack Harrison and Tommy McNamara were important to NYCFC in most other games though because Vieira instilled it in their brain that defense is first. While both players much prefer to go forward, they knew they can only do that if their side was in possession. Late in the season when Pirlo began advancing the ball on the ground through the middle of the field Harrison and McNamara proved this true against FC Dallas. While Pirlo routinely picked up the ball from his keeper, he played the ball forward to Iraola who quickly sprayed a pass wide to Matarrita out on the left wing.
The Costa Rican international fullback whipped in a cross to the late arriving Jack Harrison who laid it off to McNamara at the far post for the goal. Harrison and McNamara doing their defensive duties allowed them to cause trouble in the oppositions box as they arrived late to the play and were left open at the far post. This was an NYCFC attack that took just 4 passes from NYCFC keeper to the back of the FC Dallas net. This is why Vieira feels it is important to teach his wingers how to be two way players. While every winger at Vieira's disposal is capable of crossing the ball to El Guaje in the middle of the box, he wants a player who has the mindset of winning the ball himself, rather than relying on a back four who was not always trustworthy. The side would line up in the 433 formation on paper with Lampard playing behind David Villa.
However, when in possession Vieria's fullbacks would push up, almost as if to play a 343 with Iraloa dropping back in between the two center backs to block out any opposition counter attacks before they had the chance to start. This allowed the centerbacks to spray passes wide to the fullbacks halfway up the pitch. Also, pushing the 2 fullbacks forward allowed NYCFC to usually have an extra man in the midfield. McNamara and Harrison often switched sides of the pitch throughout the match to confuse defenders as well. This tactic works really well because it ensures that a defender will not get to many looks at the wingers and lock them up too easily.
Harrison would usually run at the oppositions fullback for about half an hour before switching sides and causing havoc on the other side of the pitch. McNamara on the other hand would rarely run at defenders and would usually look for the pass, which would confuse defenders because they had just spent 30 minutes expecting to be taken on. When Lampard was not starting NYCFC would play usually opt to start Mendoza behind the front 3. This allowed for him to change positions with Harrison and McNamara as well.
These three players changing roles throughout the game would give the defenders a different look and usually would lead to defenders misplaying the NYCFC attackers. This is more ideal because McNamara is probably best playing behind a striker, rather than out wide in a front 3. All of this movement up top would be going on as Andrea Pirlo had time on the ball in the midfield and was able to pick out any pass he wanted. When defending, David Villa and Jack Harrison would press high to try to win the ball back and not allow the other team to enjoy any build up play similar to what NYCFC players enjoy. However, if the opposition was able to get past the press from the 2 NYCFC men then NYC would fall into a 4231 and defend as a unit.
Transitioning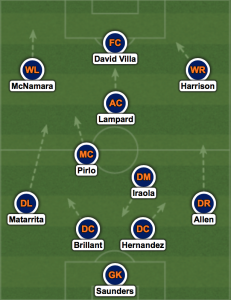 In Possession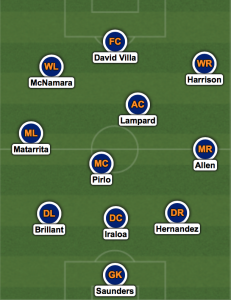 Defending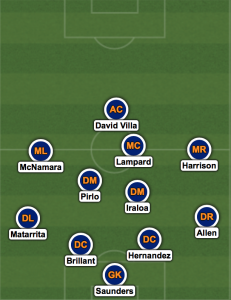 This allowed for an entertaining game in most cases, where NYCFC would enjoy nice intricate build up play and other teams would have to try to counter. Vieira has revolutionized the MLS in just one season. Other clubs are bringing in men that can allow their club to build up play nicely, rather than the "kick and run" method many other MLS clubs have used in the past. Vieira is bound to have learned a lot this offseason as he visited two of the top managers in world football at the moment. Pep Guardiola went to Manchester for a week to see how Pep Guardiola trains with his players leading up to a match. Having talks with the Manchester City manager should have been enough to help Vieira improve, right? Vieira wasn't satisfied. Following his week in Manchester he chose to visit Jorge Sampaoli and watch how Sampaoli trained with his players as well. Vieira was asked about why he visited Sevilla and he said "I really love Sampaoli, when he was coaching the Chilean national team, the way the team played was really fascinating to me." Vieira spoke about how he wanted to get a first-hand look at how he instills his philosophy into his player's heads. Vieira must have learned a lot over that two week stretch, and NYCFC fans around the world are hoping he can implement some of what he learned into his NYCFC side in 2017.
What To Expect in 2017.
Vieira had goalkeeping problems from the start of the season. The problem was not shot stopping, but rather finding a goalkeeper who could use their feet, similar to sister club Manchester City when they signed Claudio Bravo. In the 2017 offseason, he brought in Sean Johnson, a keeper who is entering his eighth MLS season and is hoping that his new club will allow him to get back with the USMNT. Not only is Johnson a superior shot stopper, but he is much better with his feet than former keeper Josh Saunders who has since moved on and left the club for Orlando City SC. Vieira has also splashed cash on former Real Sociedad defender Alexander Callens for his quality on the ball and no nonsense tackling. Moving further up the pitch NYCFC have acquired Yangel Herrera on a one year loan deal from Manchester City. Herrera is expected to replace Andoni Iraola as Iraola retired at the end of the last MLS season. Alexander Ring was brought in as well. The versatile Finnish midfielder will likely play the number 8 role this season for NYCFC when Pirlo is not available. Ring was very impressive in his first and only preseason match he appeared in for NYCFC so don't be too surprised if he takes Pirlo's starting position at some point in the season. The absence of Lampard will definitely be missed, as there are not many midfielders in the world who can score as many goals from the midfield as Super Frank. However, NYCFC have used their third DP slot on Maximiliano Moralez. The former Atalanta man will be playing behind David Villa and while he is not expected to score as much as Frank, he was brought in to provide chances for NYCFC's front 3. Vieira brought in two new left wingers. One being the third overall pick in this season's superdraft, Jonathan Lewis. Vieira speaks very highly of Lewis and mentioned that he thinks he can have a similar impact to Jack Harrison last season. With Lewis expected to miss some time with the u20 US team, Vieira decided to bring in Costa Rican international Rodney Wallace, the former 2015 MLS Cup winner with the Portland Timbers.
Vieira's men seemed to have improved in all areas of the field, and are expected to play a very similar system as last year's making the 2017 MLS season a very exciting season for all NYCFC fans around the world.
Article by: @JayStucchio
Photo Credit: NYCFC