Why Mo Salah should win the FIFA Men's Best Player and why Luke Modrić should win the Ballon D'Or
Earlier today FIFA released the shortlist for the 2018 Men's Best Player Award. For clarification, this award is not the same as the Ballon d'Or, which will be awarded later in the year. This particular award is determined to the best player for the period of 3 July  2017-15 -July 2018.  The following list includes Cristiano Ronaldo, Kevin De Bruyne, Antoine Griezmann, Eden Hazard, Harry Kane, Kylian Mbappé, Lionel Messi, Luka Modrić, Mohamed Salah, and Raphaël Varane. The shortlist consists of world cup winners, the Golden ball winner, Golden boot winners, consecutive UEFA Champions League winners, Europa League winners, FA Cup winners, Club World Cup winners, a player that lead in  goals & assists, record breakers and tiebreakers, young player award winners, and more. Below I have included rankings from 1-10 for the FIFA best Men's Player Award as well as my top 3 Ballon d'Or votes with in depth analyses of each player's key highlights.
Mohamed Salah – Despite not winning a trophy, Mohamed Salah deserves to win the FIFA Men's Best Player of the year. For starters, he produced an unbelievable English Premier League season and inspired Liverpool to reach the UEFA Champions League final. Last season, Salah scored an impressive 32 goals in 36 matches, in the (most competitive league in the world) English Premier League, adding an additional 10 assists. This achievement made Salah the only player to score 32 goals in a 38-game Premier League season, awarding him the PFA Player of the Year, FWA Footballer of the Year, LFC Player of the Season, and PL Player of the Season. Salah earned the most goals per 90 minutes in the Premier League in 2017/18 (500+ minutes played) with 0.99, the best record in the Premier League among those to play more than 500 minutes. Salah's bonus of 10 assists meant that he became just the third player to be involved in 40+ goals in a 38-game season, joining Thierry Henry (24 goals, 20 assists) in 2002/03 and Suarez (31 goals, 12 assists) in 2013/14. Moreover, Salah also produced the most touches (282) inside the opposition box in the Premier League in 2017/18. In the champions league, Salah scored an impressive 11 goals in 15 matches. Results and stats aside, taking Liverpool to the UCL final alone trumps all in my book. With all due respect, Liverpool were not the favorites to win, yet alone to be in the finals in any competition, a better indicator of Salah's impact and argument for the award. For those that bring up his world cup disappointment, it is important to recall that Salah arguably would have won the UCL final had Sergio Ramos not (accidentally or not) injured him, as it was Liverpool who looked to be in control with more chances created. The point is not to discredit Real Madrid for their remarkable third consecutive UCL victory, but to counter the argument that Salah failed to perform at the highest level. Salah's  absence in the final further allowed Real Madrid to man mark Firminho, restricting his hold up play. At this point, Sadio Mané was practically a one man army, but eventually fatigue and Zinedine Zidane's adjustments drastically slowed Liverpool down. In other words, Salah's presence was so important that it prevented Real Madrid, the best team in the world, from defending the way they wanted to as a unit, while also allowing Liverpool to attack with full freedom. With Salah, Liverpool was the the best attacking 4-3-3 and occasional 4-3-2-1 side in Europe; without him they were a one dimensional side with predict-able direction. The unfortunate post-result of Salah's injury in the UCL final is that he was still not fully fit to compete, per indicative of his coach not playing him in their first match of the 2018 World Cup group stage. For this reason, it is highly unlikely that Salah will win either award. Had Liverpool won a single trophy, and Salah been fully fit to perform at the World Cup, perhaps the odds would be more in his favor. Nevertheless Mohamed Salah, trophy or not, you have earned my vote for the FIFA Men's Best Player of the year.
   2. Luka Modrić – In my opinion, Luka Modrić should win the 2018 Ballon d'Or and finish second in the FIFA Men's Best Player award. Along with a Club World Cup trophy and winning the UEFA Champions League for the third consecutive year with Real Madrid, the midfield maestro proved that he is still the best center midfielder in the world (at 32 years of age) after his 2018 world cup display. If anyone, it is him who deserves to be 'the next Kaka,' aka the latest to edge out Messi and Ronaldo in the award race for the first time since 2007. Modrić carried Croatia to their first ever World Cup final, and won the Golden Ball, making him the first ever Croatian to win the award. According to Squawka, during the tournament, Luka made more recoveries (56) than any other outfield player at the 2018 World Cup; also creating more chances (18) and completing more take-ons (15) than any teammate. Modrić also scored twice, one goal from outside the box, and produced 18 key passes. But perhaps an even more impressive feat that is not recorded is that Luka played a massive part in Croatia's staggering three consecutive knockout victories in extra time: against Denmark, Russia, and England in descending order, two of which went to penalty shootouts. Modrić may have missed a penalty against Denmark in the second half of regular time, but he later redeemed himself by boldly choosing to take and convert the first pk in extra time. As his teammate Ivan Rakitic put it, "at that moment, we had to repay what he had given us on so many occasions." (The Guardian). Luka may not have as many goals or eye catching statistics as Ronaldo, Messi, and Salah, but his composure on the ball, exquisite passing ability, leadership qualities, graceful technique, and high fitness levels are strong underling reasons for why Modrić deserves to win the 2018 Ballon d'Or.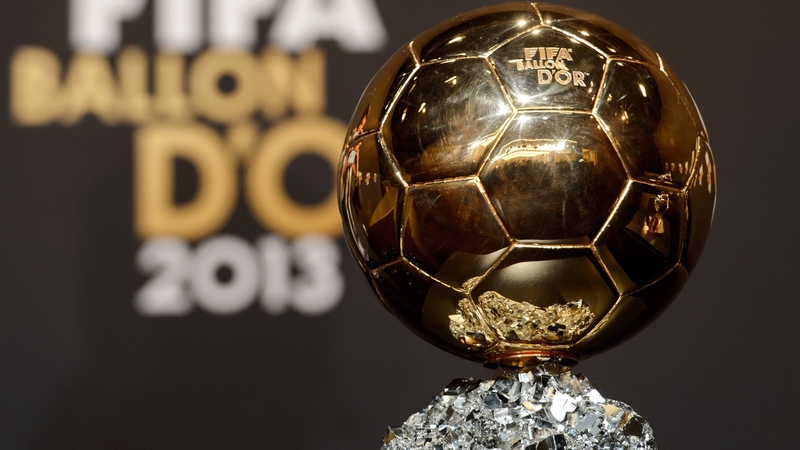 3. Lionel Messi – Despite having a sub par year per his standards, Lionel Messi still had an exceptional season, one that most players will never have in their entire careers. With Barcelona this season, Messi won the La Liga trophy and Copa Del Rey, scoring a phenomenal 45 goals and 18 assists in 54 appearances. Specifically, Messi's La Liga triumph is what earned him the third spot, given he provided 34 goals and 12 assists in just 36 appearances. Like the Champions League has recently become coined Ronaldo's competition, the La Liga, (aka the most skilled league in the world) is undoubtedly Lionel Messi's. Moreover, during the Copa Del Rey, Messi netted four goals in six games, undoubtedly helping La Blaugrana win their second trophy of the year. Despite Barcelona being upset by A.S. Roma in the quarterfinals of the UEFA Champions League, Messi's six goals and two assists in 10 matches is still a very strong showing. The reason Messi is not above Salah nor Modrić in my rankings largely stems from his mediocre (again for Lionel's standards) World Cup performances. At the World Cup, Messi scored just once his, lone goal coming from inside the box vs. Nigeria during the group stage. However, those that do not follow statistics would not know that Messi produced a total of 9 shots, (excluding blocked shots) with 6 of them on target. For comparison, Luka Modrić scored twice in the tournament with the same amount of total shots (9) with just four on target. Efficiency certainly plays a role, but so does fortune. At the World Cup, Messi also earned two assists with a total of 10 key passes. In short, Messi may not have had the best individual world cup for his standards, but his La Liga season alone was a spectacle that perhaps only he could ever replicate.
4. Cristiano Ronaldo: Assuming Ronaldo stans haven't stopped reading already, I have placed CR7 fourth on my FIFA Men's Player of the Year shortlist because because of Messi's greater assists tally. For club and country in the calendar year of 2018, Messi produced 14 total assists versus Ronaldo's 6. Ronaldo may have scored 34 goals versus Messi's 30, but as one can see, the difference of four is much less noticeable than the difference of eight. Both Ronaldo and Messi won two trophies for their clubs: Messi the LA Liga/Copa Del Rey and Ronaldo the UEFA Champions League/Club World Cup. At the World Cup, Ronaldo had a slightly better tournament, netting four goals with two from inside the box and two from outside (with one terribly rare De Gea mistake). Ronaldo produced 12 total shots with eight on target, scoring one left foot, two right foot, one headed goal, and one direct free kick, proving that he is still undoubtedly the best goalscorer in the world and arguably the best goalscorer ever (at the age of 33). Unlike Messi and Modrić, however, Ronaldo did not have any assists and he only produced a total of 4 key passes in the tournament. In essence, both Messi and Ronaldo's World Cup performances were of little to no importance in my comparison for the third best spot, as neither impressed well above the other and ironically were both eliminated in the Round of 16. In all honesty, the third best spot could go either way, but given the fact that Messi contributed with the most La Liga goals, assists, chances created, completed dribbles, and goals in Europe, he earned the slight edge. Although, I must admit that I can understand the case for Ronaldo, as he became the only player in Champions league History to score 15 goals (he has done it twice) plus the all time tournament scorer with 120 total, an unprecedented record. Those in favor of Ronaldo will be quick to point out that there are underling misleading factors, such as greater number of appearances, but this is always the case no matter the season, and there are circumstances that the players and voters alike cannot control. The bottom line is that regardless of whom you rank higher, to me, neither Messi nor Ronaldo is deserving of the FIFA best player award nor Ballon d'Or this year.
5.  Raphaël Varane – Although Raphaël Varane is fifth on this list, he has perhaps had the most successful year, yet alone career for his club & country thus far. At the age of just 25, Raphaël Varane has won four UCL trophies, three Club World cups, three Super Cups, Two La Liga titles, two SuperCopa's, one Copa Del Rey, and last but certainly not least, his latest 2018 World Cup trophy. There are very few who have had equal or greater successes than Raphaël throughout their entire career, (Dani Alves, Xavi, Inesta, Pirlo) just to name a few) yet Varane has put himself on a similar pedestal at such a young age.  Winning the UEFA Champions League for a third consecutive year, followed by a World Cup trophy was considered a dream for all until Varane achieved it. At the 2018 World Cup, Varane proved he is not just a product of an individual on star studded teams, as he produced 44 clearances, 4 blocks, and 5 interceptions with a 100% tackle success rate. Varane also showcased his versatility as a center back with an 87.4% passing success rate, completing a total of 291/333 total passes. Furthermore, Varane's headed goal off Griezmann's free kick vs. Uruguay in the quarterfinals was crucial, as it was France's first attempt on target, giving his team enormous confidence going forward. Raphaël will likely not win the FIFA Men's Best Player Award, nor become the first defender to win the Ballon d'Or since Fabio Cannavaro, but it is quite presumable that every other player on this list (especially Messi) would prefer the overall successes of Varane over their own individual achievements.
6. Kylian Mbappé – Kylian Mbappé is perhaps the hottest name of in the Football world at the moment. Per Squawka, at the startling age of just 19, Mbappé scored four goals (in 7 games) at the 2018 World Cup; Pelé (6 in 1958) is the only teenager in history to score more in a single tournament. Mbappé is also officially the only player under the age of 24 to be nominated for the Best FIFA Men's Player award. As if that is not impressive enough, Mbappe's goal in the World Cup against Croatia made him join the once exclusive club of Pelé being the only teenager to score in a World Cup final. Moreover, also per Squawka Football, Kylian Mbappé has been directly involved in a goal once every 91.7 minutes in his first-team career for club & country with a combined total of 56 goals and 33 assists. The World Cup was undoubtedly the breakthrough moment of Mbappé's season and career thus far, but his PSG numbers were also impressive, providing a total of 13 goals and 8 assists in 27 appearances. With a World Cup and two Ligue 1 trophies, it is hard to believe that Mbappé's career is truly just beginning. To put things into perspective, Mbappe could potentially play in the next four world cups, (2022, 2026, 2030, 2034), given would be 35 years of age in 2034, just two years less than the current Cristiano Ronaldo, who aims to play in 2026. If Mbappé does not win either award this year, he most certainly seems to have several more promising years ahead of him.
7. Antoine Griezmann – Antoine Griezmann perhaps is the most interesting, unique case on this list. Like Kylian Mbappé, the World Cup undoubtedly was the highlight of Griezmann's year, as he not only won the tournament, but proved to be one of the most clutch players in it. Per Squawka Football, no player was directly involved in more goals during the 2018 World Cup knockout stages than Antoine Griezmann, who provided three crucial goals and two assists, not counting the own goal that was awarded for his free kick vs. Croatia in the final. Griezmann also put on a notable performance against Uruguay, where he won more tackles (5) and created more chances (3) than any other player on the pitch to clinch Les Bleus a semi-final match up. Antoine Griezmann may not have necessarily been the best player in the tournament, but he has a strong case for being the most clutch. Additionally, Griezmann's second best achievement this season was earning a UEFA Europa League trophy with his club, where he became the third Atlético Madrid player ever to score two goals in a single Europa League final, the other two being Diego Forlan and Radamel Falcao. Lastly, despite not winning the La Liga, Griezmann netted a solid 19 goals along with 9 assists in 32 games, a testament to his world class qualities. No matter whether Griezmann's decision to stay with Atlético proves to be successful or not, he will always be a World Cup champion among his several other earned accolades.
8. Eden Hazard – Eden Hazard may be number eight on this shortlist, but for some, this season provided a strong case that he is the third best player in the world behind Lionel Messi and Cristiano Ronaldo. For starters, per Squawka, in the 2017/2018 season, Hazard created more chances from open play (78) than any other player in the 2017/18 Premier League season. Stat wise, Hazard's total of 12 goals and four assists per 34 appearances in the EPL was a strong, but truthfully an average display for his standards and overall expectations. Thankfully for Hazard, was arguably the best player in the World Cup, despite losing out to Luka Modrić for golden ball. According to Squawka, during the World Cup, Eden Hazard provided three goals, two assists, 46 touches in the opponent's box, 40 take-ons (at least 12 more than any other player in the tournament) won 27 fouls, 17 shots, and created 15 chances. Furthermore, Hazard won the most duels, (77) and was named the FIFA Man of the match in 3/6 of the games he played. Luka Modrić was undoubtedly also phenomenal, but perhaps if Hazard went to the final instead of Modrić, Eden would have won the golden ball and Luka the silver. The comparisons between Hazard and Modrić during this World Cup heavily remind me of the 2014 tournament comparisons between Lionel Messi and Arjen Robben, as they were undoubtedly the two most deserving of the golden ball. Last but not least, Hazard's FA Cup glory was even more sweet, as he scored a decisive penalty kick, the only goal in the final against Chelsea's rivals Manchester United. All in all, Eden Hazard proved that when he is on the top of his game, very few in the world are better. If Eden is able to consistently produce performances that he did during the 2018 World Cup, it is hard to deny that he could very well win a FIFA Best Men's Player or Ballon D'or one day. As a Chelsea fan, my number one hope is that he stays with our club, but wherever he may end up I wish him the ultimate success in the near future.        
9. Kevin De Bruyne – Kevin De Bruyne proved that he is among the world's best midfielders in the world, playing a crucial role in Manchester City's record breaking EPL title winning campaign this season. Per Squawka, among the top 5 players to have created the most chances in the EPL's 2017/2018 season, Kevin De Bruyne led with 106, only Christian Eriksen and Cesc Fàbregas coming close with 95 and 91 respectively. De Bruyne also led the premier league in assists with 16, also adding 8 goals to his tally. At the World Cup, De Bruyne created 23 chances and scored one phenomenal goal from outside the box against Brazil in the quarterfinals. If it were not for the other incredible overall showcases from the previous eight on this shortlist, Kevin De Bruyne would undoubtedly have a strong shout for the Ballon d'or and FIFA Best Men's Player award.
10. Harry Kane – If I am honest, I am not a huge fan of Harry Kane being on this shortlist, *cough cough N'golo Kante* but I fully understand the selection, as he without a doubt is one of the best strikers in the world at the age of just 24. If it were not for Mohamed Salah's record season, Harry would have defended his 2016/2017 golden boot, as he finished the 2017/2018 year with 30 goals in 35 appearances, two short of Salah's 32 in 34 matches. Per Squawka, Harry Kane proved that he is one of the most capable goalscorers in the world, scoring 6 goals with his head, 10 with his left foot, 13 with his right foot, and 1 undefined. At the World Cup, Harry Kane became with second ever English player to win the golden boot after Gary Lineker in 1986. Contributing six goals in six consecutive games, Kane became the first to do so since Tommy Lawton in 1939, as he substantially helped England progress to the semi-finals with an eventual fourth place finish overall. To clarify my dissatisfaction in Kane's selection, the reason is certainly not based on his ability, but rather, due to the fact that Tottenham did not win any trophies, or make any finals in major competition. Kane may have scored numerous goals for club & country, but even then, his premier league season is the only aspect that puts him in the conversation. Sure Kane may have scored six goals in six games for England at the World Cup, but three of the six were penalties, some of which he did not even earn himself. Nevertheless, Kane converted every penalty as the go-to taker with ease, so I must give full credit to Harry in this sense. Criticism aside, whether I like it or not, Kane is without a doubt a world class player that has earned himself a spot on the shortlist. With several managers of top clubs having spoken highly of Kane, it will be interesting to see if he will want to remain at Tottenham for the remainder of his career. If not, whenever he seeks a new challenge, Kane most certainly can go wherever he wants, as his youth, determination, and extraordinary striking prowess could arguably make him the best striker in the world someday.
FURTHER CLARIFICATION OF MY AWARD LISTS
MY 2018 FIFA BEST MEN'S PLAYER AWARD RANKINGS:
Mohamed Salah
Luka Modrić
Lionel Messi
Cristiano Ronaldo
Raphaël Varane
Kylian Mbappé
Antoine Griezmann
Eden Hazard
Kevin De Bruyne
Harry Kane
MY 2018 FIFA BALLON D'OR RANKINGS
Luka Modrić
Mohamed Salah
Lionel Messi
Cristiano Ronaldo
Raphaël Varane

Kylian Mbappé

Antoine Griezmann

Eden Hazard

Kevin De Bruyne

Harry Kane
By: Brandon Washington
Photo: Denis Doyle/Getty Images Europe