'World Enough And Time': Maurizio Sarri Joins Chelsea
Andrew Marvell opened in 'To His Coy Mistress':
"Had we but world enough and time, 
This coyness, Lady were no crime 
We would sit down and think about which way 
To walk and pass our long love's day."

Chelsea now have a new mistress in Maurizio Sarri, and sadly- although it's going to be kisses and cigarettes at Cobham- they cannot think about what way to pass. It's been too long of a day.
Chelsea before today were a club in crisis and stasis. There were weeks of those scarily humid, desert-like, hot, motionless days. It even spread into pre-season, where Antonio Conte (the forgotten one by many fans and players) had to direct training despite everyone knowing he won't see in the season.
Alas, humidity we experience is always banished by a long awaited thunderstorm of immense power. And boy what an inevitable thunderstorm it was: it's seen Maurizio Sarri explode into Cobham in a grey and pulsating plume of cigarette burning smoke. He's here. And Antonio Conte sunk into the drain along with the rain.
The shadows of Conte, the shadows of the 3-4-3, the shadows of the false nine, the shadows of defensive pragmatism are all cut.
Alas, he doesn't clog Cobham no more nor breathes death into Chelsea and needn't have to repeat his broken records of "suffering", "work" and "without the ball". Alas, we have freedom. It's over. All over.
And now we can begin the Maurizio Sarri era, whitening the page clean in Chelsea's history books. For the future is so bright and so new, that it will extinguish the past. Spectres of the Special One and the Forgotten One banished. It's time.
Sleepless in the Sarri Saga [2018]

Insomnia has sharpened its teeth and stroked them on the necks of those at Chelsea ever since they lifted the FA Cup at Wembley. Insomnia. A sleepless feeling of "when will they?" which mutated into "will they?" into "who?" into "what will they do?" into…and so on.
That constant drumming and humming all across the summer. The perfect combination with the air of humidity at Chelsea. A summer of suffering and the unknown; the feeling transcending across the continent- from Maurizio Sarri's humble abode in the Neapolitan sunset to the everyday Chelsea fans' home, scrolling 'Sarri Chelsea' every day without fail.
Such insomnia was intensified when Napoli announced that Carlo Ancelotti, one of Chelsea's previous most passionate lovers- who does his speaking on the pitch. It seemed a perfect love story; Chelsea's former manager coming to free Chelsea's next one, making the road clear. It wasn't. It was only the beginning of sleepless nights in Naples and London. Hardly a Sleepless in Seattle.
The protracted Sarri saga has been nothing short of a disgrace and besmirchment of Chelsea's image as a club. It's been dictated by politics and economics, overruling the most basic decisions.
Having refused to pay a simple release clause that expired at the end of May, Chelsea's relationships with Antonio Conte, Maurizio Sarri, Aurelio De Laurentiis, their fans and their own players has been nothing but terse.
Dragging into June, discussions reached an eerie deadlock. Chelsea tried underhand legal tactics, going toe to toe with Napoli's hardline billionaire in a battle for the Sarri soul. Cards on the table and close to the chest, a long game of poker had been afoot.
They even tried to introduce a new Joker in their deck in Laurent Blanc as Plan B and even Avram Grant as options; citing Sarri's misdemeanours (calling Roberto Mancini a "faggot" and belittling a female journalist) as reason to leave the poker table.
But they didn't. And everyone knew they didn't. A bluff so embarrassing that they were laughed roundly back in. They refused to part with their chips.
But everyone folds in the end, and the result for Chelsea? They go home with a royal flush: Maurizio Sarri and Jorginho- two of Napoli's aces. Not bad poker playing…until you realise how long they were at the table for. It's endangered the long ten month game of blackjack with nineteen other players in a winner takes all showdown starting in under thirty days time.
The Sleepless In Seattle reboot finally finishes as insomnia enjoyed its last sunset last night. Tonight's sleep in Naples and London will be in a new fresh air of certainty and resolution. The lights may be off, but everyone's in their right home.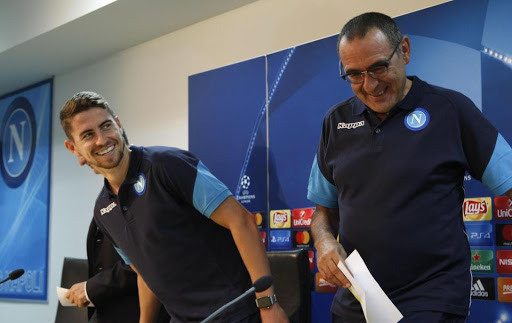 Sleepless to Sleeping: After a long hot summer, Chelsea and Napoli fans can sleep easy tonight as there is a full resolution. Sarri and Jorginho are Chelsea.
What now?: Why the Bell Tolls for Sarri, and what it will lead to
Marvell continued in his poem:
"Thy beauty shall no more be found,
Nor, in thy marble vault, shall sound
My echoing song"
Chelsea are used to winning on an industrial scale; since Roman Abramovich's takeover in 2003, no other club has won more trophies than the Blues. However, it is understandable that despite the winning, there is an air of boredom circling the club.
Most of Chelsea's successful managers- José Mourinho and Antonio Conte for example- attribute their successes to resolute defending and absolute pragmatism. It's also the reason as to how Chelsea have gone from peak to trough; pragmatism morphs into dogmatism, which is the reason they've been toppled in seasons of misery.
Despite the roaring success of Carlo Ancelotti with the best football Chelsea have ever played between 2009-11, the Andre Villas-Boas (a Mourinho protegé) experiment in 2011-12 alongside the miserable failure of former Brazil manager Luis Felipe Scolari in 2007-08 has somewhat rendered the prospect of 'attractive football' impossible and undesirable.
No more. Maurizio Sarri's appointment finally indicates a willingness to risk it all again, akin to the days where Chelsea spent money wisely and well. They're willing to throw the dice at Sarri's vision of football, in which it's golden glaze has captivated the hipsters of European football (and Serie A) in a trance. The football was captivating and even led Pep Guardiola to describe Sarri's Napoli as one of the best teams he's ever come up against.
Not bad, right?
The marble vault is about to open, by Sarri's hand. Although there is world enough and time against him to implement 'Sarriball', it will at least happen.
Beauty in its truest sense in footballing terms is about to be exposed to Chelsea fans once more, which begins the long awaited paradigm shift from having to being. Chelsea can have the trophies they desperately crave, but Sarri now offers them the prospect of being beautiful swans who do have the bread rather than ugly ducklings who merely pick up some bread and crusts.
What will also be of interest is who Sarri will pursue to get this show on the road; although Chelsea are in the Europa League, they look set to sign some of Serie A and Europe's brightest stars such as Jorginho from Napoli. Chelsea seem to be in the market also for defenders- indicating a willingness to return to a back four- as well as revolutionising the attack following its desperate failures under Conte (with Morata and Willian highly responsible).
Maurizio Sarri's appointment was protracted but now he's here, the backstage preparations are over and the curtain ready to be raised. No more rumours, just signings. No more fake training sessions under Conte where the players would hide their awkward grimaces with a smile.
Sarri has landed, and so will a new style alongside new players to kickstart Chelsea's race to return to the European and English elite. The beautiful football promised shall be, as Marvell spoke of, the echoing song we've been waiting for since Ancelotti's sacking.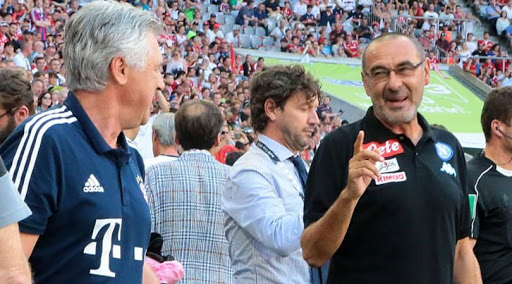 The Beautiful Song: With Sarri, Chelsea look to be reunited with an echo they've been chasing since Ancelotti's sacking 2011, with beautiful football ready for a reboot. 

World Enough And Time
Had Chelsea but world enough and time, their coyness would be no crime.
Nevertheless, it is a momentous day at Chelsea, today. Today is the day life changes. The day that spelt an end to now things are usually done at Chelsea- and things that are yet to do.
Chelsea usually appoint a youthful, decorated, pragmatic manager. They haven't. Maurizio Sarri is fifty nine and has won absolutely nothing of note. This is different.
Momentous? Oh yes. Sarri's appointment brings the foundations of a future from blueprint to construction. A new ideology at Chelsea. Playing beautiful football. Where means finally trump the ends. This is a paradigm shift, unfolding before our tired eyes scarred by the messy denouements of Conte and Mourinho.
For what it's worth, Sarri is a beginning. He may not win anything at all. But he will. Materialism reigned at Chelsea but no more; Sarri will be a successful manager regardless purely on the grounds that he'll reintroduce attacking football as the Chelsea norm. A style that starlets and stars want to become supernovas at Chelsea. Sarri's successor will be the one who reaps most of the Sarri era here.
Andrew Marvell's poem concluded:
"Through the iron gates of life,
Thus, though we cannot make our sun,
Stand still, yet we will make him run."
Maurizio Sarri's appointment shouldn't be seen as an end of a saga. It should be a beginning of a new silver age at Chelsea, with the golden horizon yet to come. So stand still and let Sarri transform Chelsea's style; it'll be him that will make this entire new era run.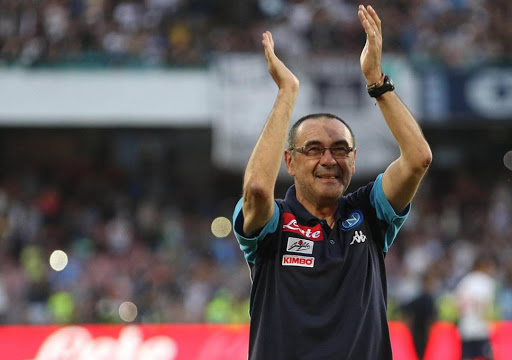 Truly Madly Deeply: Sarri will give Chelsea a new beginning, a deeper meaning and a reason for living. We could be coy about it but for world enough and time.
Photo: Getty