Adam Hložek: The New Star of Czech Football
Name: Adam Hložek
Club: Sparta Prague
Age: 19 Years
Height/Weight: 188 cm/86kg
Preferred Foot: Right
Position: Forward/Left Winger/Attacking Midfielder
Adam Hložek's stock has been rising for the last couple of seasons, more and more people have started to take notice of the 19-year-old. Having already racked up 56 goals and 40 assists in his career, he is now being linked with a host of clubs including the likes of Liverpool, Newcastle United and Borussia Dortmund.
Primarily utilised as a left winger or a second striker in a 4-3-3 or a 4-2-3-1 system Hložek has a fantastic skillset including being excellent with the ball at his feet and good vision and passing ability.
He is incredibly light on his feet and able to change direction quickly which enables him to create space which often enables him to execute a pass or a shot. Never shying away from responsibility, he will happily track back and help his team out defensively, this is supported by the data (from Wyscout) which states that he has been involved in 202 defensive duels so far this season, being successful in 55.4% of them.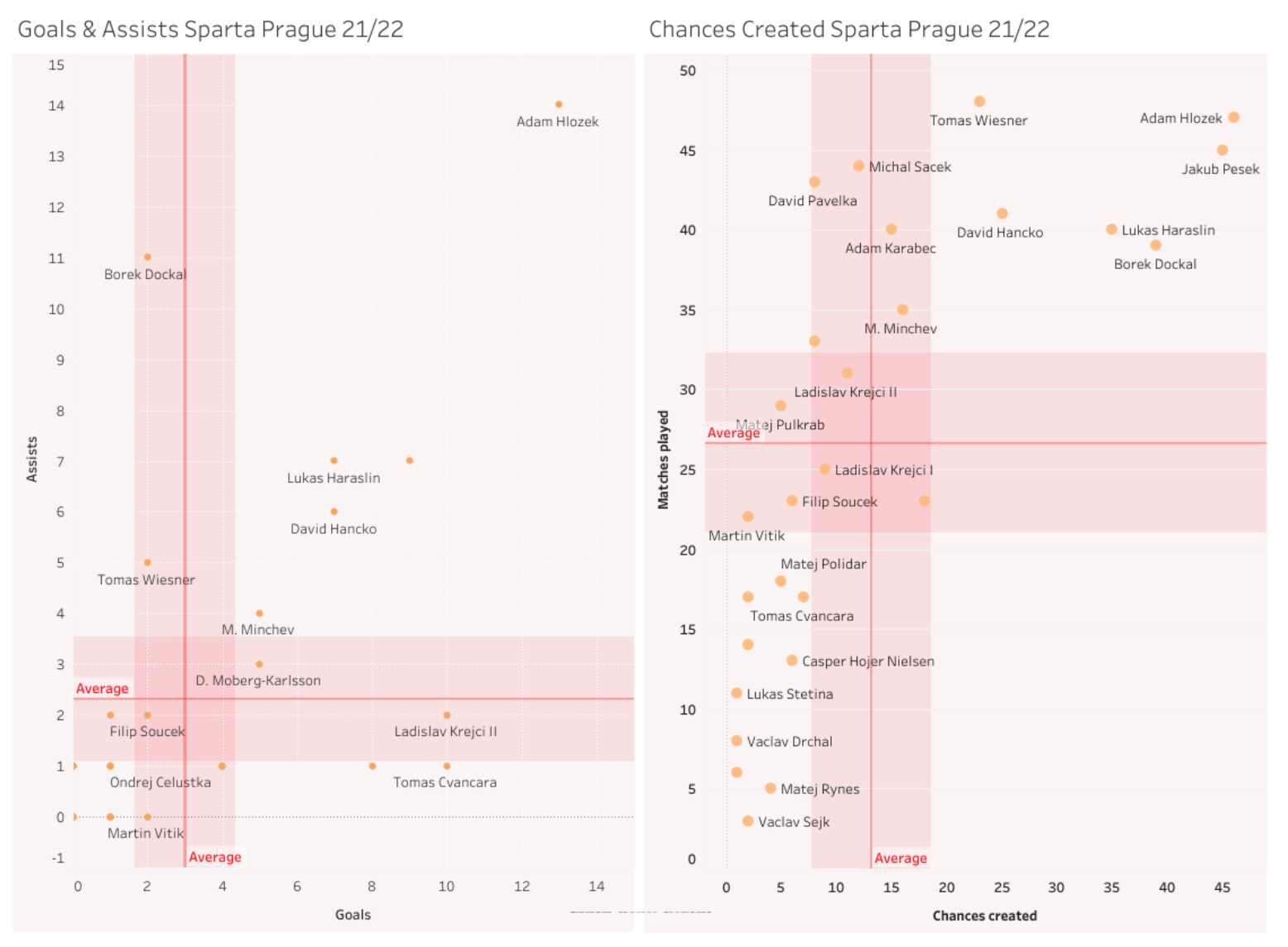 The above charts show how reliant Sparta have been on Hložek this season, he has been the team's most utilised creative outlet with 14 goals and 14 assists at the time of writing.
He has also created 45 chances so far this season with 63.8% of his passes into the final third being accurate. As you can see from his heat map, he is most active down the left flank, cutting inside onto his favoured right foot it is this that can cause many problems for opponents. An example is seen below.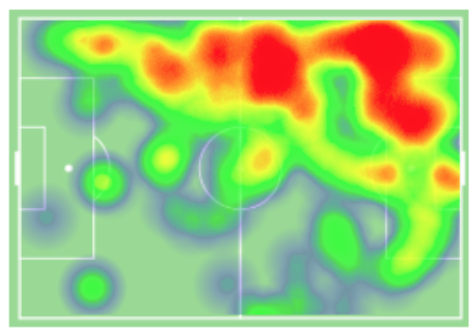 In the below example, Hložek has moved inside to allow an overlap on the wing, he has also gained a little space from his marker which would give him a better opportunity to connect with any through ball should it arrive. 
He is immensely confident and will often use tricks and flicks to beat his opponent and create space to drive into. In the image below he used a brilliant piece of trickery and his quick feet to beat the three defenders surrounding him, leaving space behind for him to run into and cross the ball into the 6-yard box.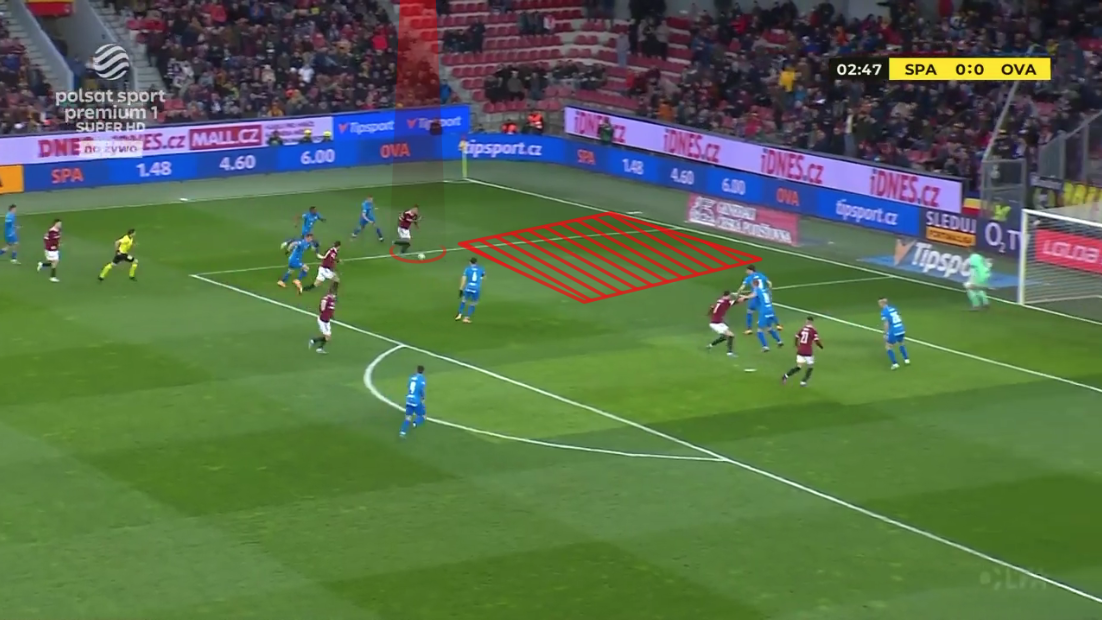 In this instance, Hložek not only demonstrates his skill but also his awareness, he is aware of where his marker is, he creates a small amount of space and is also aware of his teammate who is running into the penalty area.
While most would opt to take a touch back inside and try to work a shot, Hložek executes a deft flick into the path of the on running teammate which all the defenders are not expecting. This intelligence and quick thinking are no doubt a key factor in big teams viewing him as an appealing prospect. 
He has had 108 shots, 35.2% have been on target while 51.3% of his dribbles have been successful. Hložek is very confident 1v1 and is more than happy to run at the opposition defence, he possesses a fair amount of speed and is reasonably strong which helps him retain possession. 
So far this season, the Czech youngster has scored 14 goals from an xG of 13.5 so he is performing very slightly better than expected. The below images show that most of his shots have been from inside the penalty area with a fair few in zone 14 also.

With a potential move to a top 5 league becoming more and more likely, it is time to consider how Hložek compares to other wingers/attacking midfielders in Europe's elite teams in 2021/22 (using data from Instat).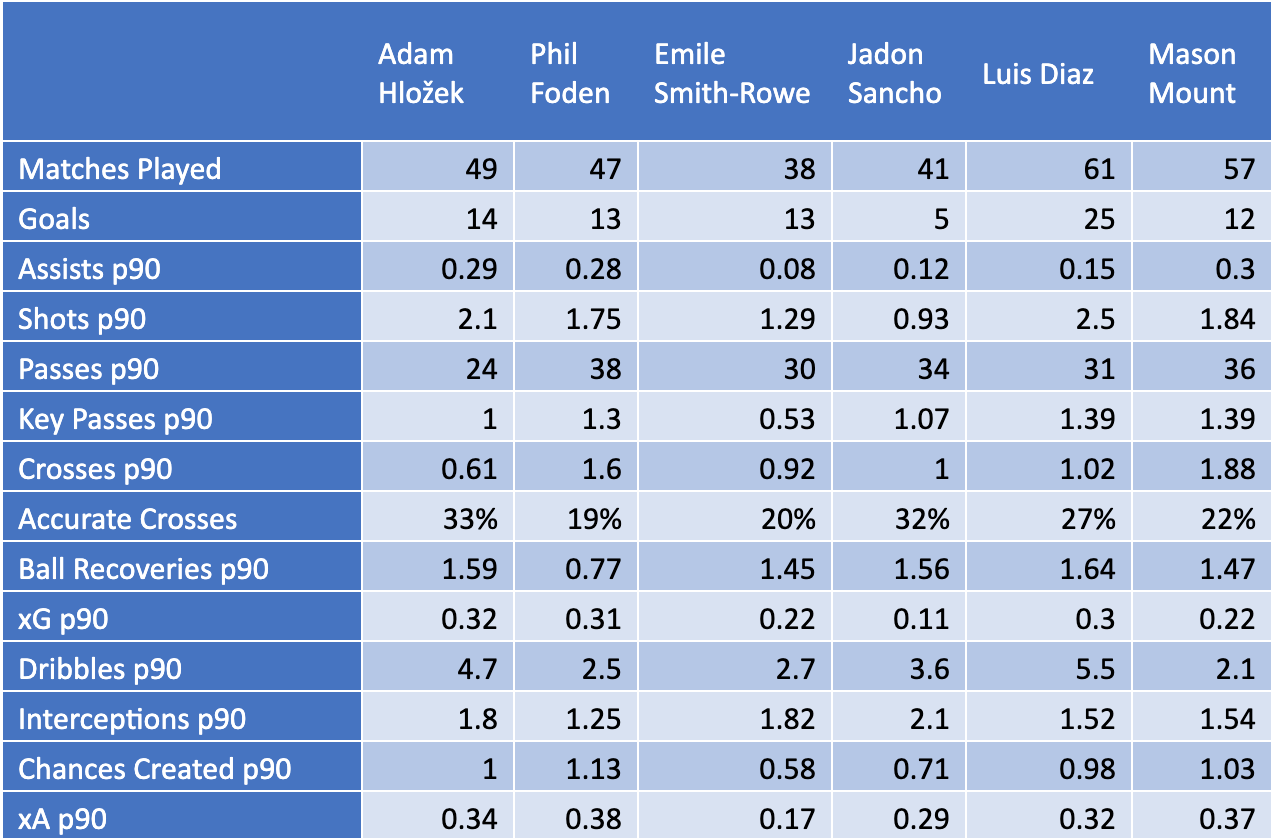 Now obviously this is all relative to many differing variables for example the 'ball recoveries' stats – Foden completes 0.77 recovers per 90 minutes, this doesn't necessarily mean he isn't working as hard to recover possession it could be due to Manchester City controlling possession and rarely losing it less recoveries are required.
These stats just provide a look at how Hložek is doing and offer an idea of how he may perform should he move to the Premier League.
An interesting stat is his crossing, while the lowest crosses per 90, Hložek is actually the most accurate while variables such as the quality of defenders, position of teammates and location of the cross will all have an effect.
Hložek's love of cutting inside and driving to the by-line could mean he is more accurate than someone crossing from out wide) his ability to find his teammates in the penalty area is very good. His interceptions and ball recoveries are a good indication of his anticipation and his willingness to work defensively.
While his average of 2.1 shots and 4.7 dribbles per 90 is an indication of how confident he is in his own abilities. Should he secure a move to a club in one of Europe's top 5 leagues the Czech international will likely receive a level of coaching which will help enhance his already brilliant skillset.
Overall, Adam Hložek has been steadily improving over the last couple of seasons and is enjoying an excellent season so far. With great athleticism, reading of the game, willingness to work hard he has the world at his feet and how far he progresses will be down to himself.
He is an enormously talented player, with the right coaching and environment there is no reason why he can't go on to become one of Europe's best. Adam Hložek has a very bright future ahead of him.
By: @fmbeth94
Featured Image: @GabFoligno / ANP – Getty Images