Adam Wharton: Blackburn's Teenage Talent in Midfield
Blackburn Rovers may have uncovered England's next midfield gem in the form of Adam Wharton. The Lancashire-born youngster made his senior debut for his boyhood club aged just 18 during a 4-0 victory over Hartlepool United in the EFL Cup and has quickly established himself as an important player for the side.
In his first full 90-minute league appearance during a 1-0 victory over Blackpool, he won the Player of the Match award following a mature midfield display. He would then go on to score his first goal for the club in October when Blackburn Rovers hosted Birmingham City at Ewood Park. At just 19 years old now, he already looks like a veteran in the midfield and certainly has a bright future ahead of him.
When one watches Adam Wharton, what is immediately apparent is that he's a remarkably smooth and fluid footballer. He passes the eye test with flying colours as all of his actions appear intentional and precise. He's comfortable with both feet, which is a crucial aspect of his development. That said, he possesses a real wand of a left foot that makes him a genuine goal threat. It's a small sample size, but he's shown the ability to be a goal threat without being a high-volume shot-taker.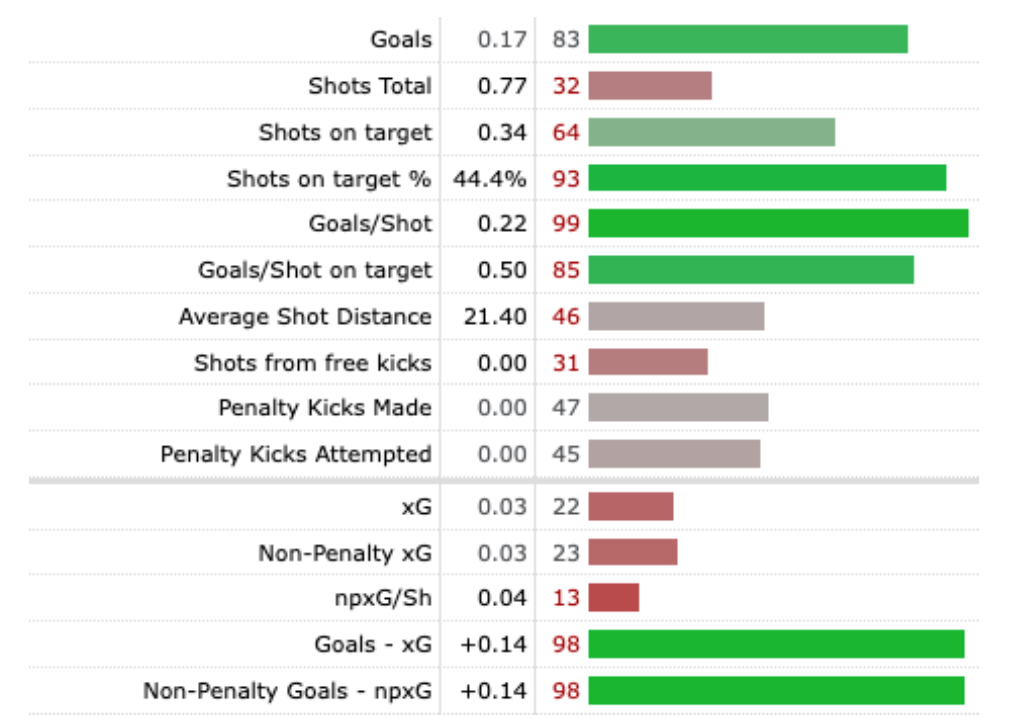 Wharton's shooting statistics [FBRef]
As shown by the data, he has the potential to become a real goalscoring midfielder and it will be interesting to see how these numbers develop over time. He has vastly outperformed his expected goals thus far which may be seen as unsustainable, but it's also indicative of his ability from range and his wonderful technique when striking the ball.
Wharton's goal vs. Birmingham City [EFL]
Wharton's eye for goal will be a valuable trait going forward as he becomes a more complete midfielder and footballer. The England youth international also has a great footballing IQ and often plays well beyond his years. He's a fantastic scanner, always being aware of what's around him before he receives the ball, which tends to be quite often. He's always looking to get on the ball and make things happen, acting as both a first and second-phase progressor.

Wharton's touches [FBRef]
Wharton often receives the ball from the defence in the first phase, but he is also adept at being a second-phase controller. The next step in his development is to be even more impactful in the final third and become a true all-phase midfielder, similarly to the likes of Frenkie de Jong and Enzo Fernández. He's already shown signs of being such a player and will hopefully continue to do so.
At present, the Rovers youngster appears to be best suited as a no. 8 with a more defensive-minded midfielder beside him and an attacking midfielder ahead of him, but, at his age and with his talent, he can still become anything he wants to be. The priority should be to give him a role that allows him to get on the ball often and use his immense talent to circulate possession and, as I will now analyse, progress the ball.
Adam Wharton completed the most progressive passes amongst teenagers in the EFL Championship last season, despite playing just over 1000 minutes throughout the season; the 22nd most minutes amongst teenagers. He's an incredibly progressive and well-rounded passer, capable of a variety of deliveries to retain possession or, more often, break the lines.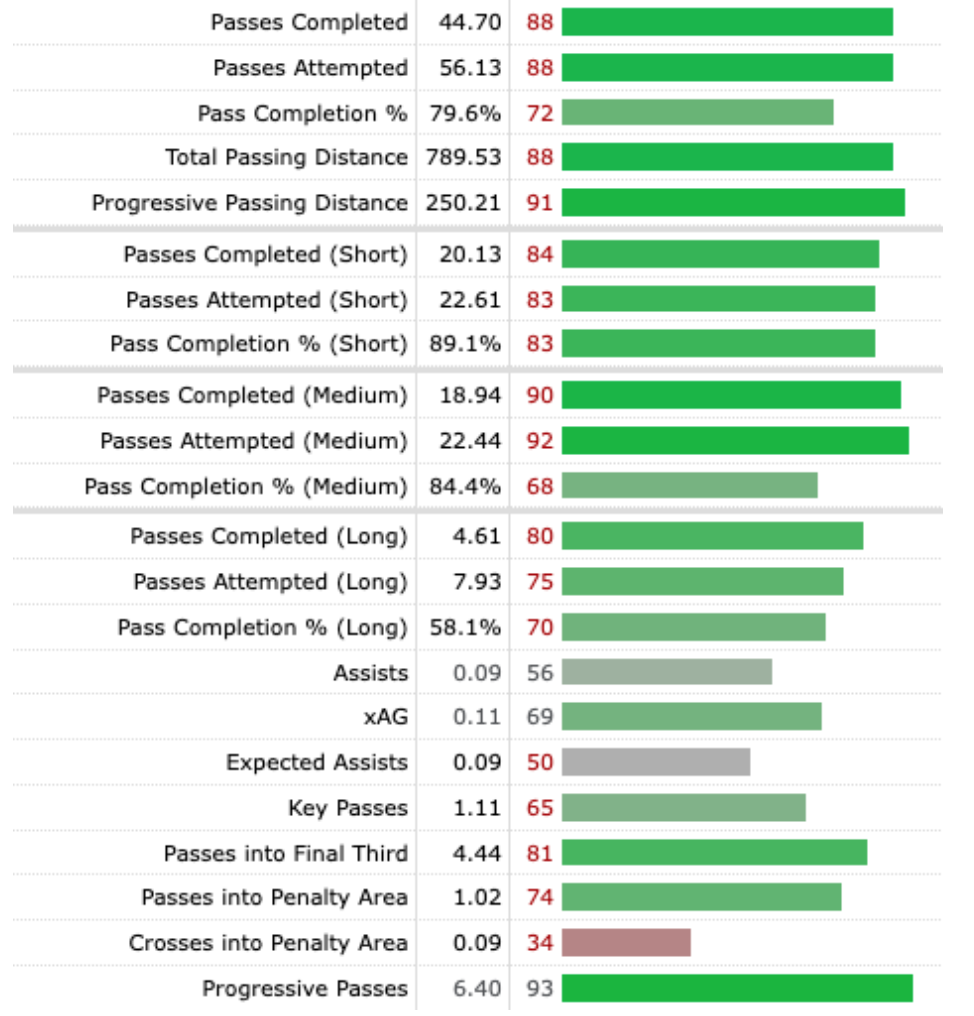 Wharton's passing statistics [FBRef]
As shown by the data, Wharton possesses a diverse arsenal of passes in his repertoire. Ranking in the 93rd percentile for progressive passes amongst all Championship midfielders last season is a remarkable achievement for a teenager in his first season of professional football in a difficult league. He also ranked in the 81st percentile for passes into the final third, further showing his progressive inclinations and his willingness to push his team forward. The Lancashire wonderkid is fearless in possession. He's never afraid to attempt a penetrative pass if it gives his team a chance to score a goal.
Wharton's assist vs. Rotherham United [EFL]
Wharton is a quick thinker and his technical security allows him to execute his quick decisions accurately and effectively. He ranked 6th in the Championship for through balls per 90 amongst players with at least 10 90s played, which puts him in the 97th percentile amongst Championship midfielders. He also ranked in the 93rd percentile for shot-creating actions and goal-creating actions from live-ball passes amongst all Championship midfielders last season.
His creativity can be seen visually and quantified numerically, and he's still in the infancy of his development as a footballer. He's a high-level controller and creator, and this proficiency at 19 years old is astonishing. Considering all of his technical gifts with the ball, you would be forgiven for believing that Wharton doesn't excel defensively, but this couldn't be further from the truth. The youngster is an enthusiastic and tenacious defender, always looking to make a tackle.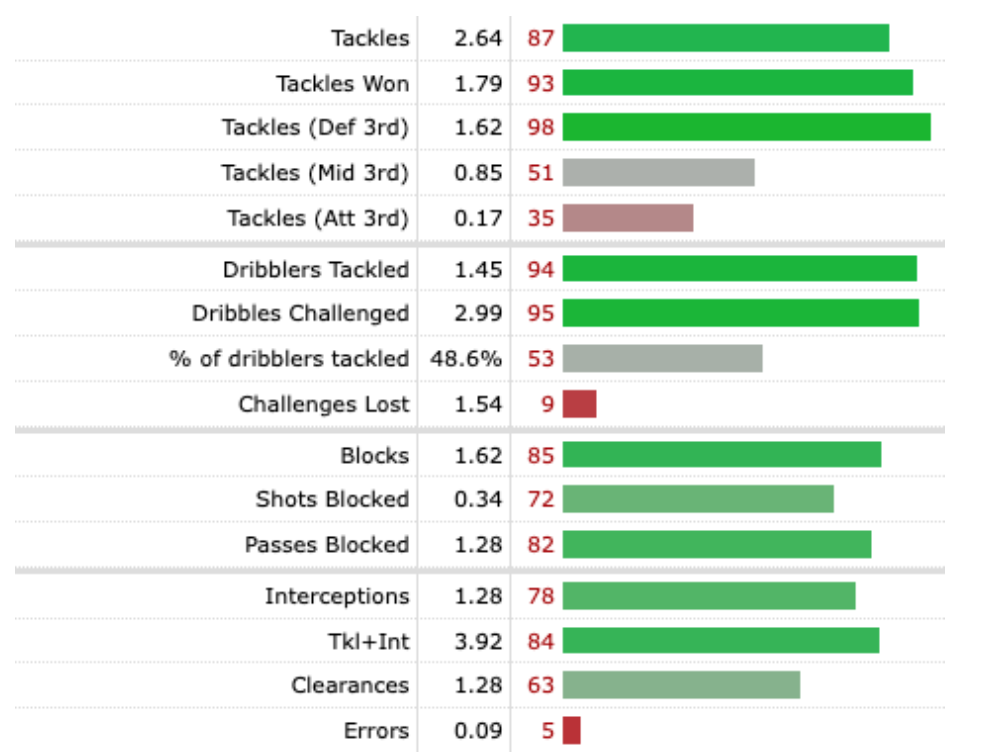 Wharton's defensive statistics [FBRef]
Wharton is excellent at screening the backline and providing the extra protection they need from the midfield. He's a high-volume tackler and does most of his work in the defensive third much like a holding midfielder would do, further displaying his versatility in both his position and his role. He's also an astute reader of the game, knowing when to put himself between the ball and the goal or an opponent as shown by his interceptions and, moreover, his blocks. His greatest defensive strength, however, is his ability and willingness to challenge dribblers.
He's always prepared to engage dribblers and ball-carriers and snuff out danger, particularly in the defensive third. He should become even stronger defensively as he develops physically, but he's already extremely impressive at such a young age in a very physical league. His fearlessness will play a big part in this development.
Wharton has already made 6 appearances for the England U19 side and he's expected to continue to progress through the age groups. At his current trajectory, he should become a full England international in the future and those should certainly be the expectations he puts on himself.
At club level, another season with Blackburn Rovers will serve him well, but it won't be long before Premier League clubs come sniffing around for the talented Blue & Whites academy graduate. He could follow a similar path to Alex Scott as he shines as one of the Championship's best players before joining an ambitious Premier League project. He certainly has the talent to do so, therefore he can become anything he wants to be.
By: Lebohang Mwamuka / @lebzygold
Featured Image: @GabFoligno / Nick Potts – PA Images