Adama Traoré — Wolves' Explosive Winger Who is Ready For The Next Step
Adama Traoré is one of the better players in the Premier League and has been for quite some time. With his combination of breakneck pace, excellent crossing, ferocious strength, and uncanny ability to exploit space whilst in possession, he has been a thorn in the side of opposing defenses for years now.
One might ask, "How? He has no goals and no assists so far in the league this season," or "Why? He's one-dimensional with all pace and no end product. What has he done to be considered one of England's best footballers?" To an extent, these concerns surrounding Traoré are valid.
Football games are won by scoring and assisting (to an extent) and Adama this season is struggling on both ends. He has zero goals and zero assists in 10 Premier League appearances so far this campaign, and no direct goal contributions in two Carabao Cup games.
So, just from a surface-level assessment of those numbers, someone could adjudge that Traoré is a non-factor for Wolves. However, this is the complete opposite of the truth.
Adama's Best Position
Adama Traoré's best work for Wolverhampton Wanderers in terms of goal output has come when he has played on the right side of a front 3. The 2019–20 Premier League season evinces this perfectly.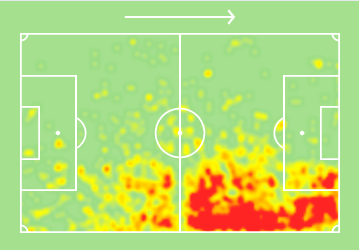 Adama Traoré's 2019–20 Premier League heatmap [SofaScore]
When consistently playing as a right winger in a fluid forward trio, Adama recorded 4 goals and 9 assists. In that season, the narrative around him shifted; from being regarded as a one-trick pony who could only run and dribble, Traoré evolved into one of Europe's most exciting forwards.
However, over the course of this season, Adama has not been consistently starting games on his favored right wing position. In fact, he has made only two league starts from that side, with four of his other five starts coming from the left and one other from an attacking midfield spot.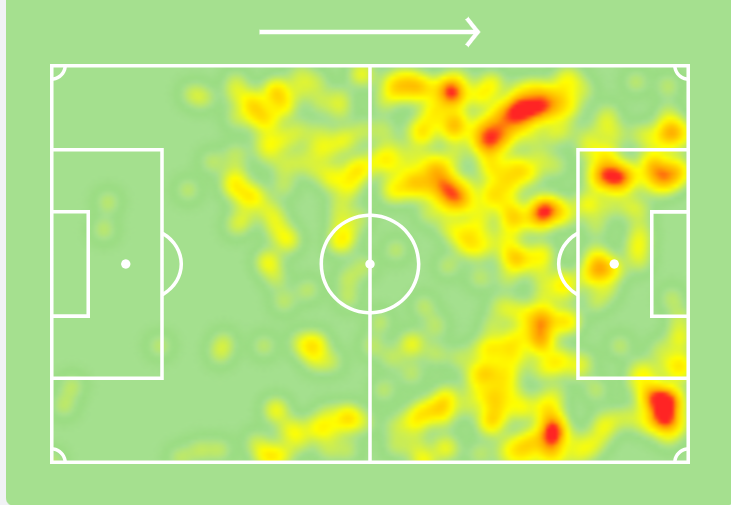 Adama possesses a vastly differing heatmap so far this season compared to those of his 19–20 and 20–21 seasons [SofaScore]
Despite this positional instability and lack of a consistent starting spot under new manager Bruno Lage, Adama has been brilliant this season, ranking among the highest in the Premier League across a multitude of metrics, along with possessing an ever-present threat on the ball that sometimes simply cannot be quantified.
Combination Play
On the right flank, he formed a dangerous partnership with Irish wing-back Matt Doherty. With Traoré and Doherty having a cohesive understanding of each other, illustrated by their beautifully dovetailed overlaps and their sharp underlapping runs, they combined to boast one of the Premier League's most potent right sides under former Wolves manager Nuno Espírito Santo.
However, Adama's direct output dropped with the departures of Doherty to Tottenham in the summer of 2020, and the injury to his main partner in crime Raúl Jiménez just months later.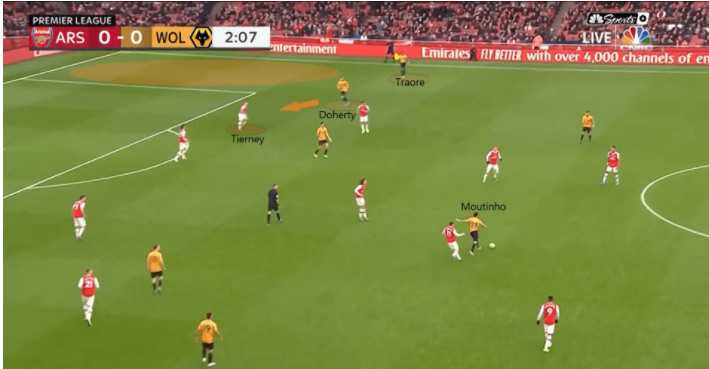 Matt Doherty underlapping Adama Traoré, drawing Kieran Tierney out of position to allow Joao Moutinho to spread the ball to Adama Traore in space.
Contrast Doherty's excellently timed underlap with the tendencies of the far more passive Nélson Semedo, Doherty's replacement. With the Portuguese's lack of an overlap and a general hesitation to get into threatening attacking positions, Traoré was often left isolated on the right flank, hindering his ability to get into positions where he could deliver fierce crosses in space.
Raúl Jiménez's absence also stunted Adama's ability to provide consistent goal output; with no established threat in the box to aim for with his crossing, Traoré's assist count took a significant dip, from 9 in 19–20 to 2 in 20–21.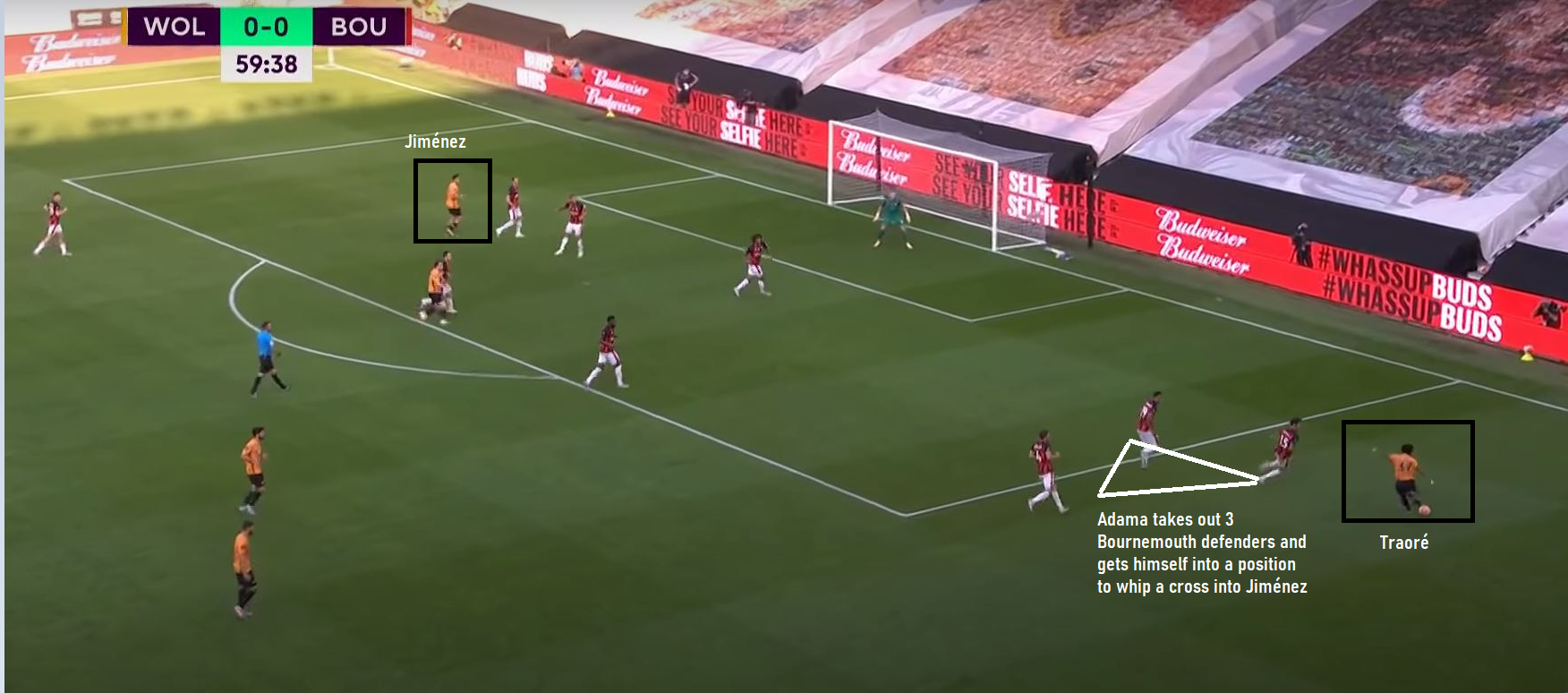 Adama assisting Jiménez's goal in Wolves's 1–0 win against Bournemouth
Above is just one of many instances where Adama and Jiménez lethally combined for Wolves in the 19–20 season. With Adama out wide and in positions to take on multiple defenders, he uses his pace and trickery to get on the outside of Bournemouth's backline. Upon creating that space for himself, he was able to whip in an inviting cross, to which Jiménez obliged, heading home.
Dribbling
Adama Traoré is the Premier League's best dribbler. In fact, since 2019/20, no player has feasibly come close to replicating Traoré's consistency in attempting to and successfully dribbling past opposition players. Want some visual proof? Below is a scatterplot that depicts the league's best dribblers so far this season, based on attempted and completed dribbles per 90 minutes.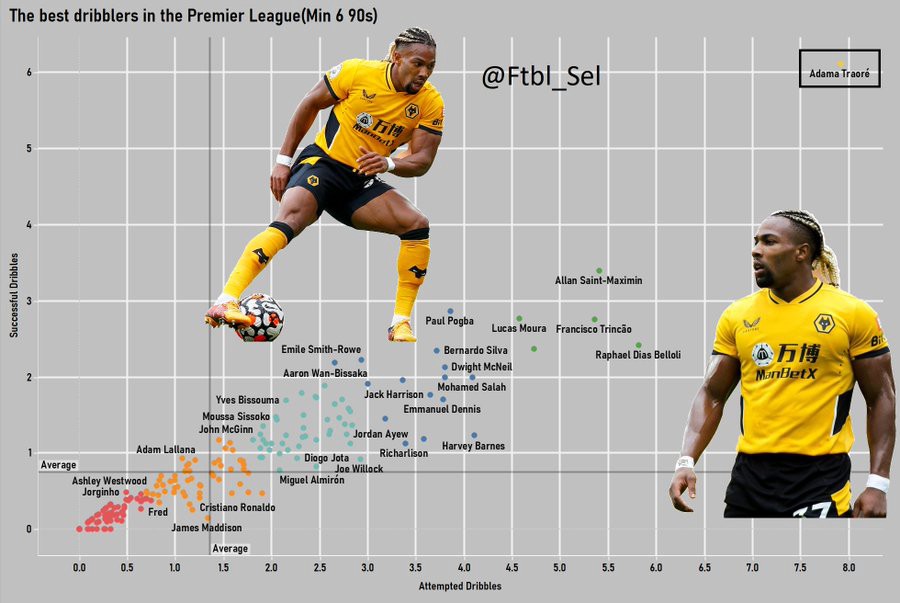 Representing the 21–22 Premier League season so far. Graphic made by author. All data from FBref.com
Need further justification for my claim of Adama being the best dribbler in the league? See my visualization for the 20–21 season.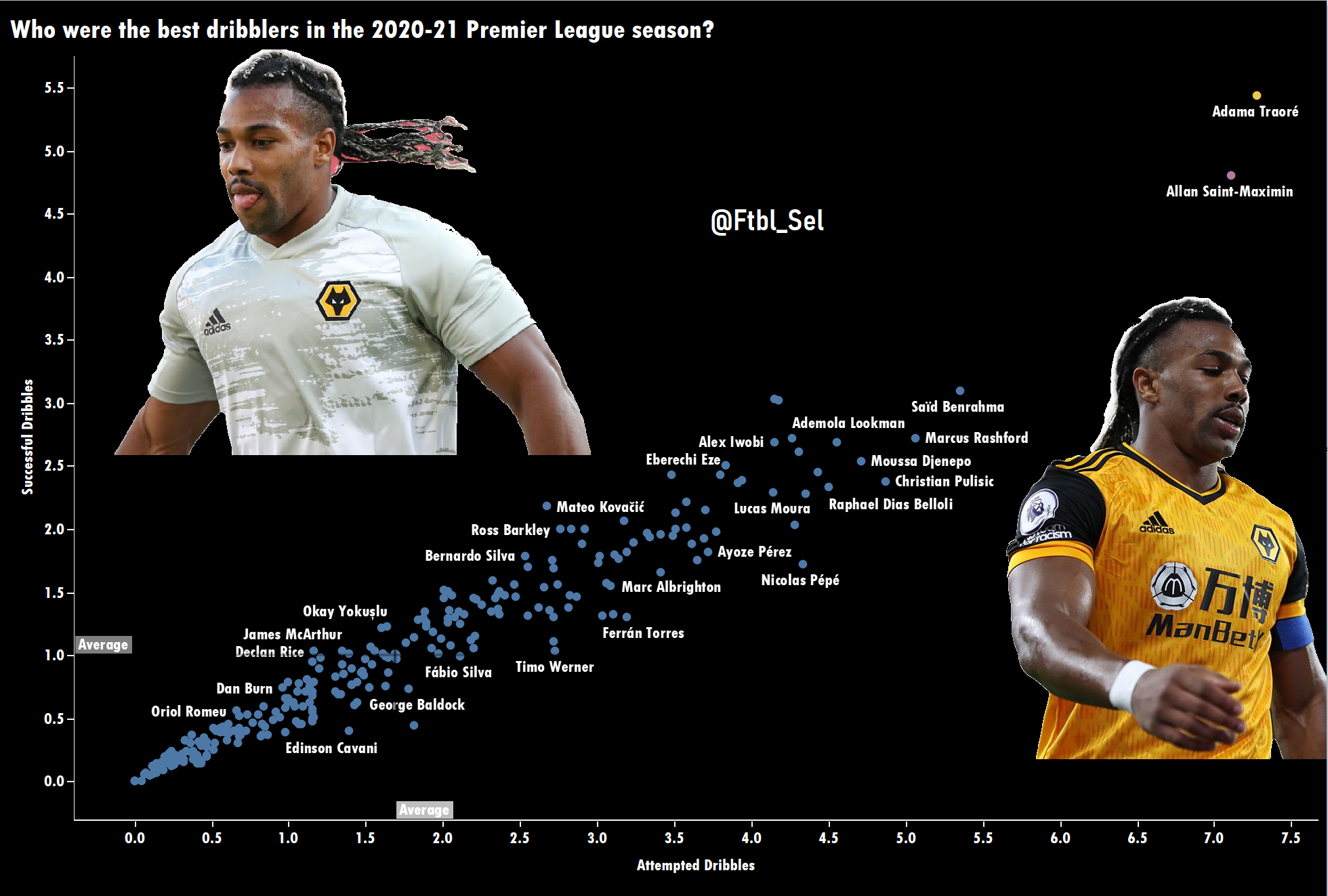 Made by author — min 13 90s played to qualify. Data from FBref
Just for good measure, observe Adama in the 19–20 season.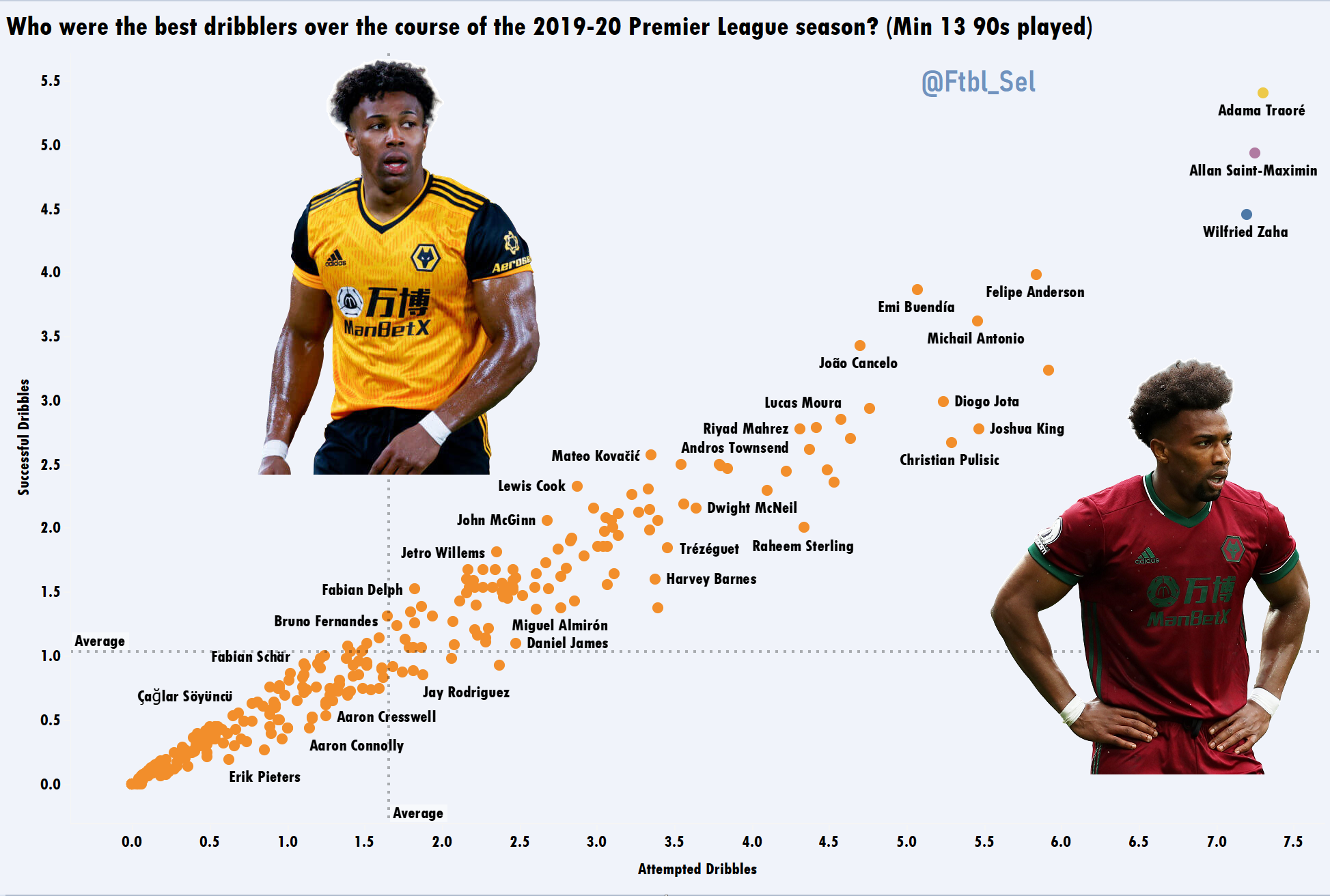 Graphic made by author. All data from FBref
Though more competition for his top spot in both volume of dribbles and successful ones propped up from Allan Saint-Maximin and Wilfried Zaha, he remained at the top, a testament to how consistent his dribbling has remained despite his fluctuating direct output. As we'll see below, Adama's dribbling is actually very useful for his team!
Shot Creation
Though not having created a chance that has directly led to a goal yet, Traoré has had a hand in a LOT of Wolves' shots this season. In fact his 5.440 Shot-Creating Actions p90 ranks him third among all Premier League players with at least 6 90s played this season.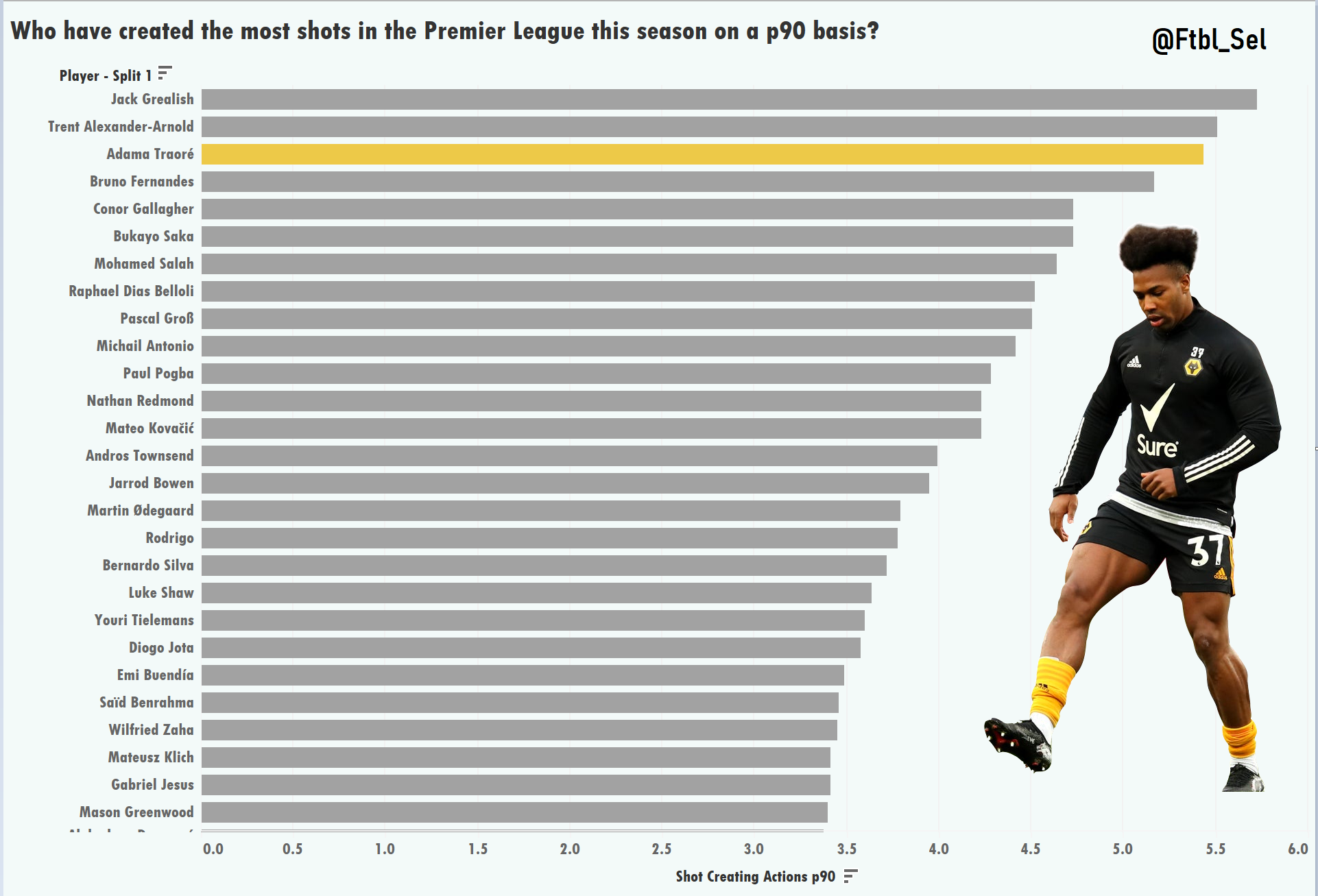 Graphic made by author. All data from FBref
Adama is a player whose ability to slalom around the pitch with his brilliant close control, combined with his otherworldly dribbling skills, and as we'll say later his excellent carry skills, allow him to be his side's main creative spark; so often for Wolves, this season, his dashing carries sometimes extending the length of the pitch have led to genuine chances, but those have simply not been put away.
Take this sequence below — Fred gives the ball away in Wolves' box and after doing so, him and Paul Pogba try to actively counter-press Adama out of possession, unsuccessfully. Traoré goes on a marauding well into Manchester United's penalty and sets up a brilliant chance for Francisco Trincão, only for the Portuguese to fluff his lines.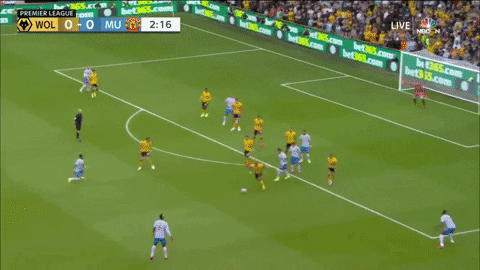 Though not resulting in a goal for Wolves or an assist for Traoré, this is just one of many examples of his brilliant shot-creating, often a result of his dribbling skills. In fact, here is the breakdown of Adama's 5.440 shot-creating actions p90; HOW he makes shots for both himself and his teammates.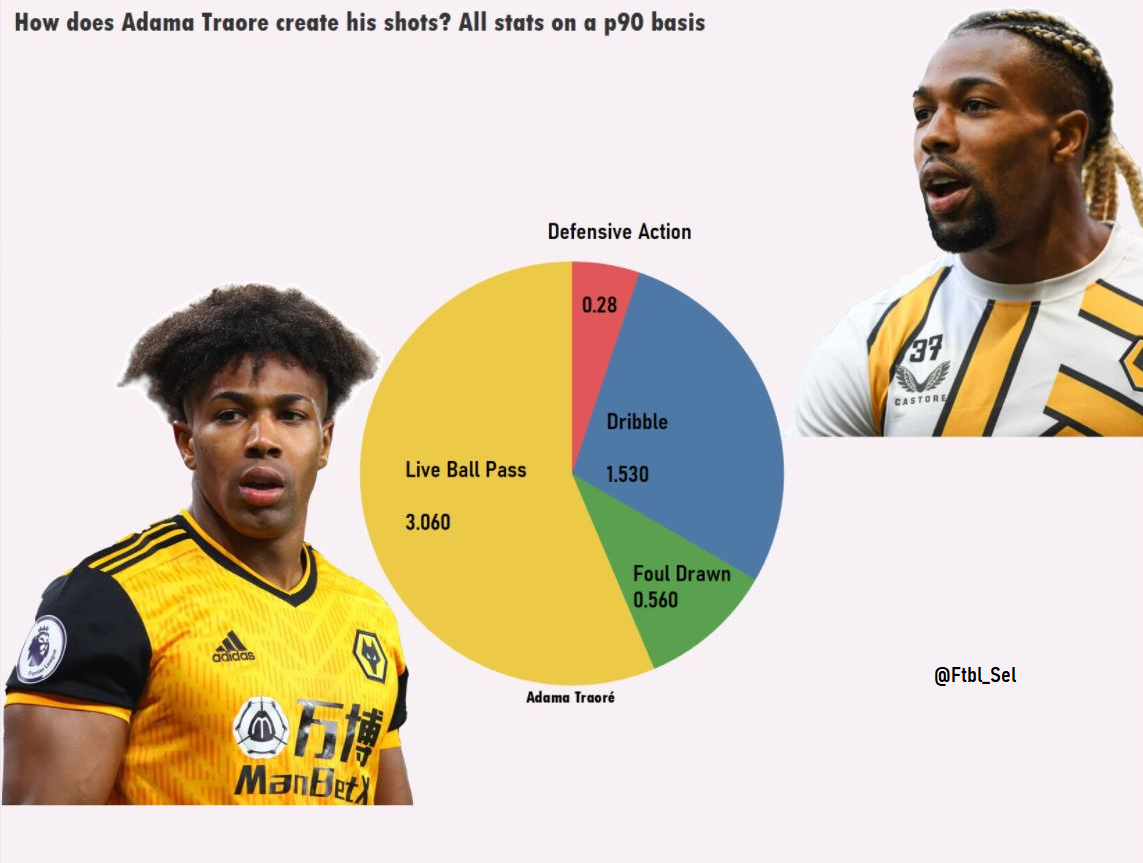 Graphic made by author — title slightly misleading. When saying How does Adama create "his" shots, the author is making a reference to Adama creating shots as a whole.
A lot of Adama's shot-creating actions are from live ball passes and dribbles. This is perfectly understandable! Being an elite dribbler as well as someone who knows how to combine with his teammates in tight spaces, Adama's actions which lead to shots rightfully compose of mostly shots and dribbles. However, when analyzing the players who create the most shots from a dribble in the 2021–22 Premier League season so far, Adama is streets ahead of the next contender.
Viz by author. Min 6 90s played to qualify.
Carrying
Being able to carry the ball, both efficiently and into dangerous positions, is a vital trait for forwards, especially wide players. Traoré is incredible at this; with his ability to progressively carry along with his knack of being adventurous in possession, he improves both Wolves' buildup and attacking threat greatly.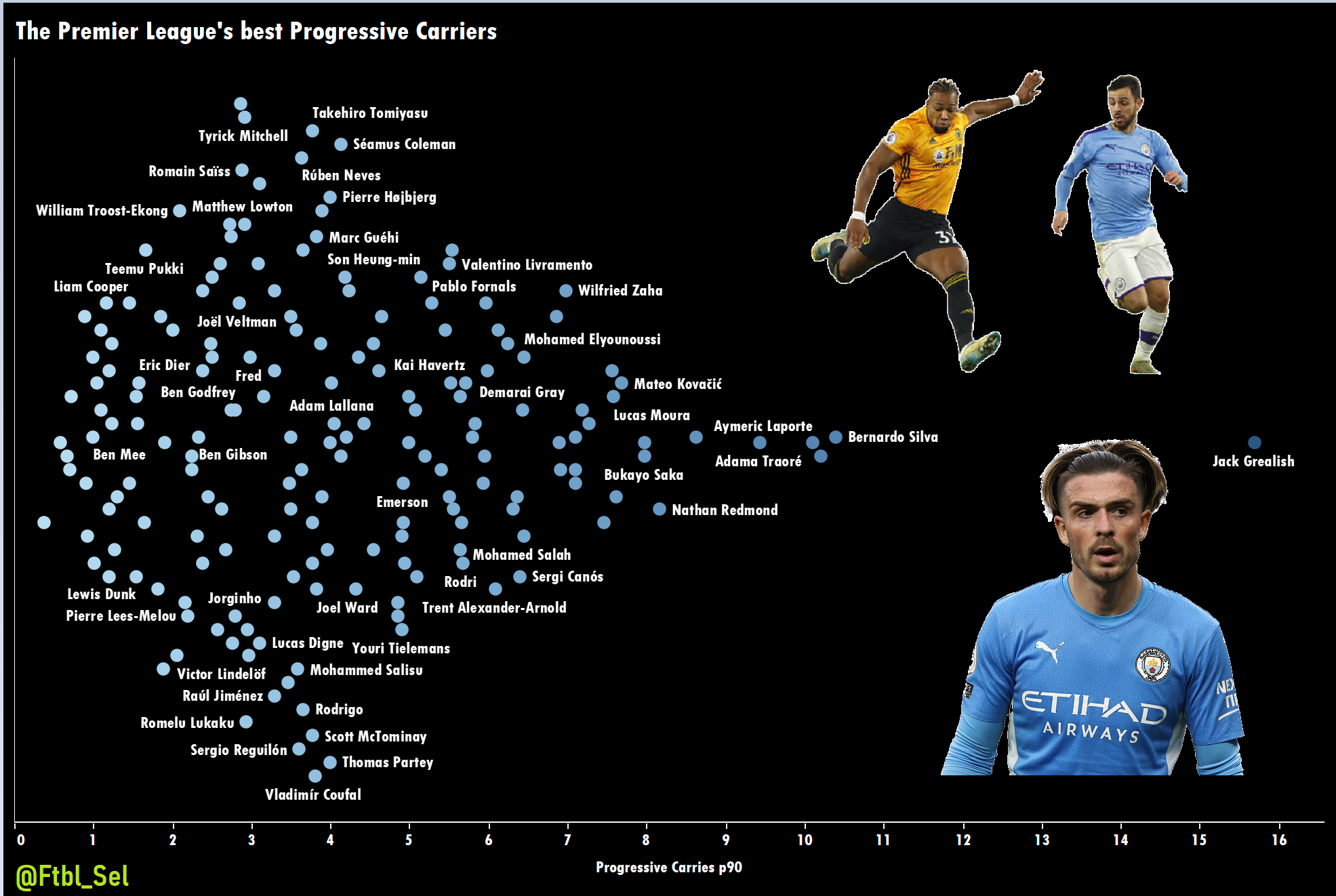 Graphic made by author. All data from FBref
In fact, he ranks among the highest in the league for progressive carries per 90 and carries into the penalty area p90; the latter stat only further illustrates his threat in possession, and thus improves Wolves' penetration in attack. By channeling a combination of raw pace along with athleticism combined with a desire to always move the ball forward, Adama has shown that he is a vital player for Wolves.
By: Anirudh Iyer / @Ftbl_Sel
Featured Image: @GabFoligno / Malcolm Couzens – Getty Images