Alejandro Garnacho: How Can Manchester United's Rising Star Sharpen His Game Next Season?
Almost one year had passed since Manchester United announced that Erik ten Hag would take the reins at Old Trafford on a three-year contract. The Dutchman's appointment was a signal of intent from the Red Devils' hierarchy; an intent to return to vying for major trophies and to cultivate an energetic and positive tactical identity that supporters could get behind. 
Under Ten Hag, United have scored 95 goals in 51 matches across all competitions. One of the main reasons they have been able to do so was because of their constant high pressing and sharpened finishing and decision making in the final third. While the likes of Jadon Sancho, Antony Martial and Christian Eriksen have been sidelined for much of the season, the emergence of Argentine winger Alejandro Garnacho has proved extremely positive for the Red Devils' season.
While providing cover for these injuries that Manchester United have suffered, Garnacho has injected much-needed flair and energy to the frontline of the attack. We will be considering players who have played less than 450 minutes of league football this season for our comparisons, with Garnacho being highlighted in red for easy identification. This idea will be applied for all the visualizations in this piece.  
Player Overview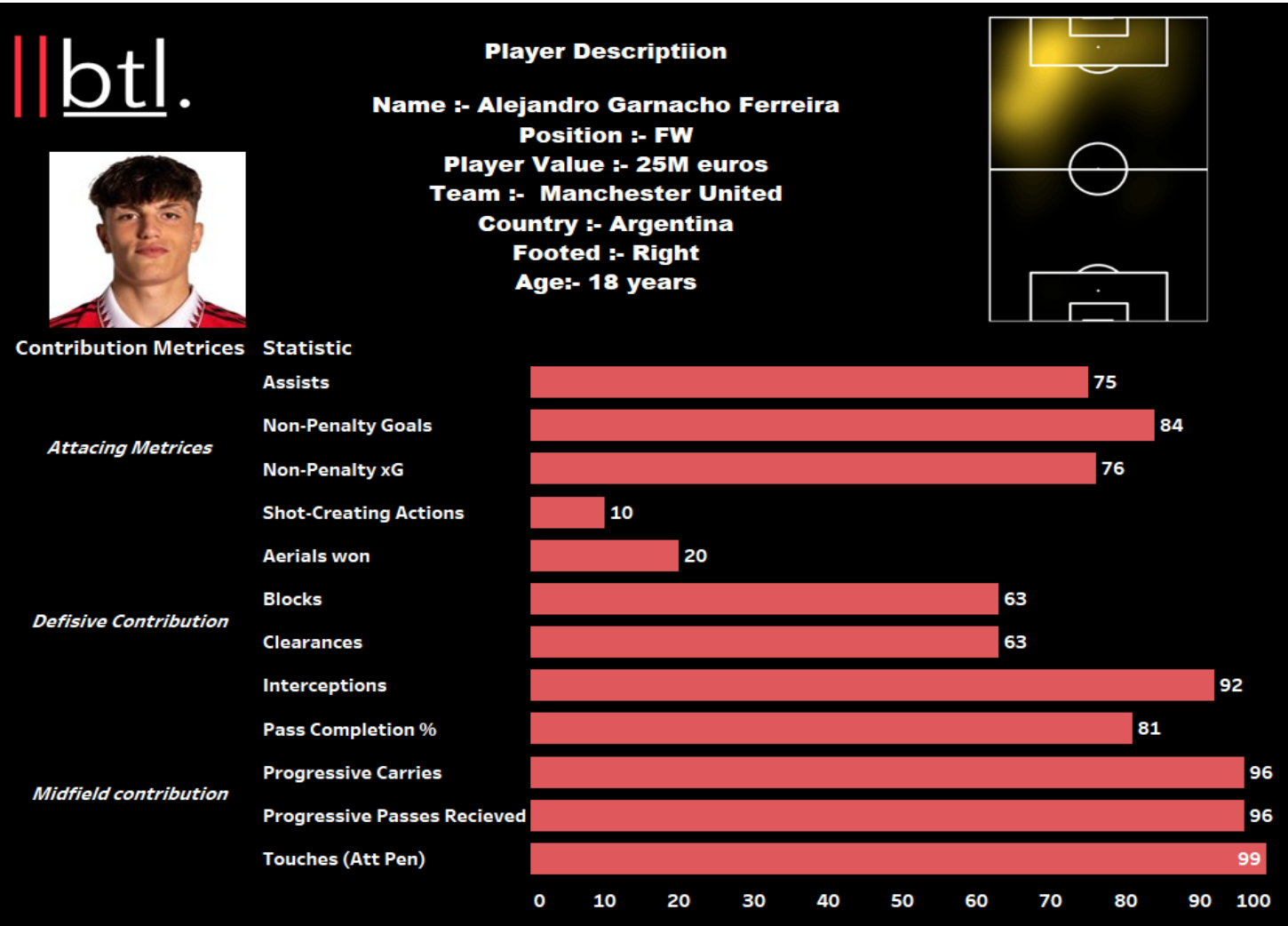 Alejandro Garnacho has made 8 direct goal contributions this season – 4 goals and 4 assists – despite having played under 450 minutes of football. Despite being right-footed, he is incredibly adept with both feet, which makes it harder for the defender to read or mark him. Due to his imposing frame, he is able to contribute greatly to his team's defensive efforts. 
Attacking Analysis
To begin our data analysis, we will look at the scatter plot between 90s played vs. Expected Goals (xG).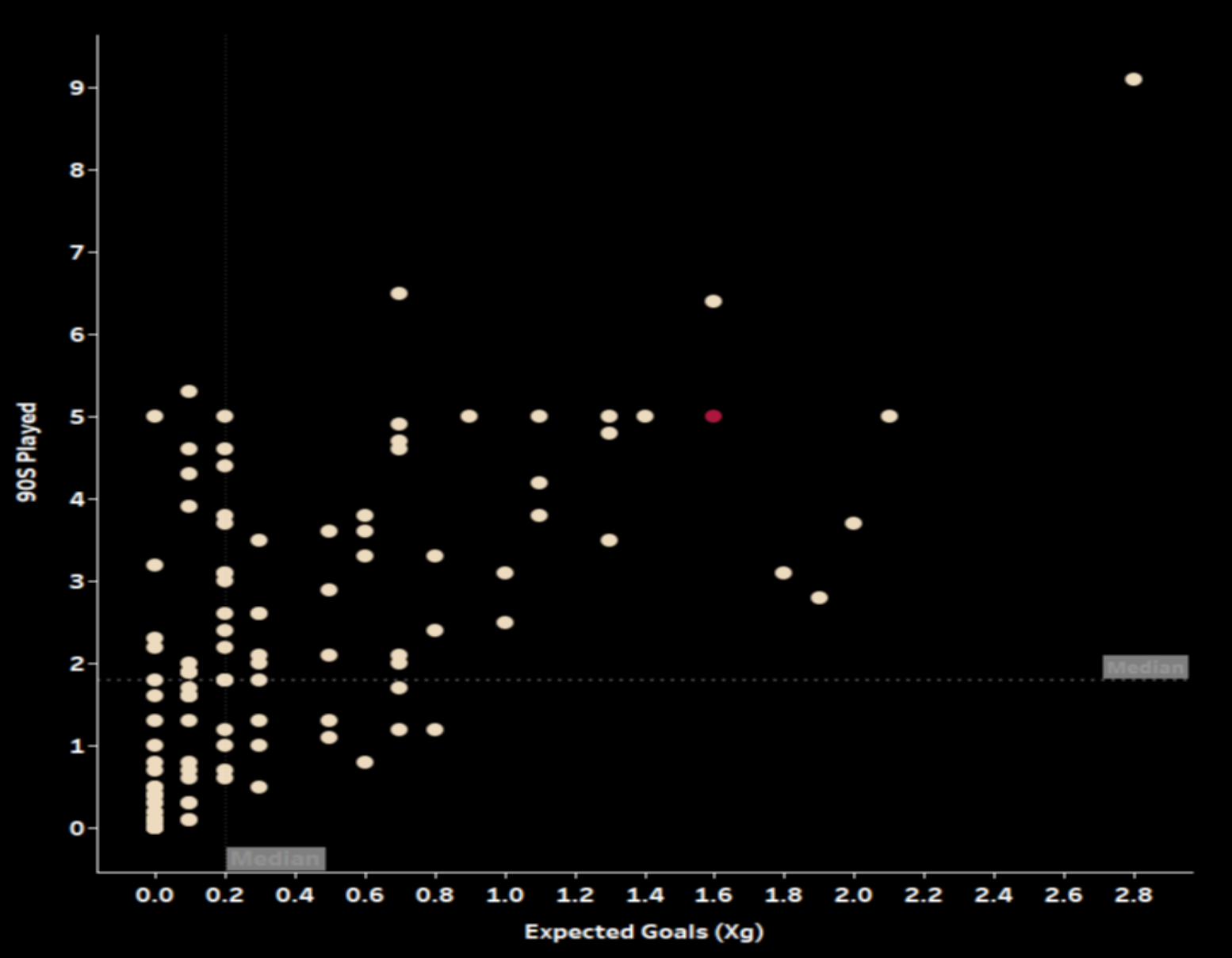 Looking at the scatter plot from the above image, we can see that Garnacho has been an important player for the Manchester United as he is one of the best players in their squad when it comes to expected goals, having played less than 450 league minutes this season.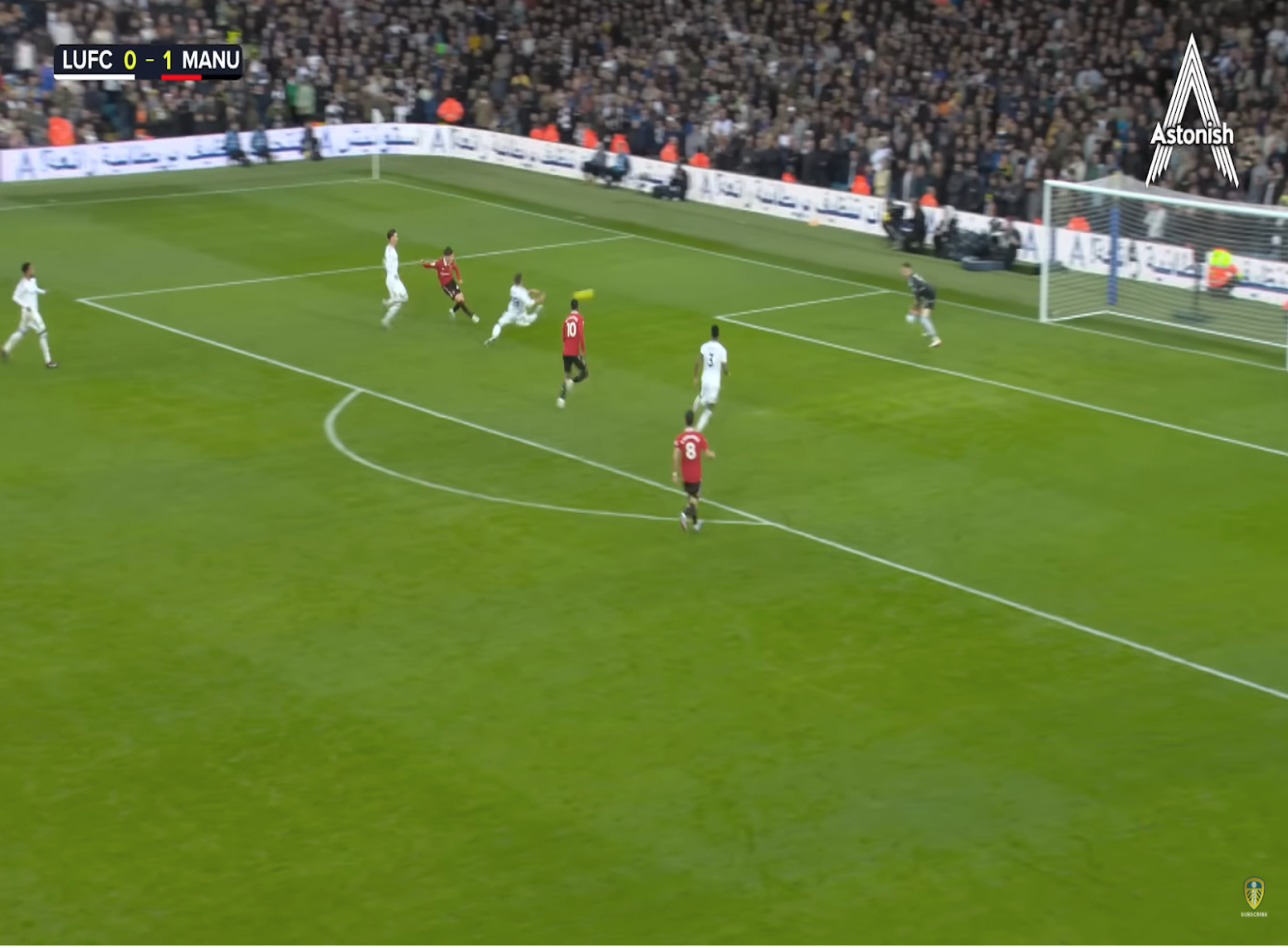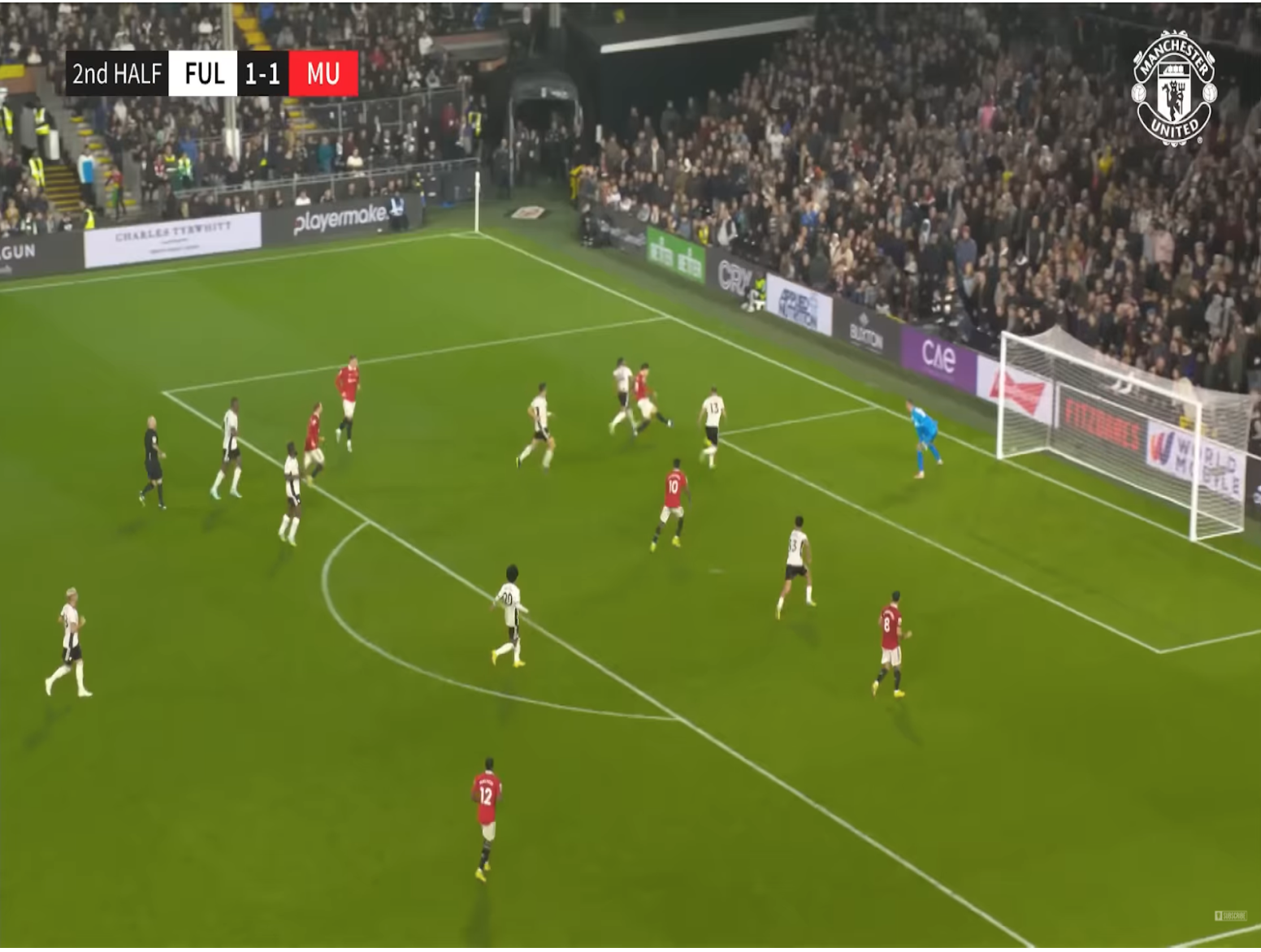 Both the above images show Garnacho scoring goals from a very similar situation. Here, he displays his ability to make good decisions in tight spaces. Furthermore, we will look into his quality of his shots by reviewing his goals per shots numbers.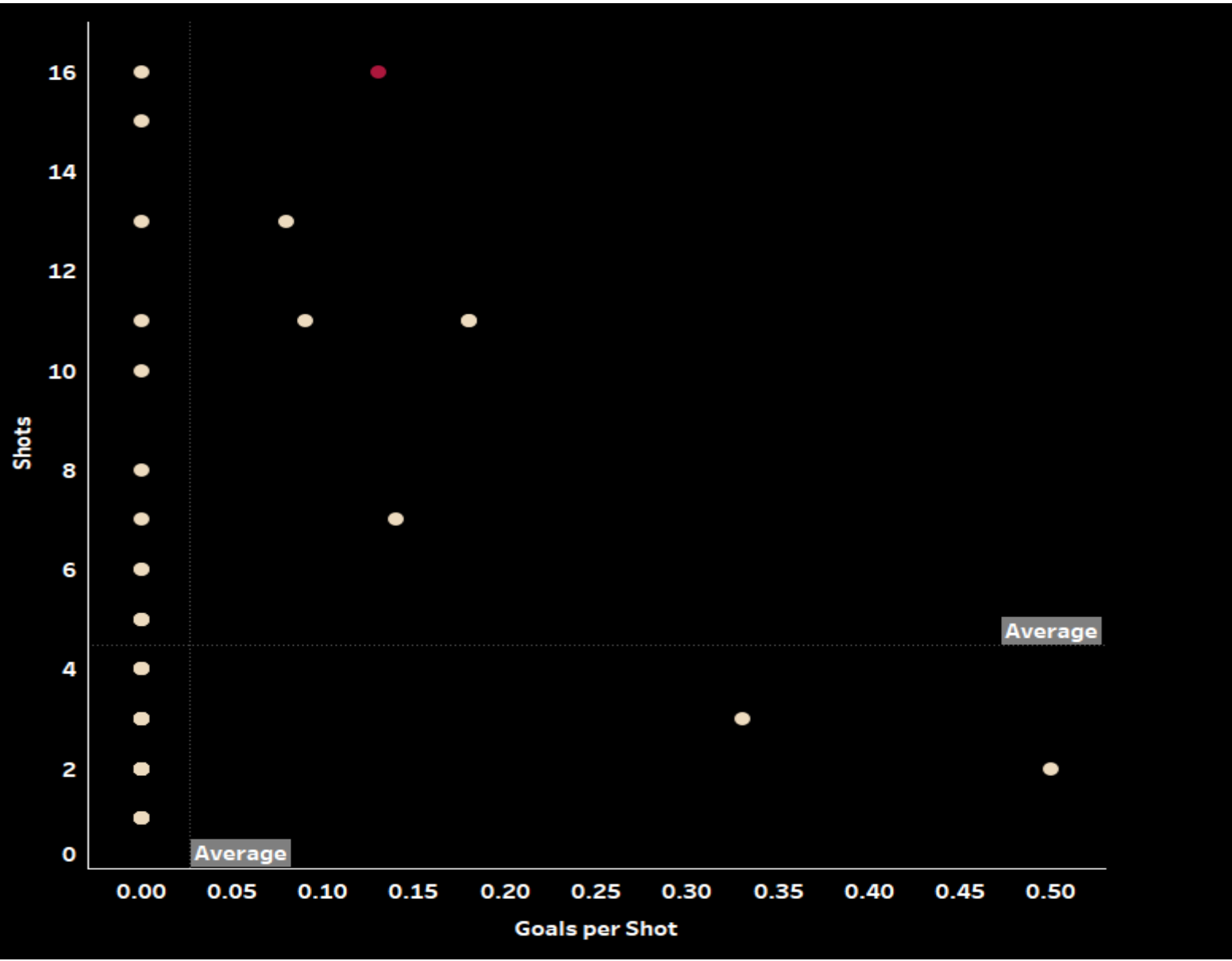 In above scatter plot only few players are on the bottom-right quadrant, which holds the players for having the best stats as per the credentials considered. Having taken 16 Shots with 0.13 Goals per Shot having 37.5% Shots on Target, it is clear enough to understand that Garnacho has to develop his finishing.
These are the traits that the likes of Bukayo Saka and Marcus Rashford have hugely improved in this season and have made them two of the standout performers in the league. Moving on in our analysis, we will look at how Garnacho's passing and his capability of progressing the attack is illustrated in his stats.
Passing and Progression Analysis
Garnacho, along with his ability to dribble using both his legs has incredible speed which makes it even difficult for the defenders to judge the direction he will dribble when running at them. We will be looking into a scatter plot for the players' touches in attacking third versus his touches in attacking the penalty box.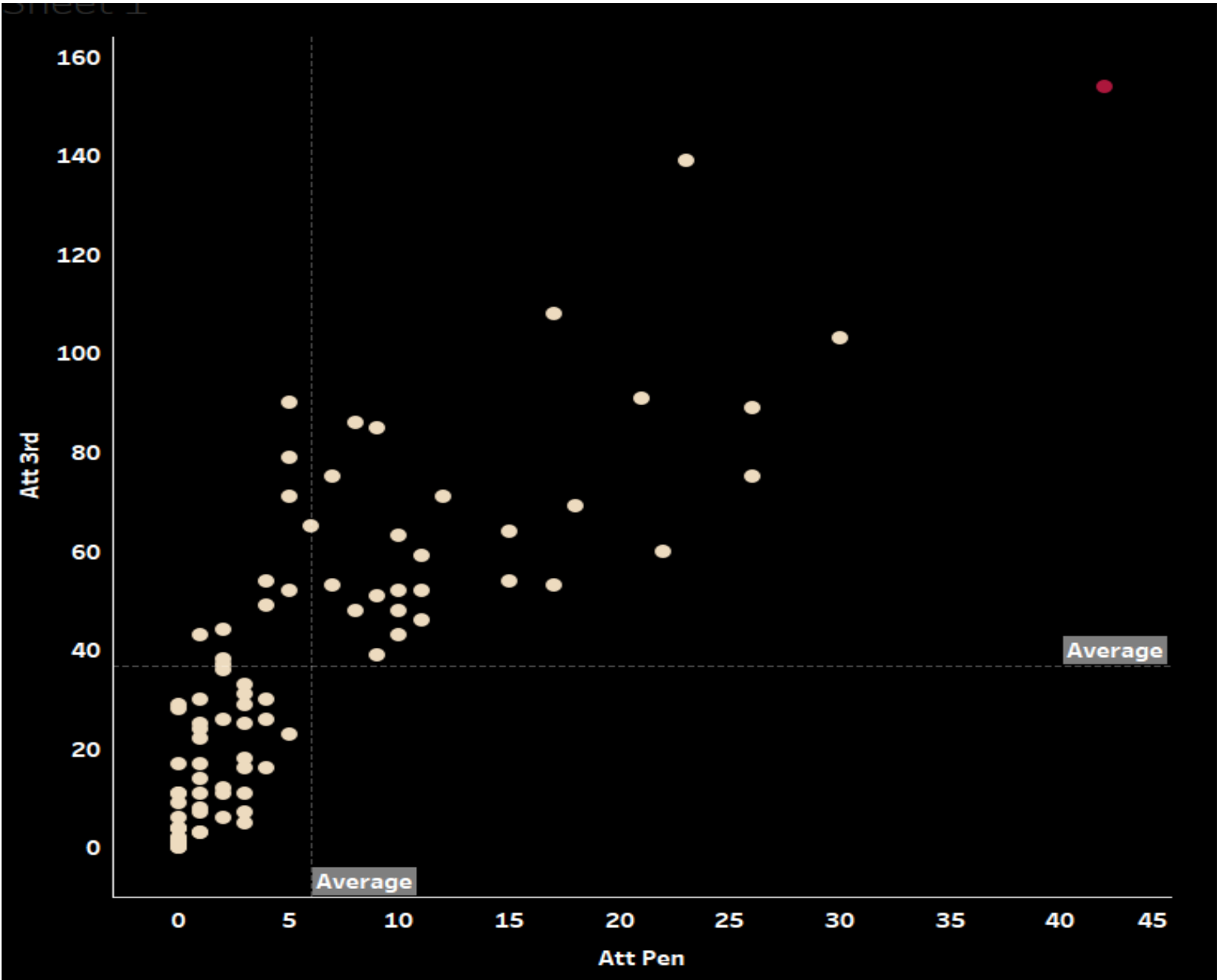 In the above scatter plot, we can see that Garnacho is in the top left quadrant having 154 touches in the attacking 3rd along with 42 touches in the opponents' penalty box – the highest for any player having played less than 450 minutes.
In addition, Garnacho has been one of the best players who likes to contribute more for the team every time has been put on the field of play. Further, we can see his ability to take-on the defenders through these scatter plots. 
Out of 37 attempted take-ons, Garnacho has managed only a 3.7% success rate. Even though he contributes a lot in his team's attacking threat, this is one area where he must to build on in order to pose a bigger threat during the build-up and counter-attacks.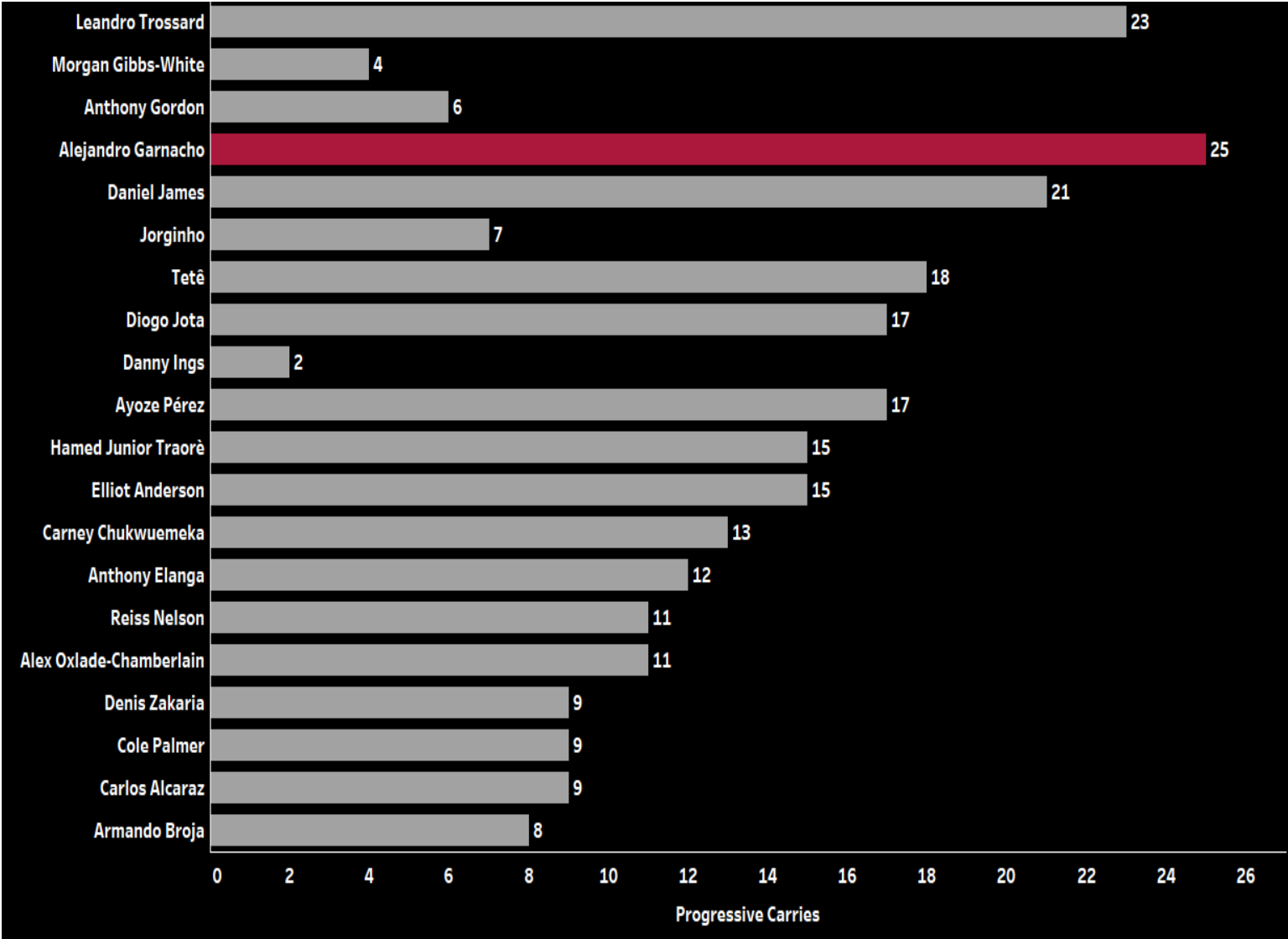 However, according to FBRef, Garnacho is in the 99th percentile compared to attacking midfielders and wingers in Europe's top five leagues for progressive carries into the opposition's 18-yard box. This shows his willingness and desire to bring positivity to his side's attacks. When he receives the ball, his decision making on the ball is always positive and attack-minded.  
Conclusion
Considering his age, physicality and game sense along with his application and attitude, it's fair to say that Alejandro Garnacho is an extremely promising and fundamental part of Erik Ten Hag's plans at Old Trafford to return to former glories. He has already received a maiden Argentina call-up and impressed in his debut campaign for Manchester United, and at 18 years of age, the sky is the limit.
By: Sive Vishwa / @Sive_vishwa
Featured Image: @GabFoligno / Marc Atkins / Getty Images